Why Matt Kemp Is a Legitimate Threat to Win the Triple Crown
April 23, 2012

In the midst of the Ryan Braun saga this offseason, Matt Kemp proclaimed that he did not want to be given any MVP award that he didn't earn.
Albeit in a much more political fashion, Kemp told the Los Angeles Times, "I would want to win by them voting for me. I wouldn't want them to just, 'Oh, this person did that so how about we just give the award to this person?' I don't think it should work that way.
"If it is that way, then it should be a vacant award for 2011, no one should win the MVP award in the National League."
Given Kemp's monstrous start to the 2012 season and what seems to be some "buyer's remorse" from many of the MVP voters, the award appears to be his to lose, even though the season is only a few weeks old.
In fact, that's almost become a side note to the recently sparked debate as to whether Kemp has a legitimate chance to win baseball's Triple Crown.
There could be a reasonable argument made that Kemp has a real shot at the Triple Crown. But first, It's important for us to take a step back for a moment to realize the type of rare feat it would be to accomplish such a goal.
It's been 45 years since a player has been able to claim the honor. Carl Yastrzemski was the last player to do it in 1967 when he hit .326 with 44 home runs and 121 RBI for the Boston Red Sox. Not since 1937 has there been someone from the National League that was able to perform at a Triple-Crown level. That season Joe Medwick of the St. Louis Cardinals batted .374 with 31 home runs and 154 RBI.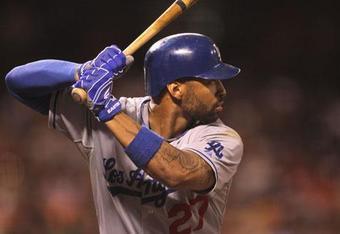 With that said, let's begin this discussion in the American League where Albert Pujols and Prince Fielder are now exiled. With two of Kemp's chief competitors in the National League now gone, the home run and RBI categories have become less crowded.
Pujols and Fielder both finished just behind him for the home-run title last season (Kemp 39, Fielder 38, Pujols 37) and Fielder was second in RBI (Kemp 126, Fielder 120).
One of the most telling signs that Kemp is on the brink of a storybook season has been the power he has displayed to the opposite field. Of his nine home runs to date, he has hit eight from center field to right field, with the other leaving the ballpark in left-center.
He is not only hitting the other way with power, but also for average. According to ESPN Stats and Info, his batting average and on-base plus slugging (OPS) have been on a steady increase.
2010—.210 BA and .694 OPS
2011—.242 BA and .764 OPS
2012—BA .318 and 1.172 OPS (13 games)
This innate ability to let the pitch travel deep into the zone enables him to make more solid contact as well as giving him more time to recognize pitches. There is also less swinging and missing with that approach. His contact rate has improved from 71.8 percent two years to 74.6 percent this season.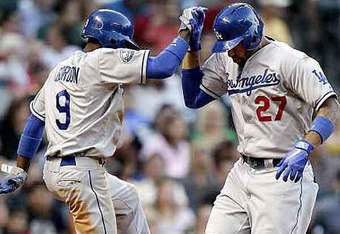 Kemp continues to prove his worth every day. But to win the Triple Crown, he will need help from the entire Dodgers lineup, which he is not getting to this point.
Minus Kemp and clean-up hitter Andre Either, the remainder of the lineup has yet to provide much help, hitting only .222 with an on-base percentage of .317.
Dee Gordon must become a catalyst at the top of the order to provide Kemp with more opportunities to drive in runs. To do that, he needs to improve his on-base skills (.295 OBP) as the season progresses.
It's also probable the the pressure Gordon can apply to a pitcher while on the bases could lead to a few extra mistake pitches for Kemp.
Coming off a career season at age 26 when he made significant jumps across the board statistically, Kemp is in the midst of what many believe to be a baseball player's prime years (ages 26-32).
After hitting 39 home runs and stealing 40 bases in 2011, he has made it clear he wants to be the first member of the 50-50 club this season.
When asked about going 50-50, "I know what I'm capable of doing," Kemp said. "I've shown it."
"Man, I believe in myself to the most. I have confidence I can achieve it. I try to set my expectations as high as I can. I think I'm capable of doing it."
Most of the credit for his bounce-back season in 2011 lies with a renewed commitment toward his offseason workout routine. (Take a moment to view this ESPN All-Access video of Kemp discussing his offseason workout.)
The realization that hard work is the key to success led him to a third-place finish in the batting average category short of winning the Triple Crown last season.
Again, it's difficult to realistically toss around the words "Triple Crown winner" due to the empty winner's circle that has been the reality the past 45 years. But if there is an athlete in Major League Baseball today that is poised to fill that void, it is Kemp.
Jim Pratt is a Featured Columnist for Bleacher Report, MLB contributor for MLBDepthCharts and BravesWire. Follow Jim on Twitter, @2OutSacBunt