Detroit Red Wings: 5 Reasons the Team Needs to Rebuild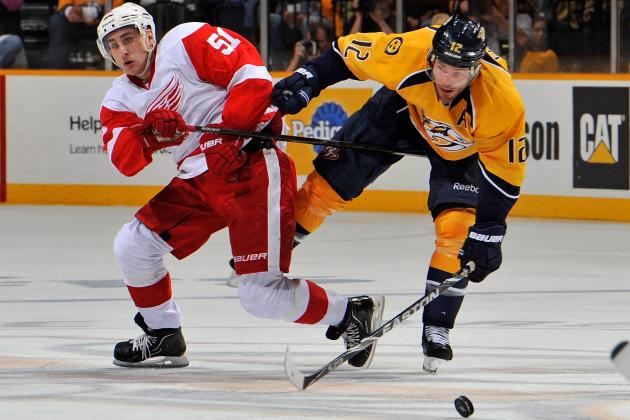 Frederick Breedon/Getty Images

It is over.
Just two weeks into the postseason, the Detroit Red Wings' season is over.
No one expected their first-round series against Nashville to be easy, but most expected it to be long.
As it turns out, the Predators made easy work of the Red Wings and finished the series in five games.
So much for expectations.
It is over.
What makes this series loss particularly tough to take is the fact that it fits what has started to become a familiar pattern for the Red Wings.
After falling one game shy of repeating as Stanley Cup champions in 2009, the Red Wings have failed to advance past the second round of the playoffs.
For some franchises, that's actually not that troubling a trend, as many clubs simply want to make it to the playoffs each season and go from there.
But, for the Red Wings, and for the city of Detroit, early-round exits just don't cut the mustard.
It is tough to look at their roster on paper and cut many holes in it.
They've got a dynamic pair of core forwards in Pavel Datsyuk and Henrik Zetterberg.
A legitimately solid No. 1 one goalie in Jimmy Howard.
And, at least to this point, they still have one of the best defensemen of all time in Nicklas Lidstrom.
However, though they sport a solid supporting cast of players, it seems these are the roles that have not been adequately filled over the past three seasons.
Be it Jiri Hudler, Dan Cleary, Todd Bertuzzi or even Johan Franzen, a proven playoff juggernaut in years past, Detroit is consistently coming up short on second-tier contributors in the playoffs.
While most of the league is busy each summer significantly retooling or even rebuilding their teams, the Red Wings have been more conservative, preferring careful tweaks to full blown overhauls.
It is over.
As of now, that conservative approach to building a team is no longer an option for GM Ken Holland.
At least, not if he expects his team to start playing past the first round with any regularity.
In particular, there are five very important reasons all signs point to a large-scale rebuild to take place in Detroit this summer.
Begin Slideshow

»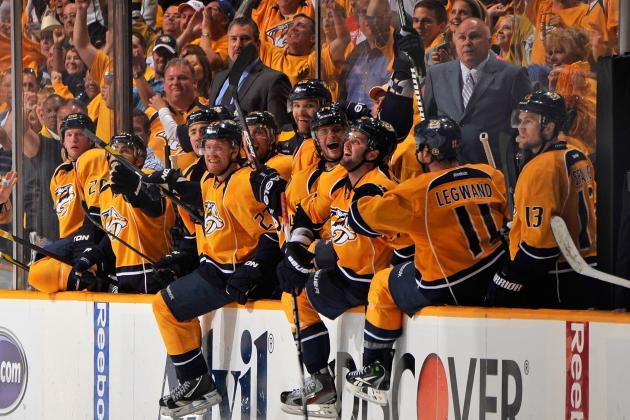 Frederick Breedon/Getty Images

It's ironic when you think about it.
It was Detroit's dominance of the Central Division year after year that caused many of their divisional rivals to rebuild and rework their rosters season after season: trying to get better, trying to get stronger, trying to beat the Red Wings.
The Nashville Predators serve as the most obvious and recent example of just how good the other teams in the Central Division have become.
However, if someone would have told you that four of the division's five teams would make the playoffs, I'd bet you wouldn't have thought Detroit would have been the first team eliminated in the postseason.
That Nashville, St. Louis and (for now) Chicago is still standing (the former two resting up for the second round), demonstrates just how far the division has come since the days it was simply the home of the Detroit Red Wings and those four other teams.
Parity has been looking Detroit in the face for a few years now and a few days ago, it popped them right in the mouth.
Major changes are needed to ensure Detroit remains competitive, let alone leaders, in the Central Division.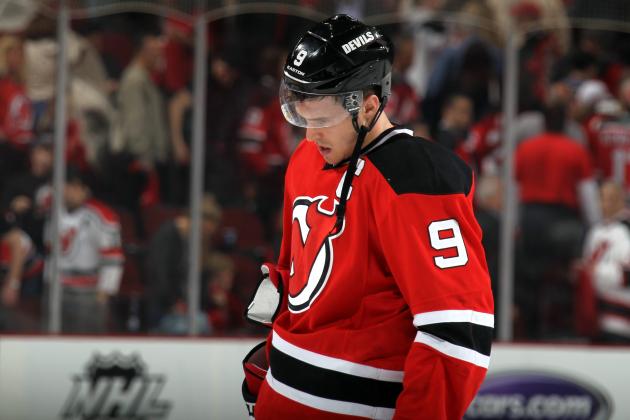 Bruce Bennett/Getty Images

New Jersey Devils forward Zach Parise and Nashville Predators defenseman Ryan Sutter are the two biggest names set to hit free-agency on July 1st.
Not surprisingly, those two have been linked to Detroit through rumor and punditry most of this season.
It's true that both would likely be great fits in Detroit and that the Red Wings will likely have the cash to nab them both.
Still, even if they were to pull off such a coup (there is no guarantee either will even hit free-agency and, if they do, they will have many other attractive options outside of Detroit to consider), Parise and Suter alone will not be enough to turn Detroit back into a perennial contender.
Current players on the roster will undoubtedly be looked on as trade options this summer.
In particular, Valtteri Filppula and Johan Franzen could be actively shopped to bring in replacement players from other teams.
Filppula did have a career year this season posting 66 points, but became utterly invisible in the playoffs.
Franzen has seemed to have evolved into a "play when he wants to" kind of player.
When motivated and skating, Franzen is as dangerous as any player in the league. However, he seems to play this way only when the mood strikes him and that tendency is a big reason why he's failed to perform the way he has in years past.
You know, before he had an 11-year contract.
Just sayin'.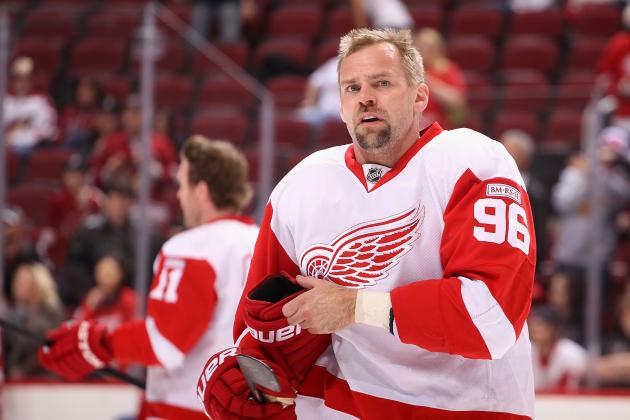 Christian Petersen/Getty Images

Nicklas Lidstrom aside, most players do not get better with age.
Once a player gets past his mid-20s, the decline of their overall skill set, health and utility begins in earnest.
It's just a fact that in today's NHL, luck and championships favor the young.
With aging (by NHL standards) players like Tomas Holmstrom, 39 (whom I can't imagine not retiring this summer), Todd Bertuzzi, 37 and Danny Cleary, 33, being counted on to contribute at key times in the playoffs, it is no wonder that the Wings are not getting the results in the postseason they and their fans expect.
After a full regular season, 30-year-old bodies just don't have the same gas in them as their younger counterparts.
Call it a "youth movement," call it "getting younger," either way, the Red Wings have got to inject some youth into their system in doses they've previously been averse to.
With developing young talent like Jan Mursak, Gustav Nyquist, Cory Emmerton and Brendan Smith already showing promise in limited roles this season, it stands to reason that these four should be regulars next year if the Wings hope to keep pace with the rest of the league.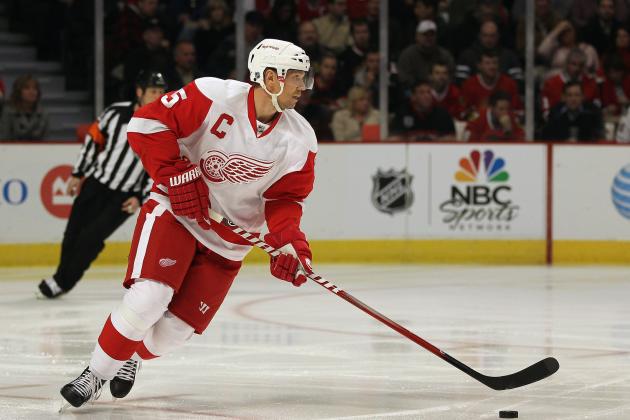 Jonathan Daniel/Getty Images

So, let's cut straight to the two options that have faced the Red Wings for the past several summers.
Option one: Nicklas Lidstrom decides to play one more year.
Option two: Nicklas Lidstrom retires.
Now, consider the consequences of option one.
In Nick decides to stay on for his 21st season in Detroit, he won't be looking to lead a team to a lower-seeded playoff berth.
He will want to lead a team to a Stanley Cup Championship, which means the team will need to make significant changes between now and next season.
But, what if option two, dreaded as it may be, finally comes to pass.
Well, the team will need to make significant changes to absorb the loss of such a talent between now and next season.
Bottom line, if he stays he'll want to win. If he goes, they'll want to win without him.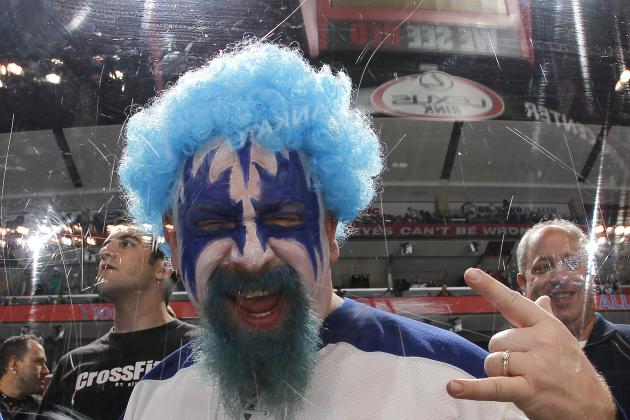 Joel Auerbach/Getty Images

I've stopped trying to figure out how Toronto does it.
No matter how screwed up their management is, no matter how many bone-headed personnel moves they make, no matter how often the team misses the playoffs, the Toronto Maple Leafs sell out every single home game, every single season.
Their fanbase is certainly vocal with their complaints (as they should be), but that doesn't stop Toronto from being one of the hottest NHL cities every single season.
That kind of unconditional love doesn't exist in Detroit.
In a town faced with daily reminders of just how bad life can be, the last thing fans in Detroit are going to do is spend what disposable income they have to watch a team that isn't the best it can be.
True, Red Wings fans may be spoiled by years of amazing success, but that doesn't account for the fact that, at the end of the day, sports is a business and the fans are customers.
With many other sporting options in Detroit, if the Red Wings don't make significant changes to show their customers they're committed to winning, the people will vote with their feet and spend their money to watch the Tigers, Pistons (though they're not close to any championships) or Lions (who'd of that they'd ever be an option) instead of the Red Wings.
Follow Matt on Twitter at: http://twitter.com/MAhutter12
Tune in to the Knee Jerks Radio Show on the Sports Geeks Radio Network (http://www.blogtalkradio.com/mkesportsgeeks) Monday April 23rd at 7:30pm EST to hear me talk more about the Red Wings with Greg Eno and Big Al Beaton!