2012 NFL Mock Draft: Predictions for Entire First Round
April 26, 2012

Chris Trotman/Getty Images
It has been an exhausting fourteen months covering the 2012 NFL Draft. It all culminates with this, my last mock draft of the 2012 "fiscal" year. Luckily, we've already begun work on the 2013 NFL Draft at NEPatriotsDraft.com.
Here is my version of how the 2012 NFL Draft will unfold tonight in New York City.
1. Indianapolis Colts: Andrew Luck, QB, Stanford
The Colts should have thought about the QB position before now, but thanks to one bad season, they are in perfect position to grab the best one in a decade.
2. Washington Redskins (via St. Louis): Robert Griffin III, QB, Baylor 
With the Redskins trading up, they should certainly take Griffin to be the franchise quarterback that they desperately want and need him to be.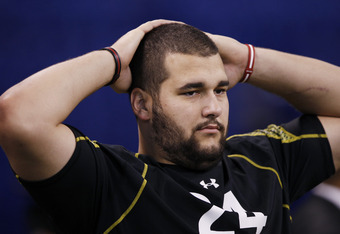 Joe Robbins/Getty Images
3. Minnesota Vikings: Matt Kalil, OL, USC
This is the first pick where there will be some actual drama. Despite the rumors to the contrary, I think the Vikings take the franchise protecting left tackle.
4. Cleveland Browns: Trent Richardson, RB, Alabama
 It is tough to argue about picking the best player in the draft not named Andrew Luck. Richardson will add a new dimension to a stagnant Browns offense.
5. Tampa Bay Buccaneers: Morris Claiborne, CB, LSU
Unless someone trades up with the Vikings, the Bucs are in a great spot. They are guaranteed either Trent Richardson or Morris Claiborne.
6.  St. Louis Rams (via Washington):  Justin Blackmon, WR, Oklahoma State
Some may question the value in drafting a receiver here, but I think Justin Blackmon is only going to get better in the NFL. He is my top-rated receiver for a reason.
7. Jacksonville Jaguars: David DeCastro, OL, Stanford
The Jaguars have enough holes on their team that nearly any pick would make sense here. I think they ultimately trade down and select a safe pick like DeCastro.
8. Miami Dolphins: Ryan Tannehill, QB, Texas A&M
 The Dolphins can win some games with Matt Moore. If they want to win playoff games, however, they are going to need to upgrade. Tannehill might need a year, but he has loads of talent.
9. Carolina Panthers:  Fletcher Cox, DL, Mississippi State
Despite what Michael Lombardi and Mike Mayock think, I feel that Fletcher Cox, not Chandler Jones, is the best defensive lineman in this draft. The Panthers would be getting an instant impact player.
10. Buffalo Bills: Stephon Gilmore, CB, South Carolina
Gilmore started in our top-ten of the 2012 NFL Draft last March and after a brief hiatus has returned. Buddy Nix is such a mystery, that nearly any player on the board wouldn't surprise me.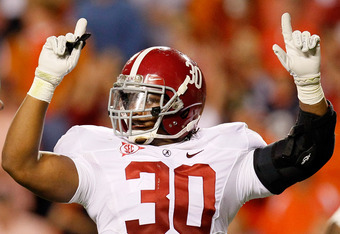 Kevin C. Cox/Getty Images
11. Kansas City Chiefs: Dont'a Hightower, LB, Alabama
I think the Chiefs try and trade down and target Hightower. If they stay put, a big defensive lineman like Michael Brockers would be a good bet for Pioli and Crennel.
12. Seattle Seahawks: Melvin Ingram, DE, South Carolina
I'm not sure where any team in the NFL will play Ingram, but I'm sure every one of them thinks they can find a spot for the versatile defender.
13. Arizona Cardinals: Michael Floyd, WR, Notre Dame
Larry Fitzgerald wants another receiver. Get the man another receiver. If they don't, they better target a lineman like Riley Reiff.
14. Dallas Cowboys: Mark Barron, S, Alabama
If Fletcher Cox is off the board, the Cowboys should look at addressing their defensive backfield. Mark Barron is a natural fit and should provide an immediate upgrade at the safety position.
15. Philadelphia Eagles: Quinton Coples, DE, North Carolina
Many think Coples is in for a fall on draft day, but I think his upside will make one team take the plunge before the halfway point in the first round. Coples will be as good as he wants to be in the NFL.
16. New York Jets: Dontari Poe, DL, Memphis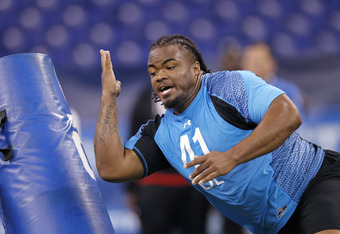 Joe Robbins/Getty Images
Dontari Poe is a huge, athletic man. He isn't a football player yet. Given some time with Rex Ryan and company, I'm sure that Poe can make those flash plays appear much more often.
17. Cincinnati Bengals (via Oakland): Dre Kirkpatrick, CB, Alabama
Cincinnati should continue to stockpile young talent on the defensive side of the football. Adding a player like Kirkpatrick would certainly help. Whether he plays at CB or FS, Kirkpatrick will have an immediate impact.
18. San Diego Chargers: Riley Reiff, OL, Iowa
Reiff can play either tackle or guard position. The Chargers would be wise to lock up the versatile and talented Hawkeye.
19. Chicago Bears: Michael Brockers, DL, LSU
Brockers' upside is unlimited. The Bears have other needs on offense, but I'm not sure they can pass up putting Brockers next to Julius Peppers. 
20. Tennessee Titans: Luke Kuechly, LB, Boston College
Kuechly shouldn't fall this far, but if he does, the Titans will be ready to catch him. There isn't a more mentally ready linebacker in this draft.
21. Cincinnati Bengals: Courtney Upshaw, OLB, Alabama
There has been a lot of talk about Upshaw falling out of the first round, but I don't see a way that the Bengals pass on this powerful, passionate and instinctive football player.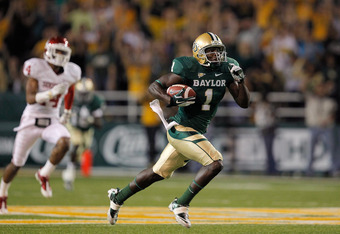 Sarah Glenn/Getty Images
22. Cleveland Browns: Kendall Wright, WR, Baylor
Forget Wright's 40-yard dash time and watch a game. See him running by corners? Yeah, he does that.
23. Detroit Lions: Amini Silatolu, OL, Midwestern State
Not many division two players get selected in the first round, but Silatolu has the elite physicality that teams love out of their interior linemen.
24. Pittsburgh Steelers: Cordy Glenn, OL, Georgia
The Steelers need to protect their quarterback, no matter how old their defense may bet getting. Glenn could instant start at two or three positions on the Pittsburgh line.
25. Denver Broncos: Devon Still, DL, Penn State
The Broncos need a defensive tackle in the worst way. Devon Still and Jerel Worthy are the two options here and I think Still can have more of an every down impact than Worthy.
26. Houston Texans: Reuben Randle, WR, LSU
Andre Johnson needs some help. Reuben Randle needs a competent quarterback. Sounds like a good fit for both team and player.
27. New England Patriots: Chandler Jones, DE, Syracuse
If the rumors are true, the Patriots will have to trade up to pick Jones. I don't see him as a top-20 pick, but I understand developing him as a late first round selection. He could be a very good 4-3 DE or even 3-4 DE/OLB if he can add bulk without losing athleticism.
28. Green Bay Packers: Nick Perry, DE/OLB, USC
It wouldn't surprise me to see Perry picked in the first half of round one or fall out of it completely. He has the athleticism, but some teams might not like what he brings physically. I think the Packers would embrace him, as they have former USC LB Clay Matthews.
29. Baltimore Ravens: Shea McClellin, LB, Boise State
Word is that the Ravens are big fans of McClellin and could even trade up for him. If he isn't there, Peter Konz of Wisconsin could be the pick.
30. San Francisco 49ers: Kevin Zeitler, OL, Wisconsin
The 49ers would be hard-pressed to find a better run-blocker in the 2012 NFL Draft than Zeitler. He can improve in the passing game, but San Francisco is just the perfect spot for a physical player like Zeitler.
31. New England Patriots: Vinny Curry, DE, Marshall
Vinny Curry has a great motor, attitude and production. He lacks elite athleticism, but his will to get to the quarterback is rare to find. The Patriots would love what he brings on the field and in the locker room.
32. New York Giants: Doug Martin, RB, Boise State
Behind Trent Richardson, Doug Martin is the most complete back in the 2012 NFL Draft. He would instantly stabilize the position for the Giants.