2012 NFL Mock Draft: Teams That Should Trade Their First-Round Pick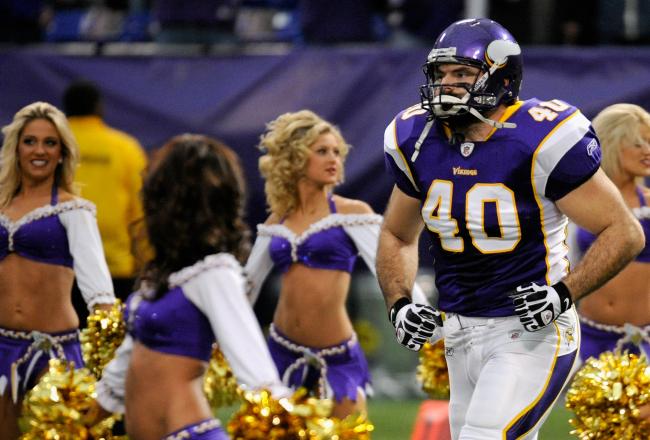 Hannah Foslien/Getty Images
There a few teams in this draft that should sacrifice valuable draft real estate to pick up an extra pick or five.
First-round picks are valuable. For instance, the Redskins deemed it worth it for them to jump from No. 6 to No. 2 by giving away that sixth pick, two additional first-round picks and a second-round selection.
Now, unless the Colts suddenly decide they are going to trade the No. 1 overall selection, there isn't a team that is going to find that kind of deal, but the point remains that any team willing to pass on a little quality can get increased quantity.
In my mock draft below, the teams that should go this route will be identified, and I will explain why this is the case.
Langford's 2012 NFL Mock Draft
1. Indianapolis Colts: Andrew Luck, QB, Stanford
This pick was and is never going to be anyone other than Luck.
2. Washington Redskins via St. Louis: Robert Griffin III, QB, Baylor
Griffin is the reason the Redskins felt it was worth it to pull off the above mentioned trade.
3. Minnesota Vikings: Matt Kalil, OT, USC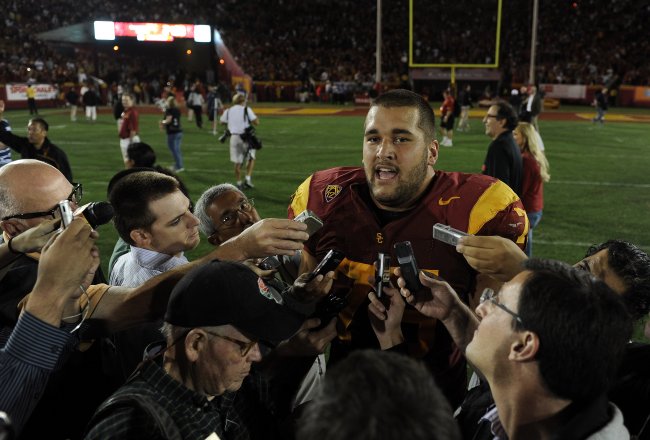 Harry How/Getty Images
Kalil is an elite left tackle in waiting, and the Vikings need the help on the line.
Why Minnesota Should Trade This Pick
The Vikings have a ton of holes. Their secondary is horrendous, they could use some youth at linebacker and the offensive line needs a complete retooling.
They need a big infusion of talent if they want a shot at a winning season, and they could get that infusion if they trade down.
This is going to be an extremely valuable pick. Teams will have their pick of the non-QB players. That means anyone jonesing to pickup the likes of Kalil, Trent Richardson, Morris Claiborne or Justin Blackmon would love to own this pick.
Minnesota should get as many picks as they can in this draft and trade down.
4. Cleveland Browns: Trent Richardson, RB, Alabama
Richardson is a complete and polished back that will thrive as an every-down player.
5. Tampa Bay Buccaneers: Morris Claiborne, CB, LSU
Claiborne is an elite corner prospect that will be an instant upgrade for the Bucs.
6. St. Louis Rams via Washington: Justin Blackmon, WR, Oklahoma State
You better believe that the Rams brass has been hoping that Blackmon will last until No. 6.
7. Jacksonville Jaguars: Quinton Coples, DE, UNC
The Jaguars have to increase their pass-rush, and Coples is the best pass-rushing prospect in this draft.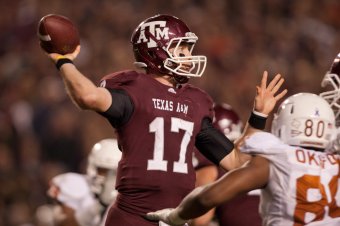 Darren Carroll/Getty Images
8. Miami Dolphins: Ryan Tannehill, QB, Texas A&M
The Dolphins failed to upgrade the QB position thus far in the offseason. They will turn to the draft to try and find the future of their franchise.
9. Carolina Panthers: Devon Still, DT, Penn State
Carolina's massive defensive woes started along the defensive line. Still will help solidify that weak front.
10. Buffalo Bills: Dre Kirkpatrick, CB, Alabama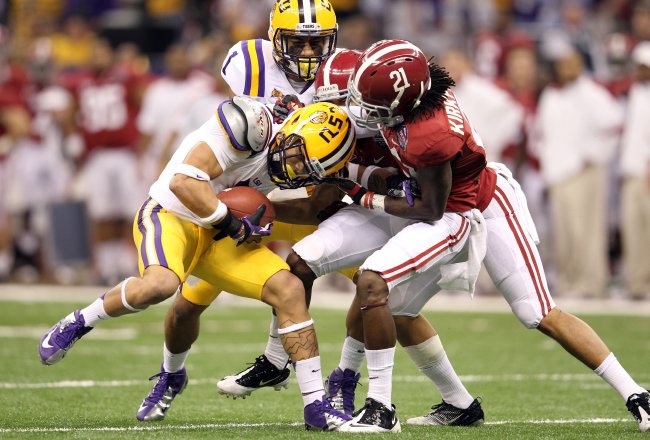 Andy Lyons/Getty Images
Kirkpatrick is the exact kind of corner the Bills need. He is solid in man and great in zone.
Why Buffalo Should Trade This Pick
The Bills must focus on upgrading their secondary. The problem is that at No. 10, there is not a good value pick here.
That is a reach to take Kirkpatrick, who is plagued by character concerns.
This leaves the Bills to decide between taking the best player available, reaching to fill their biggest need or trading down.
This should be an easy answer for the Bills. Trade down, fill your need at corner and grab some extra picks in the process.
11. Kansas City Chiefs: David DeCastro, OG, Stanford
DeCastro is the perfect infusion of youth and run blocking for the Chiefs.
12. Seattle Seahawks: Melvin Ingram, DE/OLB, South Carolina
The Seahawks need to find an end that can put some pressure on the QB.
13. Arizona Cardinals: Johnathan Martin, T, Stanford
Arizona showed flashes of having a dominant run game last season. Martin will help them sustain those flashes.
14. Dallas Cowboys: Luke Kuechly, LB, Boston College
Kuechly might be the most instinctive player in this draft. The Cowboys can use his nose for the ball.
15. Philadelphia Eagles: Riley Reiff, OT, Iowa
The Eagles can't let this pick go without finding someone to help keep Michael Vick upright.
16. New York Jets: Dontari Poe, DT, Memphis
The Jets need to add some youth to their front seven. Poe has the size to play nose and the athleticism to play end in a 3-4.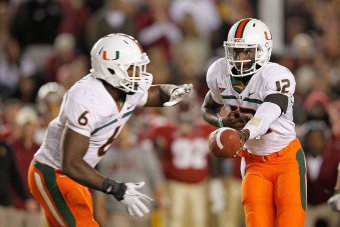 Mike Ehrmann/Getty Images
17. Cincinnati Bengals via Oakland: Lamar Miller, RB, Miami
The Bengals will add to their nice collection of young and talented skill position players.
18. San Diego Chargers: Whitney Mercilus, DE, Illinois
San Diego needs to add some explosive athletes to the edge of its defense.
19. Chicago Bears: Peter Konz, C, Wisconsin
The Bears will be tempted to grab one of the receivers on the board here, but their needs on the offensive line cannot be ignored.
20. Tennessee Titans: Mark Barron, S, Alabama
Barron is easily the best strong safety in this draft. The Titans will not hesitate if he is still on the board.
21. Cincinnati Bengals: Janoris Jenkins, CB, North Alabama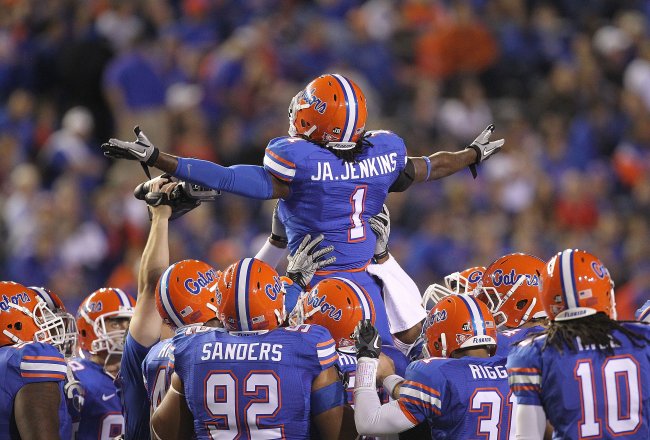 Mike Ehrmann/Getty Images
Jenkins is a risky pick, but the guy has Pro Bowl potential.
Why Cincinnati Should Trade This Pick
Having two picks in the first round gives the Bengals an amazing amount of flexibility, and trading down is the way to go.
The Bengals already have a stable of young talent. This allows them the luxury of trading down. And once they make that decision, they have an opportunity to turn this into a Patriots type of situation where they seem to perpetually have a nice stockpile of draft picks.
This is a way for them to build something great.
22. Cleveland Browns via Atlanta: Zach Brown, OLB, UNC
The Browns developing defense can use an LB with Brown's all-around skill set.
23. Detroit Lions: Cordy Glenn, OG, Georgia
The Lions must build up their offensive line. The massive Glenn is a nice start.
24. Pittsburgh Steelers: Mike Adams, OT, Ohio State
The Steelers cannot continue to ignore their problems on the offensive line.
25. Denver Broncos: Fletcher Cox, DT, Mississippi State
The Broncos are dangerously thin at defensive tackle. They need to help that with this pick.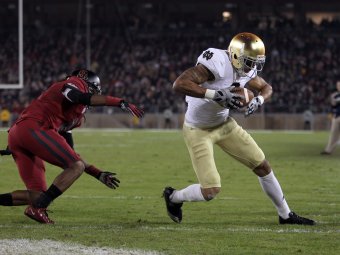 Ezra Shaw/Getty Images
26. Houston Texans: Michael Floyd, WR, Notre Dame
Michael Floyd's talent is worthy of him being drafted higher. His character concerns will hold him back.
27. New England Patriots via New Orleans: Courtney Upshaw, DE/OLB, Alabama
The Patriots have to add some youth and talent to their defense. An athletic pass-rusher is a great fit.
28. Green Bay Packers: Nick Perry, DE/OLB, USC
The Packers defense fell off of a cliff last season. Another pass-rusher will be a good start.
29. Baltimore Ravens: Dont'a Hightower, LB, Alabama
The Ravens know how to identify LBs. Hightower will be their next nice find.
30. San Francisco 49ers: Alshon Jeffery, WR, South Carolina
The 49ers are doing what they can to upgrade the WR position. That will continue with this pick.
31. New England Patriots: Andre Branch, DE, Clemson
The Patriots will make upgrading their defense a clear priority.
32. New York Giants: Jerel Worthy, DT, Michigan State
The Giants love defensive linemen. They will prove that once again with this pick.
This article is
What is the duplicate article?
Why is this article offensive?
Where is this article plagiarized from?
Why is this article poorly edited?