2012 NFL Draft: Tannehill Represents Questionable Value for Dolphins at No. 8
April 23, 2012

Ronald Martinez/Getty Images
The problem, as I see it, isn't drafting Ryan Tannehill: it's drafting him with the 8th overall selection. At this stage of the game, I know I should be trying to down all of the Tannehill kool-aid I can find. Every mock you see has him going to Miami at No. 8. He has tremendous upside, is a great fit with the Dolphins and fills a key need.  
But it's just not working for me.  
Before a few key college QBs decided to stay in school, Tannehill was called a borderline first round pick—a high upside project. Since then, his stock has skyrocketed, but the perception of him has remained the same: has great tools but is raw, inexperienced and needs polishing.
I'm leery of this because I'm not so sure what really changed. If the only difference between Tannehill now and Tannehill in February is that better quarterbacks decided NOT to enter the draft, how has he improved on those initial projections?  
Citing an impressive pro-day and an exceptional learning curve, ESPN's Todd McShay and their Scouts Inc. department, have both touted Tannehill as an elite level prospect. Yet McShay concedes a great deal of polish is still required for the former Texas A&M signal-caller, who just two months ago was a player he had going in the mid-first round. In that time, Miami has swung and missed spectacularly on several key opportunities to upgrade at the quarterback position, and their palpable desperation has in part fueled the Tannehill hysteria.  
In contrast to his co-workers, ESPN's Mel Kiper Jr. has been far more cautious in his assessment of Tannehill, ranking him 18th on his list of best prospects, whereas McShay and Scouts Inc. have him listed as 9th best overall.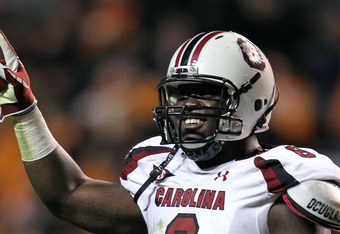 Andy Lyons/Getty Images
Kiper, like everyone else, loves the athleticism and tools, but also believes there is a greater, inherent risk when evaluating a player with only 19 career starts at quarterback. The initial reviews of Tannehill as a work in progress combined with the lingering skepticism is some circles suggests the player is a great talent, but far from a slam dunk.  
One of the strongest arguments being made for selecting Tannehill (that the Dolphins won't contend in 2012 and thus can wait and develop a quarterback) simultaneously provides a compelling argument against the pick.
Surely if we were to concede a lack of contention, wouldn't it be best not to reach? It's one thing for a team to believe it's one or two pieces away from contention and thus goes out of their way to fill those gaps. But with enough glaring holes to fill on both sides of the ball, Miami would be well-served to approach this draft as Major League Baseball teams approach theirs—go for value and take the best of what's available.
At the end of the day, nobody knows Ryan Tannehill like this Miami staff, and if they deem him worthy of the 8th overall selection then there is no compelling reason to question the judgement. That being said, there are still some interesting alternatives for the Dolphins to consider:
Melvin Ingram, DE South Carolina: Kiper, McShay and Scouts Inc. all rank Ingram ahead of Tannehill in their pre-draft rankings. A versatile end, Ingram is built for the 4-3 but is athletic enough to fit comfortably into a 3-4 scheme as a pass rushing linebacker.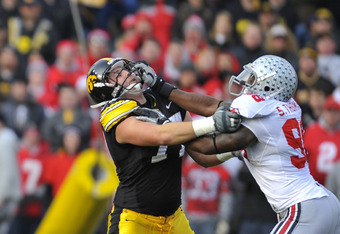 David Purdy/Getty Images
The Dolphins finished last season tied for 10th in team sacks with 41, but no player recorded a double digit sack total, and the team's second leading pass rusher just retired (Jason Taylor). In today's pass-happy NFL, it is imperative that you are able to create and sustain a great pass rush. Ingram can be effective from day one. 
Riley Reiff, OT Iowa: Reiff has slipped below Tannehill on some boards, but he remains well above him on Kiper's. According to Football Outsiders, Miami was 17th in run blocking (as measured by Adjusted Line Yards) as a team, but an abysmal 30th in pass protection. Not surprisingly, much of the pass protection futility was a result of the right tackle position, which posted a 2.62 AYL, good for 31st in the league.
Now that the atrocious Marc Colombo is gone, Miami can improve it's line performance almost from day one with Reiff, a 6'6" 313 pounder with great technique. However, for a team desperate for some excitement, a right tackle doesn't really fit the bill.  
Mark Barron, S Alabama: Barron is the consensus number one Safety in the draft and a player who Miami might be able to still get if they traded down a few picks (just don't trade down below Dallas). He has good size and range, with instincts that make him a force in both pass coverage and run stopping. The Dolphins have dealt with underwhelming safety play for a while, and a player like Barron could make an immediate, dynamic impact.  
Miami's draft will also have to address what I think is the most egregious problem facing them heading into next season, which is a complete and utter lack of dynamic skill players on offense. Because this is such a deep WR draft class, I resisted the urge to consider Michael Floyd as a possible first round selection for Miami. Make no mistake though, they need some playmakers big time.