NBA Draft 2012: Best Options for Every Team in the NBA Draft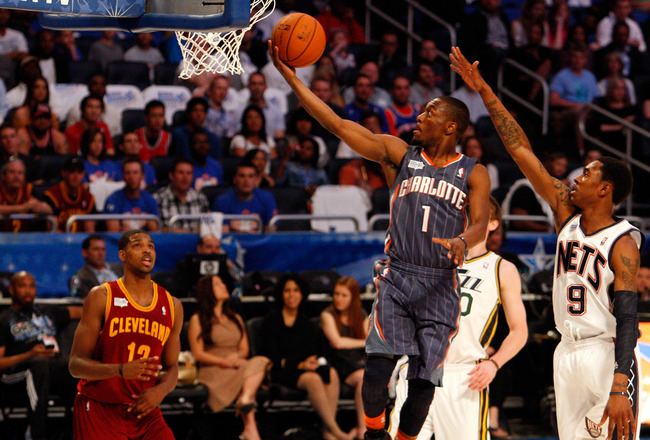 Walker and the historically woeful Bobcats are on the clock.
Ronald Martinez/Getty Images
Now that the NBA regular season is on the verge of its end, the circumstances of June's draft are coming more clearly into focus.
Team needs are more visible, an order seems easier to predict and what the best option for every team is with a first-round pick appears more obvious.
There's no guarantee they will win the lottery, but it's probably safe to say the Charlotte Bobcats are on the clock. So with that, let's take a look at their, and every other teams', best option for the first round.
Please note: These slides are in no particular order—just a rough idea of every team's first-round draft position.
1. Charlotte: Anthony Davis, Kentucky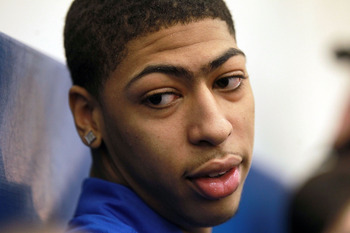 Beware the brow, Bobcat opponents.
Andy Lyons/Getty Images
The Bobcats, three losses away from the worst winning percentage in NBA history, need absolutely everything. Therefore, their best option is the best player on the board, the 2012 Final Four MVP Davis, a 6'11" power forward with the talent and ability to control a game without taking a single shot.
Davis, one of the best shot-blockers to come down the pike in ages, will combine with last year's first-round pick Bismack Biyombo to form a formidable defensive front court. Since Charlotte is the worst team in the league on defense (and on offense), this pick is a no-brainer.
2. Washington: Michael Kidd-Gilchrist, Kentucky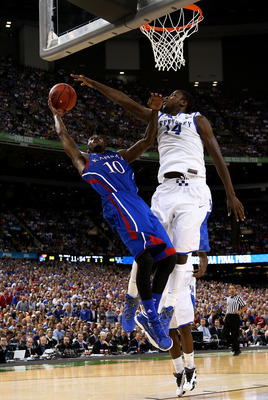 Kidd-Gilchrist does it all, which is exactly what the Wizards need.
Ronald Martinez/Getty Images
The Wizards are also in dire need of everything, but they do know they are set at point guard (John Wall) and, to an extent, up front, where youngsters Trevor Booker and Kevin Seraphin have come along nicely over the course of this lost season in D.C.
Kidd-Gilchrist isn't the shooter that Bradley Beal is or in possession of the presence of a Thomas Robinson, but he's an excellent athlete with a never-ending motor who always gives maximum effort and obviously knows how to win.
Kidd-Gilchrist is the next best player on the board after Davis, which should make him a lock for Washington.
3. Toronto: Thomas Robinson, Kansas
Robinson's size and quickness would help the Raptors at both ends of the floor.
Ronald Martinez/Getty Images
The Raptors could use a smooth small forward like North Carolina's Harrison Barnes or a more consistent perimeter threat like Beal, but what they really need is an intimidating presence up front and that's Robinson.
Toronto coach Dwane Casey is a defensive-minded coach who designed the Dallas Mavericks' D when the Mavs won a title last season. The focal point of that defense was big man Tyson Chandler. Robinson isn't as tall as Chandler, but he could be a similar type of factor.
Robinson would immediately become the Raptors' toughest frontcourt player and he's also extremely quick for a guy his size, which would help Toronto on offense, too. He's the Raptors' best option by far.
4. New Orleans: Andre Drummond, Connecticut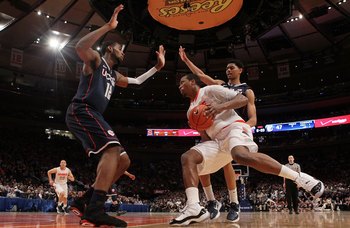 New Orleans would be well served to take Drummond (left) thanks to his size and defensive skills.
Jim McIsaac/Getty Images
The Hornets, now ensured of staying in the Big Easy, haven't had a truly legit big man since Tyson Chandler was slamming home perfect passes off pick-and-rolls from Chris Paul back in 2007-2008. Taking Drummond would give them a chanced to get that element of the game back.
Beal may be a decent fit for the Hornets, but if they re-sign restricted free agent Eric Gordon (note: They should), that would give them an overlap at the two-guard slot. Drummond could replace the always injured Emeka Okafor as the main man in the middle.
is a big-time rebounder, shot-blocker and defender. He's just what the Hornets need to go along with Gordon.
5. Sacramento: Jared Sullinger, Ohio State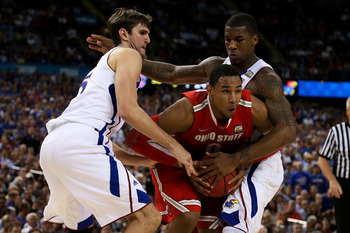 Sullinger is just the kind of powerful low post guy the Kings need.
Chris Graythen/Getty Images
The Kings are loaded with perimeter scorers, which would seem to take them out of the running for guys like Beal or Barnes. However, they could definitely use a running mate down low for DeMarcus Cousins, and if he doesn't need the ball to be successful, more power to them.
Enter Sullinger, a man at 6'9", 280 lbs. who can rebound and defend the post. Sullinger is strong and physical and he's hardly afraid to mix it up. And, he can face up and score as well, meaning that when Cousins, Tyreke Evans and Marcus Thornton aren't dominating the ball, he can be a useful offensive tool.
Depending on when the Kings pick, Sullinger could be a bit of a reach for them, but they have to be looking for size and defense given the makeup of their current roster.
6. Cleveland: Harrison Barnes, North Carolina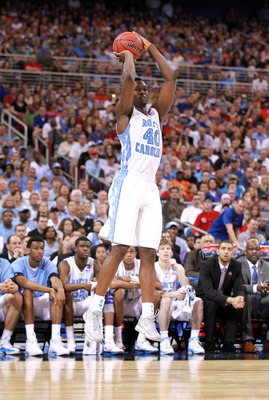 Barnes' skill set matches the Cavs needs well.
Andy Lyons/Getty Images
The Cavs have their point guard of the future in Kyrie Irving and are pretty much set up front with Anderson Varejao and last year's second lottery pick Tristan Thompson. What they need is someone who can score on the wing.
All of Antawn Jamison's (who's gone, by the way) shots can go to Barnes, whose resume says he's a shooter and wing scorer. There is talk that he's a more-than-capable defender when he puts his mind to it as well, and although he has a tendency to shrink from the moment a bit, his acumen is just what Cleveland needs as it continues to rebuild.
Note: ESPN's Chad Ford notes that the Cavs were "praying Barnes stayed in the draft so they could select him at No. 4 last year." If he's there when the Cavs pick this year, it's hard to imagine them passing him up.
7. Portland: Bradley Beal, Florida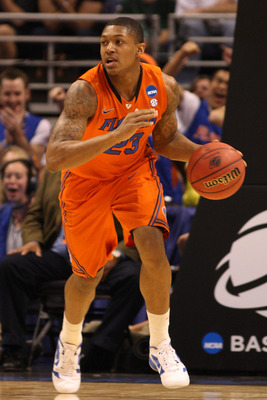 Beal does a little bit of everything, just what the Portland back court needs.
Christian Petersen/Getty Images
If the Blazers are smart (and lord knows, they rarely look it), they will get rid of both Raymond Felton and Jamal Crawford as quickly as they possibly can when the season ends this week.
Then, with their first move to rebuild their backcourt, they should take Beal if they can. He could be a game-changer for them.
Beal reminds somewhat of another Portland star, Brandon Roy. He's well sized for a guard (6'5", 200 lbs) and can handle the point if needs be in addition to being a dead-eyed perimeter shooter.
ESPN's David Thorpe notes that Beal "should be a great shooter and a defensive demon." Beal has been lauded for his maturity, something the Blazers lacked in spades this past season. And the fact that he averaged 6.7 rebounds per game for Florida this past season has to have NBA scouts drooling.
If Portland winds up outside the top five, Beal will likely be gone. However, he matches what the Blazers need as well as any player to team in the lottery.
8. Detroit: Tyler Zeller, North Carolina
The Pistons will be looking for another big like Zeller to pair with Monroe.
Dilip Vishwanat/Getty Images
The Pistons have an emerging star up front in Greg Monroe, but he's sort of miscast as a center. If they brought in a guy like Zeller to play the pivot and free up Monroe to spend his time at the 4, watch out.
Zeller will go in the lottery despite being more of a role player. He's got good hands and can rebound and take up space and would provide a lot of cover for Monroe as he continues to develop.
Plus, Zeller has a truckload of experience having played four years at UNC, and is coachable, attributes likely to be invaluable to a coach like Lawrence Frank, whose previous job was as Doc Rivers' top assistant in Boston.
Look for the Pistons to have their eye on a lot of bigs. Don't count out Sullinger or even Drummond to be wearing a Detroit jersey if either of them are around that long.
9. Utah: Damian Lillard, Weber State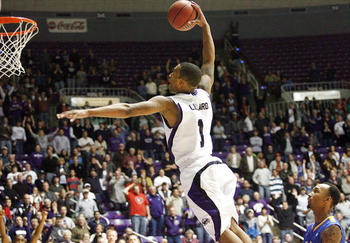 Lillard can score and distribute from the point guard spot.
The Jazz own Golden State's first-rounder and with it, they should be on the hunt for a point guard. Devin Harris has regressed big time and Earl Watson is the definition of a journeyman. Given the Jazz's strength up front (Al Jefferson, Paul Millsap, Derrick Favors, Enes Kanter), they have to be looking to upgrade the point.
Lillard is arguably the best available in this draft at the position. He didn't go to a big school like North Carolina's Kendall Marshall or Washington's Tony Wroten, but he's still extremely quick, is an excellent distributor and can score like a 2 if needs be.
At age 21, Lillard is experienced, too, an attribute that never hurts when drafting a point guard. Marshall would be a good fit here as well, although Lillard's scoring ability (24.5 PPG last season) makes him look more attractive.
10. Milwaukee: Perry Jones III, Baylor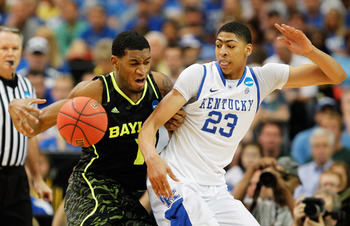 Jones is the quintessential high-risk, high-reward prospect.
Streeter Lecka/Getty Images
Now that the Bucks have Monta Ellis to play next to Brandon Jennings, they should be looking to the frontcourt with force. Enter Jones.
A super phenom talent, Jones won't go much higher than 10 given his reported maturity problems that could well turn him into a great, big el busto. However, the Bucks, with their hard-nosed coach and position on the edge of the playoffs, shouldn't be afraid to take a home run-sized cut with their first-round selection.
Jones is that kind of player. He could dominate down low but is talented enough to try honing his wing skills and do the job from there.
It all depends on his attitude. The Bucks will likely pick at the end of the lottery. They could wind up with a major steal if Jones falls to them.
11. Phoenix: Kendall Marshall, North Carolina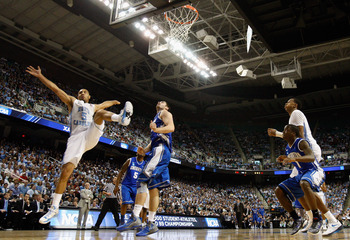 The broken wrist Marshall suffered on this play shouldn't be an issue come next fall.
Streeter Lecka/Getty Images
That the Suns are on the cusp of the playoffs with 38-year-old Steve Nash, 87-year-old Grant Hill and a bunch of role guys is astonishing in itself (and evidence that Nash should absolutely get some MVP pub come season's end). However, it all has to come to an end some time, which is why Phoenix needs to use this draft to start rebuilding.
The Suns' first order of business should be finding someone to take over the team when Nash is gone, which could be as soon as next year. And that guy is not Sebastian Telfair, which is why whenever they pick—be it at the end of the lottery or right after it—it's gotta be point guard all the way.
And based on how this list has played out, that means UNC's Marshall, the purest of this draft's point guard crop.
Marshall doesn't score much or shoot too well. What he does do is distribute, roll up impressive assist numbers (9.8 per game this past season) and make his teammates better.
Sound familiar?
Marshall is coming off a wrist injury suffered in the NCAA Tournament, but that shouldn't be an issue come training camp. The Suns' most promising players going forward are frontcourt guys Marcin Gortat and rookie Markieff Morris, which makes it that much more imperative for them to go for someone like Marshall.
12. Houston: Terrence Jones, Kentucky
Jones can do it from pretty much everywhere on the floor.
Chris Graythen/Getty Images
The Rockets need need need to make a deal (like the one they almost had for Pau Gasol right after the lockout). Sure, they very nearly made the playoffs despite some key injuries thanks in no small part to a excellent coaching job by Kevin McHale.
The time has come, however, to break up this roster of good to very good role players and go in another direction.
That being said, looking at the board around the tail end of the lottery, the Rockets may be able to get a guy like Kentucky's Jones. He does play the same position as Luis Scola (and Gasol, if Houston decides to resuscitate those talks), but he can step out and play the 3, too, thanks to his great quickness and shooting range.
At 6'8", 244 lbs., Jones could well be a matchup nightmare for opposing wing guys. He showed flashes during Kentucky's recent run to a national title that he could be the man if needs be, and it hasn't been much more than a year ago since he was being touted as a potential top-five pick.
If he lasts this long, the Rockets will be more than fine with Jones.
13. Philadelphia: John Henson, North Carolina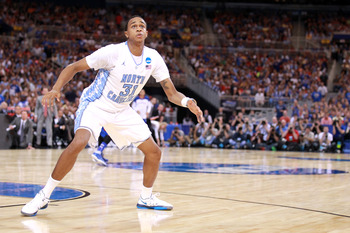 Henson would deepen the Sixers front court.
Andy Lyons/Getty Images
As the Sixers have tumbled from one of the East's best teams to nearly out of the playoffs this season, one thing that has stood out is the inconsistency of their frontcourt.
Elton Brand still brings it occasionally, but he's getting pretty close to the other side of the hill. Spencer Hawes is as big a trick-or-treater as there is. Rookie Nikola Vucevic could well turn into a player, but he's a ways off.
Given these post issues and their raft of guards and wing players, the Sixers should stay in the realm of the bigs and take a guy like Henson, a big, wiry, long, athletic player who will fit right into coach Doug Collins' defense-first philosophy, rebound effectively and continue to improve offensively, something he did in all three of his years as a Tar Heel.
Don't be surprised if the Sixers use this pick and a player or two in a deal. This roster looks like it could use some shaking.
14. Dallas: Terrence Ross, Washington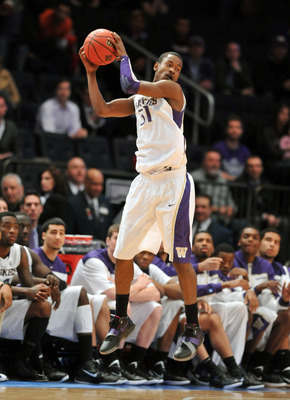 Ross could be the new Terry, only much bigger.
Jason Szenes/Getty Images
Jason Terry has manned the 2-spot for the Mavs for years now, but those days are nearing an end. Whether Dallas moves for Deron Williams or Dwight Howard or both, it will need to compensate for Terry's loss.
Ross will go a long way toward filling that hole. He's a marksman, a wing player who can shoot from way deep and averaged 16 points per game doing that for the Huskies this past season. He's also tall enough at 6'7" to be able to give opposing 2-guards fits at both ends of the court.
This one makes tons of sense for the Mavs no matter how free agency and offseason play out.
15. Denver: Austin Rivers, Duke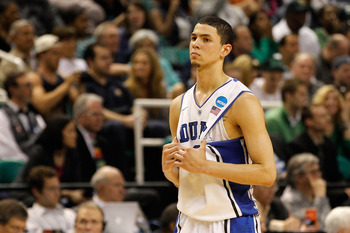 Rivers needs more time to learn.
Streeter Lecka/Getty Images
It says here that Rivers should not come out until he's played another season for the Blue Devils, but it's too late for that now, so how about the Nuggets take a flier on him when they pick near the two-thirds mark of the first round?
With Andre Miller a free agent, Denver could bring in Rivers, ask him to back up Ty Lawson, not have to do too much and learn from a well-respected coach like George Karl.
If Rivers is going to play in the NBA now and hopes to have a successful career, he could stand to serve an apprenticeship of sorts, playing for a team he didn't have to help right away.
The Nuggets represent just that.
16. New Jersey: Marquis Teague, Kentucky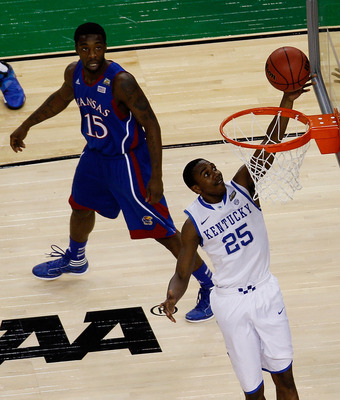 Getting to the basket is a specialty of Teague's.
Chris Graythen/Getty Images
If they can somehow convince Deron Williams to stay and come to Brooklyn with them, the Nets will go elsewhere with Houston's pick. If they can't, Teague is a great option for them.
They'll need a point guard and Teague is one. He also just led a team to a national championship so he can certainly play and produce. As one of Kentucky's six potential first-rounders, he's got credibility and is recognizable to a point and can get to the rim thanks to his quickness.
The Nets are pretty much screwed if they don't retain Williams, whom they completely sold out both to get and to keep. However, if they have to start over in the backcourt, taking a phenom like Teague in the later stages of the first round would be a nice consolation.
17. Boston: Arnett Moultrie, Mississippi State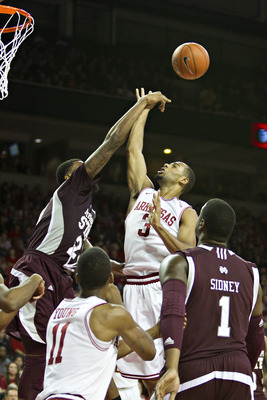 Moultrie says, "Get that *BLEEP* outta here!"
Wesley Hitt/Getty Images
The Celts have two first-rounders, and if they keep both they'd be wise to get themselves a big man.
Moultrie reminds somewhat of Kevin Garnett, whom the C's could keep around to mentor his eventual successor. He's the same height (6'11"), plays the same position and has a similar game, predicated on athleticism, length, defense and rebounding.
He can also score, having put up 16.4 PPG this past year while shooting 55 percent from the floor. That combination of skills would suit the Celts very well.
There are so many question marks surrounding the C's come this offseason, getting a guy in the image of their current heart and soul would at least provide some answers.
18. Orlando: Fab Melo, Syracuse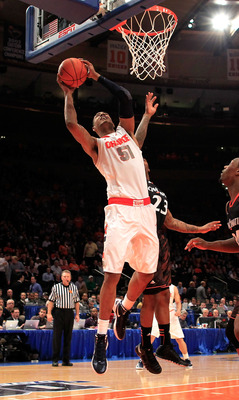 Melo could at least decrease the void left by Howard.
Chris Trotman/Getty Images
It must be a huge bummer to be a Magic fan right now. Your best player couldn't care less about you or your favorite team. Your coach is a sitting duck despite being very good at what he does. And you're still stuck with Hedo Turkoglu.
There's not a lot to look forward to for those Disney denizens who love their basketball team. However, since they have to do something, trying to get a replacement for at least some of Dwight Howard's rebounds and blocked shots is probably a good idea. Enter Melo.
This guy is huge (7'0", 274 lbs.). He was a very good rebounder and shot-blocker at Syracuse. Should Howard go (and boy, Orlando upper management, should he ever), someone will need to play center, and it's not Glen Davis.
19. Memphis: Tony Wroten, Jr., Washington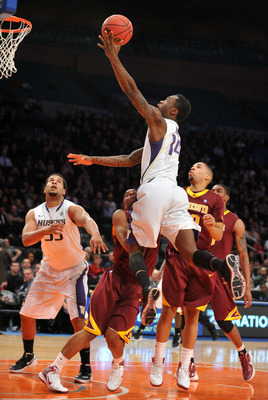 Wroten could be Memphis's next Mayo.
Jason Szenes/Getty Images
The Grizzlies have been trying to trade O.J. Mayo forever (and almost did at the deadline to the Celtics) so there's no sense if doubting they won't try again this summer.
And if they know they're going to try to do that, why not draft his replacement? Wroten is a supertalented combo guard who, Ford says, "has the potential to be one of the five best players in this draft." He can come in and instantly give the Grizzlies scoring off the bench which is exactly what they count on from Mayo.
Wroten could use a better long-range jumper—he shot just 16 percent from deep this past season—but given his talents and the fact that Memphis is stacked everywhere, he's a great fit later in the first round.
20. Atlanta: Jeremy Lamb, Connecticut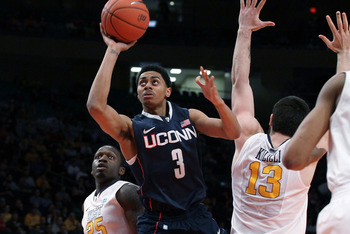 Lamb can score and the Hawks need some of that for their second unit.
Jim McIsaac/Getty Images
It may be too late to get a guy as talented as Lamb when the Hawks get around to picking, but if he's there, Atlanta best snatch him up.
The Hawks need scoring off the bench, something they did not replace when they let Jamal Crawford walk after last season, and Lamb could step right in and provide that for them. He's an excellent shooter who can also put the ball on the floor, create his own shot and score from all over the place.
If Lamb is gone come the early 20s when the Hawks pick, imagine a guy like Dion Waiters of Syracuse, who's a lot like Lamb, only three inches shorter, to get scooped up.
21: Indiana: Meyers Leonard, Illinois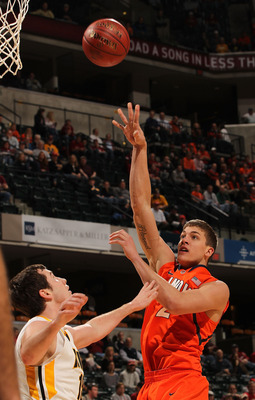 Look, there's Leonard playing in Indiana!
Jonathan Daniel/Getty Images
The Pacers could very well lose Roy Hibbert this summer, and if they do, they suddenly become very thin up front. That's not where you want to be as a young, exciting, up-and-coming team.
Leonard makes the most sense as a potential replacement for Hibbert, especially when considering where the Pacers will likely be picking in the first round. He's a 7-footer who defends, and while he won't score like Hibbert does, the Pacers have Danny Granger, David West and (they hope) Paul George to be the main cogs in their offense.
If Hibbert is retained, look for Indiana to go for someone who may be able to push George a bit. Waiters or Kentucky's Doron Lamb make sense in that regard.
22. Golden State: Moe Harkless, St. John's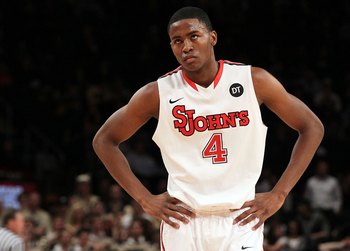 You guys tanked to get me, huh? Great.
Jim McIsaac/Getty Images
The tanking Warriors may well wind up with a lottery pick thanks to a deal with Utah, but if karma wins out and they don't wind up in the lottery, they'll still pick late in the first round thanks to the Stephen Jackson deadline deal with the Spurs.
If everyone is healthy (and that's a huge if with this team), they'll be set at the point, the 4 and the 5. Getting a good wing player here would be huge and Harkless fits that bill.
Harkless can score as well as rebound and block shots well for a guy his size (6'7"). He'd make a perfect fourth option on offense for the Warriors behind Stephen Curry, Andrew Bogut and David Lee, and with his quickness he has the makings of a solid defender as well.
So go on, Warriors. Let the tanking continue!
23. Miami: Draymond Green, Michigan State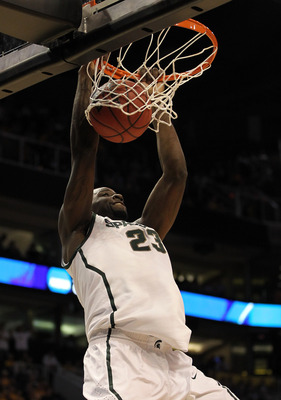 Think of Green like a younger, thicker Shane Battier.
Jamie Squire/Getty Images
The Heat have nothing they can rely on after their Big 2.5, so what they should do at the end of the first round is go after the most all-around experienced guy they can get, and that guy is undoubtedly Green.
Green is someone who won't need to be anywhere near the spotlight to help Miami, and he can do a little of everything. If he scores 10 points and grabs five rebounds while providing good passing and defense, that will suit the Heat and Green just fine.
Given his reputation as a leader, Green may even be able to fill the void in that area that left by Chris Bosh, despite the fact that he'll only be a rookie.
24. Oklahoma City: Evan Fournier, France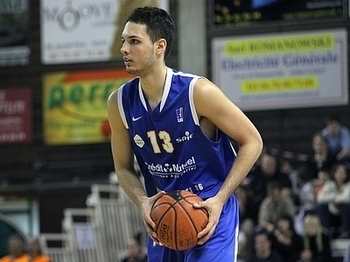 Fournier will provide depth for the Thunder's offense.
If the Thunder need anything, they need someone whom they can pound the ball to inside down the stretch of close games. It remains to be seen whether their lack of a low post threat hurts them in the playoffs like it did on Sunday against the Lakers.
There probably won't be anyone like that sitting around near or at the bottom of the first round, so then why not take a flier on the draft's best international prospect, the 6'7" swingman Fournier?
Fournier has a very nice mid-range game and is smooth when it comes to getting to the rim. The Thunder most definitely do not need scoring with Kevin Durant, Russell Westbrook and James Harden, but Fournier would provide a nice alternative as well as depth.
Another possibility for this spot could be St. Bonaventure power forward Andrew Nicholson.
25. Chicago: Doron Lamb, Kentucky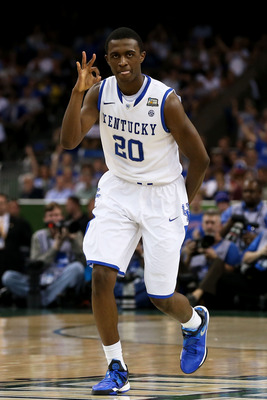 Meet the sixth of Kentucky's six first-rounders.
Jeff Gross/Getty Images
With Derrick Rose playing the role of slasher, the Bulls like it when he's got reliable shooters around him. Enter Lamb, a 47 percent shooter from deep who can also handle the ball and get to his spot with ease.
If the Bulls decide to cut their losses and try to move Carlos Boozer this summer, they could also look for an inside presence to go with Taj Gibson, who may well be a very good starter. Nicholson could well be that guy for them as well.
26. Minnesota: Darius Miller, Kentucky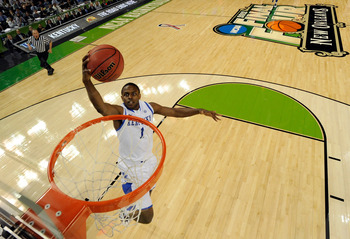 Miller could fill a hole at the 2-guard for the Wolves.
Pool/Getty Images
The Wolves won't pick until the second round, and given it's Oklahoma's pick that they have, it should come near the end of the entire draft.
Minnesota has a point guard, a star big man, a cadre of wing players led by last year's No. 2 overall pick and reasonable depth up front.
What the Timberwolves don't have is a reliable 2 thanks to 2010 lottery pick Wes Johnson not looking like he can handle the job. A guy like Kentucky's Miller or Oregon State's Jared Cunningham would fill a need if either were to make the team.
27. L.A. Clippers: Kris Joseph, Syracuse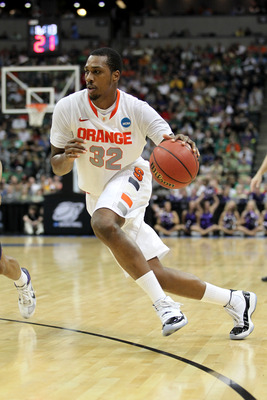 Joseph has one of the only things the Clippers lack.
Gregory Shamus/Getty Images
When the Clips signed Caron Butler after the lockout, it figured to be a huge move. Butler was coming off knee surgery but before that had established himself as a very good three-man on both ends of the floor in stints with the Wizards and Mavs.
Unfortunately, the move hasn't worked out as well as it looked like it would. Butler has been fine for the Clippers, especially on defense, but he's scoring just 12 points per game as the team's fourth option on offense and is shooting a lousy 41 percent from the floor.
The Clippers may look for help at the 3 through free agency, but if they want to bring someone in later in the second round of the draft, a guy like Joseph may well fit in. Joseph projects as an athletic, hustling wing guy who averaged 14 points for a very very good team last year in Syracuse.
Marquette's Jae Crowder or Baylor's Quincy Acy make some sense for the Clippers around the low-50s point of the second round, too.
28. San Antonio: Tu Holloway, Xavier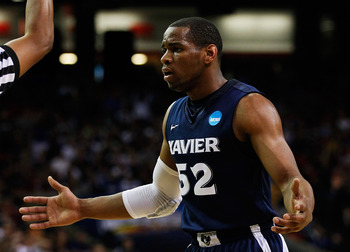 Holloway could learn a lot from Parker and the Spurs.
Kevin C. Cox/Getty Images
Despite the age of their Big Three, the Spurs are in pretty good shape all around in the young, developing players department. With that in mind, taking someone like Holloway, a college star who could learn the ropes from a guy like Tony Parker, makes sense.
Holloway led some very strong tams at Xavier and had himself a couple nice March Madness moments, too. He, or anyone the Spurs took late in the second round, would likely do well as the San Antonio organization has to be considered something akin to a basketball school at this point.
29. New York: Jordan Taylor, Wisconsin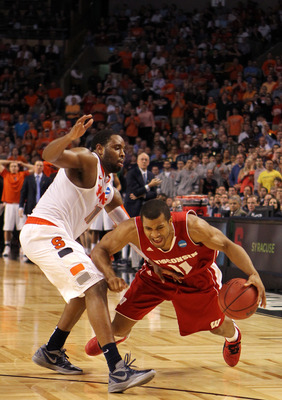 Taylor could join Lin in the Knicks back court.
Jim Rogash/Getty Images
As great as Jeremy Lin was for those few weeks in the winter, the Knicks would be wise to provide him with a little insurance at the point, especially coming off knee surgery.
Baron Davis is not that insurance, but keeping Davis around another year and drafting a kid like Taylor—who has a reputation for being a smart, fluid distributor—could be just the ticket.
Holloway could work for the Knicks in the second round, too.
30. L.A. Lakers: Augustus Gilchrist, South Florida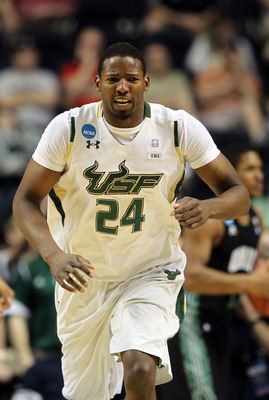 Gilchrist could learn behind or help replace Gasol.
Jamie Squire/Getty Images
Assuming the Lakers trade Gasol, they may want some depth up front even thought they'll likely get at least a little in return for him.
That depth could come in the form of Gilchrist, a big, physical guy who used to be considered a borderline first-rounder until injuries slowed him down the year before last. He can score from down low but isn't the best defender.
The Lakers could also look at point guards when it comes their time, so don't rule out Holloway or Taylor for them either.
Keep Reading