NBA Draft 2012: Potential Deron Williams Replacements for New Jersey Nets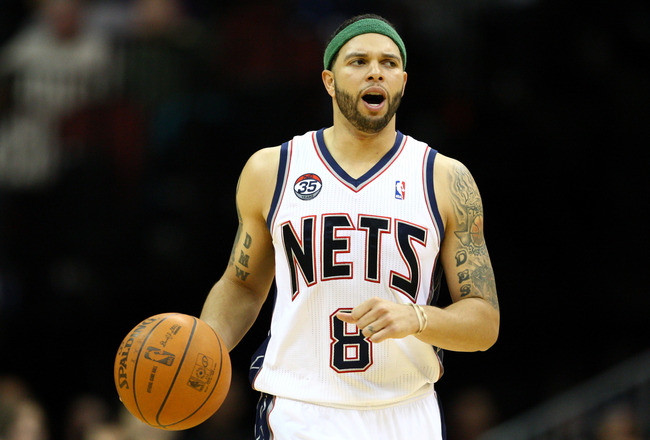 Chris Chambers/Getty Images
The Nets will be moving to Brooklyn next season, but superstar point guard Deron Williams already has one foot out the door.
The front office could re-sign him, but if he signs elsewhere the Nets will be looking for his replacement. The best place to do that is in the draft. The talent is young and impressive. A possible replacement is just waiting to be found.
In the 2012 NBA Draft, the Nets can get a top-three pick and another pick at No. 16. If this happens then Williams might stay. But if the Nets fail to nab a first-round pick by not getting a top-three pick in the lottery and/or the Houston Rockets fail to make the playoffs, then Williams is probably gone, and he leaves a big hole.
Here are five guys that could fill said hole.
Anthony Davis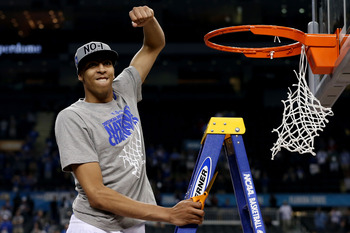 Jeff Gross/Getty Images
I know that Davis doesn't play point guard, so he can't technically replace Williams.
But he won't have to. If the Nets somehow wind up with the first overall pick in the 2012 NBA draft, they will definitely grab the Kentucky superstar.
Once Anthony Davis puts on a Brooklyn jersey, there is no way that the free-agent point guard will leave. With a starting lineup of Williams, Davis, Kris Humphries, MarShon Brooks and Gerald Wallace, the Nets could rise from the cellar.
They would also have Gerald Green and Brook Lopez to add to that solid roster.
Davis was the AP Player of the Year and averaged 14.4 points, 10 rebounds and 4.6 rebounds per game en route to an NCAA Championship victory.
Yes, Williams would definitely stay with Jay-Z if he landed the Wildcat.
Kendall Marshall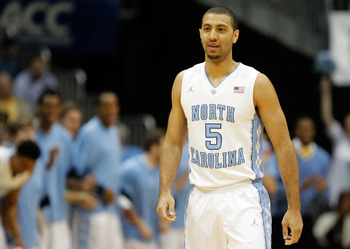 Streeter Lecka/Getty Images
Even if the Nets don't nab a top-three lottery pick and the Houston Rockets make the playoffs, they have a first-round pick.
They should use that to choose Deron Williams' replacement.
The Tar Heel ball handler Kendall Marshall seems like a great choice. He is a pass-first point guard and will always be looking for ways to get the ball to players like Green and Lopez.
That mentality will be able to get the Nets into a solid flow and also ensure that the rookie doesn't have to take many shots. The Ricky Rubio-like facilitator is a good defender with a vast amount of knowledge of the game.
He has shown how important he was to his team in the NCAA tournament and will make his Nets teammates better.
Marquis Teague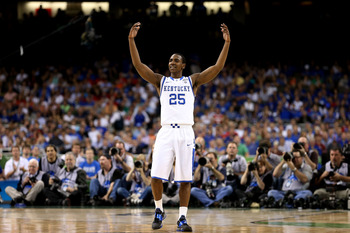 Chris Graythen/Getty Images
Instead of taking Marshall, the Nets could nab Kentucky point guard Marquis Teague.
He is often overshadowed by superstar teammates in Davis and Michael Kidd-Gilchrist, but Teague is a great player in his own right.
The Wildcat averaged 9.4 points and 4.8 assists per game playing on a crowded team.
He is big and athletic and could be a suitable replacement for departing superstar Williams. He played well in the NCAA tournament as Kentucky won the tourney. Teague saw his stock take a giant leap after the madness of March.
Teague is blessed with incredible speed, and he knows how to push the tempo with great vision and an ability to create passes and shots.
Tyshawn Taylor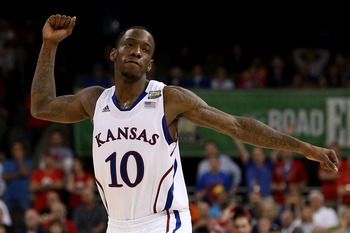 Jeff Gross/Getty Images
In an unfortunate turn of events, the New Jersey Nets could end up with absolutely no first-round picks and be forced to find Deron Williams' replacement in the latter rounds.
One of the possibilities there is Tyshawn Taylor of Kansas. The senior point guard was able to take the Jayhawks to a National Championship.
He is still a bit raw but is great from a physical standpoint, standing at 6'3". Taylor has a great first step, is very good with the ball in hands and is quick defensively.
He is no Deron Williams, but he will be able to make the distress of losing the superstar a bit easier to swallow.
J'Covan Brown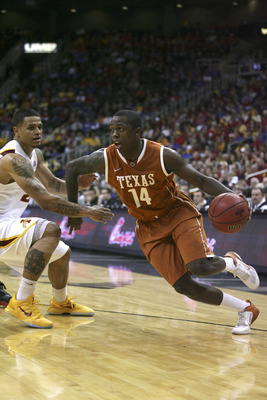 Ed Zurga/Getty Images
Another late-round pickup that could blossom into a star is J'Covan Brown of Texas.
The junior is a natural talent, and the game comes easy to him. He can shoot the ball effortlessly from deep range as well as short distance.
Brown is incredibly physical on both sides of the ball. On the offensive side he is sharp and possesses great ball-handling skills. He is able to guard both quick and physical players when on the defensive side of the ball, using his strong hands.
But Brown plays very naturally. He is not fluid and his game requires more polish. The Longhorn tends to gravitate toward taking questionable risks and shots.
However, he could still be a good player in the Association.
Keep Reading

Brooklyn Nets: Like this team?