2012 NFL Day One Mock Draft: The Most Entertaining Mock You'll Read This Week
April 23, 2012

Justin Edmonds/Getty Images
Optimism among NFL fans is at an all-time high...it must be NFL Draft Week!
#1: Indianapolis Colts – QB Andrew Luck, Stanford
Once upon a time, the Colts franchise selected John Elway. He refused to play for them, so he was moved to Denver.
Many years later, the Colts selected the best QB prospect to come out since Elway in Peyton Manning.
Manning became arguably the greatest orchestrator of offense we've ever seen. Now, once again, the Colts franchise QB is playing in Denver. And once again the culprit is John Elway!
Now the Colts will take the best QB prospect since Peyton Manning. And he played at Stanford. The circle is complete.
#2: Washington Redskins - QB Robert Griffin III, Baylor
When you have been juggling John Beck & Rex Grossman at quarterback, anyone else is going to look like the next coming of Joe Montana.
If you don't believe me, look at the Ravens after they won the Super Bowl. They had to overcome Tony Banks and Trent Dilfer at quarterback. They watched Elvis Grbac throw and gave him $30 million just to avoid another year of Dilfer. If only ESPN would do the same.
As for the potential of RGIII, it's much closer to Michael Vick, sans the trouble. If he's going to be the savior of the Redskins, he'll have to dramatically improve under pressure. And given the sieve that is the Skins offensive line, it'll be baptism by fire for RG3.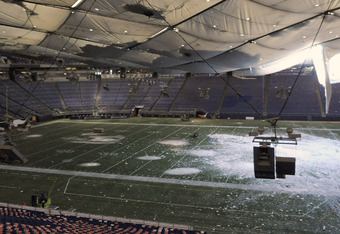 Hannah Foslien/Getty Images
#3: Minnesota Vikings - OT Matt Kalil, USC
Right now the Vikings offensive line is more vulnerable than the Metrodome roof. There are reports they might take Claiborne instead of Kalil here.
You're trying to develop a young QB. Take the left tackle. The Vikings, as usual with the draft, are creating their own problems. 
#4: Cleveland Browns - RB Trent Richardson, Alabama
According to draft experts, it has become illegal to draft a running back in the top 5, even if it's Adrian Peterson. Expect to see the Browns try to trade down a few spots.
If they're "stuck" with Richardson, they are getting a tremendous all-around back who is giving Holmgren flashbacks of another Bama back: Shaun Alexander.
If the Vikings are idiots and don't take Kalil, the Browns will have no problem trading out. Otherwise the interest in this pick appears to be lukewarm.
That's a feeling very familiar to Cleveland fans.
#5: Tampa Bay Buccaneers - CB Morris Claiborne, LSU
The Bucs best corner is going to jail. The other is Ronde Barber. That's all you need to know.
#6: St. Louis Rams - WR Justin Blackmon, Oklahoma State
The Rams got an absolute haul from the Redskins to move down 4 spots. St. Louis plays hard but is devoid of talent, which sounds just like the Jeff Fisher Titans. No wonder they hired him!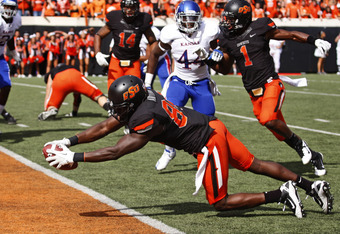 Brett Deering/Getty Images
For the Rams to get all those picks and STILL get the #1 receiver they desperately need is spectacular.
Now they need to find a way to keep the team healthy for a whole season...
And hope Fisher doesn't screw up Bradford like he did with Vince Young. Fisher/Bradford could turn into second coming of Ken Whisenhunt/Matt Leinart, who Fisher wanted over Young. Uh oh…
#7: Jacksonville Jaguars - TRADE (otherwise who would care)
This pick will be dealt to the highest bidder. The Jags want a receiver or a pass rusher and have no reason to reach for one at this pick, since they are not enamored with Michael Floyd.
Unfortunately for Jacksonville, they could have Andre Johnson and Megatron and it wouldn't make any difference.
Blaine Gabbert should only be playing QB in Remember the Titans. He can't play in the real thing.  He had David Carr syndrome BEFORE coming into the league.
DT Fletcher Cox, Mississippi State, is the most likely player someone will be trading up for, unless it's Seattle. In that case, Ryan Tannehill will be taken in the top 10.
#8: Miami Dolphins - WR Michael Floyd, Notre Dame
Marc Serota/Getty Images
I'm aware the Dolphins hired Mike Sherman as its offensive coordinator. According to this logic, Matt Flynn should be in Miami since the new Dolphins head coach was Flynn's offensive coordinator. Last I checked, Flynn isn't in South Beach.
Tannehill was a RECEIVER at Texas A&M for multiple years under Sherman, and was not the starting QB going into the his junior season. At the start of that season he was playing wide out.
The Dolphins have no one at receiver after giving away Brandon Marshall. Reggie Bush is their most dangerous receiver at the moment.
As a Jets fan, I hope Jeff Ireland screws up again and goes with the consensus pick in Tannehill, In Miami, he would become the offensive equivalent of Vernon Gholston. 
I'm giving the Dolphins the benefit of the doubt. I'm dangerously assuming Jeff Ireland has not asked Floyd if his mother is a prostitute.
#9: Carolina Panthers - LB Luke Kuechly, Boston College
This is another pick which could be moved, especially if the Jags bore everyone by making a selection for themselves. If Michael Floyd is still on the board, the Panthers won't have any trouble.
If the Panthers keep it, they need another linebacker. Sure they have good linebackers, but they always end up on injured reserve by week 4.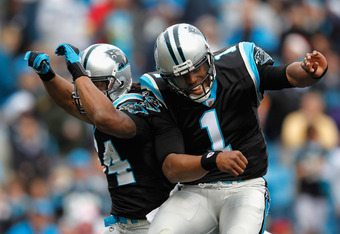 Streeter Lecka/Getty Images
#10: Buffalo Bills - CB Dre Kirkpatrick, Alabama
The Bills really need a potential impact corner as Leodis McKelvin hasn't lived up to being the #11 pick. Reportedly the Bills brass loves the physical play of Kirkpatrick.
Plus this allows the Bills to circle the wagons on the Patrick name market. Has anyone seen Ben Patrick?
#11: Kansas City Chiefs - G David DeCastro, Stanford
The Chiefs need help at guard so they can execute more than just off tackle runs. If they can get some push off the interior of the line, Jamaal Charles could win his first rushing title.
#12: Seattle Seahawks - QB Ryan Tannehill, Texas A&M
Pete Carroll is unconventional. They just signed Matt Flynn to a modest contract. Carroll reportedly loves Tannehill's potential.
For Tannehill to have any shot in the NFL, he needs to get the Aaron Rodgers treatment and sit for MULTIPLE YEARS so he can learn the position. This can happen in Seattle.
Tannehill didn't have many starts in college and the track record for these types being thrown into the fire is abysmal.
I know it worked for Cam Newton, but he walked back into the SEC with an average team by SEC championship standards and won a national championship. He's a once in a decade phenomenon.
This is the only scenario where Tannehill doesn't become the next Akili Smith.
#13: Arizona Cardinals - OT Riley Reiff, Iowa
The Cardinals don't want Kolb to die. John Skelton might as well be the grim reaper for this squad.
#14: Dallas Cowboys - SS Mark Barron, Alabama
The Cowboys need help at safety, as anytime Gerald Sensabaugh is lining up back there, help is needed. Barron is a solid player and the Cowboys need to bolster the position, especially considering the six annual doses of the Giants, Eagles, and a scrambling RG3.
#15: Philadelphia Eagles - DE Melvin Ingram, South Carolina
This pick probably won't be the Eagles. They will likely make the trade with the Jaguars. Asante Samuel will be dealt soon and he may very well end up in Jacksonville purgatory as a throw in.
If for some reason the Eagles are picking here, they want another pass rusher in their rotation and Ingram is the best talent available.
The Eagles could also trade down here as a few teams would likely want to jump the Jets to get Ingram if the draft plays out like this.
#16: New York Jets - DE/OLB Chandler Jones, Syracuse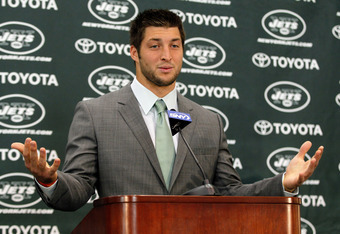 Mike Stobe/Getty Images
Hopefully I'm wrong about the Cowboys pick so my Jets can draft Barron. NY desperately needs him. Albert Haynesworth could fail another conditioning test, immediately lineup at TE, and get open against S Eric Smith.
Without an upgrade at safety on the board, the Jets desperately need players to rush the passer from the defensive line. This weakness has killed them over the last couple of years. Tom Brady has especially enjoyed standing all day in the pocket, finding who Eric Smith is covering, and completing a 20+ yard pass.
#17: Cincinnati Bengals - DE Courtney Upshaw, Alabama
Upshaw is likely to be the top player on the Bengals board if the draft breaks this way.
#18: San Diego Chargers - DE/OLB Whitney Mercilus, Illinois
Egomaniacal GM A.J. Smith completely whiffed on Larry English a couple years ago and needs to replace him. Since Jones & Upshaw are off the board, they will take the best player available to become the next Shawne Merriman pass rusher type.
Not that it matters with Norv Turner somehow still at the helm. The Chargers had a wide window of opportunity over the last five seasons and missed it badly. They should have won a Super Bowl.
But A.J. Smith let his ego get in the way, and it will soon lead to his downfall as the Chargers fall to the wayside of NFL relevancy. 
#19: Chicago Bears - WR Kendall Wright, Baylor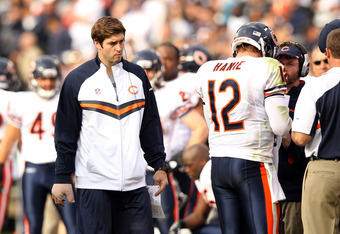 Ezra Shaw/Getty Images
The Bears were shaping up to be the class of the NFC when Jay Cutler went down last season. The approach of this team is to win now. They can't be predictable on offense.
They need an explosive receiver across from Brandon Marshall. The Bears are reportedly very high on Wright. As an added bonus, this would move Johnny Knox to the slot, where he should excel.
Da Bears are the real sleeper Super Bowl team next season.
#20: Tennessee Titans - CB Stephen Gilmore, South Carolina
The Titans lost Cortland Finnegan and need a #1 corner who can physically do battle with Andre Johnson. Gilmore is tough as nails and will remind Titans fans of Finnegan in due time.
He also has a great arm and could emerge as the Titans emergency QB. This will come in handy when Tennessee discovers Jake Locker can't hit the side of a barn.
#21: Cincinnati Bengals - CB Janoris Jenkins, North Alabama via Florida during the Urban Meyer Inmates Ran the Asylum Era
If Cincinnati doesn't select a corner with its first selection, they will here. Jenkins has the best combination of talent and character issues, so he's a perfect fit. It's not a safe pick, but "safe" and the Bengals haven't been on speaking terms for many years.
Pacman Jones has been mediocre at best and yet remains employed. America really is the land of opportunity!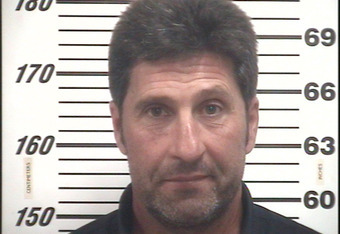 Handout/Getty Images
#22: Cleveland Browns - OT Jonathan Martin, Stanford
The Browns took the franchise RB and now need to address the weakest part of its offensive line. A lot of people are mocking a receiver here, but this is the deepest receiver class in a long time and the Browns will be able to get a first round talent at receiver later on.
Anyone who thinks the Browns are drafting a 28 year old QB in the first round is selling Mike Holmgren's acumen short.
#23: Detroit Lions - G/OT Cordy Glenn, Georgia
This pick is really hard to pin down since the Lions typically select the best player available, regardless of need. That would be DT Michael Brockers, LSU, but the Lions did this a year ago when they drafted Fairley over Amukamara. It would not surprise me to see them move down.
Personally I'd like to see them draft Stephen Hill in an attempt to create a Megatron—Deceptacon duo.
#24: Pittsburgh Steelers - LB Dont'a Hightower, Alabama
The Steelers need to continue to infuse young talent into the defense. The instincts Hightower plays with make him a natural fit in Pittsburgh.
#25: Denver Broncos - C Peter Konz, Wisconsin
The Broncos must protect Peyton Manning at all costs. His career is one big hit to his giraffe-sized neck from being over. The major weakness in the Broncos offensive line is center. Denver must address this immediately.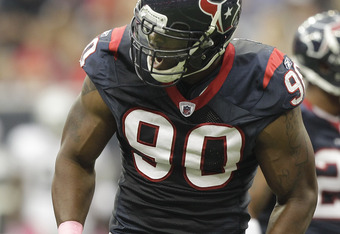 Bob Levey/Getty Images
#26: Houston Texans - DE/OLB Shea McClellin, Boise State
The Texans first priority in this draft is to find a replacement for Mario Williams to put in a rotation of pass rushers. In a division which will be starting Gabbert, Locker, and Luck at some point this season, getting a consistent pass rush is Houston's ticket to more division titles.
#27: New England Patriots - Defensive player who will not live up to this pick
The Patriots have two picks at the bottom of this round. Since it's the Patriots, they're trading one of them.
They will address defense with the pick they decide to keep. The Patriots would have another Super Bowl in their possession if the alleged kings of the draft could make good picks on defense.
In the last 3 seasons, they have selected these defensive players in the first 3 rounds:
CB Ras I-Dowling (2011), CB Devin McCourty, OLB Jermaine Cunningham, ILB Brandon Spikes (2010), S Patrick Chung, NT Ron Brace, CB Darius Butler, OLB Tyrone McKenzie (2009)
They haven't found one game changing defensive player in this group. The '09 class is particularly woeful, with just Chung making any important contribution. McCourty looked the part in his rookie year but crashed back to earth last season. Spikes is the most promising player of the bunch.
Since this is a mock draft, I'll slot SS Harrison Smith, Notre Dame, as the player the Pats are drafting to keep in the bottom of round one.
#28: Green Bay Packers - DT Dontari Poe, Memphis
What this human specimen did at the combine was jaw dropping. It should be illegal for someone his size to move that well.
The upside of Poe is enormous, but he needs a lot of coaching to fulfill it. He's coming from one of the worst programs in college football. It shows on film. He gets pushed around too much for his raw talent.
The Packers are in a position to take him. If they can harness Poe and line him up next to Raji, the Packers could be as fearsome in the trenches as they are in the air.
#29: Baltimore Ravens - G/OT Amini Silatolu, G/OT, Midwestern State
Ideally one of the top lineman prospects would fall to the Ravens. If that doesn't happen, they could take a shot here with the rising Silatolu.
Baltimore doesn't have a ton of team needs in this draft and may look to trade up and grab one of the premier lineman prospects.
#30: San Francisco 49ers - WR Stephen Hill, Georgia Tech
Harbaugh is high on Hill and the 49ers really need an explosive weapon to complement Vernon Davis. They've signed Braylon Edwards and Randy Moss in the last 12 months out of desperation.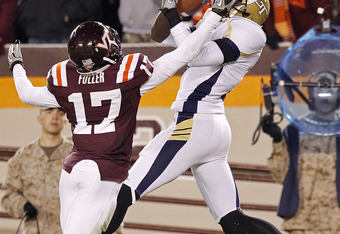 Geoff Burke/Getty Images
As any 49ers fan will tell you, running great routes hasn't been a high priority in San Francisco since Jerry Rice left. One "talented" receiver after another has come and gone.
Perhaps the Niners strike it rich this time with Stephen Hill.
#31: New England Patriots - TRADE
Reports from those close to the Patriots say that this is the pick that gets moved. Based on how my mock has shaped out, DT Michael Brockers finally gets drafted. Just not to New England.
I'm sure on draft night the TV coverage will clamor for this to be Brandon Weeden, but no one is taking a 28 year old QB in round one. The track records of Chris Weinke & John Beck explain why.
#32: New York Giants - RB Doug Martin, Boise State
The Giants love having a two back system in place. They don't want Ahmad Bradshaw getting workhorse treatment given his durability and fumble issues.
Martin is a good runner between the tackles and can replace Brandon Jacobs as an effective short yardage back who will actually get the first down most of the time. Martin can also catch the ball out of the backfield. Jacobs tries to play basketball whenever a pass is thrown to him.
----------------------------
That's the first round folks!
Even though my mock is insightful, it is noticeably lacking in stopwatch times, film analysis, & hair spray.
As such I apologize for wasting the time of everyone who read this. 
Enjoy the draft!