NHL Playoffs 2012: 4 Things the Rangers Must Do to Beat the Senators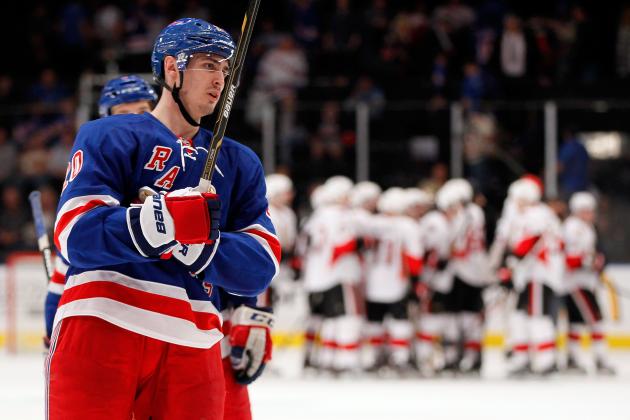 Mike Stobe/Getty Images
This one isn't over yet, but things have to change if it's going to survive past Monday
The New York Rangers are up against it. Henrik Lundqvist was spectacular last night, but his team could not score. Very rarely will you lose a game only giving up one goal, but the Rangers found a way to do it last night. They were sloppy, got down in the game early and were never able to fight their way back into it.
As a fan, you always want to make sense of a tough loss. You want to try to grasp at what went wrong. Here's what the Rangers need to do better if they want to get out of the first round.
Begin Slideshow

»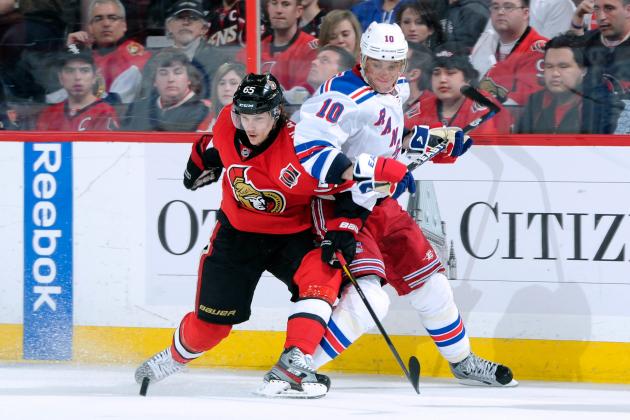 Richard Wolowicz/Getty Images
You gotta wear their stars down, so they lose a step late in the game
First, the Rangers have to wear down the Ottawa Senators' stars. Jason Spezza scored in the first period last night, and had the empty netter at the end of the game. He skated well all night, as did defenseman Erik Karlsson. That can't happen. You have to have these guys hurting by the end of the night.
To clarify, this is not what Carl Hagelin did to Daniel Alfredsson, not what Matt Carkner did to Brian Boyle, and certainly not what Chris Neil did to Boyle last night. That's just dirty hockey, and there's no room for it in the NHL.
The Rangers announced Boyle has a concussion, by the way. I assume a suspension is on the way, Mr. Shanahan? As John Tortorella said, the blueprint is there with what Torres did to Hossa. Anyway, back to the topic at hand.
The Rangers did a great job punishing the Senators in earlier games, and it proved successful for them. You have a much better chance to beat Ottawa if you're trying to keep the likes of Kyle Turris, Nick Foligno and Chris Neil from getting to loose pucks.
Stopping Karlsson, Milan Michalek, Sergei Gonchar and Jason Spezza is a much tougher task. So wearing them down early makes life easier on you. Late in a game, these guys not having the legs to create space works for you. The Rangers must take the body early and often on these guys to have a chance to win this series.
Bruce Bennett/Getty Images
The Rangers could learn a lot from Ovechkin's work on Chara yesterday
Working off the former point, the Rangers have to answer physically, but all while using their heads. They have to be smart about when and how they decide to step up physically.
The best example of this was during yesterday's game between the Boston Bruins and the Washington Capitals. Alexander Ovechkin and Zdeno Chara have been working on each other most of that series.
Yesterday, Chara tried to get something going in front of his own net, and instead of responding immediately, Ovechkin ignored him and drew a penalty.
Ovechkin has answered the bell most of the series, throwing hits and shoving back when necessary after a play is over. Here, he drew a penalty and gave his team a power play. He has not backed down all series, but in this instance, he took an opportunity to give his team an advantage. That's real smart hockey.
The Rangers must do the same thing.
Rather than predictably punching back and receiving a matching minor, step back and enjoy a power play from time to time. It's not that they should stop hitting or standing their ground. There is just something to the idea of being smart about your play rather than swinging back at your opponent every chance you get. The time for sending messages is over; it's time to bury the puck and win hockey games.
Take the body when you can, but be smart about when and how you decide to do it.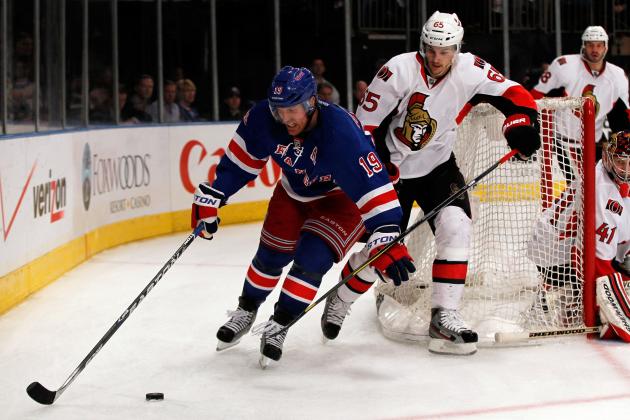 Mike Stobe/Getty Images
Take care of the puck, like this
The Rangers have to take care of the puck. Yes, they play dump-and-chase hockey. They work the boards. They use stingy defense to generate offense. There's nothing wrong with that game plan. You can do that while taking care of the puck though.
Last night, no-look passes and lazy puck chip-ins into their offensive zone hurt the Rangers. If you're going to play dump-and-chase hockey, you have shoot the puck in and chase it down. If you're going to pass the puck, you have to make smart passes. Just giving the puck back to the other team is dumb. It's one thing to chip it in to get a line change; it's another to just give it away.
Be patient, wait for openings and take them. Forcing play never works, ever. Protect the puck. It's that simple.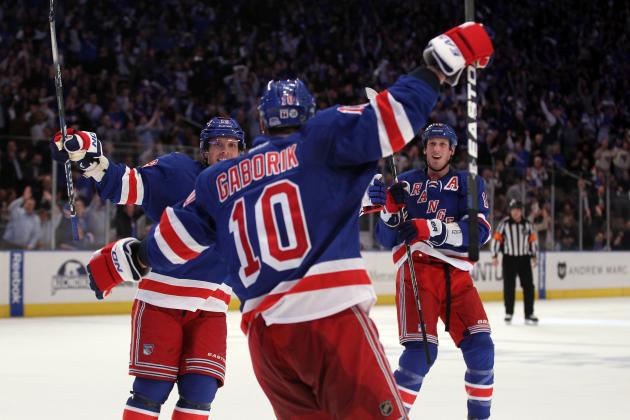 Bruce Bennett/Getty Images
Time for these guys to start earning their check
All of the above is necessary to success, but it's secondary to the glaring issue the Rangers are facing. They have to open things up offensively if they want to be in this thing after Monday night.
It's time for Torts to name names. Marian Gaborik and Brad Richards make the money they make to score goals and create offense. It is great that they help out on D—every scorer should—but they are on the roster to score goals. Plain and simple.
It would certainly help if Brandon Dubinsky showed some love to the organization for all the money he's getting paid by scoring a few; I won't hold my breath on that one though. Maybe Hagelin coming back will make a difference. Who knows?
The offense has to help its own cause. The Rangers have to get some shots from in the slot and get traffic in front of Craig Anderson. If he can see every shot, he'll stop every one of them, he proved that last night.
Not taking anything away from him, but a shutout in the NHL Playoffs is always an accomplishment. No matter the shot count or the situation. The Rangers just didn't make it as tough on him as they could have.
The X's and O's are irrelevant; it's the results that matter. Facing elimination Monday night, it's time for the big boys to start earning their checks.
Before this postseason party passes them by.