2012 NFL Draft Rankings: Top Ten Running Backs
April 22, 2012

Chris Graythen/Getty Images
The running back position has been decreasing in value in NFL executive offices for quite some time. After the last few seasons, with the proliferation of the passing game, they're going to fall even further down the list.
Outside of Trent Richardson, I wouldn't be surprised if the second back didn't come off the board until the 40s. This has nothing to do with the quality of the backs in this draft, but just the evolution of the offensive game plan.
Simply put, Richardson is the best all-around back to come into the league since Adrian Peterson. While he's not the athlete Peterson is, he's better in the passing game, both blocking and catching the ball out of the backfield. In short, he's a true three-down back. Coupled with Peterson's injury issues and fumbling problem, I would be tempted to take Richardson over him if I had to draft one of them.
David Wilson of Virginia Tech and Doug Martin of Boise State are also three-down backs. I like both of them, but I give the edge to Wilson, because I think he has a much higher upside.
On a side note, he really impressed scouts at the combine by showing up to all of his interviews in a suit. Supposedly, he did the same thing when attending classes. It may sound silly, but that's the kind of statement that tells you he's serious about impressing and that he's mature.
Here are my rankings:
1. Trent Richardson, Alabama
2. David Wilson, Virginia Tech
3. Doug Martin, Boise St.
4. Isaiah Pead, Cincinnati
5. LaMichael James, Oregon
6. Lamar Miller, Miami, Fla.
7. Christopher Polk, Washington
8. Cyrus Gray, Texas A&M
9. Tauren Poole, Tennessee
10. Ryan Turbin, Utah St.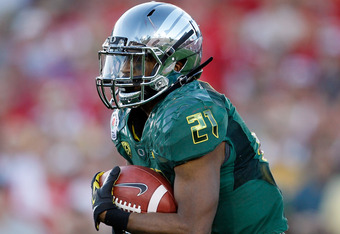 Jeff Gross/Getty Images
There are a couple of guys that I think are being overrated by the analysts I've heard. First off, Chris Polk, who's in most people's top five, might be steady, but he doesn't possess any qualities or show anything that made me think he will be an above-average NFL back. He's not a quick-twitch athlete with burst.
Next, Lamar Miller has great burst, lateral movement, and from all I've heard, he's a good citizen whose coaches and teammates love him. However, Miller's shoulder problems worry me. I don't care how fast you are, there will always be a time in the NFL when you have to drop the shoulder and truck someone.
Even after the shoulder surgeries, we're still really not sure he can do that. In addition, I don't see him breaking many tackles. That is an absolute must in the league.
On the other hand, there's one guy I think can make a splash at the next level and another that I'm simply rooting for. LaMichael James did nothing but produce at Oregon and showed that he has great burst and explosiveness. He shows good vision and the ability to be a one-cut-and-go back.
The only concern I have is his size. He'll either have to get in a situation where he only handles the ball 50 percent of the time or put on 10 to 15 pounds and keep his quickness.
Lastly, Robert Turbin of Utah State has all the tools to be a good back. He looks much bigger than the 222 pounds he weighed at the combine, and it's chiseled. At first, I thought I was looking at a linebacker. He plays with explosion and power, quick feet, and for someone as tightly built as he is, he displays good flexibility.
Because of injuries, he has lost two full seasons while in college. But through it all, his coaches couldn't be more complimentary, and there's no way you can question his drive, will and character.
If I had a late-round pick and was simply looking for a good football player who I wouldn't have to worry about off the field, Turbin would be at the top of the list.