UFC 145 Results: Will Jon Jones Ever Face Anderson Silva?
April 22, 2012

When many fight fans caught their first glimpse of Jon Jones at UFC 94, they were stunned and left to wonder who could contend with this man who threw MMA's equivalent to Micky Ward, Stephan Bonnar, around like a rag doll.
When he stepped into the cage to face Shogun Rua for the title, many said it was too much, too fast.
It was only after Jones knelt down in the center of the cage, barely breathing, Shogun Rua defeated and bloodied on the canvas behind him, that people began to seriously reconsider just how great this young man was.
Now, three lopsided title defenses later, legions of MMA fans are wondering if anyone can stop Jones.
He's only been fighting for a short time, but Jones has constantly kept the masses of devoted fight fans guessing and rethinking how he fits into the game.
Now, after accomplishing so much in such a short period of time, the board has been swept clean of guesswork, and what remains are two dominant figures: Jones and Anderson Silva.
It is only natural that people begin to ponder who would win between these two incredible fighters. When all is said and done, the fight game is about answering one central question: who would win between...?
For the longest time, people were asking the same questions of Silva that they now ask of Jones: who could give this man a real fight?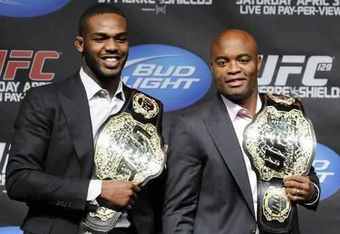 Now, with both men having almost totally gutted their respective divisions, logic and fantasy seem to be meeting, a feat that is rare in the fight game.
Jon Jones vs. Anderson Silva. Think about that for a minute. Let it ring in your ears and roll off your tongue.
Earlier this year, Sam Lee of Buddhasport.com pondered this matchup, saying that the UFC could deliver the kind of mega-fight boxing cannot. Of course, he is talking about Floyd Mayweather Jr. vs. Manny Pacquiao.
And truth be told, he is right.
Silva vs. Jones would pit the top two pound-for-pound fighters in the sport against each other in what would be the very biggest fight the sport as seen. It would be bigger than Silva vs. Sonnen II, or any other fight both me could have.
They are both established names, and in all honesty, this mega bout makes far more sense than the previously pondered match between Silva and GSP.
Why?
Because Silva has fought at light heavyweight twice before, and won so easily it was almost sad.
Silva could easily step up to light heavyweight and not lose any of his speed or timing, and that means he could compete at his best against the best of the division, Jones.
And the most shocking thing is, I think Jones would eventually win.
I'm not saying it would be easy. I think it would be a great fight, for as long as it lasted, but in the end, the reach and wrestling of Jones would simply be too much for Silva, who is nearing the end of a brilliant career.
Sadly, we will probably never see it.
Silva has said he has no intention of moving back up to light heavyweight, and Jones isn't going to go down to middleweight. It's really as simple as that.
If there is one caveat, it is that money talks, and if Dana White and the powers that be at Zuffa are willing to spend the money, we may indeed get this dream bout. 
It would be a huge coup for the UFC, as boxing fans like myself grow older day by day waiting for Mayweather Jr. and Pacquiao to fight in a bout that means less and less.