10 Big-Name NFL Players Who Will Struggle in 2012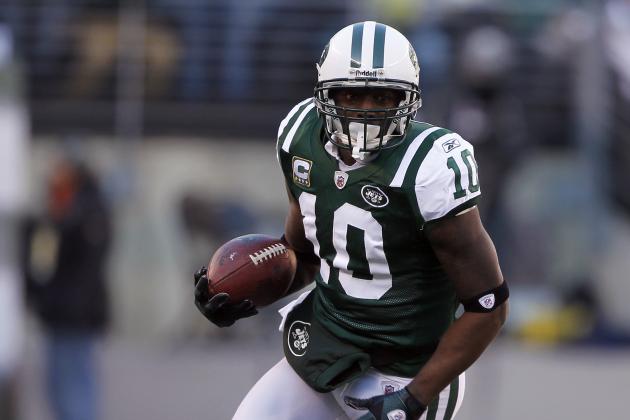 Rich Schultz/Getty Images

Every team has that one player who makes fans shake their heads. Those players are paid top dollar and yet fail to produce on the field.
It is clear that some athletes play for one reason, and it isn't for the love of the game. These players want money and money only.
From Albert Haynesworth to Santonio Holmes, there are countless examples of players with immense talent who seem to just not care at all once they cut their checks.
While not all players are like this, unfortunately, a ton of players fall into this group. Once a player is recognized as a star in the NFL, it takes a unique person to maintain that level of success.
Here is a list of 10 stars who will struggle in 2012.
Begin Slideshow

»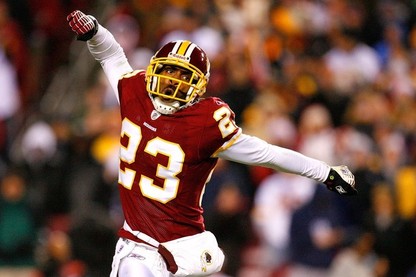 There were high hopes for DeAngelo Hall when he came to the Washington Redskins in 2008. Unfortunately, like many other free agents before him, he has disappeared in Washington D.C.
For the amount of money he makes—roughly $6 million per year—Hall is vastly overrated.
He allows far too many completions and touchdowns for a player who is supposedly a shutdown cornerback in the NFL. This year, the Redskins have a brutal schedule filled with a stable of talented quarterbacks. In addition to the the NFC East, the 'Skins will play the New Orleans Saints, Pittsburgh Steelers, Carolina Panthers, Atlanta Falcons and Cincinnati Bengals.
Hall will be tested early and often in 2012; Redskins fans would agree that this isn't a good thing.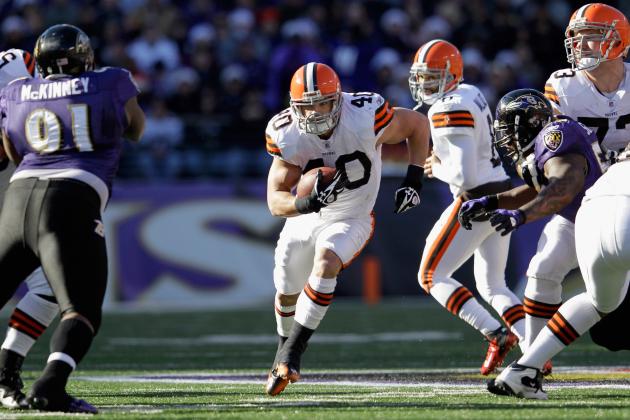 Rob Carr/Getty Images

Hillis is yet another casualty of the "Madden Curse" that has plagued athletes over the last decade. For whatever reason, when players make it on the cover of the prized video game by EA Sports, there is generally a decrease in production.
The former Arkansas Razorback was no different, and he had an abysmal 2011 season filled with random injuries and just flat-out garbage play on the field. All of this following a 2010 campaign when he rushed for over 1,000 yards and nine touchdowns.
Browns fans were excited about the prospect of having a star RB once again in Cleveland. However, it was just not meant to be. Recently, the Browns and Hillis have decided to part ways, and the veteran runner has decided to sign with the Kansas City Chiefs.
Hillis is clearly overrated, and aside from the 2010 season, he really hasn't performed on the field. In addition, he is surprisingly a cancer in the locker room. As reported by the Associated Press (per ESPN), he was a no-show at a charity event for children. There was even a rumor that he contemplated leaving the NFL for wait—for it—the CIA, although Hillis would refute this claim (from The Plain Dealer).
That doesn't sound like a player who has his mind on his football career. Maybe with a fresh start, Hillis will get things back on track—but I seriously doubt it.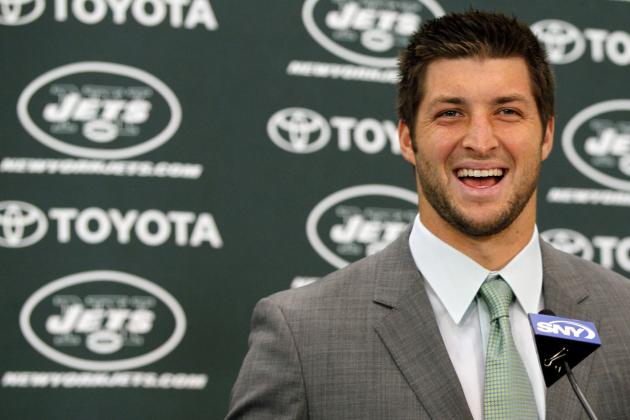 Mike Stobe/Getty Images

Every season, there is at least one offseason move that leaves you saying, "What?" This year, it was Tebow's move from the Denver Broncos to the New York Jets.
Somewhere Skip Bayless is stating his case as to why Tim Tebow is capable of leading any team to the promised land. No chance, Skip—it seems Bayless ate the wrong brownies, and if you ever watch the ESPN show First Take, that is not a stretch.
All jokes aside, Tebow is terrible at playing quarterback, and it's difficult to find another player who has been given this many opportunities to succeed in the NFL with such little production.
Is the guy a good person? Absolutely.
A good NFL quarterback? No chance.
The attention Tebow receives from the media is mind-boggling at times. I mean, when was the last time you saw a presser for a backup quarterback's introduction to a new team?
Tebow has a career completion percentage of 47.3 percent in the NFL, and that is not good enough by any means. He also averaged just 6.38 yards per pass with a passer rating of 72.9 last year, which ranks him near the bottom of the league.
What makes things even stranger is ESPN's Adam Schefter reported he had the opportunity to go to Jacksonville—his hometown—but instead opted for New York. I'll give Tebow one thing: He isn't short on confidence. However, 2012 will be a long year for this QB.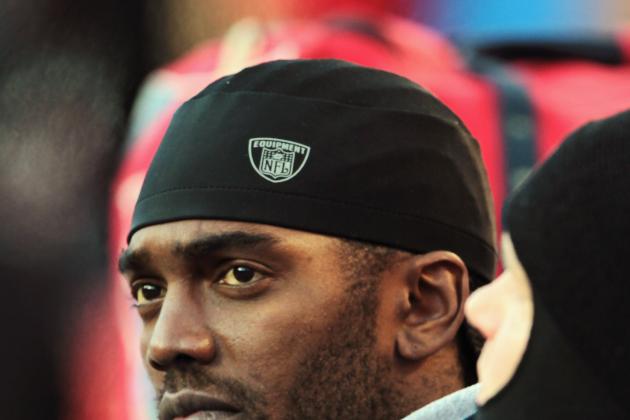 Jamie Squire/Getty Images

When Randy Moss decided to un-retire this offseason, that was perplexing enough. When he was actually picked up by the San Francisco 49ers, that's when things got even more confusing. Who in their right mind would want Moss?
In his heyday, no one could stretch a defense better than Moss. He is a big name based on his whole career, not because of anything he has done lately. In 2010 alone, the veteran receiver played for three teams: the Minnesota Vikings, New England Patriots and Tennessee Titans.
That in itself is quite the feat. That year, he had just 28 grabs for 393 yards and five scores. The talented WR took plays off many times in his career, and his last season he did that week in and week out.
In 2012, Moss will be matched up with Alex Smith in the Bay Area, and that couldn't be a worse marriage for a quarterback-receiver connection. Look for Moss to struggle at the age of 35 this season.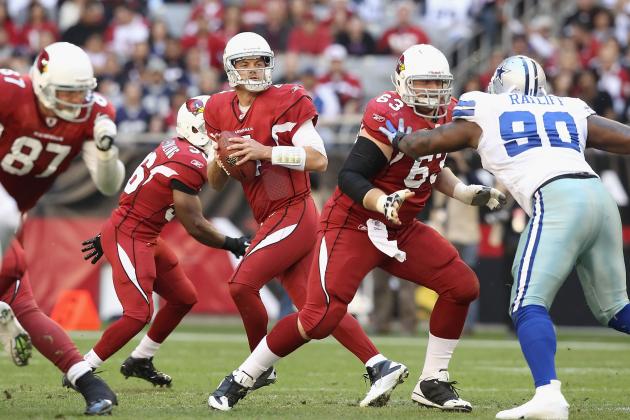 Christian Petersen/Getty Images

Kolb is another player who is a beneficiary of the Andy Reed system in Philadelphia. After leaving the Eagles, he signed a huge contract with the Arizona Cardinals and fans in the desert finally thought they had a legit quarterback.
One would think that throwing the ball to Larry Fitzgerald would help any QB, but that was not the case in 2011. Kolb won just one game as a starter, throwing nine touchdowns and eight interceptions while tossing for just 1,955 yards.
Whenever a player earns the money that Kolb commands (due a $7 million roster bonus this season) and you find yourself in a quarterback battle with John Skelton, you're in trouble.
On top of the lack of production, he's also injury-prone.
He is yet another player who will take a step back in 2012, and he may not even start the whole year.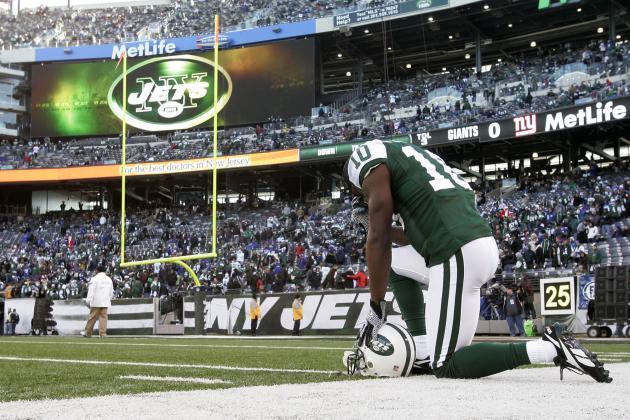 Rich Schultz/Getty Images

Santonio Holmes never fails to disappoint. The last we saw of Holmes, he was pushing and shoving his own teammates in the huddle and was later pulled from the game.
This guy is an enigma for any team he has been on, and the Steelers got rid of him for good reason. It's extremely frustrating to see a player with this much talent act the way he does each year.
In the last three seasons, his receiving yards have dropped from 1,248, to 746, to 654 in 2011. Add Tim Tebow to that equation, and the Jets are looking at a disaster in 2012.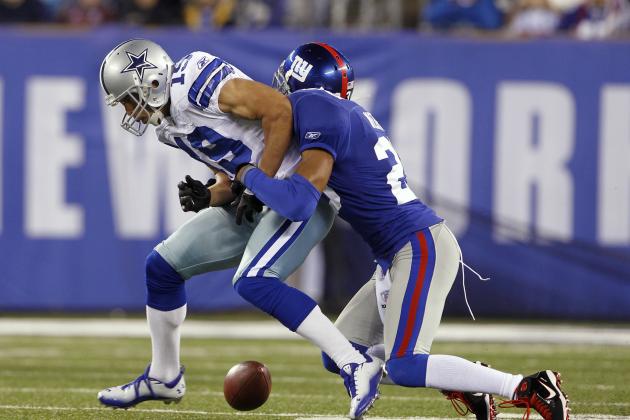 Rich Schultz/Getty Images

Miles Austin is coming off of a season in which he had just 579 yards receiving, although he did have seven TD grabs. My concern with Austin is his health; he played just 10 games a year ago, and with the emergence of Dez Bryant, many are wondering if he will remain the go-to receiver in Dallas.
Bryant has all the tools to be a breakout player in 2012, and if that's the case, Austin's production will take a big step back.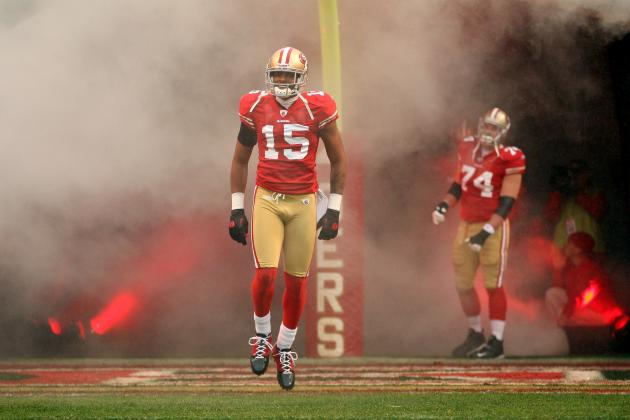 Ezra Shaw/Getty Images

Michael Crabtree hasn't lived up to his draft status of being a top-10 pick in the 2009 NFL draft. Granted, Alex Smith is throwing him the ball, but the former Texas Tech Red Raider has yet to have a 1,000-yard season and has just 12 career TD receptions.
Crabtree will likely have another mediocre year catching passes for the run-heavy 49ers offense.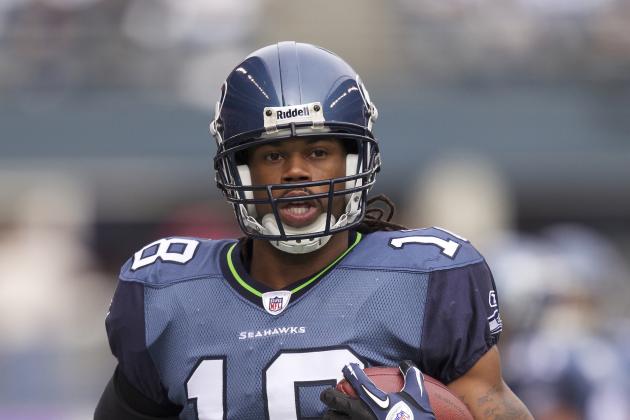 Stephen Brashear/Getty Images

Sidney Rice exploded onto the scene in 2009 with 1,312 yards receiving and eight touchdowns. Ever since then, Rice's production has been horrible.
Since that breakout season, he has played a combined 15 games and hauled in just four TD passes. Seattle Seahawk fans had great expectations for the former Minnesota Viking when he landed in Seattle via free agency, and he has greatly disappointed.
Expect to see more of the same in 2012.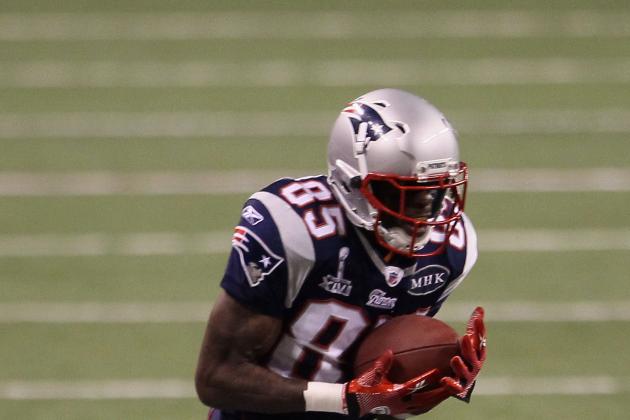 Jeff Gross/Getty Images

Last but not least, the artist formerly known as Chad Johnson. You would think that teaming the once-electric wide receiver with Tom Brady would be a recipe for success.
The veteran wideout's last 1,000-yard year was in 2009. He was awful last season, catching 15 passes for 276 yards and one score. To make things worse, Ochocinco had trouble learning the playbook.
Really, Chad?
For a veteran player to not immediately pick up a playbook is simply inexcusable. It is your job—how hard could it be? Ochocinco better get it together in 2012, otherwise he will find himself as a free agent because the Patriots aren't afraid to drop him.
Just ask Randy Moss.