EPL: Kevin Doyle Deserves a Transfer to a Top Premiership Club
April 22, 2012

Clive Rose/Getty Images
The news that Wolverhampton Wanderers are now assured of relegation didn't cause too many coffee cups to clatter or pint glasses to be hurled at pub walls in boisterous anger.
We'd known this was coming for a while now. The time for that sort of incredulity was, well, long ago.
The time now comes for Wolves to plan ahead for next season.
As is the case with any team leaving the top flight, they will likely sell off a number of their better players, who would be none too pleased with the prospect of a season spent toiling in the second tier.
Kevin Doyle, the 28-year-old Irish striker who has been with the club since moving from Reading in 2009, merits inclusion in that list of players who will likely find themselves donning a different kit next term.
The former Reading hit man—he had 55 goals over four seasons with the Royals—with the habit of wearing his jersey quite snugly, has not been as prolific with Wolves, netting just 15 times over what is now nearly three seasons of work.
But this man's true worth has never been measured by the times he's found the back of the net. He's far more versatile than that.
Doyle grew up playing Gaelic football (as French newspaper L'Equipe reported back in November 2009), an upbringing which inured him to the prospect of physicality in sport.
With a mindset geared toward clashes, it's no surprise that Doyle is such an expert aerial threat. Many a header have been won by him against far taller defenders.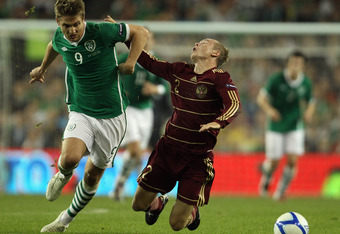 Bryn Lennon/Getty Images
His playing style might best be defined as combative, but he is no slouch as a technician. His five assists in 29 league appearances this season speak to his ability to link up play with aplomb.
There is a reason that he is a frequent choice of Giovanni Trappatoni, as the Italian manager pencils in his Republic of Ireland national team first XI.
Doyle has built a wonderful partnership with Robbie Keane up front for the Irish, and though he scored just two goals in nine matches during the most recent European qualifying campaign, he also chalked up two assists.
It is that sort of industry that will make Doyle a hot commodity and a savvy pickup for some team, likely English, that will take a flier on his services this summer.
Arsenal were linked with a move for him as recently as last August. Will Wenger cast his lot once more for the golden-haired striker?
Doyle will certainly not command an exorbitant price tag—remember, Scott Parker, the Football Writer's Award winner in 2011, was sold by relegation-bound West Ham United to Tottenham for just £5.5 million—something that is sure to catch the fastidiously frugal Wenger's eye.
The Gunners are certain to be prowling the market as they look to beef up their side ahead of a title run next season.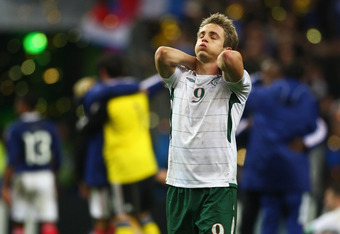 Michael Steele/Getty Images
Doyle would be a perfect injection of rugged industrial quality up front for a side that has been accused of lacking exactly that in recent seasons.
While he will never banish (fond) memories of the man who made that rather dour claim, Doyle would be an upgrade from the foundering Marouane Chamakh, whose form has escaped him since the end of 2010.
While I would hold off on chastising Park Chu-Young—the other option in attack—given as he's had all of five minutes of game time this season to make an impression, the South Korean is likely to pack his bags this summer anyway (it's difficult to blame him for wanting out).
Hence, the prospect of a quality replacement surges to the fore with ever-more insistence. Arsenal could certainly use something extra in the attacking ranks. Doyle fits that description to a tee.
Logical, no?