2012 NFL Draft Rankings: Top Five Quarterbacks
April 22, 2012

Doug Pensinger/Getty Images
I can't remember a draft that had two better quarterbacks at the top. In my opinion, you have a couple of surefire (and I hate using that term with the crapshoot that is the NFL draft) Pro Bowl-caliber players.
Not only are Andrew Luck and Robert Griffin III tremendous athletes with some of the most impressive college resumes ever, they are equally intelligent and charismatic guys whose football IQs are off the charts. Lastly, both of them almost single-handedly resurrected dormant football programs at their respective universities, Stanford and Baylor.
That being said, and I mean no disrespect to Griffin, we have never seen a prospect more prepared for the NFL than Luck—and yes, that even includes Peyton Manning.
People give Manning credit for being the offensive coordinator for the Colts, as I'm sure he will now be for the Broncos. The reason for this is because within a couple of years of him becoming a pro, he was given the option to decide between three different plays on each snap. He would make the call based on what he saw from the defense's personnel and pre-snap reads.
Folks, Luck has been doing this for his last two seasons at Stanford, which is unprecedented with today's more complex offenses. Considering that it was a pro-style system, in a college football atmosphere overrun by the simpler spread attacks, it's just that much more impressive.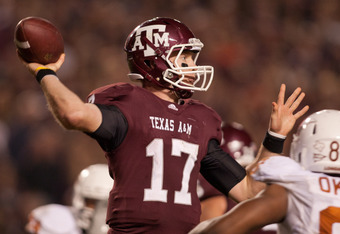 Darren Carroll/Getty Images
Here are the rankings:
1. Andrew Luck, Stanford
2. Robert Griffin, Baylor
3. Ryan Tannehill, Texas A&M
4. Kirk Cousins, Michigan St.
5. Brandon Weeden, Oklahoma St.
As for the rest, I think there are two prospects in particular who are going to be overdrafted. Ryan Tannehill is a really good prospect, and there is nothing wrong with his measurables (except for the small hands, only nine inches, which could be a problem). I like the arm strength, the athletic ability, and the leadership qualities.
However, if I'm spending a top-10 pick on a quarterback (which is certainly where he'll go), I would like someone with a bit more than 19 starts at the most difficult position in sports, and a better than 2:1 touchdown to interception ratio at the collegiate level (42:21).
Also, people are falling in love with measurables of Brock Osweiler out of Arizona State, and I'm hearing rumors there's a chance he could go in the first round. In my opinion, this would be a "measurables decision." He's got great size, good arm strength and good agility for his size, but like Tannehill, he had a 2:1 touchdown to interception ratio. But, he was in a spread offense, which should
enhance his productivity.
On the flip side, there are two players I think will be a great value for teams when they're drafted. Russell Wilson of Wisconsin will fall because of his height (just short of 5'11"). I'm hearing that he's a third-day prospect. With his athleticism and accuracy (72.8 percent completion percentage with 33 touchdowns and only four interceptions in 2011), I think at worst he'd be a great option for some team's sub-packages.
However, I think he's a great prospect for a team running the West Coast offense featuring play-action and moving the quarterback out of the pocket. In terms of his intelligence and football IQ, he's been a great player in two different offenses (NC State and Wisconsin—he played  minor league baseball in between).
San Diego State's Ryan Lindley will also be a great value on the third day. He has prototypical size with good production, considering he played under three different offensive coordinators while in
school. While his completion percentage is abysmal, his 23 to eight touchdown to interception ratio is more than adequate. He has a great arm and showed everyone at the Senior Bowl that he can make all of the NFL throws.
However, his new coach will have to break him of his habit to trust his arm "too much."