2012 NFL Mock Draft: Swing Picks That Will Affect Entirety of the 1st Round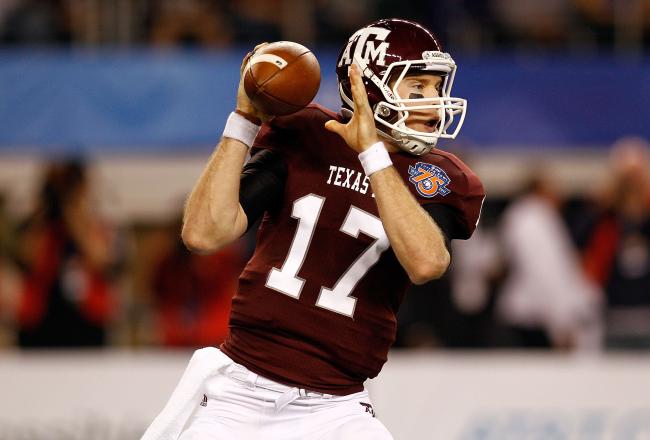 Chris Graythen/Getty Images
There are a few guarantees at this year's NFL draft.
Andrew Luck and Robert Griffin III will surely be the first two picks.
Some team is going to dramatically overvalue Ryan Tannehill.
You won't be able to look at anything but Mel Kiper's hair.
But for all those certainties, the first round is full of swing picks, selections that have the ability to alter the entire course of the first round. Let's take a look at those selections that will change the face of this draft (in Italics).
1. Indianapolis Colts: Andrew Luck, QB (Stanford)
We've all known this was the pick for months, even if the Colts just made it known.
2. Washington Redskins: Robert Griffin III, QB (Baylor)*
Again, there won't be any surprises here.
3. Minnesota Vikings: Matt Kalil, OT (USC)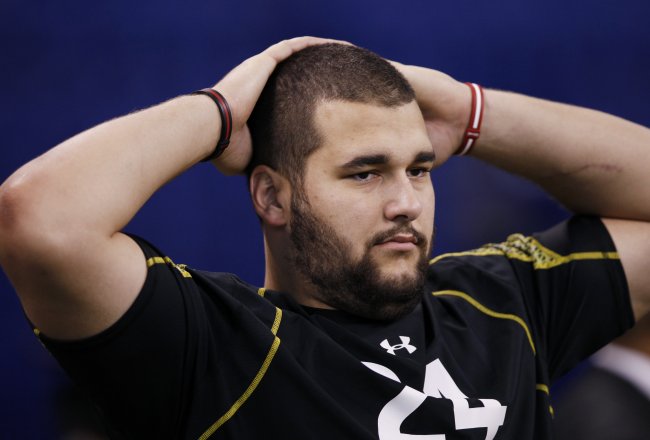 Joe Robbins/Getty Images
Here's where it starts to get interesting. If the Vikings keep this pick, I'm convinced they'll select Kalil to protect Christian Ponder.
But this seems like a team that would love to move this pick, and an organization crazy for Ryan Tannehill might be willing to make a deal if they suspect the Browns will go after the former Texas A&M quarterback.
I don't think such organizations exist, and this pick will be Kalil—but you never know.
4. Cleveland Browns: Trent Richardson, RB (Alabama)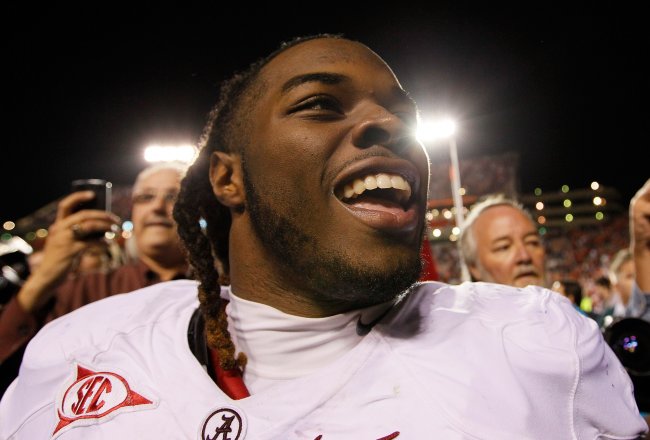 Kevin C. Cox/Getty Images
For my money, there are five elite players in this draft: the first three guys selected here, Richardson and Morris Claiborne, plus a sixth (Justin Blackmon) just outside of that group.
Whichever player left whom Cleveland selects will affect quite a bit in this draft.
I believe the Browns should take Richardson, the best player on the board and a game-changer at running back, which just so happens to be a position of need for the team. Plus, he'll sell jerseys.
Any way you slice it, it's a pick that makes sense for the Browns.
5. Tampa Bay Buccaneers: Morris Claiborne, CB (LSU)
With a big need at the position and the best player on the board available, this is the best possible scenario for the Bucs.
6. St. Louis Rams: Justin Blackmon, WR (Oklahoma State)
If the Rams don't trade out of this pick, Blackmon should be the guy. Sam Bradford could use some help.
7. Jacksonville Jaguars: Melvin Ingram, DE (South Carolina)

I wouldn't be surprised if this was Michael Floyd. Pass-rush and the wide receiver positions seem the biggest needs to me, but I think the Jags will go with Ingram here.
8. Miami Dolphins: Ryan Tannehill, QB (Texas A&M)
Ronald Martinez/Getty Images
So many things could change before this pick.
The Browns could take Tannehill, another team could trade above Miami to grab Tannehill or he could be sitting on the board for Miami.
A lot more will change after this pick; if it isn't Tannehill, at some point a team will make a move to snag the quarterback.
But I continue to believe the most likely scenario is he will be on the board when Miami picks.
9. Carolina Panthers: Fletcher Cox, DT (Mississippi State)

With an upgrade needed on the defensive line, the Panthers will have their pick of a deep stable of talented defensive lineman available. I think they go with Cox.
10. Buffalo Bills: Riley Reiff, OT (Iowa)
With left tackle a big need and Reiff clearly second-best option at the position, the Bills select the big nasty from Iowa.

11. Kansas City Chiefs: Dontari Poe, NT (Memphis)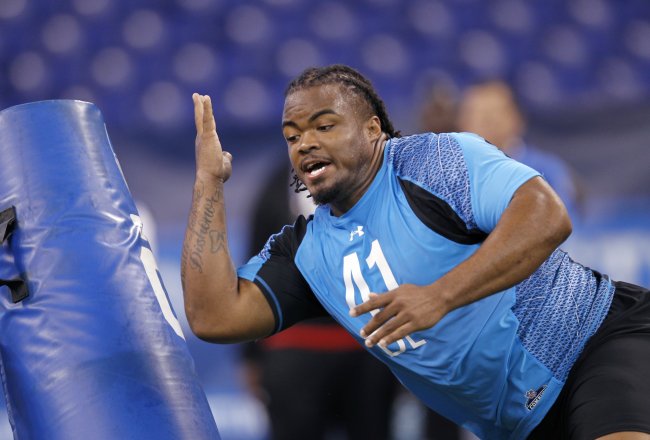 Joe Robbins/Getty Images
The second portion of the first round begins with the Chiefs, who could go in any number of directions with this pick.
Might they select guard David DeCastro, thought by some to be the safest pick in the draft? Could it be Luke Kuechly, to upgrade the middle linebacker position? A different defensive lineman like Michael Brockers or Quinton Coples?
I still think the Chiefs will go after the most obvious need with the massive and potential-laden Poe, but it's a tenuous prediction, at best. What the Chiefs do here will change quite a few draft charts, that's for sure.
12. Seattle Seahawks: Luke Kuechly, MLB (Boston College)

If Kuechly is here, I'm convinced they'll draft him. The end.
13. Arizona Cardinals: Michael Floyd, WR (Notre Dame)

Floyd could be long gone by now, or the Cardinals could go in a different direction, such as selecting offensive lineman Jonathan Martin.
But I have a feeling Floyd will be the guy. Be afraid, NFL secondaries. Be very afraid.
14. Dallas Cowboys: David DeCastro, OG (Stanford)
The Cowboys could go with Mark Barron here as well, but this team needs a major upgrade at guard, and DeCastro is as good as they come. DeCastro is the pick.
15. Philadelphia Eagles: Mark Barron, S (Alabama)
Barron is an excellent player, and the Eagles have a serious need for a playmaker at safety.
16. New York Jets: Courtney Upshaw, OLB (Alabama)
There are a number of players this could be, but I believe the pick will be a 3-4 outside linebacker. Upshaw will be a good one.
17. Cincinnati Bengals: Cordy Glenn, OG (Georgia)**

The Bengals won't mess around here, reaching ever so slightly to land the second-best guard on the board to fill a big need.

18. San Diego Chargers: Nick Perry, OLB (USC)
Perry is another player who should make a quick transition to 3-4 outside linebacker and would immediately help the Chargers.
19. Chicago Bears: Quinton Coples, DE (North Carolina)

Coples is a big-time talent with big-time questions about his motor and maturity. He'll drop, but not past the Bears.
20. Tennessee Titans: Dre Kirkpatrick, CB (Alabama)
Needing an upgrade at corner, the Titans will be quite pleased to watch the second-best prospect at the position drop to them.
21. Cincinnati Bengals: Kendall Wright, WR (Baylor)

I think the Bengals will look for an elite option to pair with A.J. Green. Wright is the safest choice on the board here, but the Bengals could roll the dice on Stephen Hill.
22. Cleveland Browns: Stephen Hill, WR (Georgia Tech)***

Speaking of rolling the dice, the Browns must know that the team lacks serious playmakers on offense. With Richardson and Hill, they could very quickly change that.
23. Detroit Lions: Stephon Gilmore, CB (South Carolina)

This team should be a contender in 2012, but the Lions could use an upgrade in the secondary. Done and done.
24. Pittsburgh Steelers: Dont'a Hightower, LB (Alabama)
If he's here, Hightower is a Steeler. It just feels right.
25. Denver Broncos: Michael Brockers, DT (LSU)
Brockers could end up being the best defensive lineman of this draft. The Broncos will take that level of production for their pick.
26. Houston Texans: Devon Still, DT (Penn State)
The Texans could go after a wide receiver here as well. Truthfully, they are in the position to simply draft the highest-graded player on their board. I'm just guessing they'll have Still in that position.

27. New England Patriots: Chandler Jones, DE (Syracuse)****
Needing an edge-rusher, the Patriots mark down one need off the ol' draft checklist with this pick.
28. Green Bay Packers: Peter Konz, C (Wisconsin)
Center will be a need for Green Bay. While the Packers could easily go with a defensive player here, I see them filling out a future position of need with the talented Konz.
29. Baltimore Ravens: Jonathan Martin, OT (Stanford)
Martin has a lot of talent, and if he gets stronger, he'll be a good one in the NFL. With the Ravens, he won't necessarily be expected to step in immediately, but he can provide depth.
30. San Francisco 49ers: Janoris Jenkins, CB (North Alabama)
Jenkins has enormous talent, but many believe his character issues will precipitate a drop out of the first round. He'll almost get there, but the Niners will take a chance on his abilities.
31. New England Patriots: Jamell Fleming, CB (Oklahoma)

Second need: an improved secondary. Check.
32. New York Giants: Zach Brown, OLB (North Carolina)
This is a risky pick, but one with a lot of upside, as Brown has athletic abilities out the wazoo.
(*The Redskins traded the sixth pick in the first round, along with their second-round pick this year and first-round picks in 2013 and 2014 to St. Louis for 2012's second overall pick.)
(**From Oakland in the Carson Palmer trade.)
(***From Atlanta in last year's Julio Jones draft day trade.)
(****From New Orleans in last year's Mark Ingram draft day trade.)
Hit me up on Twitter—my tweets always hit the spot, like Philip Humber.

This article is
What is the duplicate article?
Why is this article offensive?
Where is this article plagiarized from?
Why is this article poorly edited?