2012 NFL Draft: Kansas City Chiefs 7-Round Mock Draft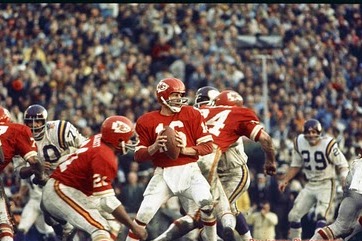 Kansas City vs Minnesota in Super Bowl IV
On January 11, 1970, the Kansas City Chiefs defeated the favored Minnesota Vikings 23-7 to win Super Bowl IV (shown in photo) at the old Tulane Stadium in New Orleans. That legendary Chiefs team was led by a star-studded lineup which featured future Hall of Fame inductees Len Dawson, Bobby Bell, Willie Lanier, Buck Buchanan, Emmitt Thomas, Jan Stenerud and head coach Hank Stram.
Unfortunately for the dedicated fans who regularly pack Arrowhead Stadium, this was the last time their Chiefs have advanced to a Super Bowl. Those folks under the age of 47 will not likely have any personal memories of that particular game. The only visual evidence for them would be on NFL Films highlights or video uploads on YouTube.
Whether of the older or younger generations, Kansas City boasts one of the most devoted and energetic fan bases in the league. Arrowhead Stadium on a fall Sunday afternoon resembles the enthusiastic atmosphere of a major college football game. The Midwestern blue-collar spirit, beautiful cheerleaders, infamous tailgate parties, K.C. Wolf mascot, Warpaint horse and Chiefs Rumble drumline all add to the game day experience.
Since the glory days of the Chiefs, they have shown glimpses of potential greatness only to fall a bit short in the playoffs. Under former coaches Marty Schottenheimer and Dick Vermeil, the franchise made serious runs toward Super Bowl contention. Only time will tell if current coach Romeo Crennel will be able to lead the Chiefs to a place they have not been in 42 years.
The Kansas City fan base deserves to share in a bit of that old glory by seeing their team once again reach a Super Bowl. There are pieces in place on the current roster to contend for an AFC West crown, but several more need to be filled to take the next step toward making Arrowhead history.
Begin Slideshow

»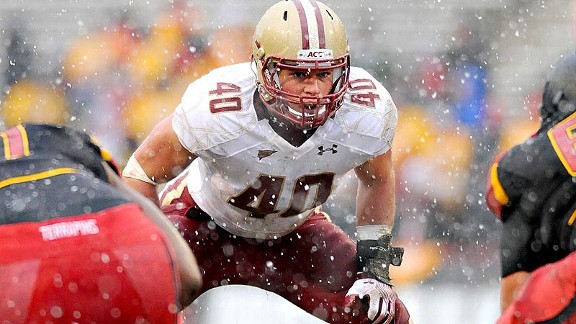 Luke Kuechly
Luke Kuechly, ILB, Boston College
Height: 6'3" Weight: 242 pounds
There has been much debate by media analysts and fans alike as to what direction the Chiefs should go with their first-round pick. Most scenarios favor help either at QB, OG, NT or ILB. Names such as NT Dontari Poe and OG David DeCastro have been popular choices. Also, QB Ryan Tannehill has been an object of speculation as a possible replacement for Matt Cassel.
Although NT is a prime need for the Chiefs defense, Poe may not be worth the risk at No. 11. He is a fine athlete for his massive size but does not make enough plays on tape to warrant a high first-round pick.
Nobody could honestly argue against taking DeCastro, who could be one of the most complete and dominant OG prospects in many years. His strength and mobility would be a natural addition to a young offensive line that already added RT Eric Winston in the offseason.
However, the Chiefs have young Jon Asamoah and savvy veteran Ryan Lilja plugged in at OG. Although Lilja is heading toward the downside, he is still only 30 years old and has a few more years left. The OG spot is a need, but not an urgent need.
Opinions about the talented Tannehill vary depending on who you listen to, but there is a good chance the Chiefs will stick with Cassel for at least one more year as the starter under new offensive coordinator Brian Daboll. If Cassel is healthy, the organization is hoping he can come close to duplicating his success in 2010. Veteran Brady Quinn was brought in as a backup—not a big splash, but an upgrade over Tyler Palko. Meanwhile, Ricky Stanzi will have a full offseason to develop as a young prospect.
While the team addressed a handful of offensive needs in free agency, work remains to be done on defense. The Chiefs rush defense was ranked 26th in the league, giving up 132 yards per game. Drafting a tackling machine such as Luke Kuechly, who amassed 532 tackles in three years, could go a long way toward solving that problem.
While his ability to shed blocks and step up in the hole have been questioned, these concerns are probably a bit exaggerated. There is no question concerning his athletic ability, sure tackling technique, football intelligence, work ethic, leadership and instincts. He is always around the football and pursues the ball carrier aggressively.
Drafting Kuechly, the 2011 Butkus Award winner, would be an upgrade over Jovan Belcher and Brandon Siler while completing one of the best young linebacker units in the league along with Derrick Johnson, Tamba Hali and Justin Houston.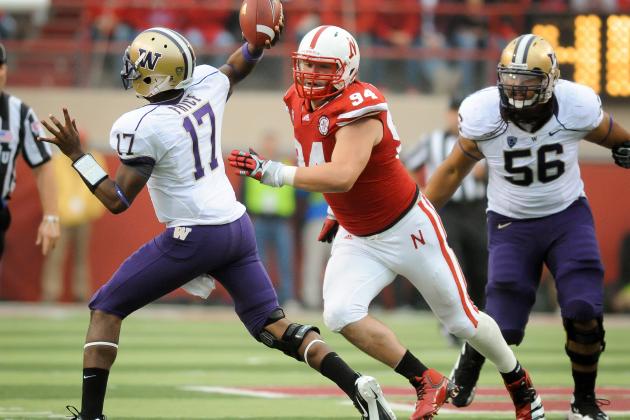 Eric Francis/Getty Images
Jared Crick
Jared Crick, DE/DT, Nebraska
Height: 6'4" Weight: 279 pounds
Continuing the theme of toughening up the run defense in Kansas City, the defensive line is the next area of focus. Assuming Dontari Poe will be drafted somewhere in the mid-to-late first round, there is not another NT rated as highly as the No. 44 selection. Washington's Alameda Ta'amu is a possibility, but might be a bit of a reach here.
The defensive end spot has come under scrutiny despite several high draft picks being spent there in recent years. Tyson Jackson, who finally showed signs of improvement last year, has been somewhat of a disappointment as the third overall pick in 2009. Glenn Dorsey has performed well but is short for a five-technique defensive end and is better suited inside as a 4-3 tackle. Allen Bailey, drafted last year in Round 3, has potential but is inconsistent.
Jared Crick of Nebraska was thought to be a sure first-round choice until he ended up missing much of last season due to a torn pectoral muscle. In the two previous seasons as a starter, he racked up 19 sacks, including 9.5 in 2010, the year after his interior line mate Ndamukong Suh went to the NFL.
Although his Combine weight was listed at 279 pounds, Crick has played at close to 288 pounds in the past. He has enough girth to take on offensive linemen as a 3-4 end and make a push against the run. His strong hands and upper body allow him to fight off double team blocks and penetrate the backfield.
He is not a quick twitch player but is relentless and can slice into the backfield to generate a pass rush or disrupt the running back's angle.
Crick is a lunch-pail worker who would fit into the defensive line rotation with the versatility to slide inside on passing downs. His attitude and effort would make him a favorite in the locker room as well as in the seats at Arrowhead Stadium.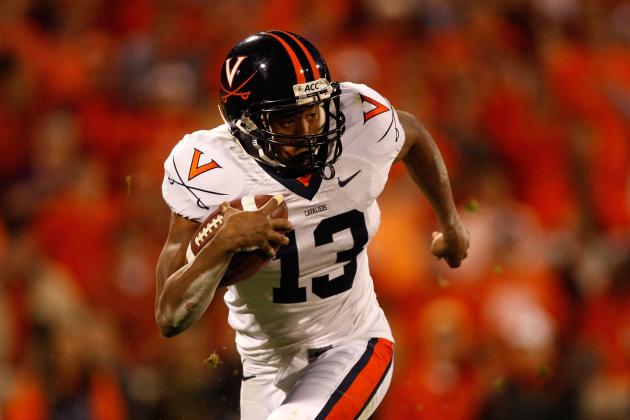 Streeter Lecka/Getty Images
Chase Minnifield
Chase Minnifield, CB, Virginia
Height: 5'10" Weight: 183 pounds
Letting Brandon Carr leave for free agency was not a popular move among Chiefs fans. In anticipation of losing Carr, the team signed Stanford Routt shortly after he was released by the hated Oakland Raiders before the free agency period began.
While Routt is a talented athlete, he has a tendency to be undisciplined. In 2011, he led all cornerbacks with 17 penalties committed and gave up more touchdown passes than almost anyone else.
In Kansas City's defense, Routt would be the No. 2 corner, with Brandon Flowers taking on the toughest assignments. Regardless, Routt must improve on his 2011 performance to make fans forget the improving Carr, who signed with Dallas.
Behind the starters, Javier Arenas has developed into a solid nickle corner who is physical and is sometimes used on the blitz. Other than that, the cupboard is almost bare except for Travis Daniels, who is strictly a backup, and special teams player Jalil Brown.
Chase Minnifield is the son of former Cleveland Browns cornerback Frank Minnifield, an original member of the Dawg Pound secondary of the 1980's.
Much like his father, Chase is a smart football player who excels at press coverage. His quick, strong hands allow him to jam and re-route receivers within the first five yards of scrimmage. He is also aggressive against the run, despite his narrow frame.
Minnifield picked off 13 total passes at Virginia, including six in 2010. His draft stock dropped slightly in 2011, but he is still a legitimate prospect and eventual starter. He is coming off arthroscopic knee surgery in January to clean out loose cartilage and was not completely recovered for his pro day, at which he did not perform well.
He is versatile enough to play zone or man defense and will contribute on special teams. He will need to improve his hip turn and core strength but would be a safe pick in Round 3 and a good CB to develop.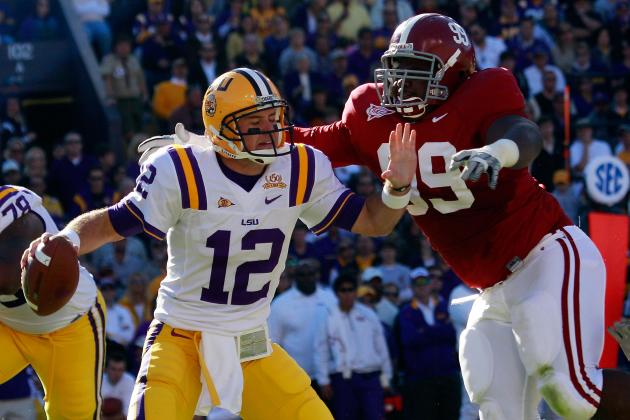 Chris Graythen/Getty Images
Josh Chapman
Josh Chapman, NT, Alabama
Height: 6'1" Weight: 316 pounds
In the 3-4 defense, a quality NT is essential to plug up the middle of the defense, allowing pass-rushers and linebackers to penetrate gaps and disrupt the backfield.
In the 1980's and early 1990's, the Chiefs had a stud NT in Bill Maas. Afterwards, the Chiefs ran a 4-3 defense for many years until converting back to a 3-4 in 2009 under former coach Todd Haley and defensive coordinator Romeo Crennel, who is now the head coach.
There are no players similar to Maas on the current Chiefs roster. Last year, Kelly Gregg was signed to a one-year deal and, although he is always gritty, showed signs of his age. He is currently an unsigned free agent and has hinted at retirement.
Jerrell Powe was Kansas City's sixth-round draft choice in 2011 but barely saw the playing field, being activated for only one game. He has a wide base and good strength, but he needs to improve his conditioning and show the necessary instincts and desire to control the middle. Amon Gordon is a serviceable backup, while Anthony Toribio is a journeyman type.
Josh Chapman, the run stuffer on Alabama's dominant defense, would make sense in the middle rounds for Kansas City. On the downside, he is coming off a knee injury which could slow his contribution early in 2012. He played injured much of 2011 but had surgery shortly after the championship game.
On the positive side, Chapman will be able to develop while Powe gets the first shot at the NT spot. When healthy, Chapman is a sturdy run stopper with a strong anchor. Because of his short, bulky frame he is able to get low and gain leverage on the center or guard. He is strong enough to shed blocks and neutralize the double team. He is a classic NT who can collapse the pocket.
Chapman will not offer much as a pass-rusher, but he will not be expected to get many sacks. That will be the job of Hali and Houston from the OLB spots. If Chapman is available in Round 4, he would be a good value from a great program that emphasizes defense, defense, defense.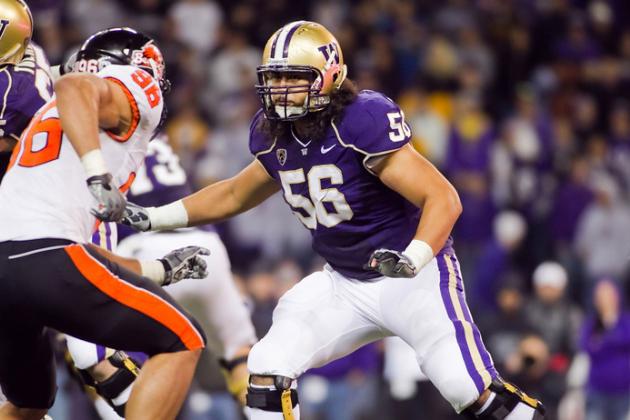 Senio Kelemete
Senio Kelemete, OG, Washington
Height: 6'4" Weight: 307 pounds
During the Dick Vermeil coaching tenure in Kansas City, the Chiefs assembled one of the best offensive lines in recent memory. Willie Roaf and John Tait were the bookend tackles, Casey Weigmann handled center and Will Shields and Brian Waters formed a hard-nosed duo at guard.
Those players are now all gone, with Weigmann having possibly played his last game in 2011. Kansas City now has a young offensive line that, while not as talented as the aforementioned Chiefs line, has the potential to be solid for many years.
Second-year player Rodney Hudson is poised to take over at center. Jon Asamoah is slated to be the RG with veteran Ryan Lilja at LG. Branden Albert is a good, but not great, protector at LT. Eric Winston was signed as a surprise cap casualty from Houston to strengthen the vulnerable RT spot.
If Chiefs general manager Scott Pioli decides to pass on OG David DeCastro in Round 1, there will still be a need for depth at the position and a prospect to groom behind Lilja. If he's available in Round 5, the Chiefs should grab Senio Kelemete from the Washington Huskies.
Kelemete played primarily as a LT in college but is better suited inside at the pro level due to his lack of ideal height and arm length. He performed well when blocking against Quinton Coples and Courtney Upshaw during Senior Bowl week. He moves his feet well, with the ability to pull and trap. He could add a bit of raw power in the weight room but is an aggressive blocker who enjoys contact.
Although there would be a transition period to work on technique and a position change, Kelemete would be a good choice as a developmental prospect with the natural skill and demeanor to seize a starting job within a year or two.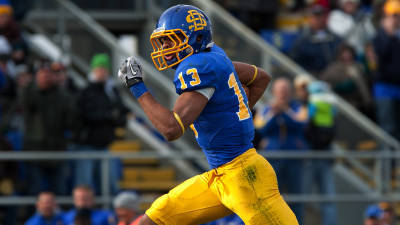 Dale Moss
Dale Moss, WR, South Dakota State
Height: 6'3" Weight: 220 pounds
Before Dwayne Bowe came along, the best WR's in Chiefs' history were Henry Marshall and Otis Taylor. Former TE Tony Gonzalez leads the franchise in career receptions, but as far as the WR position, Bowe will likely surpass Marshall and Taylor statistically with one or two more solid years. Keep in mind, however, that rules have changed to favor the passing game since the days of Taylor in the 1960's and early 1970's.
Bowe spent some time early on in former coach Todd Haley's doghouse. He has rebounded to put together several Pro Bowl seasons.
Despite the QB carousel in 2011, Bowe managed to haul in 81 receptions for 1,159 yards and five touchdowns. Free-agent pickup Steve Breaston caught a respectable 61 passes. Talented 2011 draft pick Jon Baldwin experienced rookie growing pains, in part due to poor attitude and a wrist injury sustained in a pre-season locker room fight with Thomas Jones. More will be expected of Baldwin, who needs to "take the diapers off," as coach Dick Vermeil would say.
Just in case Baldwin doesn't pan out as hoped, it would be wise to add depth to the position. South Dakota State WR Dale Moss is an intriguing prospect who has caught the attention of NFL scouts even though he wasn't invited to the NFL Combine.
Moss played basketball during his first four years with the Jackrabbits. Having one more year of athletic eligibility remaining, he chose to play football for the first time since high school. He flashed a ton of potential, producing 61 receptions for 949 yards in 2011.
His basketball skills are evident in his ability to extend for the high pass and make the acrobatic catch. He will fight the defender for the ball, as if going for a rebound, and has the ideal arm and hand size for a tall receiver. He has good speed to get downfield. Moss improved enough throughout the season to warrant a spot in this year's draft class.
Moss would be making a big jump in competition at the NFL level but has all the physical tools to compete. His route running and blocking will need some refinement. As a late round pick, Moss could turn out to be a steal in the draft with proper coaching and development.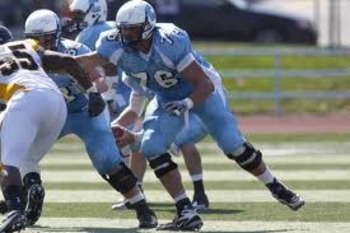 Jeff Adams
Jeff Adams, OT, Columbia
Height: 6'6" Weight: 306 pounds
Ever since Branden Albert was drafted to play LT in 2008, there have been cries from analysts and Chiefs fans to move him to RT or inside at OG. He will not remind anyone of former Chiefs Willie Roaf or John Alt at the position, but is at least on par with Matt Herkenhoff.
Unless Scott Pioli is able to trade up and snatch LT Matt Kalil in Round 1, Albert looks to be the starting LT in 2012. Signing Eric Winston was a sound move to patch up the leaky RT spot. Barry Richardson is a free agent and will likely not be re-signed unless depth is needed. David Mims is the current backup but lacks experience.
Drafting a player for depth at the OT spot is a possibility in the late rounds.
Believe it or not, Columbia University was a hot bed of pro football talent in the 1920's and 1930's. The most famous NFL player to graduate from Columbia is Hall of Fame QB Sid Luckman, who had a stellar career with the Chicago Bears from 1939 to 1950. Other notable players from the modern era were Marcellus Wiley, George Starke and Jason Garrett.
Jeff Adams hopes to be the next Lions alumnus to make an NFL opening-day roster. Adams was named to the All-Ivy League team three straight years and an AP Third Team FCS All-American in 2011. He missed the last three games of his senior year with a minor MCL sprain but recovered in time to play in the East-West Shrine Game.
Adams has the prototypical measurables desired in a LT prospect. The height, weight, wingspan, hand size and quick feet are all there. He also has the mental capacity to absorb an NFL playbook and play smart football. He has a good football mentality and enjoys playing the game.
The biggest challenge for Adams will be to hit the weights and add muscle and strength to his overall game. He put up 19 bench press reps at his pro day workout, which is not quite enough for an offensive lineman. On the positive side, Adams has the frame to add a little extra bulk without affecting his athleticism.
If Adams can develop in the weight room and improve his run blocking and anchor, we could be talking about him in the near future as one of the successful "sleepers" of the 2012 draft.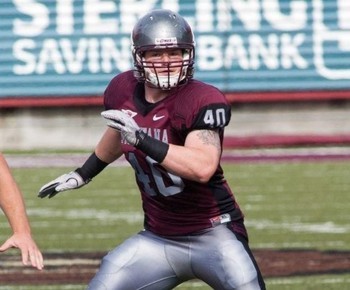 Caleb McSurdy
Caleb McSurdy, ILB, Montana
Height: 6'1" Weight: 245 pounds
Every football team at every level of competition needs a few guys who will do the dirty work. These are the throwback players who are not flashy but play with the blood-and-guts mentality of infamous movie character John Rambo.
They will do what the coaching staff asks of them. They will play on offense, defense or special teams. They will not complain about getting mud or grass stains on their uniforms. They do not hang out with the prima donnas. They would make former Philadelphia Eagles tough-guy linebacker/center Chuck Bednarik proud to call them "football players."
What better player to fill that role than a linebacker who played in the Big Sky Country state of Montana with the nickname "Dirty"?
Caleb "Dirty" McSurdy, born in Boise, Idaho, developed into the most reliable defender on the Montana Grizzlies' roster. He had a combined 243 tackles from the MLB spot the past two seasons as a starter. In 2011, he had 131 tackles, 9.5 tackles-for-loss, four sacks and two INT's to earn AP First Team FCS All-American honors. He was also named the Big Sky Conference Defensive Player of the Year.
Although not especially fleet of foot, McSurdy has a nose for the ball, with good instincts and intelligence. He is a good athlete who participated in track and field while at Montana and won the Idaho state championship in the discus and shot put as a junior in high school. In addition to playing linebacker at Borah High School, he was also an all-conference tight end and gained some experience as a running back.
McSurdy plays with a nasty streak and attacks the run with aggression. He is a form tackler who can drive the ball carrier to the ground. His lack of sudden hip turn might hinder his ability to stay on the field in pass defense and run with quicker running backs or slot receivers.
However, he is a hard worker on and off the field and will compete in the weight room.
During the Montana pro day, scouts asked McSurdy to participate in fullback drills. Following a similar blueprint as San Francisco's Bruce Miller, scouts are now looking to convert aggressive defensive players to the FB position. Miller, who was a scrappy college DE at Central Florida, was drafted in the seventh round in 2011 and earned a Pro Bowl alternate spot as a rookie FB.
The Chiefs could initially utilize him on special teams and as a potential challenger to current FB Shane Bannon. No matter where he is asked to play, McSurdy would be a valuable asset to any team's locker room and would do the dirty work needed to get the job done.