London Marathon 2012 Results: Claire Hallissey Deserves Shot at Olympics
April 22, 2012

Marathon runner Claire Hallissey from Great Britain deserves the chance to represent her country at the 2012 Olympics after her stellar performance at the 2012 London Marathon.
Hallissey ran a great race, finishing 11th with a time of two hours, 27 minutes and 44 seconds, and now finds herself in the perfect position to snag the last Olympic slot for Britain, alongside fellow runners Paula Radcliffe and Mara Yamauchi.
This is a dedicated runner that appears to be focused on giving the sport her all, and that's exactly why she needs to get picked for the team.
Check out these quotes from her talking about pushing her body into an extra gear at the end of the race via the Telegraph staff and agencies on telegraph.co.uk:
"It's always difficult in the marathon, you can never tell until you get near the finish if you are going to maintain the pace. It was the fastest I have ever gone out and I could feel the extra pace and it did hurt."

"There was no point just turning up and running a conservative race and trying to get a slight personal best. It was all or nothing."
The other runner in contention for the spot would be Joe Pavey, but she had opted not to run the race in hopes that her time would stand up.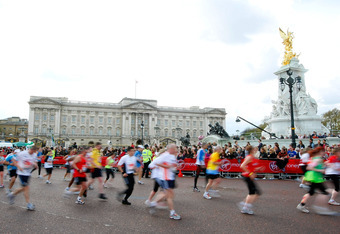 Tom Dulat/Getty Images
It proved to be a foolish move as Hallissey stepped up to the plate and outran her pace in impressive fashion.
This is a runner that Great Britain needs on their team. She obviously has the speed and endurance, she has the ability to push her body and now she's proven herself in this huge race.
Hallissey deserves this shot, and it's a shot I believe she will get.