UFC 145 Results: Why Jon Jones Still Has His Detractors
April 22, 2012

The saying "Everyone loves a winner" has got to sound a bit ironic to Jon Jones.
He's soundly defeated everyone he's faced, and in truth, he's faced just about the very best in his division, in short order.
He's been so dominant in his victories over former champions that is almost seems like he's already outgrown one of the toughest divisions in the sport.
And so while Jones and his camp make plans to take on and defeat the next in line, the formidable Dan Henderson, his critics continue to line up, not at all liking what they see and hear.
And that seems to be the heart of it, really.
When Jones started, is was very much like a kid on vacation, fully expecting the thrill ride of his career to be derailed at any moment.
Now, he is talking of destiny, and, God forbid, plans to be the greatest fighter the sport has ever seen.
Add that all together and you have the sum total of why he has a growing number of detractors: he's young, ambitious, incredibly talented and, worst of all to some, keenly aware of it all.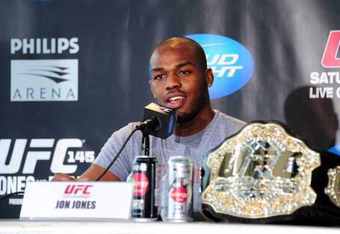 For some fight fans, seeing one man dominate a division, with no end in sight, destroys the notion of competition. They don't like the idea that one man is going to win, easily, no matter who he is facing.
It takes what should be new and makes it stale.
Excitement is found in risk, and if there is no risk of a man losing, he ceases to be a competitor and becomes a villain of sorts, even if it is absurd.
Everyone wants drama, and many fight fans see the UFC and the sport of MMA as the last option for true edge-of-your-seat drama. In a sport where you have four times as many ways to lose, who can say who's going to win on any given night?
Enter Jon Jones: the name on the lips of those who have the answer to that question.
Like someone telling you how the movie ends before you get to see it even begin, the detractors of Jones see him as a spoiler of the unknown, a man who has made order out of the chaos of MMA combat.
It is almost as if Jones is the new Sheriff in town, holding the fastest guns, and now many are rooting for an outlaw to come and take him out, bringing the "wild" back to the west.
Because no matter how his detractors may slander him, they would love to be in his shoes, no matter what they say.
And that is what Ali, Roy Jones Jr., Floyd Mayweather Jr., Anderson Silva and other peers have seen associated with their careers.
And for a man who has such high ambitions, that is excellent company to be in.