Alabama Football: 5 Weakest Positions to Worry About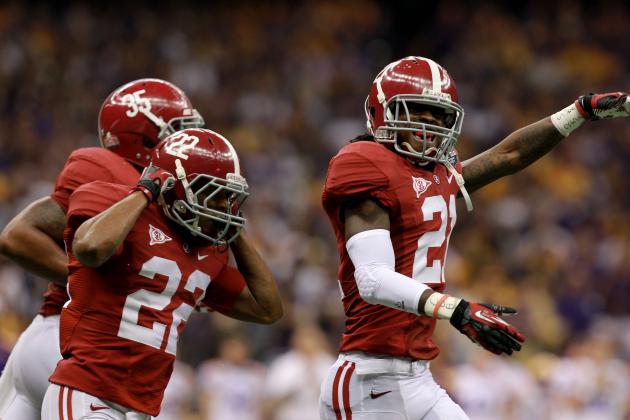 Ronald Martinez/Getty Images

A chain is only as strong as its weakest link.
Tide fans all know that our weakest links heading into 2012 are stronger than most other teams' weakest links. That is the good news.
The bad news is that the Tide will be sending some men into battle this season as starters that are filling positions left by first-round draft picks. Some of these new starters are exactly that: new...BRAND new.
Here are the five players that opposing teams will be gunning hardest for from the first snap of 2012. Hopefully, they are still being targeted in Miami in January.
*All height and weight stats from rolltide.com
Begin Slideshow

»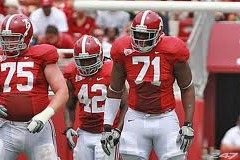 Photo from 247sports
Kouandjio is far from a weak left tackle. At 6'6" and 311 pounds, he is a formidable piece of the offensive line. However, he had only eight games of experience in 2011 before leaving the Tennessee game with a season-ending knee injury.
Kouandjio lines up with four other linemen, and all of them are at least juniors in 2012. That makes him the weakest link on the best O-line in the nation. That's not a bad position to be in.
As other teams will likely blitz Cyrus's side (McCarron's weak side) of the field, he will be tested constantly from the first 'Bama snap of the Michigan game.
That kind of extra attention will give Cyrus valuable opportunities very quickly. Assuming he stays healthy and learns quickly, left tackle will be one of the less worrisome weak positions by the time the Missouri game rolls around.
If he doesn't pick it up quickly, though, he will be a liability.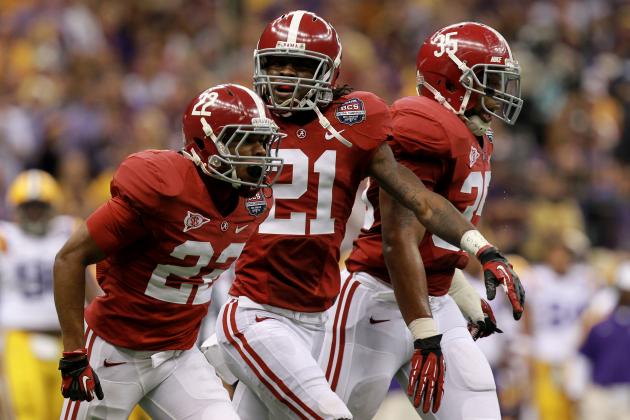 Ronald Martinez/Getty Images

Jones comes into this list alongside Cyrus Kouandjio. At 5'11" and 175 pounds, Jones is almost a prototypical wide receiver, and flashed some of his potential in the spring game.
He has a ton of talent and has earned a starting position on the Crimson Tide. However, his experience is limited to whatever he brings from high school.
When a play breaks down, does he have what it takes to make a play happen anyway? Does he have the skill to block for the running game? We will find out in 2012.
He doesn't have to be Julio Jones to be successful, but he does have to toughen up extremely quickly. If not, the depth at wide receiver could come into focus very soon.
Chris Black, Amari Cooper, DeAndrew White...these men will ensure that Jones earns that starting spot every single week.
Hubbard is a redshirt sophomore standing at 6'6" and 248 pounds. It's not his size that is worrisome, it's the fact that he and two of his linebacker buddies are entering 2012 with no real experience.
Every Tide player on the field has earned his spot, nothing was just handed to anyone. That's the comforting thought.
However, no one replaces the first-round draft picks that the Tide lost without experiencing some growing pains in the process.
Hubbard will be just fine in the future, but he's got some growing to do to get there. Let's hope he grows up quickly.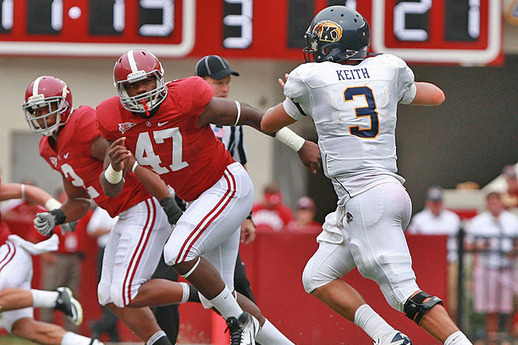 Photo from 247sports
At 6'3" and 262 pounds, Dickson leaves little room for doubt about his build for the position he plays. The 2012 season will put him on the field starting for the first time.
The noise at the Michigan game, the offense of the Arkansas squad and the trip to Missouri are going to be real tests for these guys.
Even A-Day doesn't get as loud as a game in Death Valley. Dickson and company will be unfairly compared to the 2011 squad throughout the season.
For the youngsters on the team, how they handle that pressure along with the noise will play a huge role in determining the Tide's postseason selection.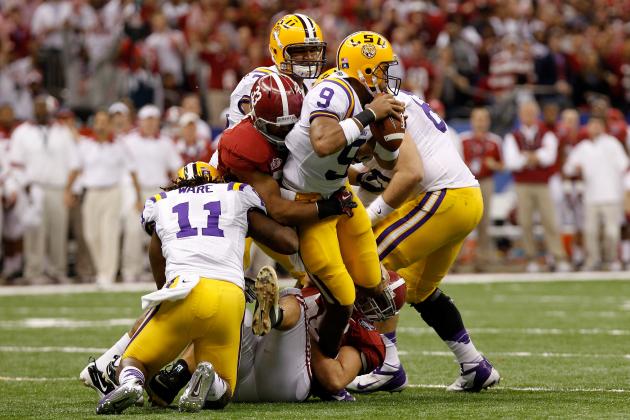 Chris Graythen/Getty Images

DePriest is a player that many other teams would love to have. At 6'2" and 245 pounds, he's going to stuff the run with his linebacker buddies just fine...eventually.
The learning curve will be steep in 2012, with games against Michigan and Arkansas coming in the first three weeks of the season.
The Tide has a shot at repeating, but solid linebacker play is going to have to show up quickly. (Against LSU in the national championship game, DePriest proved that he is more than capable of doing his job, but the faces next to him will be completely different in 2012 from the faces in 2011.)
Sunseri and Lester can't be expected to make every play from the safety slots. This linebacking corps is loaded with talent, and will be a premier corps in the nation by late 2012.
Let's all hope that mistakes early in 2012 don't cost them games. This is one of the best reloading seasons in Tuscaloosa since Saban arrived.
There is no reason to believe that hope is lost. However, these five men have the capability to make or break the season with their response to adversity and trial.
The trials are coming, Tiders, but there is no real reason to expect that the Tide won't roll on.
Roll Tide!