Robert Griffin III: 7 Strengths and Weaknesses of 2012 NFL Draft Prospect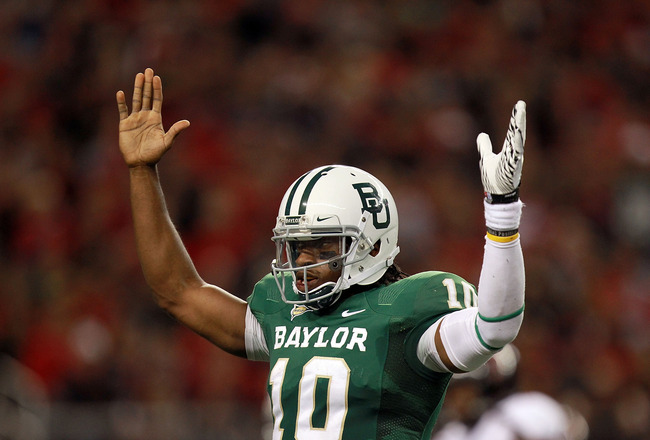 Ronald Martinez/Getty Images
The man from Waco is about to embark on his professional career.
Robert Griffin III will hear his name called after Andrew Luck Thursday night, and thus, another superior athlete will be under center in the NFL in 2012.
Griffin, the Heisman Trophy winner, has some of the best talent to come to the pro game in some time and helped to put Baylor football back on the map.
While his strengths are many, there are some areas of his game that he needs to work on to be a true success at the next level, not just a track athlete who can play quarterback.
Here are some strengths and weaknesses of thus huge talent.
And like the other prospect reports, information obtained in the slideshow was with the help of cbssportsline.com.
He Is Extremely Productive as a Player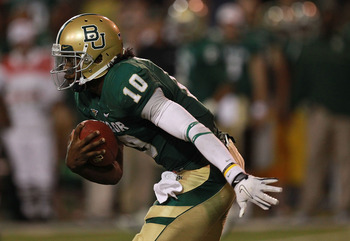 Ronald Martinez/Getty Images
As a passer, Griffin completed 291-of-402 passes (72.4 percent) for 4,293 yards, 37 touchdowns and six interceptions.
As a runner, he had 699 yards on 179 carries (3.9 yards per carry) and 10 scores.
The defenses really had no answer for him because when he could not find a receiver, he took off downfield.
A Natural Leader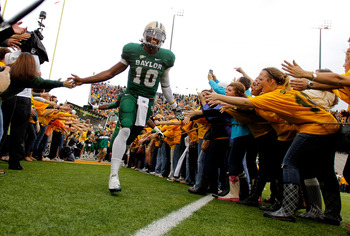 Sarah Glenn/Getty Images
He has natural talent, but being a leader is something that makes him a better player.
He's mentally tough and will take chances on the field if given the chance.
"Never allows himself to get too high or too low and the situation never seems too much," the scouting report states.
An Accurate Passer with Good Arm Strength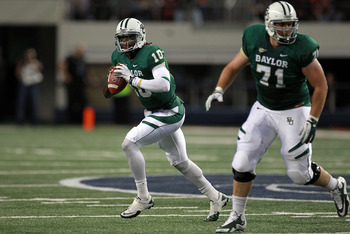 Ronald Martinez/Getty Images
Griffin has a very good downfield motion and can throw the deep ball with accuracy. He knows when it's right to throw the ball downfield or when to let it go in short-yardage situations.
His accuracy dips on throws inside the pocket and looks most comfortable when he can get outside the center of the field.
He has above-average arm strength. He can make all the throws and drives the ball downfield, not shy about unleashing his cannon of an arm.
He will be able to show he is more than just a track athlete on the field.
He Is Great on the Move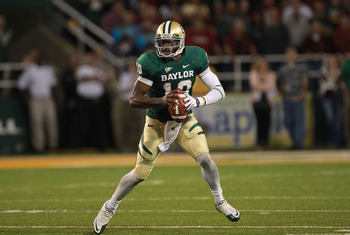 Ronald Martinez/Getty Images
This guy is an elite athlete with super quickness and can hit top speed quickly. He has been said to be "smooth, flexible and leggy."
He can avoid tackles and escape loss of yardage, which he uses with his legs. He makes something out of nothing, keeping defenders off balance and forcing poor angles because of his jets.
He has very good patience, vision and instincts as a runner with football toughness.
He Holds the Ball Too Long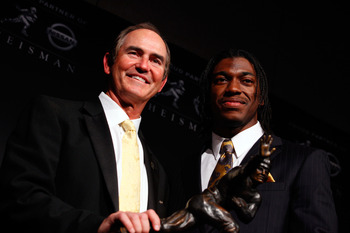 Jeff Zelevansky/Getty Images
Like with all athletic passers, he holds the ball too long to make something out of nothing. Sometimes, it works.
He needs to improve his pocket awareness, abandoning his reads too easily. He has a streaky internal clock and looks to get outside of the pocket too soon.
Needs to See the Field Better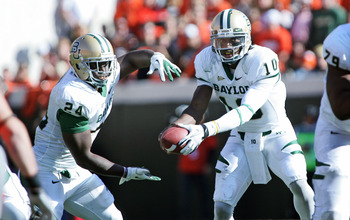 Brett Deering/Getty Images
There are times when Griffin locks onto a receiver for too long, allowing pass protection to break down.
He still makes too many mental mistakes and needs to polish the mental aspect of his game and forces throws and doesn't look off defenders.
He could use better awareness of the play around him.
Gets the Ball out Fast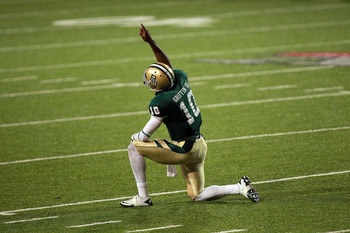 Ronald Martinez/Getty Images
Griffin does a nice job with a quick release and does a nice job with play fakes. He is willing to take a shot, standing tall in the pocket even when he knows the hit is coming.
If he can withstand the punishment in the NFL, he will have a great future.
He is a bit wild when he runs, but he can be harnessed into taking less risks and protecting himself and the football.
Keep Reading