New York Knicks vs. Atlanta Hawks: Live Blog, Analysis and Reaction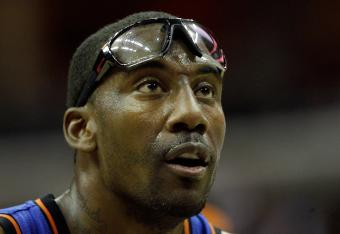 Amar'e Stoudemire and the Knicks will be looking to win a tough road game in Atlanta on Sunday.
Rob Carr/Getty Images
Keep it here for the latest updates as the New York Knicks try to get back on track against the Atlanta Hawks.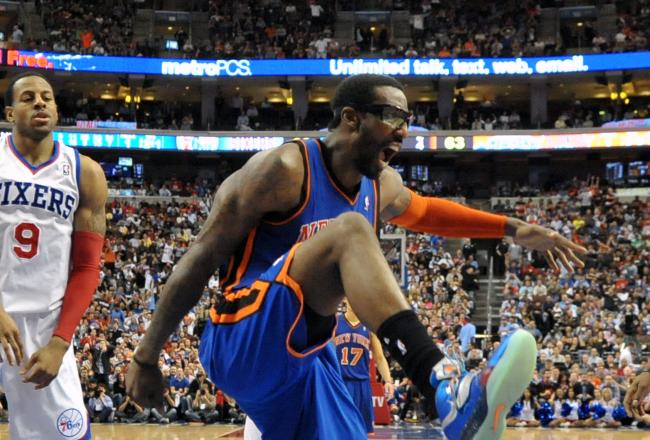 Knicks 113 Hawks 112 FINAL.
Poor defense was the story of the day but it didn't end up costing the Knicks who somehow inexplicable allowed Marvin Williams to get all the way to the rim as the buzzer sounded but time had expired and Williams missed the dunk.
This was by no means a pretty win but for New York it was still a big win.
New York got the expected big contribution from Carmelo Anthony who had 39 points and 10 rebounds. The Knicks were also bolstered by an encouraging game from Amar'e Stoudemire who had 22 points and 12 rebounds in spite of playing with some foul trouble. Baron Davis was outmatched defensively by Hawks point guard Jeff Teague but he still managed to produce 13 points and 10 assists. Davis was also better down the stretch where his experience seemed to shine through.
For Atlanta the game featured some great scoring by Marvin Williams who led the team with 29 points and 11 rebounds. Joe Johnson had 22 points, Jeff Teague had 23 points, 6 assists and 5 steals. Josh Smith had a rough day. He had 14 points on 5 of 14 from the floor.
Neither team looked like they were going 100 percent until the game was close down the stretch. There's only so much Knicks fans can take from this game other than the win. Tyson Chandler won't be taking days off during the playoffs and in spite of the win Knicks fans know that allowing their opponent to score 112 points won't result in too many wins.
Knicks 113 Hawks 112. 3.4 second left Atlanta ball.
Carmelo Anthony took and missed a very difficult three point shot. Atlanta got the rebound but then committed a serious mental mistake when Josh Smith passed the ball before calling timeout. The Hawks have the ball down with 3.4 seconds left but must go nearly the length of the court to get a shot off.
Knicks 113 Hawks 112. 8.2 seconds left.
The two best pure scorers on each team are Joe Johnson and Carmelo Anthony. They're showing why as this game nears it's conclusion.
They've been exchanging three point shots down the stretch.
A pair of disjointed offensive possessions by Atlanta has resulted in New York getting control of the game and the ball. Credit to Iman Shumpert who played great defense on Joe Johnson on both possessions.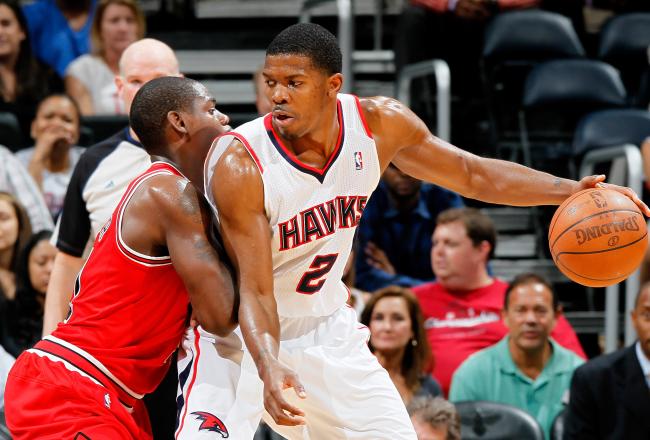 Knicks 110 Hawks 109. 2:10 left in 4th Quarter.
It doesn't really matter if you think Carmelo had a right to be angry about the officiating or not. Getting T'd up late in the fourth quarter of close games is not a good way to go about business. A loss is a loss regardless of who you want to place the blame on.
The two teams are headed toward an exciting conclusion. With neither team able to get stops with consistency the score remains very tight.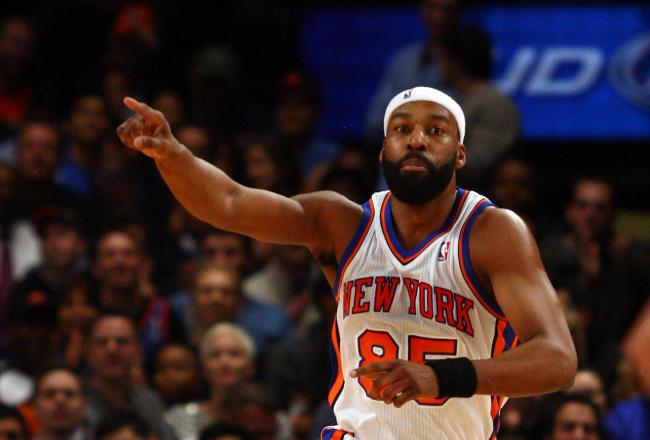 Knicks 106 Hawks 102. 6:48 left in 4th Quarter.
ESPN announcers Mark Jones and Dorris Burke are discussing how the defense has picked up in the fourth quarter. It's true that the fouls have been harder and the there have been a few episodes where players were jawing with one another the actual defense from a fundamental standpoint has been pretty bad.
Open shots are still more common than contested ones and help consistently arrives late when a man gets beaten off the dribble. This goes for both teams who seem to be picking their spots as far as defense goes.
The Knicks have rolled off an 8-0 run to take their current lead.
Hawks 99 Knicks 98. 9:03 left in 4th Quarter
The Hawks and Knicks are both shooting the lights out from three point range. It's well worth mentioning that a lot of these shots are open looks. Neither team seems that compelled to contest open shots and it's producing some absurd numbers.
For instance the two teams are 23 of 34 from three point range. That's almost 70 percent.
Most recently Marvin Williams and Jannero Pargo have connected for Atlanta.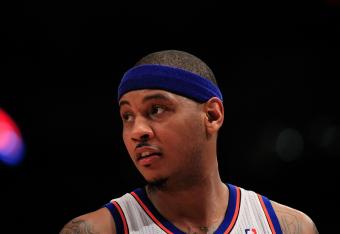 Knicks 94 Hawks 93. Start of 4th Quarter.
Josh Smith has All Star ability and even All Star type numbers but he still makes some questionable decisions on the court. A bad pass here, a poor shot there. He's a fantastic player but still has a bit of maturing to do.
Carmelo Anthony has the reputation of a player who shoots too much but in Anthony's case he's really the only consistent offensive threat in the Knicks lineup from beyond the low post.
Guys like Smith, Novak, Shumpert and Fields can all take advantage of defensive breakdowns or hit open shots but not many guys can get the ball and create a shot for themselves with the same type of lethal efficiency as Anthony can.
For all his shortcomings and he does have some he's without question one of the best offensive players in the league. Today he has 32 points and 9 rebounds on 11 of 25 from the field as the fourth quarter is set to begin.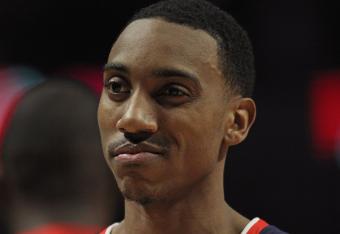 Hawks 88 Knicks 85. 2:54 left in 3rd Quarter.
Atlanta has responded to a flurry from the Knicks to open the second half with a run of their own. The game continues to feature copious offensive opportunities for both teams.
Both teams are taking advantage for the most part as well. Both teams are hitting near 60 percent from the field.
There also is a developing tete-a-tete between Carmelo Anthony and Jeff Teague. Anthony who is continuing to demonstrate his ability to be an elite scorer has engaged in a back-and-forth with the Atlanta point guard. There's been some face-to-face jawing and a hard foul.
Anthony has a game high 26 points while Teague is pacing Atlanta with 21 of his own.
Hawks 82 Knicks 79. 4:45 left in 3rd Quarter.
The Knicks can hit three point shots in bunches. This past Tuesday against the Celtics they were 19 of 32 from downtown.
The Knicks aren't hitting at that level today but they are 8 of 12 from three point range.
Teague and the quicker Hawks continue to play a role in a high amount of Knicks turnovers. New York has 15 turnovers today.
New York is also getting a little taste of their own medicine from three point range where Atlanta is 10 of 12 from long range.
Knicks 69 Hawks 66. 9:23 left in 3rd Quarter.
The Knicks and Hawks both emerged from the locker rooms looking sluggish.
New York woke up first. The Knicks are on a 9-1 run and have taken a 69-66 lead. Landry Fields has six of those nine points on two three-point shots.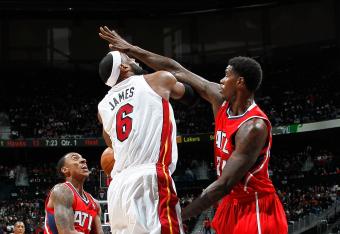 At The Half: Hawks 65 Knicks 60.
It wasn't a typical Mike Woodson style first half. Knicks fans who have deservedly grown accustomed to watching their team play physical defense and force opponents to work for shots aren't getting that today.
Instead they're watching the Hawks shoot 59 percent from the field and an even more alarming 9 of 11 from three point range. Atlanta has 65 points and their led not by Joe Johnson or Josh Smith but by Marvin Williams.
Hawks head coach Larry Drew gave Williams the start today and he's responded in a big way with 15 points on 5 of 6 from the field. Williams is also pacing Atlanta with 4 rebounds and he's got 3 blocked shots as well.
New York has 20 points from Carmelo and 11 from both Shumpert and Stoudemire. The Knicks are shooting a blistering 60 percent from the field.
This game looks like a safe bet to see both teams blow past the 100 point barrier.
While he Knicks would love to move up in the playoff seeding it's more critical that they're healthy. Perhaps that helps to explain sitting Chandler today and giving Jeffries the remainder of the regular season off.
New York isn't "tanking" but they've made their priorities clear.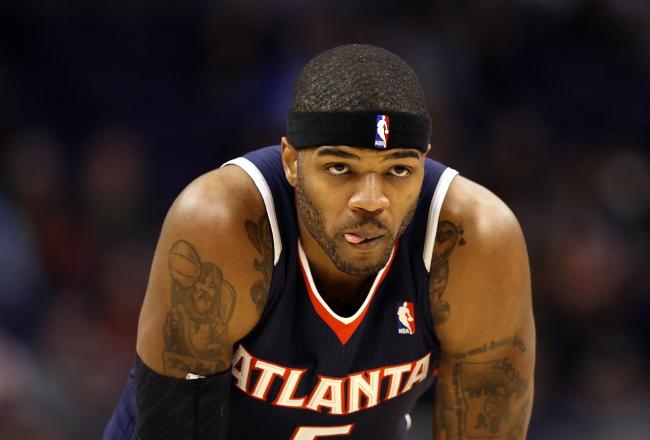 Hawks 65 Knicks 60. Halftime
It's been a rough day for Josh Smith. He's drawn a T for mouthing off to a ref in objection to a non-call. He's only 2 of 6 from the field but Atlanta is still winning the game.
That's something for the Knicks to be aware of in the second half. The Hawks are winning this game because of contributions from Marvin Williams, Jeff Teague and Janerro Pargo who have been scoring the bulk of the points.
At some point one would think that Joe Johnson and Josh Smith will increase their scoring output. Will the Knicks be able to keep pace once that happens?
New York's offense has been great also. Carmelo is dominating on the offensive end of the floor. He's got a game high 20 points on 8 of 16 from the field.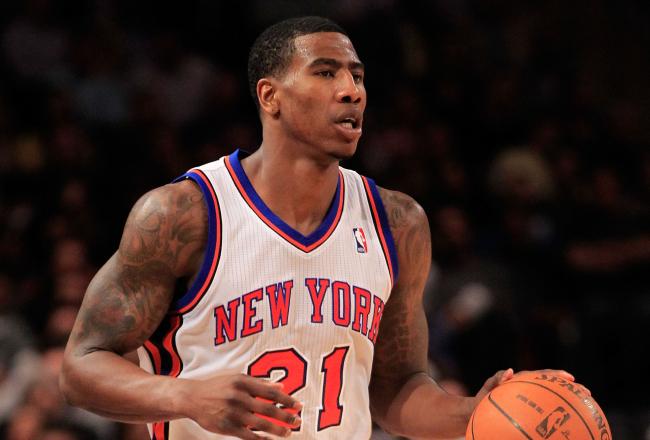 Hawks 56 Knicks 52. 2:40 left in 2nd Quarter.
Iman Shumpert is an intriguing player for the Knicks. His defense has been his calling card as a rookie. With his lanky build and exceptional athleticism he can be a disruptive defender against a variety of players.
Offensively he's been inconsistent and at times he takes bad shots or makes careless mistakes but he's still so young ( 21) there is plenty of time to develop further on the offensive end and his great defense will insure that he'll get enough minutes to learn on the court.
With neither team possessing a true center today it's startling to see how frequently both teams have been able to get to the basket. Both teams have missed some easy opportunities at the rim as well.
Chandler and Horford can change the entire personalities on defense for both teams.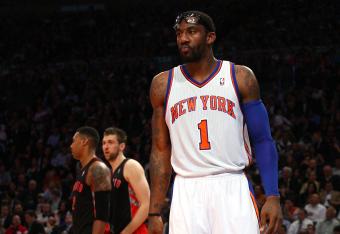 Hawks 46 Knicks 44. 6:01 left in 2nd Quarter.
The Knicks don't look particularly interested in defense today. Yes they're at a decided disadvantage with both Jeffries and Chandler on the bench but there's a difference between defensive ability and defensive effort.
The game is close, the Hawks are missing easy shots and are at times a bit out of control when they get into the open court.
Worse for New York Amar'e Stoudemire just picked up his third foul which will probably put him on the bench for the remainder of the first half.
The Knicks might not look great and they may have some foul trouble but they're also scrapping enough to stay in the game.
Defense or no defense the Knicks can still hit shots. Steve Novak will make any team no matter how good pay dearly for leaving him open. Novak has only attempted one three today but as is expected- he nailed it.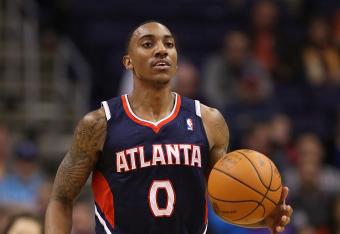 Hawks 43 Knicks 36. 8:25 left in 2nd Quarter.
Atlanta point guard Jeff Teague is the quickest guy on the court. The Knicks simply don't have anyone who can keep up with him. He's been able to penetrate easily in the half court but he's failed to convert at the rim. Nonetheless his ability to get there can create other opportunities and exposes the Knicks lack of defense at the point.
Janerro Pargo has come off the bench to spell Teague and has also found success against his New York counterparts. Pargo has 6 points.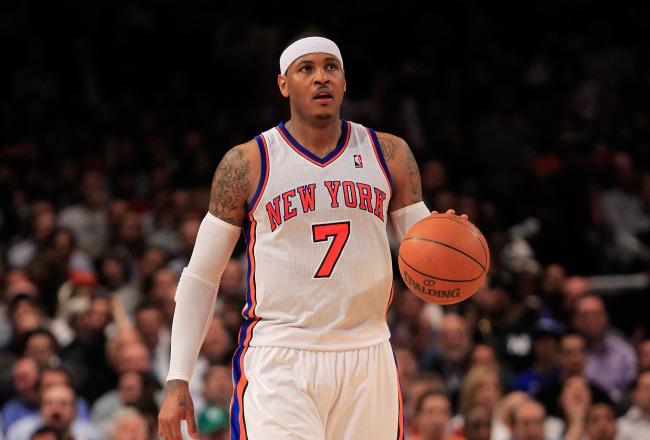 Hawks 31 Knicks 31. End of 1st Quarter.
As the first quarter drew to a close the Knicks were deliberately trying to slow the pace. Carmelo Anthony drew an committed an offensive foul and after he was shaken up head coach Mike Woodson seemed to be able to convince the Knicks to slow the pace.
The Hawks responded by increasing their defensive intensity and blocking some shots.
At the end of the first quarter Anthony leads all scorers with 12 points on 6 of 12 from the field. Atlanta is paced by Jeff Teague who has 10 points on 4 of 5 from the field. Teague has also chipped in with 3 assists and 2 steals.
Hawks 26 Knicks 26. 2:57 left in 1st Quarter.
The defense in this game has been non-existant for both teams. Open shots, easy layups open lanes to drive to the basket. Both teams have had their way with the other on offense.
As hot as the Hawks are the Knicks are just as much "on fire".
Carmelo Anthony leads the Knicks with 10 points.
Will the track meet keep going? Neither head coach wants the game played at this pace.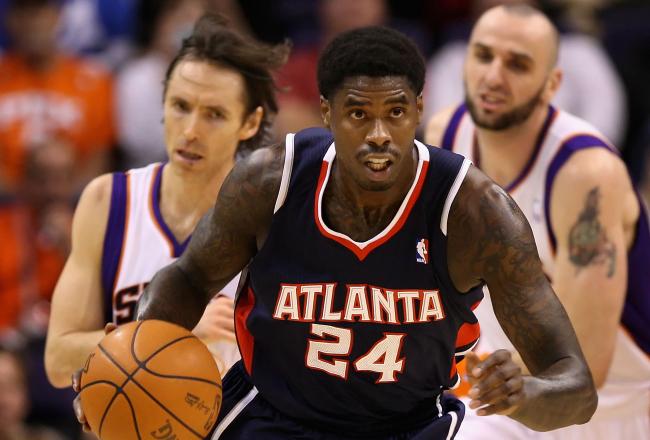 Hawks 24 Knicks 18. 5:18 left in 1st Quarter.
He was one of the worst draft picks in Hawks history. A team needing a point guard passes up Chris Paul to take a talented but unproven freshman out of the University of North Carolina. Yet that's what the Hawks did when they chose Marvin Williams with the second overall pick of the 2005 NBA Draft.
It wasn't just Paul, Atlanta passed on Deron Williams and Raymond Felton as well.
That's in the past though and the present finds the Hawks still looking for Williams who is still only 25 years old to become the versatile scoring threat that most thought he'd become when he was chosen at number two.
That's what he's been today so far. Williams leads all scorers with 9 points and is 3 for 3 from the field. The Hawks are shooting an absurd 81.8 percent from the field.
The Knicks definitely miss the defense of Tyson Chandler on the floor as Atlanta is scoring with ease.
Hawks 10 Knicks 7. 9:00 left in 1st Quarter
One of the keys for the Knicks in this game and going forward is getting their two best offensive players Amar'e Stoudemire and Carmelo Anthony to play together on the floor. Neither are known as complimentary players. That's not a knock on them as much as a reality of the roles they've played in their careers to this point.
For Atlanta it will be getting production from Marvin Williams and Kirk Hinrich. Hinrich in particular has had a rough season but has been playing better as of late.
The Hawks will gladly exploit a mismatch at the point guard position where Jeff Teague's explosive quickness will be very tough for the aging Baron Davis to keep up with.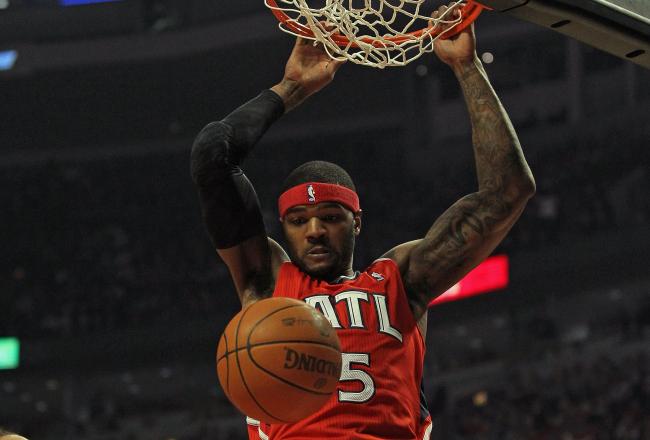 The Hawks and Knicks are both trying to finish up injury plagued regular seasons on a high note.
Atlanta winner of four of their last five and 21-9 at home will host the New York Knicks today. The Knicks are of course coached by former Atlanta Hawks coach Mike Woodson. Atlanta has played without center Al Horford for nearly the entire season. Joe Johnson missed time to injury as well.
The Knicks just got Amar'e Stoudemire back from a back injury but are still playing without Jeremy Lin. The team will also be without center and defensive anchor Tyson Chandler today who is being held out of the game for precautionary reasons. Jared Jeffries will miss the game as well. He's going to be shutdown for the remainder of the regular season.
Two teams playing for playoff position but also trying to maintain their tenuous health to help insure playoff success.
Here are the Starting Lineups.
New York Knicks ( 33-30, 12-19 away)
PG Baron Davis
SG Landry Fields
G Iman Shumpert
PF Carmelo Anthony
C Amar'e Stoudemire
Atlanta Hawks ( 38-25, 21-9 home)
PG Jeff Teague
SG Kirk Hinrich
SF Joe Johnson
PF Marvin Williams
C Josh Smith
This article is
What is the duplicate article?
Why is this article offensive?
Where is this article plagiarized from?
Why is this article poorly edited?