Seattle Seahawks Mock Draft: Final 7-Round Prediction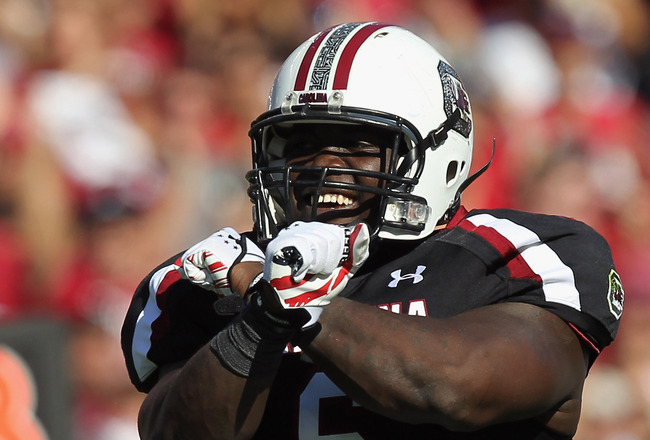 Streeter Lecka/Getty Images
OK, this is it...
With the draft just a few days away I wanted to give it one last try in putting together a mock draft that captures where things are currently at with the Seahawks.
In short, we all know what's at stake here: the future of the franchise.
Like every other fan throughout the league, we hope for the best. Deep down though we know that whatever happens this week, it will take years to find out the truth of the matter. So for Seahawks fans now, it's best to sit back and enjoy the fun while keeping our fingers crossed that GM John Schneider and head coach Pete Carroll know what they're doing.
As for me, I'm at the point where I want this done.
After months of speculation, draft-speak and copious amounts of rhetoric/nonsense, it's time to get real.
So instead of coloring inside the lines one more time and saying the 'Hawks will or should draft someone like Melvin Ingram, I'm instead going to take some risks here.
I'm making a deal and hoping a player or two falls into the Seahawks' laps when the time comes, but will once more offer my disclaimer...
Disclaimer: All picks guaranteed wrong come by next Monday...or your money back!
Round 1: Dont'a Hightower, Linebacker, Alabama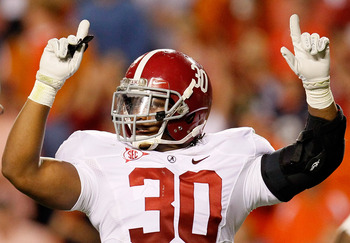 Kevin C. Cox/Getty Images
In his mock draft published late last week, Sports Illustrated's Peter King took an interesting approach by showing both the player each team will pick while also offering his thoughts on which player they should pick.
For the 'Hawks I figured this would be especially interesting for the first-round selection given that the experts have seemingly locked the team into one of three choices (Luke Kuechly, Quinton Coples, or Melvin Ingram) for some time now.
I'd also imagine many of you have read the same things about the same players for so long now that just for laughs, it might be fun to see someone else's name attached to the No. 12 pick.
If forced to choose, I'd go with King's selection of Ingram at the hybrid spot. Two birds, one stone, everyone goes home a winner?
Not so fast. Oddly enough I believe Ingram has the lowest upside of the aforementioned trio.
And yet...
Right or wrong, the perception I'm getting off Coples is that he seems like a handful, the kind of guy that will either get John Schneider a lot of clout or a lot of flack.
On the opposite end of the spectrum Kuechly comes across as a Boy Scout, if not Aaron Curry 2.0. Danny O'Neil at the Seattle Times would seem to agree on Kuechly in his most recent article regarding the parallels...in short, he's too good to be true.
Yet, if the team wants someone to play middle linebacker and get casual fans excited to buy jerseys, I'd imagine taking Kuechly would do the trick.
Right now though I'm not sure Kuechly will even make it to the No. 12 spot. Assuming Kuechly is off the board, I think Pete and John start making phone calls, yet can't imagine them taking the player I think they should take.
David DeCastro is not going to sell jerseys regardless of whoever drafts him.
For the 'Hawks especially, the selection of the Stanford lineman would probably outrage fans all across the Pacific Northwest. Still I think this selection is the way the team should go and remain firm with this selection from my last mock.
The team may not need DeCastro as much as a pass-rusher or linebacker, but if it can't move down in Round 1 it may regret passing up on one of the best guards to come out in years.
However, I think the front office gets someone to trade for the No. 12 pick. That someone is the New York Jets who will swap their first-round pick at No. 16 and their third-round pick at No. 77 to grab either Ingram or Alabama safety Mark Barron.
Both seem like the kind of player Rex Ryan will be convinced his defense needs to get back on track after last season's debacle.
The 'Hawks, meanwhile at No. 16, will select Alabama linebacker Dont'a Hightower.
Here's a guy that hasn't received much attention thus far, especially when compared to Kuechly, yet as Peter King mentions is someone that teams like the Ravens and Steelers would like to draft.
Perhaps it's a little early to take him at this point, but Nick Saban's former captain at Alabama could be the solution at middle linebacker the 'Hawks are looking for.
Hightower is an imposing mix of size and speed that should help fortify the 'Hawks long term while being tutored by veteran Barrett Rudd starting next season.
When you factor in the extra pick in the third round, this move makes a lot of sense.
Round 2: Vinny Curry, DE/OLB, Marshall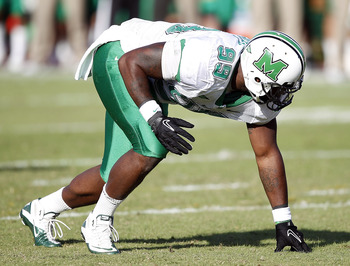 Bob Levey/Getty Images
In a perfect world, Nick Perry tumbles into Seattle's lap in Round 2.
In the real world, Vinny Curry could be there instead. Understand though that Curry is no small consolation prize.
Ever since the Senior Bowl, Curry has been all over the board with some experts seeing him going late in the first round, while others picture him going in the second.
Call me stubborn, if not foolish, but I've had him here before and will stick with him until the end. The 'Hawks need help with their pass rush, and Curry is a hybrid who should find a spot in the lineup before long.
Round 3: Chris Polk, Running Back, Washington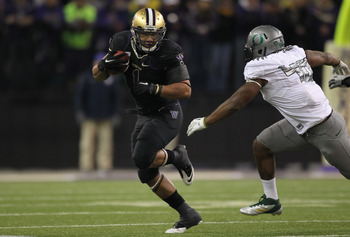 Otto Greule Jr/Getty Images
OK, by this point I'm guessing you have two questions...
1. Marshawn Lynch is back, so why do the 'Hawks need to draft a running back this early?
2. Is Chris Polk even going to be available at this point?
Fair questions, but allow me to explain.
Fact is this team needs insurance in the backfield. Marshawn Lynch may only be in his mid-20s, but he is someone who will put on the miles quickly if the Seahawks aren't careful. While the signing of Kregg Lumpkin is well intended, the team needs a long-term solution if anything happens to the Beast.
Honestly I think Chris Polk is the kind of player who, with the right opportunity, can serve as the perfect complement to Lynch. Imagine having a Darren Sproles-type hybrid back/receiver that can give either Matt Flynn or Tarvaris Jackson a nice fail-safe option underneath.
If Polk is still on the board at this point, the 'Hawks would be foolish to pass up the U-Dub back. Like a lot of players, Polk is somebody that could be selected just about anywhere, by just about anyone. Stories about him are both good and bad depending on whom you believe.
I believe a lot of teams will regret passing up on the former Husky.
Round 3 (from New York Jets): Brock Oswelier, Quarterback, Arizona State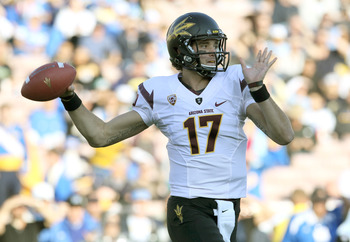 Stephen Dunn/Getty Images
In my last mock draft I had Oswelier going to the 'Hawks in the third round and I'm holding firm here once again, albeit a few slots down the board.
While I'm slowly starting to warm up to the idea of Matt Flynn, I think this pick similar to Polk earlier in Round 3 is about the future.
Ultimately Brock Osweiler could be many things:
A career backup.
Future trade bait.
The Seahawks' starting quarterback in a few years.
A colossal bust.
Regardless the 'Hawks need a plan past this season and once you get past Round 3, players with long-term potential become few and far between. At the end of the day, seasons are long and careers are short.
Round 4: Brandon Mosley, Offensive Tackle, Auburn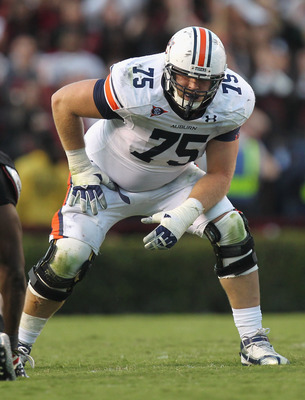 Streeter Lecka/Getty Images
The 'Hawks have done a decent job this offseason re-signing and bringing in players on the offensive line.
At the same time, last year this unit had trouble staying healthy and the addition of a young player capable of playing on either side of the line would be welcomed.
Whether he plays much this year or not, Auburn's Brandon Mosley is the kind of player line coach Tom Cable needs to help develop as the 'Hawks gear up for 2012 and beyond.
It's not a sexy pick, but Mosley is someone I've been keeping an eye on for some time and think he might be worth taking midway through the draft.
Round 5: No Pick (traded to Buffalo)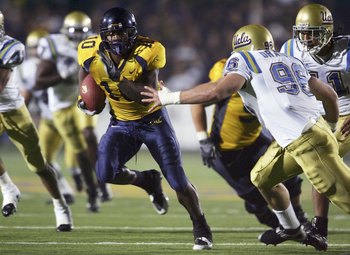 Jeff Gross/Getty Images
Beast is back, but this pick is going to Buffalo.
Hopefully the 'Hawks draft either Polk or someone like him. Would also be nice if they could trade down in Round 1 to get another pick.
Wishful thinking?
Perhaps, but let's see if John Schneider can make it happen.
Round 6: Aaron Henry, Safety, Wisconsin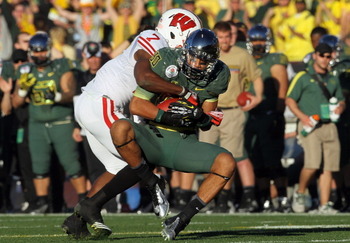 Stephen Dunn/Getty Images
The Hawks' secondary has the potential to become one of the league's finest. However that doesn't mean the team should take a passive approach to keeping them competitive.
Currently the team is well stocked at cornerback. Last year's starters, Richard Sherman and Brandon Browner, formed a solid tandem after stepping in for the injured Marcus Trufant and Walter Thurmond III. Perhaps even more impressive is that both of the team's safeties Earl Thomas and Kam Chancellor made the Pro Bowl.
And yet beyond Thomas and Chancellor there isn't much depth at safety, especially with veteran Atari Bigby going to the San Diego Chargers this past offseason in free agency.
Wisconsin's Aaron Henry or someone like him at this point is necessary as a just-in-case pick.
Round 7 (from Oakland Raiders): Hebron Fangupo, DT/NT, BYU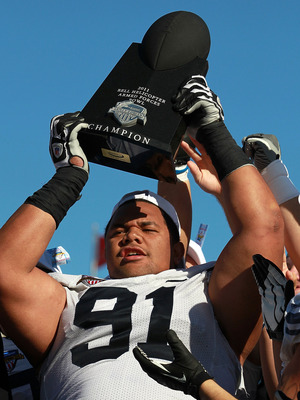 Ronald Martinez/Getty Images
It was tempting to have the Seahawks use this pick on Vontaze Burfict, but I honestly think he will go much higher than most people are predicting. After all, it's hard to root against someone who loves dogs.
Instead I see the 'Hawks getting some additional help along their front line defensively. The signings of Jason Jones and hypothetical addition of Vinny Curry in Round 2 still leaves the 'Hawks with the need for someone to rotate in for Red Bryant occasionally.
My sentimental favorite pick from the very beginning in this year's draft has been and will continue to be none other than BYU's Hebron Fangupo.
The former USC product is a player I actually believe Pete Carroll will want to consider once we get to the later stages of the draft. Much like Chris Polk and Brock Osweiler, this selection is about finding players who aren't first-round talent today, but could be developed into starters down the road.
It's easy to make the playoffs one year with a little bit of luck and a good schedule, but it takes a lot of luck and some long-term planning to make it back year after year.
Let's hope GM John Schneider and head coach Pete Carroll have luck on their side later this week and the vision to find a few gems that we can root for in the years to come.
Keep Reading

Seattle Seahawks: Like this team?