Boston Red Sox: Fans Need to Stop Blaming Bobby Valentine
April 22, 2012

Elsa/Getty Images
As Bobby Valentine walked off the Fenway Park mound yesterday after making yet another pitching change, the crowd unleashed a loud, lusty chorus of boos. In that moment, I was struck by an odd feeling: anger.
It was not directed towards Valentine, or even the long line of inept Sox relievers who had managed to turn a 9-1 lead into a 15-9 deficit in the span of just two innings. No, this anger was reserved for the fans.
It seems that, from the start, everyone has been waiting for Valentine to fail. Yes, his outspoken personality and ill-timed comments can occasionally cause justifiable agitation among fans. However, the very public persona he maintains has also deflected a ton of attention away from a team that has fallen to 4-10 and has shown few signs that it is capable of recovering.
The story here should be that the Red Sox are terrible, having dropped five games in a row at home for the first time since they were swept in a five-game series by the Yankees in 2006. They continue to be plagued by a lack of consistency in all facets of the game; the bullpen's ERA of 8.44 is so hideous it really needs no further comment.
Instead, it has become about their new manager and how he has failed to control his new team. It may seem obvious, but it hasn't been Bobby V striking out and grounding into double plays. Valentine has not made any personal contributions to the 6.68 staff ERA that is the worst in MLB by over 1.4 runs.
On Saturday night after the game, GM Ben Cherington told ESPN Boston's Gordon Edes that ownership and he were "very satisfied" with Valentine's performance thus far. While on the surface that may seem like a good thing, it's hard to take anything the Sox management team says at face value.
After the way they treated former manager Terry Francona at the end of last season, they clearly have no problem using cloak-and-dagger tactics to kneecap their manager.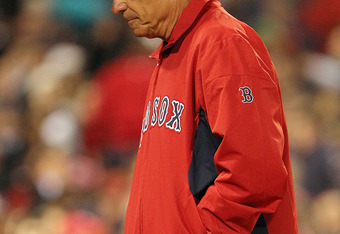 Jim Rogash/Getty Images
This brings us to Francona, the man some want the Sox to rehire. While the ovation he received on Monday was both heartwarming and richly deserved, it also proved the very short memory of Sox fans.
Just last September, Francona was the one being booed at Fenway as the Sox were in the throes of their September free fall. While the fickle nature of Sox fans can sometimes be a good thing (struggling players are always quickly forgiven when they start playing well), it also leads to quite a bit of revisionist history.
People forget that not everything was perfect with Francona at the helm. For all his great qualities as a manager, he was also slow to yank struggling pitchers and too loyal to his veterans. While, in hindsight, those faults may seem minor, they grated on fans and caused significant unrest over the course of Francona's tenure in Boston.
And this, ultimately, is why people need to give Valentine a chance to succeed here. His style is obviously different from Francona's and the results have been poor, but it's also been just 14 games. Valentine can do nothing about the $46 million worth of players in the DL. He can't do anything about the fact that every single Sox reliever with the exception of Junichi Tazawa and Scott Atchison gave up a run yesterday.
It's his team, yes, but the players ultimately need to be the ones held accountable. The boos are certainly warranted; the performance of the 2012 Red Sox has been downright embarrassing in all aspects of the game. They are playing like a team who just doesn't care about winning games and fans have every right to be dissatisfied.
However, it's not time to pin it all on the manager. More than any other sport, baseball is a player's game; the manager always gets too much credit for wins and too much criticism for losses. Valentine has had some impact, sure, but ultimately the results on the field are decided almost entirely by the players.
The Sox are through less than nine percent of their schedule and are only 4.5 games out of first. Though it's not what people want to hear, this deficit is not insurmountable. Though it goes against their nature, it is time for Sox fans to circle the wagons and rally behind their manager and team.
The only way the Sox will dig themselves out of this early hole is if everyone—from the front office to the players to the fans—is in it together.