UFC 145 Results: 5 Things We Learned About Rashad Evans
April 22, 2012

Kevin C. Cox/Getty Images
Rashad Evans faced his toughest obstacle in Jon Jones on Saturday night and didn't leave with a passing grade.  He was able to endure to the end and that is to be commended, but he didn't do enough to even garner a close decision.  
Perhaps pundits made too much of the fact that he was a former friend and training partner.  Either way, Jones left Evans icing his forehead and picking up the pieces of his championship aspirations.  
Here's what we took away from his performance:
Taking Emotions Out of the Equation
Jones was applauded for his ability to take his emotions out of the fight and do things according to plan.  Rashad deserves a little credit also.  Even though he lost the fight, he was able to keep his emotions in check throughout the fight.  There was the occasional showmanship, but that's just the "Suga" peeking through.  For the most part, Evans stayed level headed. 

Inability To Close the Distance
This fight provided a blueprint to future opponents of  Evans.  If an opponent has a reach advantage, Evans has a difficult time getting inside.  During the duration of the fight, Evans failed to get inside Jones arm and leg reach.  This inability rendered him offense-less.  
Add to that his inability to muster a take-down, and he couldn't do much damage to the champion

Toughest opponent for Jones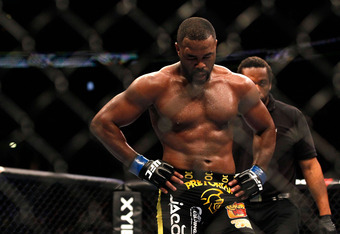 Kevin C. Cox/Getty Images
Though Jones obtained an easy decision over Evans, Rashad was his toughest opponent to date.  Jones wasn't able to put him away and had him in slight trouble, but nothing detrimental.  Evans made Jones think on his feet and not rely solely on his athleticism.  
This fact coupled with the psychological warfare that Evans threw Jones way, made him Jones' biggest obstacle to date, but he cleared it.

Very Small Likelihood To Win a LHW Title
With Jones firmly entrenched in the light heavyweight driver seat, the likelihood that Evans ascends to another title shot is very slim.  Jones has dispatched four other former champions and now Evans has to go to the back of the line.  Maybe he has a better shot in another division.

Middleweight Is an Option
Ah, yes.  The classic "lost to the champion, lines too long to get back so I'll drop to a lower division and become a top contender" scenario.  In theory, it's an option for him, but can he endure the weight cut.
Remember that Rashad won The Ultimate Fighter as a heavyweight, so going down to middleweight will be quite a challenge.  With that being the case, his current position in the LHW division may cause him to consider the move.