UFC 145 Results: 5 Things We Learned About Jon Jones
April 22, 2012

Kevin C. Cox/Getty Images
Jon Jones continues to amaze us with his performances against the best the light heavyweight division has to offer.  His masterpiece on Saturday night against former teammate, Rashad Evans proved once again why most believe that Jon Jones is the heir to the throne that Anderson Silva sits on as the pound for pound best.  
Jones showed a few more wrinkles to his ever improving game in a fight that most thought was his toughest to date.  Here are a few of the things that stood out:
Adaptation
In  Evans, Jones faced an opponent that knew him better than perhaps he knew himself.  It was actually apparent that Evans could anticipate a lot of attacks that would've crumbled other opponents, but it wasn't enough.  The story of the fight was Jones' ability to adapt to Evans' head movement and time his sharp crisp elbows.  
Jones showed that he can change things on the fly and capitalize on openings in his opponent's defense.
Ability To Go the Distance
Not that his endurance has ever been in question, but we have seen champion finishers gas out in fights due to injury or not anticipating a five-round fight (think Jose Aldo vs. Mark Hominick).  
Jones put to rest any thoughts of lack of conditioning and appeared to get stronger and more of a tactician as the night wore on.  The high altitude training has clearly helped develop his cardio.
Taking Emotions Out of the Equation
With this fight being against his former close friend, along with the verbal assault both men endured, it's easy to see where emotions could take over the fight.  Emotions have taken some of the best out of their game plan and often result in a loss (think Donald Cerrone vs. Nate Diaz).  
Jones was able to quell his disdain for Rashad Evans and execute his game plan to the letter.  He won, Rashad lost, Greg Jackson was happy.  Mission accomplished.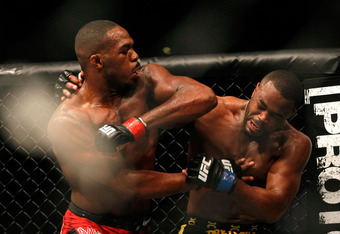 Kevin C. Cox/Getty Images
Ability To Take a Shot
When Jones fought Lyoto Machida, he was caught with a couple of shots and responded well, but Rashad hit him with a few power shots that appeared to affect Jones more than any have before.  Jones was able to absorb these shots, not get rattled, and capitalize with shots of his own.  This will be an important part of his fight with Dan Henderson as Jones will definitely be tested with the power of Henderson's right hand.  
He's Not Beloved
Though Jones is a phenom of the sport, has charisma, intelligence, and a winning smile, he hasn't endured himself to all the fans.  In examining the crowd reaction to his entrance and when he was announced the winner, he had an equal number of detractors and supporters.  
Perhaps over time he will bring some of those detractors over, but for now he's confidence/cockiness has polarized the fans.