UFC 145 Results: Jon Jones vs. Dan Henderson Breakdown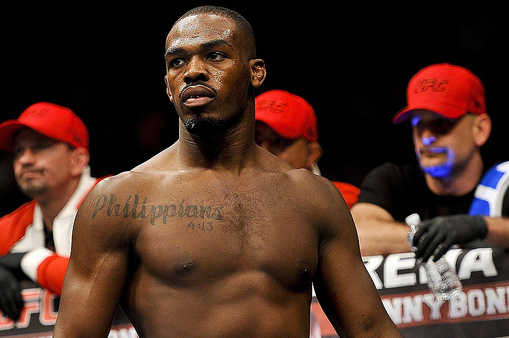 (Photo by Paul Abell-US PRESSWIRE)
After yet another dominant performance put forth by UFC Light Heavyweight Champion Jon Jones last night in defeating Rashad Evans by unanimous decision, UFC President Dana White announced that Dan Henderson would be getting the next crack at Jones' title.
Henderson is the last great, established force at 205 pounds who Jones has not yet defeated. He's pushing 42 years old, but is apparently a Randy Couture-type freak of nature who continues too defy Father Time and seems to just get better with age.
Dan's mix of Olympic-caliber Greco-Roman wrestling and nuclear striking leads many to believe that he may possess the formula to dethrone the young king.
Let's break it down.
Begin Slideshow

»
You'd be hard pressed to find two more contrasting strikers than Jon Jones and Dan Henderson.
Jones deploys a wide variety of strikes. In addition to traditional eight-point Muay Thai, he utilizes spinning back elbows, front kicks to the knee, spinning back kicks, flying knees, switch kicks—you name it and Jon Jones throws it. He hasn't developed the necessary technique yet to harness one-punch kill power, but he's extremely effective at using his 84.5-inch reach to rack up accumulated damage with his striking.
Henderson is more of a one-shot knockout striker. His right hand has become the stuff of legends. He keeps it coiled tight to his chin, ready to strike like a cobra. He throws major power into pretty much every punch. He'll throw a few leg kicks, but typically keeps his feet planted flat while looking to bomb away.
From top position, both guys are relentless and absolutely devastating. Jones drops the most violent elbows in the game. And while Henderson prefers his fists, they're equally damaging.
Jones showed against Rashad that he has a solid jaw, but few fighters hit as hard as Dan Henderson. Hendo's chin is as legendary as his right hand. In 37 professional fights, he's never been knocked out.
Neither fighter sets the world on fire as far as footwork goes, but Jones' length allows his to get away with things many others cannot.
ADVANTAGE: Jon Jones. Based on his immense reach and Henderson's predictability with his right hand, Jones should be able to avoid the big shots while wearing out his opponent with a more versatile, voluminous attack.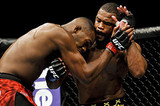 (Photo by Paul Abell-US PRESSWIRE)
Chances are when Jones and Henderson meet, the fight will be decided on the feet, but that doesn't mean grappling can be ignored.
On paper, Dan Henderson is the superior wrestler. He's a two time Greco-Roman Olympian. "World class" is a term that gets thrown around too easily in MMA, but Dan Henderson has truly earned the distinction.
By comparison, Jones is only a junior college national wrestling champion.
But it would be a huge mistake for Dan Henderson to underestimate this aspect of Jones' game.
Jones has tossed around some great grapplers—guys who other great grapplers have struggled with: Matt Hamill, Vladimir Matyushenko, Brandon Vera, Ryan Bader and Shogun Rua. And much like his striking, his takedowns are varied and unorthodox. He can drop for single- and double-legs, and he uses trips, throws and suplexes.
Henderson, being a Greco-Roman guy, thrives in the clinch. His hips are as good as they get, and he likes to grind larger fighters down from that position.
As far as jiu jitsu goes, neither fighter likes to play from the guard, so if this does become a grappling contest, the battle will be for top control. Dan does have a guillotine victory on his record, but don't expect him to pull guard anytime soon.
Jones is much more adept at using chokes to finish fights. After he wears opponents out with his striking, he likes to take them down and use his long, lean arms to secure chokes. He's done this to Ryan Bader, Shogun Rua and Lyoto Machida.
ADVANTAGE: Jon Jones. He may lack the elite pedigree of Henderson, but he's been so effective at adapting his grappling style to MMA, and his size advantage will make it very difficult for Henderson to bully him around. Add that to his submission advantage, and Jones should have the edge in this department.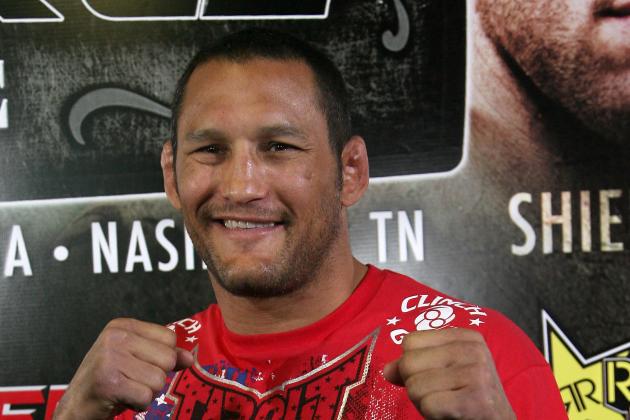 Valerie Macon/Getty Images

This one is a no-brainer.
Henderson has been a professional fighter since 1997. He's 29-8. He's won the UFC 17 middleweight tournament, the Rings King of Kings 1999 tournament, the Pride 2005 Welterweight Grand Prix, the Pride welterweight and middleweight championships and the Strikeforce light heavyweight championship.
This is one experienced, accomplished fighter.
The only major title that has eluded Henderson is the UFC belt. He had a shot at Anderson Silva's middleweight crown in 2008 and lost via submission. He also had a shot to unify the UFC and Pride light heavyweight titles after the UFC purchased Pride back in 2007, but he lost to Quinton Jackson by decision.
Suffice it to say, at nearly 42, this could be Dan Henderson's last shot at UFC gold.
Jones has been a professional fighter for a mere four years and is only 24 years old, but what he's managed to accomplish in that time has been nothing short of astounding. He's already racked up 10 UFC wins, won the belt and defended it three times against top-five competition.
It's presumptuous to infer, but this kid has the stuff to rewrite all the record books.
ADVANTAGE: Henderson. Experience is important and must always be taken into account, even when it seems such a minor advantage that it barely justifies mention. Henderson has the ability to drag Jones into deep water and put him in trouble, and if he can, then his experience will be a major factor.
(Photo by Paul Abell-US PRESSWIRE)
The "X-factor" entails those intangible qualities that cannot be easily quantified, such as heart, toughness, desire and that special something that makes so few fighters rise above the rest.
Both Jones and Henderson have proven their resolve in the cage, although aside from a few good shots, Jones hasn't been put in any real danger yet. So to confirm with the utmost certainty, his heart and toughness in the face of adversity is impossible.
Henderson's Bushido spirit has been forged in the many wars of attrition that have defined his storied career. His intangibles are not in doubt.
But what about that special something?
Hard work will allow a fighter to maximize their talent, but that talent does have limitations. Henderson's talent has had limitations. He's very good at what he does, and he sticks to it, but he's never developed into a jiu jitsu ace, nor a particularly technical kickboxer. His talents simply didn't take him there.
Jon Jones has no such limitations. His progression has been amazing, and he's taken to every single aspect of the game with unbelievable speed.
Dan has the heart, toughness and desire.
Jones has that special something that allows him to rise above.
ADVANTAGE: Even.
( Photo by Paul Abell-US PRESSWIRE)
Like any tough-as-nails fighter who hits like a Mack truck, Dan Henderson has a chance to beat Jon Jones. It's just not a very good chance.
Jones's size and reach advantage will allow him to pick Henderson apart at range, and by the championship rounds, Hendo will be sucking wind.
Jones will be able to drag a tired Henderson to the mat, and he'll choke him out in the fourth round.