UFC 145 Results: Matches to Make After Jon Jones vs. Rashad Evans
April 22, 2012

Kevin C. Cox/Getty Images
Another epic UFC card is in the books. A smattering of blood stained the fighting mat in multiple spots as the action-packed UFC 145 card unfolded and culminated in a 25-minute main event. Every bout seemed to have an extra charge of intensity as the main event loomed. 
The UFC's health insurance premiums may go up once the walking wounded from this one are all patched up and allowed to go back to the gym. Eight of the night's dozen fights went the full distance with the other four ending by way of three knockouts and one submission.  
Featherweights Mark Hominick (20-11) and Eddie Yagin (16-5) really set the tone for the event when they ruined each other's faces in their three-round back-and-forth slugfest.
Hominick could have edged out a win if he had one more round, but getting knocked down to the canvas twice in the early going sunk his chances of getting the decision win.
He battled back with crisp punches, nailing Yagin in his smashed and reddened nose at will with a sneaky jab. Yagin just kept walking right into it.
Hominick just couldn't quite follow that jab up with anything that could really test Yagin's chin, though. Yagin returned the favor for his destroyed face by peppering Hominick's eyes with a near non-stop punching pace, landing some amazing bombs once he found his range.
Yagin stood toe to toe with Hominick with much success in the early rounds, but he dropped his hands as the second round dragged on, and he just didn't seem to see the punches coming in the third. You could read the pain on his face after the final horn sounded.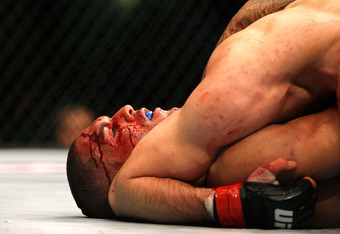 Kevin C. Cox/Getty Images
This fight might have been a draw, but the two knockdowns must be what swayed the deciding vote for Yagin, who should move on to face someone like Chad Mendes (11-1). 
Bantamweight Michael "Mayday" McDonald (15-1) and welterweight Rory "Ares" MacDonald (13-1) already have a few things in common. They both turned pro in mixed martial arts at the age of 16, and they both fight in the UFC. They also both scored vicious knockouts at UFC 145 Saturday night.
Rory made Che "Beautiful" Mills look pretty ugly after their 1.5-round affair. This was another bloody fight with MacDonald's elbows opening up some serious gashes. Mills had no answer for MacDonald's ground and pound.
This was one of MacDonald's most dominant showings in the Octagon. He proved himself worthy of facing a more seasoned veteran like Jake Ellenberger (27-5) to really test his natural talent and see if he's worthy for title contention.   
Michael McDonald wasted no time dispatching Miguel Torres (40-5) inside the first two minutes of their fight. First, McDonald waded in to land some combinations and a nice kick, and he quickly sent Miguel's mouthpiece to the mat with a well-placed punch.
Torres got his mouth protection back in, but it was no help to him as he got out slugged and knocked out cold by the charging McDonald. This young phenom should be matched up with the winner of the UFC 148 clash between Renan Pegado (28-1) and Ivan Menjivar (24-8).
The big boys provided the third knockout, and "Big Ben" Rothwell (32-8) blasted the daylights out of Brendan "The Hybrid" Schaub (8-3) in just 70 seconds Saturday night. The awkward moment of the evening left Schaub dancing with himself as he tried to wrestle an unseen opponent in a complete daze.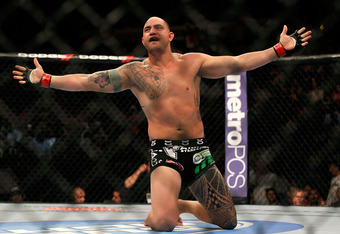 Kevin C. Cox/Getty Images
Rothwell seems well-suited for a rematch with "Big Country" Roy Nelson (16-7). Nelson will have to face Gabriel Gonzaga first, though. The two sluggers are set to battle May 26 at UFC 146.
"Big Country" and "Big Ben" last fought in an IFL clash back in 2007. Rothwell lost that bout by split decision.
Schaub is due for a reunion with an old friend from his TUF days. A fight with a guy like Matt Mitrione (5-1) would be perfect for Schaub right now. "Meathead" is coming off a tough UFC 137 loss to Cheick Kongo (17-7). Schaub has to perform the next time out, or he might fall victim to the unwritten "three strikes and you're out" rule.  
Travis Browne (13-0-1) made himself a shoo-in for the submission of the night award Saturday by cranking an arm triangle around the neck of Chad Griggs (11-2). "The Gravedigger" tapped out, proving Strikeforce imports might have a tough time trying to hang in the UFC. It was the only submission win of the evening.
The six-foot-seven Browne could face a number of heavyweights to see if he's ready for a title shot. Rothwell might actually be a good test for him, especially now that they're on the same schedule after being on the same card and scoring quick wins in their respective bouts.
Browne could also be considered to face any other Strikeforce crossover who joins the UFC once the Strikeforce Heavyweight Grand Prix is in the books.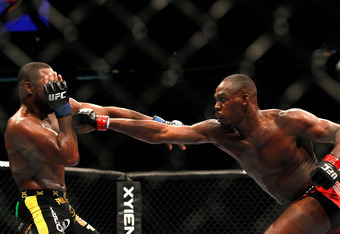 Kevin C. Cox/Getty Images
Lightweight Mark Bocek (11-4) made longtime mixed martial arts veteran John "The Natural" Alessio (34-15) look like an amateur Saturday night. Bocek would be a great match for either Clay "The Carpenter" Guida (29-12) or Mark Munoz (12-2). 
Jon "Bones" Jones (16-1) proved he can live up to the hype by cruising through five full rounds against "Suga" Rashad Evans (17-2-1) in the night's much-anticipated main event.
The fight seemed more like sparring for the reigning UFC Light Heavyweight Champion, and Evans knew he was outclassed and outgunned from the jump. 
There was an electric atmosphere in the arena as the two fighters did their cage walks. Evans came out first to a rap song by Immortal Technique called "The Point of No Return." Once the two were given the command to fight, they crouched like mirror images and put their friendship and their history behind them for five rounds of intense fighting.
The early going favored Jones, if only because his excessive reach kept Evans from getting close enough to land his best punches and kicks. Jones abandoned his more dynamic mix of elbows, spinning back kicks, and knees in the first frame. He stuck to head and body kicks and traditional punching.
He looked to be pacing himself as he grew more confident he could handle Rashad. Evans had one brief moment of triumph in the first round after a glancing head kick landed on Jones, but the lanky light heavyweight trucked on to steal the momentum back from Evans with a flurry of strikes landed in the last seconds.
Evans spent a ton of time dipping and diving, waiting to land the right shot. He just couldn't keep away from Jones for long, though. Finally, around the midway point of the second round, Jones remembered he could throw elbows.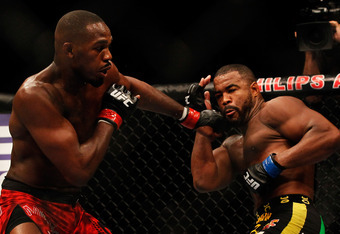 Kevin C. Cox/Getty Images
The fight took on a real cat-and-mouse mentality from that point on. Jones went back to the full mix of his complete arsenal in the closing rounds. Evans became distracted by the pawing hand-fighting perpetrated by Jones.
If you ever watch a cat playing with a live mouse, he or she won't typically kill the rodent quickly. The cat will play with the prey as long as possible, giving it a smack to test if it's still living every now and then.
Cats also tend to get into boxing matches with each other. When they do, they literally use a pawing jab. It's a natural, instinctual reflex designed to gauge the range of a punch.
Old-school boxing trainer Charlie Goldman once used a cat playing with a toy to illustrate the correlation to boxing for Former World Heavyweight Champion Rocky Marciano (49-0, 43 KOs).
Marciano's crouched style would often feature him shuffling his feet and extending a left or right hand softly and quickly, just like a cat before it pounces or attacks with a harder swipe. Cats also deflect and catch swipes well from other felines when they get into fights and wrestling matches.
Jon Jones caught many of the best straight punches from Evans Saturday night, following it up nearly every time by hammering Evans with a straight punch using the other hand. Evans could only look to land pot shots.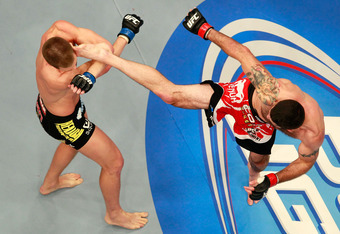 Kevin C. Cox/Getty Images
It began to seem like Jones could take Evans out any time he wanted to. Whether it was sympathy for his former friend and team member or the simple pleasure he took in making Evans suffer through every second, Jones just didn't try to stop the fight at any point. Evans landed a few impressive right hooks here and there, but none of them really rattled Jones.
Evans is starting to realize by the time the closing seconds begin to tick away that this is business, and it's personal. Jones wants to take him to deep water and prove he's the better fighter.
Evans seems despondent in losing the lopsided unanimous decision, but he's willing to pick up the pieces after the fight is over. He gives Jones credit for his "sneaky elbows" and promises to work his way back up to title contention.
Jones also offers a few positive post-fight comments about Evans, saying his former training partner improved "leaps and bounds" from the days when they rolled together at Greg Jackson's camp.
Jones landed 114 significant strikes in the bout to just 48 for Evans. A total of 71 head strikes also landed for Jones. It's tough to imagine any fighter out there giving Jon Jones a tougher fight than Rashad Evans could.
Still, Dan Henderson (29-8) is an intriguing possibility. The 41-year-old Strikeforce acquisition deserves the opportunity to fight for a UFC belt after compiling a four-fight win streak over the last two years.
Evans could still draw a large audience for a bout with a young phenom like Alexander Gustafsson (14-1) or maybe a rematch with Lyoto Machida (17-3) to see if he can avenge that brutal knockout.   
UFC 145 PRELIMINARY BOUT RESULTS
Matt Brown (14-11) def. Stephen Thompson (6-1) by Unanimous Decision
Anthony Njokuani (15-6, 1 NC) def. John Makdessi (9-2) by Unanimous Decision
Mac Danzig (21-9-1) def. Efrain Escudero (18-5) by Unanimous Decision
Chris Clements (11-4) def. Keith Wisniewski (28-14) by Split Decision
Marcus Brimage (5-1) def. Maximo Blanco (8-4-1, 1 NC) by Split Decision