Stanley Cup Playoffs 2012: Coyotes Cannot Finish off Blackhawks, Game 6 Looms
April 22, 2012

Christian Petersen/Getty Images
History in the desert will have to wait.
The Phoenix Coyotes had the opportunity that every team would like to take advantage of, but they failed. That would be the chance to close out a playoff series at home and move forward.
Chicago captain Jonathan Toews spoiled that prospect with an overtime goal just 2:44 into the extra session in Game 5 to give the Blackhawks a 2-1 victory over the Coyotes before a standing room only crowd of 17,746 at Jobing.com Arena Saturday night.
Phoenix still holds a 3-2 edge in the series but now must skate into a United Center filled with over 21,000 rabid Blackhawks fans and an edge in momentum to Chicago.
Should the Coyotes advance to the next round, that would be the first series win for this Winnipeg/Phoenix franchise since the old Jets defeated Calgary, four games to two, in the opening round of the 1987 Stanley Cup playoffs.
Now, the Blackhawks stand in the way of history or despair.
"Sure we're disappointed and wanted to win at home," said captain Shane Doan. "We've proven we can win on the road and feel comfortable that we play well in the other team's building."
Adding that "we need to find ways to win," Doan pointed out that four of the five games in this series have been won by the visiting team.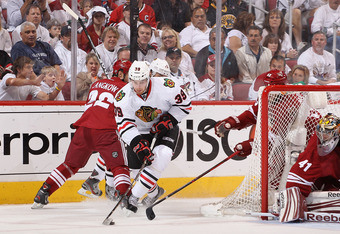 Christian Petersen/Getty Images
That may change on Monday night in Game 6 because Hawks coach Joel Quenneville went out of his way to a deliver a rather definite point after the Chicago win Saturday.
"We have not played our best hockey of the series," he said. "But, we're getting there. I thought we had a better pace (in Game 5) and more movement."
There was no secret to the Hawks' sense of desperation. Facing elimination, they waited until mid-way through the final period to knot this one. That's when defenseman Nick Leddy ripped a 30-foot slap shot past Mike Smith at 9:15 to send this into the extra session.
"At least we didn't have to pull the goalie to get the tying goal," Quenneville said, smiling. "They play a tight game, a patient game and to beat them, you also have to play a patient game."
At this point, the teams are used to tight, intense battles, and the prospect of overtime is ever-looming. The five overtime games in this series ties a playoff record, and the prospect is strong of setting the mark.
For now, Quenneville tells listeners his team has not played its best hockey, while the Coyotes feel somewhat content with playing in a hostile environment.
"Playoff hockey is always tight," said Phoenix defenseman Keith Yandle. "The games are usually decided by one or two goals and there are hardly any blowouts. We feel good about playing in their building, and this is no time to get down after this one."
As the Coyotes clung to a 1-0 lead thanks to a blast from Gilbert Brule at 2:46 of the second period, the defense continued to allowed an inordinate amount of rubber on Smith.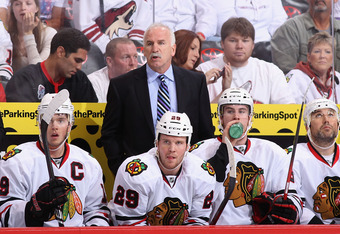 Christian Petersen/Getty Images
For the game, the Hawks managed 38 shots while the Coyotes unloaded but 19, only five in the third period and overtime on Cory Crawford. Phoenix coach Dave Tippett continues to argue the Hawks are getting quantity on net but not quality.
Still, the Hawks continue to tax Smith, and many saves are less than routine. In Game 5, there was a legitimate reason for the Hawks' shot advantage.
"Their season was on the line, and that was reason enough for them to come hard," Tippett said. "We knew they would come hard."
If the Phoenix power play were more productive, this series may be over.
The Coyotes were 0-4 with the man advantage in Game 5 and finished the regular season 29th among the 30 NHL teams in power-play efficiency.
"We struggled with execution," Tippett added. "You would like to see your power play go out there and build some momentum."
Torres Suspension
The Coyotes' reaction to the 25-game suspension handed to Raffi Torres was short and predicable.
Torres, who skated with the Coyotes during their morning skate prior to Game 5, in a statement released by the NHL Players Association, said he is thinking about an appeal and will announce shortly if he will, indeed, appeal.
Phoenix general manager Don Maloney, in a statement released by the club, said Torres "plays a hard, physical game. Yet, this contact crossed the line on what is acceptable in our game today"
Identifying the ruling as "very severe," Maloney said the Coyotes "accept the NHL's judgment and hope Marian Hossa makes a fully and speedy recovery."
Brendan Shanahan, the NHL's vice president of Safety and Hockey Operations, said the penalty handled down to Torres was appropriate.
"This is a violation of three NHL rules, interference, charging and illegal check to the head," Shanahan said in a statement from the league.

"In addition to the fact that three separate NHL rules were violated with this one hit, two other factors were critical in determining the appropriate length of suspension. First, this violent and dangerous hit caused a severe injury. Second, Torres not only is a repeat offender as defined by the CBA, his extensive Supplemental Discipline history consists mainly of acts very similar to this one, including two this season."
With Hossa out for Gave 5, Hawks' coach Joel Quenneville shifted lines. In an effort to shake up his team and compensate for the loss of Hossa, Quenneville broke up the line of Jonathan Toews, Patrick Kane and Hossa and proceeded to mix and match.
In Game 5, Toews centered between Viktor Stalberg and Bryan Bickell. Kane skated with Patrick Sharp and Brandon Saad and Quenneville had Andrew Brunette center between Marcus Kruger and Jimmy Hayes. A fourth line had Dave Bolland skating with Michael Frolik and Brendan Morrison.
Some History in the Desert
The fifth straight overtime game between the Coyotes and Blackhawks ties a league record for most overtime games in one series.
That was set in 1951 between Toronto and Montreal.
Of those five OT games, the Leafs won four of the five, including the final three in a row. That round was the finals, and the Leafs win the Stanley Cup with a 3-2 win April 21 in old Maple Leafs Gardens.
Quotes in this story were obtained by the author in post-game Chicago at Phoenix interviews on April 21, 2012.