2012 NFL Draft: An Oakland Raiders Draft Guide for Fans of the Silver and Black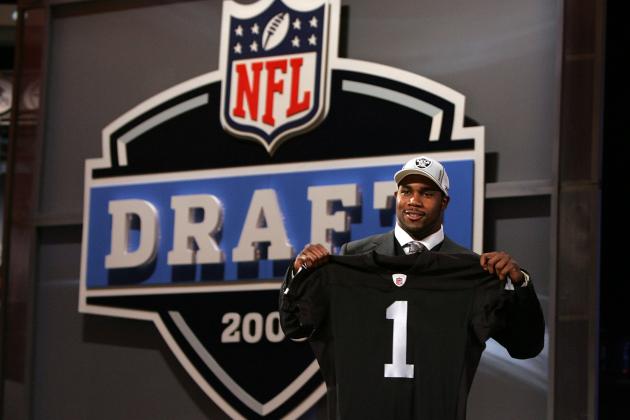 Jim McIsaac/Getty Images

The NFL draft is one of the most exciting times of the NFL season.
Once the Super Bowl jitters began to wear off, I started to do some research and looked like a mad man for who the Oakland Raiders should draft, who would fit in our system and much more.
Countless hours later, I've put together an in-depth guide for you, Raider Nation, so that you can be up to date on what the Raiders are going to do come draft day.
Begin Slideshow

»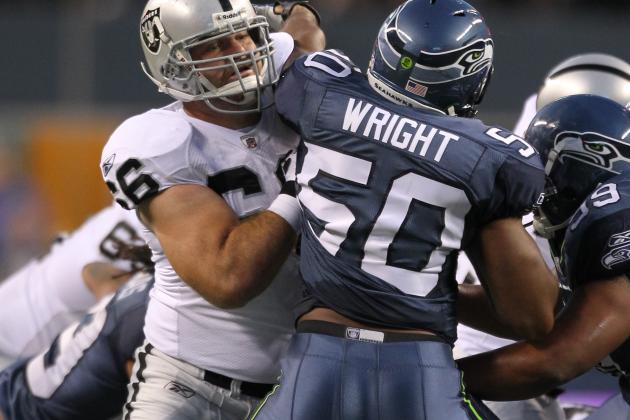 Otto Greule Jr/Getty Images

The Raiders came into the offseason with many needs—and that was when the team was $20 million over the cap and had only two draft picks. As of now, the team is under the cap, has five picks and essentially a starter at every position.
On offense, the Raiders have Carson Palmer, Darren McFadden and Marcel Reece in the backfield. The receiving corps is filled with young players like Jacoby Ford, Darius Heyward-Bey, Denarius Moore, Louis Murphy and the freshly signed Duke Calhoun.
Brandon Myers and David Ausberry will battle for the No. 1 tight end position.
Jared Veldheer, Cooper Carlisle, Stefen Wisniewski, Mike Brisiel and Khalif Barnes are penciled in as the starting five offensive linemen.
The starting defensive linemen are Matt Shaughnessy, LaMarr Houston, Richard Seymour and Tommy Kelly. Behind them are Rolando McClain, Philip Wheeler and Aaron Curry, whom the Raiders acquired from Seattle for their seventh-round pick on. Not a bad trade at all.
The defensive backfield is still fluctuating, but it looks like will Ron Bartell and Shawntae Spencer will be the starting cornerbacks. Tyvon Branch, who is looking for a new deal, will team up with Michael Huff at safety.
At a quick glance, left guard and right tackle are positions that can be upgraded. Backup linebacker is a huge need, as well. A superstar tight end is definitely missing, and the defensive line is missing some rotational players.
Here are the top 2012 draft needs for the Raiders:
Linebacker depth
Left guard
Nose tackle
Defensive tackle depth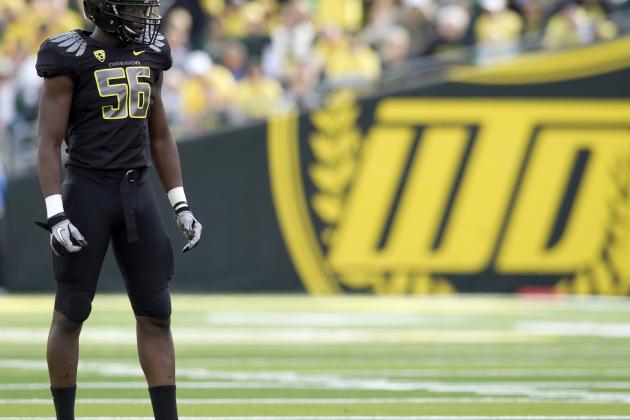 Steve Dykes/Getty Images

The Raiders only have four linebackers listed on the roster. For a team that was atrocious in run defense, that spells doom.
Not only is that bad enough but Rolando McClain is dealing with his arrest, and it's possible that he gets suspended once the season rolls around.
I don't mean to add injury to insult, but Travis Goethel, the primary backup at middle linebacker, has been dealing with injuries throughout his short career, and we cannot put all of our chips into his corner.
Luckily for us, the football gods have smiled upon Raider Nation and given us a great class of linebackers who will sure to be available when the Raiders first pick at No. 95. I went on my most trusted draft site, Walterfootball.com, and put together an extremely long list of linebackers whom the Raiders have to consider:
ILB Tank Carder (TCU)
ILB Audie Cole (North Carolina State)
ILB Jerry Franklin (Arkansas)
OLB Mychal Kendricks (California)
OLB Nigel Bradham (Florida State)
OLB Keenan Robinson (Texas)
OLB Bruce Irvin (West Virginia)
OLB Josh Kaddu (Oregon)
OLB Demario Davis (Arkansas State)
OLB Emmanuel Acho (Texas)
Of this list, I really like Franklin, Davis, Kaddu and Acho.
Let's break them down quickly, shall we?
Franklin is a quality player who has quietly flown under the radar. He is your prototypical middle linebacker who is great at getting to the ball-carrier and dragging him down. Franklin isn't a smash-mouth type of player, but a sure tackler who will not disappoint. I see a lot of NaVorro Bowman in him.
Davis and Kaddu have a lot of similarities, in my opinion. They are both big hitters with explosiveness, but aren't going to lead the team in tackles. Kaddu, however, is much more effective when rushing the passer, recording 6.5 in his final season with the Ducks.
Acho is a mixture of both these types I have just detailed. He is a reliable tackler like Franklin, as he led the Longhorns in tackles, but Acho is also a physical player who can lay the wood from time to time.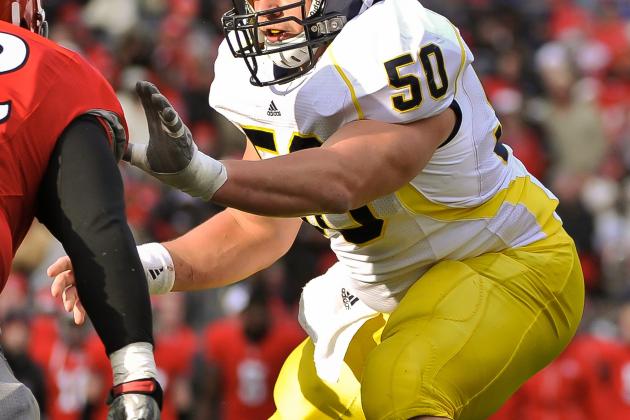 Jamie Sabau/Getty Images

With the new regime comes a new style of blocking: out with the power, and in with the zone.
Zone blockers have to be agile, smart and, of course, strong. Strength is important for offensive linemen, but in a zone-blocking system, if you're not capable of bench pressing 500 pounds, it's alright.
I compiled a list of not only guards but also centers and tackles who can move and play guard, if needed:
OG Joe Looney (Wake Forest)
OG Josh Leribeus (SMU)
OG Adam Gettis (Iowa)
OG Tony Bergstrom (Utah)
C Mike Brewster (Ohio State)
C David Molk (Michigan)
OT Jeff Allen (Illinois)
OT James Brown (Troy)
All these players are players who are projected to go in Round 3 or later, which means that the Raiders have a fairly good shot at getting an interior lineman who fits their scheme.
Out of this list, ironically, I like the two centers the most.
Both of these players are experienced players who can perform at a high level. Brewster was scouted as one of the best centers in 2010 and did little to hurt his stock in 2011. Molk is an agile blocker who can hit you with a lot of force. However, at 298 pounds, he is a bit undersized.
Drafting either Molk or Brewster gives the Raiders a lot of options. They can move Stefen Wisniewski back to left guard where he excelled as a rookie, or they can move the new guy to guard and let Wisniewski start at center.
Of the guards, I really like Leribeus. He is agile and has good technique. He is also good at pulling and seems ideal for a zone-blocking scheme.
Kevin C. Cox/Getty Images

Every day, it looks more and more like the Raiders will remain in a 4-3 defense.
However, that doesn't mean that a nose tackle isn't needed.
Dennis Allen has said the defense will run a mixture of defenses, and if a 3-4 is called, someone is going to have to play nose tackle. Plus, the Raiders need a nose tackle to help stop the run.
Like the aforementioned offensive guards, I'll list the nose tackles projected to go around Round 3 and up:
Alameda Ta'Amu (Washington)
Josh Chapman (Alabama)
Nicolas Jean-Baptiste (Baylor)
Akiem Hicks (Regina (Canada))
There aren't too many nose tackles, but that's why they are so special.
Let us start with Ta'Amu.
He is a very big player, but that can also be a concern. Ta'Amu has gone down to a manageable 348, but we've seen what JaMarcus Russell did, and Oakland does not need a repeat.
Chapman has gotten a lot of attention lately because he visited with Reggie McKenzie not too long ago. Many teams have shied away from Chapman because of his injury, but that is why McKenzie brought him in.
Chapman and Jean-Baptiste are typical nose tackles. Both are big players who are good in the run game, while possessing the ability to sit and eat up space.
I would have to tip my hat to Chapman, however, for his experience and talent. If not for the injury, Chapman would not even be considered here, because he would most likely be long gone by the time the 95th pick rolled around.
Hicks is an interesting player with an even more interesting background. Playing for Sacramento City College, Hicks transferred to LSU, only to move across the border to play for Regina. He has a lot of talent, but it's unclear how he will be able to transition from college football in Canada to the professional game. Hicks is definitely a player to monitor.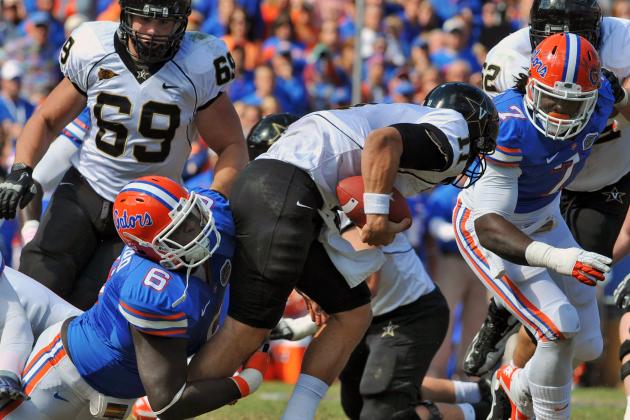 Al Messerschmidt/Getty Images

The Raiders have one of the best defensive tackle duos in the NFL.
Both Tommy Kelly and Richard Seymour can be great players—when they want to be.
Seymour is the better all-around player, but some can say that Kelly is on par with Seymour when it comes to rushing the passer. Since moving to defensive tackle, Seymour has 11.5 sacks, while Kelly has 14.5. It's surprising that Kelly wasn't even mentioned at the Pro Bowl.
But Kelly is 31, and Seymour is 32. Desmond Bryant is an effective rotational player, which is why this need isn't as pressing as the others.
Nonetheless, I have found some players who can come off the bench as depth players and nicely relieve the two veterans:
Derek Wolfe (Cincinnati)
Mike Martin (Michigan)
Mike Daniels (Iowa)
Tydreke Powell (North Carolina)
Jaye Howard (Florida)
Out of all these players, Wolfe was head and shoulders above everyone else when it came to production. However, do take this with a grain of salt; Wolfe is technically a defensive end, but has the size and skills to play defensive tackle—much like Kelly, Seymour and LaMarr Houston.
As a senior, Wolfe had 21.5 tackles for loss and 9.5 sacks. While the 9.5 sacks are great, the 21.5 tackles for loss really impresses me. For a player that big, Wolfe can move with ease and has a very strong motor.
Howard is an athlete I just had to include. At 6'3" and 300 pounds, he ran a 4.75 at the combine. On tape, Howard was not terrible, recording 10 tackles for loss and 5.5 sacks. He will still be a project when he's drafted, but under the leadership of Kelly and Seymour, he can become a dominant force in the NFL.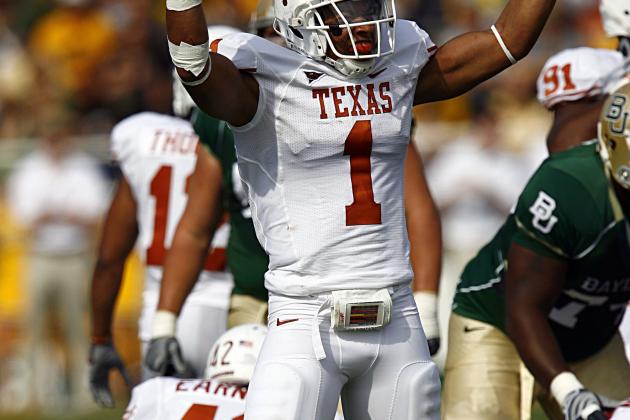 Tom Pennington/Getty Images

The Raiders were rewarded the highest compensatory pick this year, with the 95th overall selection.
With this pick, the Raiders have a lot of options. Most of the players I listed in the previous slides should still be available by the time this pick rolls around, but which of the players are really worth it?
I'll provide three mock drafts for every pick.
Ideal Pick No. 1: Keenan Robinson, LB

This pick makes the most sense on paper, and I'll tell you why.
Philip Wheeler was signed to only a one-year deal. If Reggie McKenzie thought that Wheeler could be the solution rather than just the band-aid, he would have given him a better deal like he did with Mike Brisiel. McKenzie wants to draft a new guy who can eventually take over as a starter.
Keenan Robinson is one of the most polished mid-round linebackers in the draft. When I went back and watched some Texas games, I was surprised at how professional he looked. He played with good instincts, was fast and flew to the ball.
Robinson could drop back in coverage when needed to and is not all that bad. He is a quality player who will rarely do something wrong, but will often do the right things. If he is given time and development, Robinson can be a starter as soon as next season.
Ideal Pick No. 2: Josh Chapman, NT

Run defense was something the new regime addressed. For some reason, the Raiders run defense was just putrid in 2011. It was a joke, plain and simple.
Josh Chapman is a player who has potential first-round talent, but was slowed down with a knee injury. He seems to be better and should be ready to go once training camp comes. Chapman has the ideal size you want in a nose tackle who can eat up a lot of space.
Alameda Ta'Amu would also be a good pick, but I see him long gone by the time this selection rolls around.
Ideal Pick No. 3: Nigel Bradham, LB

Bradham is better than Robinson in physical nature, but on the field, I'd take Robinson.
Bradham is very strong and has the physical tools to be a star in the NFL. He can really excel in run defense, using his 4.5 speed to quickly get to the ball-carrier.
However, as a pass defender, Bradham is not the best. The Raiders already have this type of player in Aaron Curry, but if Bradham is still on the board and the other two aren't, the Raiders may have to pull the trigger.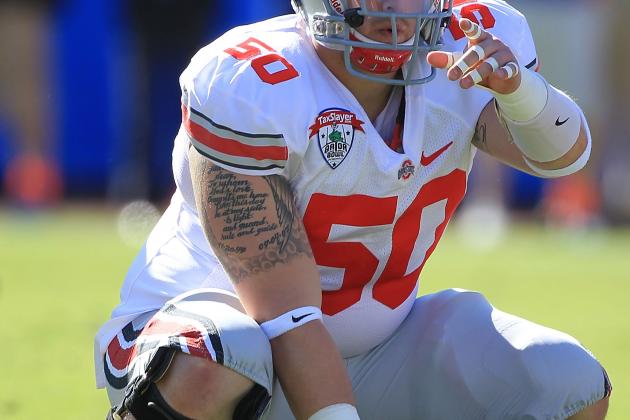 Scott Halleran/Getty Images

By now, most of the players I listed will be quickly moving off the boards. The Raiders are going to have to move fast.
If they take a linebacker with their first pick, I see them selecting offensive linemen with their next picks.
Ideal Pick No. 1: Mike Brewster, C

If you have been following me all offseason, you know that I really like Mike Brewster. He reminds me so much of Stefen Wisniewski that it's sort of crazy. Both are technician blockers who will not commit many mistakes, and they are both smart players who are very versatile.
As a center, Brewster kind of trailed off at the end of the season. It is well-documented that he had trouble snapping the ball in some games, but I feel if he joins the Raiders, he isn't the one to handle the center duties. I am now a firm supporter of Wisniewski staying at center.
That means Brewster will move to left guard and compete with Cooper Carlisle for the job, which I think he can win. Brewster is not the type of player who commits many penalties or gets pushed back on a regular basis, like Carlisle.
Ideal Pick No. 2: David Molk, C

If Brewster is still on the board, it's likely that Molk is as well. These two players, ironically from rival schools, who are very similar.
Molk is somewhat of a better player, but Brewster has the better size for an NFL player; Brewster has three inches on Molk and nearly 15 pounds.
Of course, Molk can always gain weight, but he cannot grow any taller.
Molk is faster than Brewster, which is a plus in the zone-blocking system. He, like Brewster, is a smart player who finishes his blocks. He does not commit any penalties, and if it were not for his size, he would be ahead of Brewster.
Ideal Pick No. 3: Emmanuel Acho, LB

Another linebacker, you ask?
Yes, because even if Oakland does select a linebacker at No. 95, it still only has five linebackers.
Acho is a great player who has the tools to become a better player. Throughout his career, he has played at a consistent level. Acho isn't crazy with the physical tools, but he gets the job done. He can play both the run and the pass effectively, is a sure tackler and is very smart.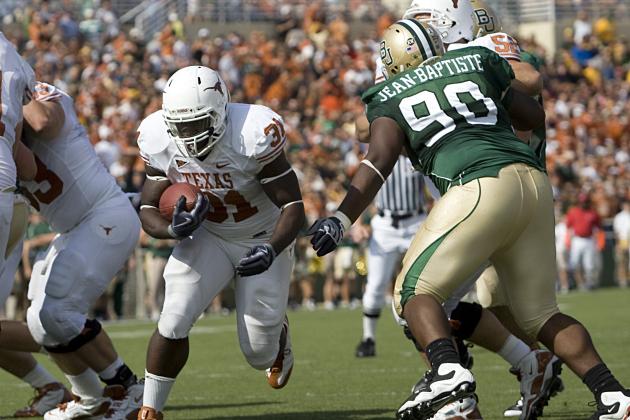 Tom Pennington/Getty Images

If my ideal situation goes well, then the Raiders will have both an interior lineman and a future starting outside linebacker.
Now, it's time to address the defensive line.
Ideal Pick No. 1: Nicolas Jean-Baptiste, NT

There are better players at defensive tackle than Jean-Baptiste, but he is one of the last nose tackles available. Akiem Hicks is likely to still be there, but with his extensive past, Jean-Baptiste seems like the safer pick.
At 335 pounds, Jean-Baptiste is a load. He is good at getting low and will not be easily moved by offensive linemen, which will also help the development of Rolando McClain. In his time in Oakland, McClain has not had a defensive lineman who can take up a lot of space for him to roam freely.
Jean-Baptiste is a natural nose tackle with a lot of potential. He had a good senior year and showed that he can be an NFL nose tackle.
Ideal Pick No. 2: Demario Davis, LB

This pick is based off the fact that I have Josh Chapman and David Molk going under "Ideal Pick No. 2."
Davis is a very talented player at a school that doesn't get very much attention. That being said, he has the tools to be an impact player as soon as he gets on the football field.
Davis has amazing speed for a linebacker, but he's not one-dimensional; in addition to his 4.5 speed, he benched pressed 32 times. Right now, Davis looks like an athlete based on his performance at the combine, but when you put on the tape, you see a hard-hitting player with good instincts and unlimited potential.
Ideal No. 3: Joe Looney, OG

In the first two picks in this ideal situation, I have the Raiders taking Bradham and Acho. It's time to look for a guard who can back up Cooper Carlisle for a year and eventually take over.
Looney has the ideal size for a zone-blocking scheme, at 6'3" and is about 310 pounds. He also runs a 5.02-second 40.
Looney has been a starter for four seasons because of what he does on the field. He can run, he can pull, he finishes his blocks and he is smart—all the things you hope to see in a zone-blocking lineman.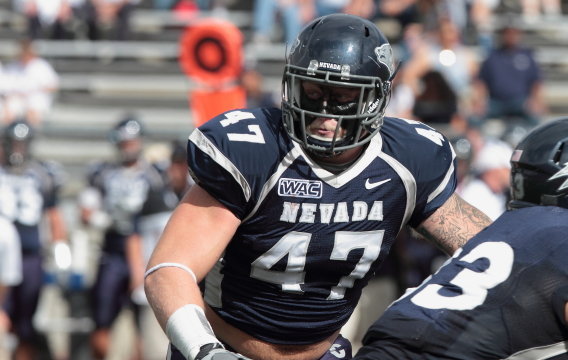 The Raiders' next pick comes at the end of the fifth round. Oakland has done presumably well in the middle-to-late rounds, so expect to continue that here.
Ideal Pick No. 1: Brett Roy, DT

Roy is a skinny defensive tackle, and that is going to hurt his stock big time. He is only 275 pounds, but if he puts on more weight, he will be a force.
At Nevada, Roy did not play the best talent available, but when he faced big-name schools like Oregon, Boise State and Texas Tech, he showed up, notching four total sacks against those three teams.
Roy is an interesting prospect, having been recruited as a safety. He has since put on weight to become a linebacker, then put on more weight to become a lineman.
Now, he has to put on just a little bit more so he can be an effective NFL lineman.
Ideal Pick No. 2: Tydreke Powell, NT

Powell did not have a great season, but he still has the tools to succeed. Playing with Quinton Coples, you would expect Powell to tear it up, but he had a relatively quiet year, with only one sack and five tackles for loss.
However, I watched UNC's game against LSU in 2010, and Powell impressed me. He was getting good pushes against a good LSU team and was able to get off his blocks effectively. There were times where he came after the quarterback and forced him into a throw.
Right now, Powell is still a project, like many others drafted at this time, but he can definitely surprise some.
Ideal Pick No. 3: Mike Daniels, DT

I guess this pick is destined to be the round of the rotational defensive tackles.
Daniels would typically be an Al Davis selection because of his speed, but Daniels' speed is not the only thing that lands him here.
His small size gives him a motive to play with; he stays low to the ground and does not get easily pushed out of the way. Once Daniels sets his eyes on his target, he flies to the ball-carrier.
As a senior, Daniels had nine sacks and 10.5 tackles for loss. He is always in on the play and would be of great value here.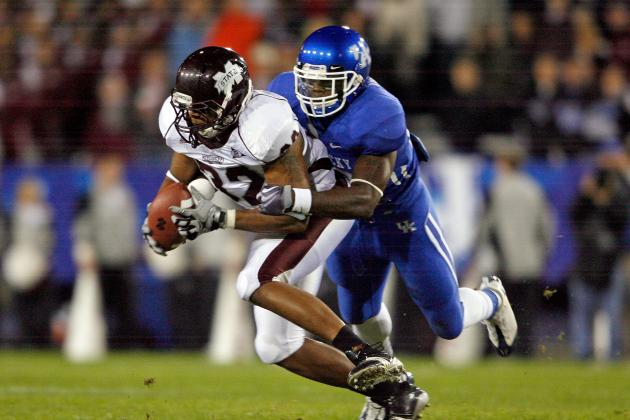 Andy Lyons/Getty Images

To round up the draft for the Raiders, I see them going after more depth among linebackers and offensive line. In years' past, this is where the team would select more cornerbacks, but with five on the team already, I don't see McKenzie making that a priority.
Ideal Pick No. 1: Danny Trevathan, OLB

Trevathan is a player I did not know about, but I went back and watched some film, and I can tell you he is much more deserving than the sixth round.
Trevathan is an explosive player. He isn't as fast off the ball as I'd like, but once he gets it going and makes contact, you're looking to see if the ball-carrier is even getting up. Trevathan comes in with a lot of force and is a hard-hitting player with good instincts.
The man is a ball-hawk, ladies and gentlemen. As a senior, he had nearly 150 tackles, three sacks, four interceptions and five pass deflections. In eight games, he had 12 or more tackles, including three where he had 17.
Ideal Pick No. 2: Tahir Whitehead, OLB

Whitehead is a player who is similar to Trevathan. They both are players who were big college impacts, yet are not regarded as high draft prospects.
At Temple, Whitehead had a decent career; it was average, yet very productive. He does not have the athleticism that Trevathan has, but Whitehead can still run a a 4.7 and did show explosiveness from time to time.
As a senior, Whitehead had 61 tackles and five sacks, but he did not record any interceptions nor pass deflections. He would be typically a two-down lineman.
Ideal Pick No. 3: Isaiah Frey, CB

I know, I just said that cornerback isn't a priority here. But, Frey is a great player and would be steal in the sixth round.
In this scenario, I already have the Raiders selecting two linebackers, an interior lineman and a defensive tackle. This is the pick where the Raiders can go and look for depth wherever they want, and Frey presents himself very nicely.
As a senior, Frey had five interceptions and 14 pass deflections. He mirrors the receiver he covers very well and rarely gets beaten.
Frey has the intangibles and skills to become a great NFL cornerback. He will have to duel with the five other cornerbacks on the team, but I think he has the potential to be a star if given the opportunity.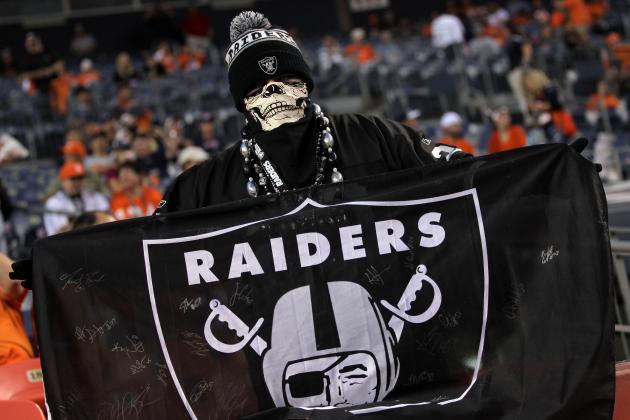 Doug Pensinger/Getty Images

Tell me what you think, Raider Nation! I'll do my best and continue to keep you all updated on the draft. I've put hours into this year's draft, and I hope that the Raiders will not disappoint.
Tell me who are the other prospects you'd like to have, what you think of my mock drafts, etc.