Liga Done: Ronaldo and Real Madrid Shut Up Messi and Barcelona
April 22, 2012

Well that fun again, wasn't it?
It was especially fun if you are a Real Madrid fan.
I was wrong when I said I couldn't see Real Madrid come into the Camp Nou and beat a Pep Guardiola-led team. Cristiano Ronaldo certainly shut me up. Thanks CR7!
First off, let me say congratulations to Real Madrid and their fans on the win and essentially winning La Liga. They were clearly the better team on the night and deserved the win. Real played consistent well throughout the season and deserve to be champions of the league. Jose Mourinho has done a tremendous job this season.
Now let me lovingly tear apart my beloved FC Barcelona.
Pep Guardiola did not do a good job adjusting at halftime. Leaving in Thiago was a mistake. Thiago struggled throughout the game and did not deserve to continue on in the second half. Cesc Fabregas would have been better for the second half. I guess Pep was trying to rest Cesc as much as he can for the Champions League match against Chelsea this Tuesday.
Butterfingers by Victor Valdes lead to Sami Khedira's goal. Was Sami offsides? It looked like it, but it was a close call. Besides, it looked like Ronaldo inadvertently blocked the linesman's view of Khedira.
I'm not going to whine about the referees because I thought they did a good job calling this game. Culés, please don't complain about the Khedira goal or the refs. That goal was not the reason this game was lost.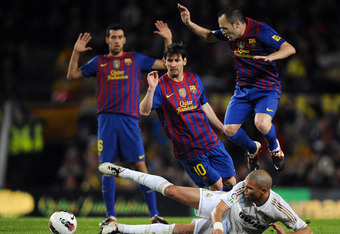 David Ramos/Getty Images
Xavi and Andres Iniesta had terrible games. Xavi was not the Xavi of old and had the biggest miss of the game as he put a clear goal to the left of the post in the first half. Iniesta couldn't find anyone at times and wasn't creating any plays. Although Barcelona had ball possession for the majority of the game, the midfielders were very sloppy, inconsistent and were arguably the reason Barcelona could not find the back of the net.
Typical FC Barcelona defense of all season—shaky.
I know what I'm about to say is blasphemy, but I'm going to say it: Carles Puyol is no longer an every game starter, and he needs to be replaced by a younger defender. Throughout the game, we saw Ronaldo pass him by as well. Carles is beginning to complain too much as well. Sorry, I love el capita, but he is slow and cannot keep up with speedy forwards.
Perhaps the club will be more flexible in spending more money for a player like Thiago Silva or Mats Hummels.
I'm not saying Carles needs to be let go. Puyol can play in those games where the opponent has physically-demanding players like Fernando Llorente of Athletic Bilbao. But Carles can no longer keep up with players like Ronaldo and needs to be a substitute to replace a younger defender in the starting lineup in games where there are speedy striker/forwards – which are most games by the way.
 And no, this is not just because of this game. Carles' performance all season has been nothing short of disappointing. Age has finally caught up to his game.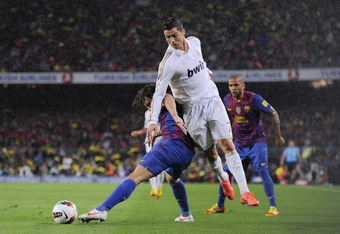 David Ramos/Getty Images
Javier Mascherano had a solid game, but he was not aware of where Ronaldo's position when CR7 flew by him for the game winning goal. I'd criticize Javier a bit more if he had a bad game; plus we have to give credit to Ronaldo for the speed and the golazo.
A healthy Gerard Pique would have been a boost for the defense, but that's no excuse.
Cristian Tello got his first taste of El Clásico in the starting lineup. He had a so-so game. He missed terribly on one occasion and was covered well by Alvaro Arbeloa. I'm happy the kid got to taste the big stage.
Alexis Sanchez was a great spark for the short time he was on the pitch. His goal gave every Culé hope that the Liga was possible. It's unfortunate that he couldn't play the entire game. But it's best that he rested as much as he could so he can be ready for the Chelsea game on Tuesday.
But now let's get to the man who never made his mark in this game: Lionel Messi.
If anyone has seen Leo Messi's game—which has been missing for a week now—please return it to the Camp Nou lost and found department ASAP. It hasn't been seen in Stamford Bridge last week or in the Madrid game.
I honestly don't know what happened to Leo in this game. Alexis was more of an overall spark in this game than Messi.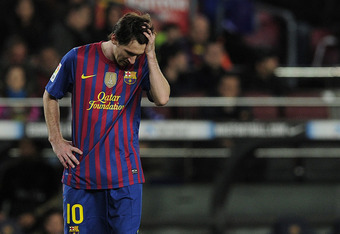 Now don't get me wrong, I'm saying Messi needed to do it all or that this loss to Real Madrid falls on his shoulders. Messi has stepped up plenty of times in big games, including against Real Madrid in the past. The most disappointing thing for me is not that he didn't score a goal; it's that he didn't set up his teammates nor lead his team on the pitch.
Xavi normally sets up the attack, but with him off his game, I was looking to see if Messi would demand the ball and take over the game. This obviously did not happen. I'll give him some credit and say he tried, but trying is not enough, especially against a team like Real Madrid.
Messi's only clear moment where he set up his teammate ended in disappointment as Xavi missed a clear goal in the first half.
That shot would symbolize the game for Xavi and Messi—unimaginably disappointing.
Did Messi even have a shot on goal? It felt like he didn't.
To be fair, the Real defense did a good job with Messi many times during the game. Credit goes to Sergio Ramos, Pepe, as well as Xabi Alonso for coming from midfield and slowing Leo down as well.
This game will certainly give Ronaldo a boost for his case to be Ballon d'Or leader. Right now, it's looking like Ronaldo, Messi and Arsenal's Robin Van Persie are the three players who should be the finalists.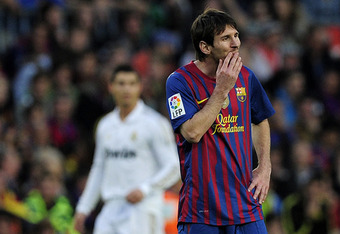 Lionel Messi did not step up, Cristiano Ronaldo did. Plain and simple.
BTW: I'm sure there will be at least 30 "Is Ronaldo Now Better Than Messi?" or "Ronaldo vs. Messi: Who is Better?" articles coming to Bleacher Report and other sports websites. Try and be a bit more original, you guys. Those articles are so played out. Don't expect one of those from me.
This game has already sparked a debate by some Culés on Facebook and Twitter if the team needs a true striker to create more plays and force opposing defenses to move around, thus creating more opportunities for goals. I think Barcelona President Sandro Rosell will talk to Pep (if he decides to stay) about considering bringing in a pure striker to add in a new dynamic to the team.
Let the "Robin Van Persie to Barcelona" rumors begin.
Then again, maybe we Culés are being reminded how important David Villa was and is for the offense. Perhaps Villa needs to play striker and Messi back to RW in the 2012-13 season.
We'll see what happens next season.
And that's exactly what FC Barcelona and their fans are forced to think about now: next season. It feels terrible to think about next season already, but it is what it is.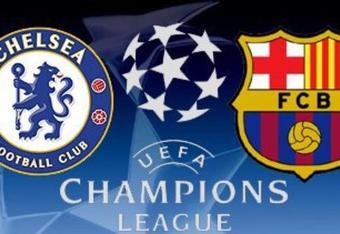 Once again, congratulations to Real Madrid and their fans on a terrific season. Very deserved of the title.
Barcelona still has the Copa Del Rey final to look to try to win. But let's be honest, no one cares about that game right now. In fact, no Culé is thinking about the rest of the four Liga games left as well.
It's all about the Champions League game against Chelsea on Tuesday night.
Some are already saying in order to redeem themselves after this loss and to redeem the entire 2011-12 overall competitive season, FC Barcelona must come back and defeat Chelsea—no excuses. The pressure on Pep Guardiola, Lionel Messi and the rest of the team will be at an all-time high from now until that final whistle blows at the end of the second leg.
Personally, I'm not nervous or worried about the Chelsea game. I just want that game to come as soon as possible to get the memory of this past Clásico out of my head and witness Barcelona leave it all out on the pitch on Tuesday night.
I hope the team feels the same way as I do, because as of right now, there is nothing left to lose.
Animos Culés.
¡Visca el Barça!
Xoel, The Voice of FC Barcelona on Bleacher Report!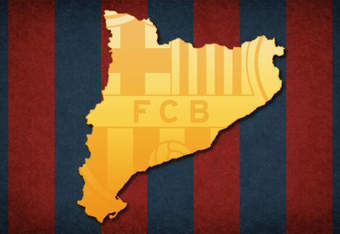 Look out this Monday for my article "FC Barcelona vs. Chelsea: All Out for Munich," previewing the second leg of the UEFA Champions League semifinal.
Follow me on Twitter:@XoelCardenas
Don't forget to check out my other columns:
FC Barcelona vs Chelsea: FC Barcelona Slip Up at Stamford Bridge