Audie Cole: 5 Reasons Why NFL Draft Prospect Will Succeed in the Pros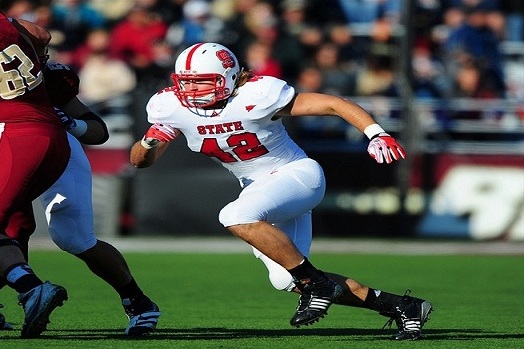 Courtesy of Rant Sports
Audie Cole might be the most fundamentally sound linebacker in the entire 2012 NFL draft. Where he struggles with the athleticism aspect of the game, Cole shines when it comes to the nuances of playing defense.
He isn't going to be a dynamite first-round prospect, nor will he stand out on game tape.
What Cole brings to the game is much more subtle, but none less important. It is all about understanding what is happening at a certain point and letting your natural instincts take over. In this he is an absolute beast.
This article is going to give you fives reasons why Cole is going to be a successful linebacker in the National Football League.
Begin Slideshow

»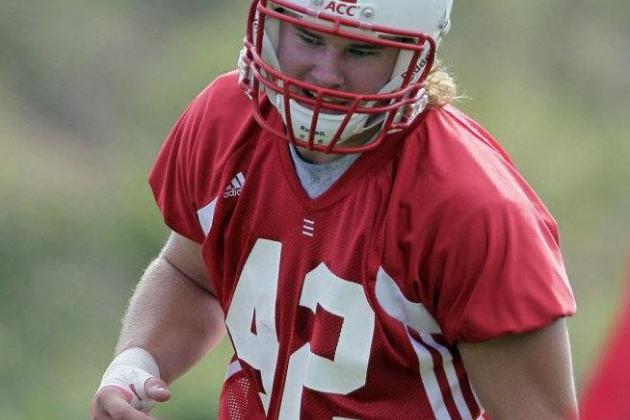 I have mentioned this in previous articles, but it is worth bringing up again. Scouts cannot, nor should they, attempt to discount production. It is one thing that isn't subjective in the larger framework of the scouting process.
Of course some could argue level of competition or that a certain prospect's game doesn't translate to the National Football League. That is just a cop-out in regards to a larger majority of prospects by individuals that refuse to go the extra mile in the evaluating process.
Audie Cole recorded nearly 300 tackles over the course of his last three seasons with North Carolina State. He also accumulated double-digit sacks and seven forced fumbles during that span.
Talk about production.
Audie Cole is not going to struggle at the point of contact too many times. He understands fully well when to engage the blocker and to attempt to get around a certain offensive player in order to make a tackle. What he does best is reacts to the progression of a play and goes with the flow.
This is fundamentals 101 if you ask me.
Moreover, his tackling ability and technique is stout. He goes low a large majority of the time, using his pads to drive the ball-carrier into the ground. Rarely will you see Cole attempt to go high on a tackle, something that doesn't work in the National Football League.
His fundamentals are extraordinary when it comes to dropping back into coverage, reading the quarterbacks eyes and giving an educated guess as to where and when the ball is going to come. This enables him to be strong in pass defense.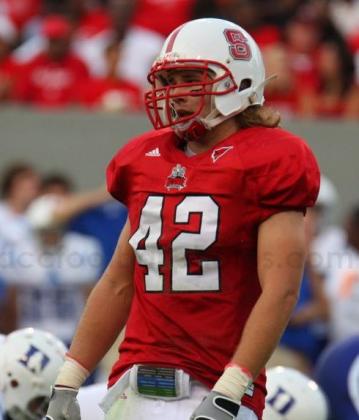 Some scouts underestimate the size of Audie Cole because he just doesn't look that intimidating or too large of a figure on the defensive side of the ball.
This is more about our eyes perceiving us than anything else.
Cole stands at 6'4" and weighs nearly 250 pounds. That is a mammoth of a linebacker compared to some of the best that play this position in the National Football League.
Just take a look at Ray Lewis, who stands three inches shorter and weighs about 10 pounds less. Even Patrick Willis doesn't compare to Cole in terms of size (6'1", 242).
This doesn't mean much more than that Cole has a big build. However, he does utilize it to the best of his ability and causes major issues for the quarterback in terms of finding lanes to throw the ball between the hashes.
It can be a huge benefit for a defense to have someone of this stature manning the middle of the field, that pretty much goes without saying.
Because of exceptional coverage skills, Audie Cole will not be pulled out of the game in passing situations in lieu of a nickelback. Instead, he has the instincts and intelligence to be an important contributor on these downs.
This means that the North Carolina State product is one of the very few every-down linebacker prospects in the entire 2012 NFL draft.
He possesses solid hip movement, doesn't get turned around too often and, as I mentioned before, is able to understand where the quarterback is going to go with the ball.
You will not see NFL defenses ask him to line up against wide receivers or even athletic tight ends, he will struggle in this aspect of the game. What he does good is being able to read screens and string them out. This is something that a great amount of professional linebackers tend to struggle with.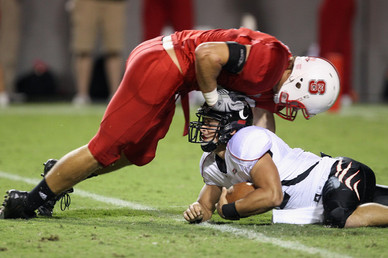 Courtesy of Zimbio
Audie Cole is an iron man in every possible explanation of the term. He consistently played through injuries at North Carolina State, usually performing at the high level we came to expect, even when injured.
While this might seem rather unimportant in the grand scheme of things, it is something that I am pretty sure fans are going to love as it relates to Cole moving forward in the NFL.
He doesn't sit out plays because of a tweak during a game. He won't ask to be pulled from the action because of a bloody noise or any other cosmetic wound.
Instead, Cole will play 100 percent all the time. He will bring it his all whether the score is 35-0 or tied late in the fourth quarter.
In reality, Cole is a throwback to the linebackers that we used to see before the National Football League became "The No Fun League." He will remind you a great deal of the Chicago Bears and Pittsburgh Steelers defenders of yesteryear.
That is saying something.