Dallas Mavericks vs. Chicago Bulls: Live Blog, Analysis and Reaction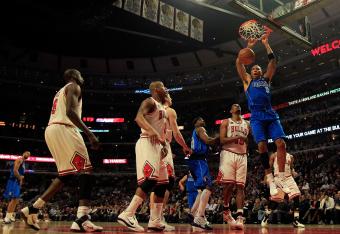 Jonathan Daniel/Getty Images
22 points and six rebounds by Luol Deng paced the Chicago Bulls to a 93-83 victory over the Dallas Mavericks at the United Center on Saturday night. The Bulls now lead the Eastern Conference by 2.5 games, and are virtually assured of homecourt advantage with less than a week to go in the regular season.
The game marked the return of Derrick Rose to the Bulls' starting lineup. He had missed the previous three games due to a foot injury, but played nearly 32 minutes tonight and tallied 11 points and eight assists.
After scoring a franchise-low eight points in the first quarter, the Mavericks failed to go away, despite only shooting 39 percent from the field on the night. Four Mavericks scored in double-figures, led by Dirk Nowitzki who finished with 17. Dallas is now the No. 7 seed in the Western Conference, and only has one game left in the regular season (April 26 at Atlanta).
Thanks for joining us for the live blog - be sure to check the B/R NBA page for two more live blogs tomorrow: Knicks/Hawks at 1 PM Eastern, and Lakers/Thunder at 3:30 PM Eastern.
Fun fact: This is the first time in 10 consecutive games that the Mavericks haven't had at least five players score in double figures (only four did so tonight).
A very solid eight point, 14-rebound, eight assist performance for Joakim Noah. Conversely, Shawn Marion was a -26 on the evening.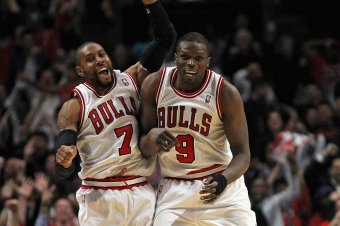 Jonathan Daniel/Getty Images
Luol Deng leads all scorers with 22 points, while Richard Hamilton chipped in 19 for the Bulls. Dirk Nowitzki led Dallas with 17 points.
With the loss, Dallas is now the No. 7 seed in the Western Conference, and have four days off before a season-ending April 26 matchup with the Atlanta Hawks at Philips Arena.
11 points and eight assists for Rose in his first game back from injury. Not impressive statistically, but very solid.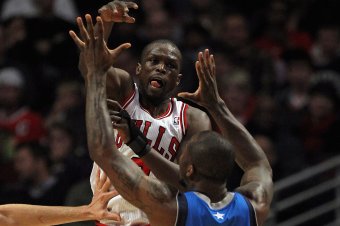 Jonathan Daniel/Getty Images
Bulls 93, Mavericks 83 - Final: "Another One Bites The Dust" blares over the United Center speakers celebrating the Bulls 10-point win. Chicago is now 2.5 games ahead of the Miami Heat, and their magic number to clinch homecourt advantage in the East is now one.
Bulls 91, Mavericks 81 - 48.6 left in 4Q: Noah makes one out of two free throws, but the game is virtually in hand at this point.
Dirk Nowitzki isn't in the game for the Mavericks. The only thing we're waiting for is the final buzzer...
Bulls 90, Mavericks 79 - 1:55 left in 4Q: Back-to-back jumpers by Luol Deng give the Bulls an 11-point lead. The crowd at the United Center is smelling victory...
Bulls 85, Mavericks 79 - 2:40 left in 4Q: Beaubois - dislocated finger and all - won't go away. He's got 16 points, six rebounds and five assists on the night.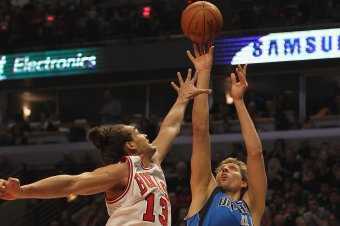 Jonathan Daniel/Getty Images
The fact that Dallas played the Golden State Warriors last night would typically be to the Bulls' advantage, but the Mavericks are somewhat of an anamoly. Dallas is 13-8 on the second night of back-to-backs this year - that explains why Chicago has failed to put them away as of yet.
Bulls 82, Mavericks 76 - 3:42 left in 4Q: A Rose one-hander - his first basket of the second half - gives the Bulls a six-point lead.
Safe bet: The film from this game won't make the yearly highlight DVD for either the Bulls (42 percent from the floor) or the Mavericks (38 percent).
Bulls 75, Mavericks 72 - 5:53 left in 4Q: Second-chance points are killing Chicago tonight - Dallas's nine offensive rebounds are keeping them in the game. Surprisingly, they're outrebounding the Bulls 42-40.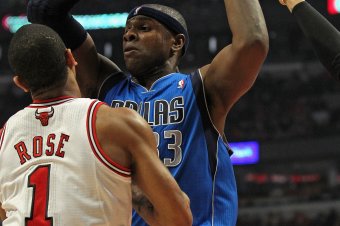 Jonathan Daniel/Getty Images
Bulls 73, Mavericks 68 - 7:01 left in 4Q: Derrick Rose checks back in for Chicago. The Bulls have shown a lot more vigor in recent minutes, so it'll be interesting to see if that continues with Rose.
Bulls 73, Mavericks 65 - 8:02 left in 4Q: When Kyle Korver's feet are set, it's a problem. He just set his feet and knocked down a 3, and Vince Carter responds with one of his own.
Bulls 70, Mavericks 62 - 9:06 left in 4Q: Vince Carter warms up after an 0-for-6 start and now has 12 points. He's the third Maverick in double figures alongside Nowitzki (17 points) and West (13).
The Miami Heat's 86-84 loss to the Washington Wizards means that the Chicago Bulls' magic number to clinch the No. 1 seed in the East is now at two.
Bulls 66, Mavericks 60 - 10:37 left in 4Q: Four quick points for Dallas equals a Thibodeau time out. The Bulls haven't looked sharp so far in the quarter.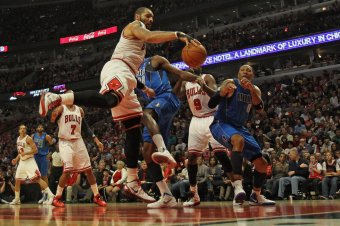 Jonathan Daniel/Getty Images
Strangely enough, despite shooting 33 percent from the floor (19-for-57), the Mavericks aren't yet out of this game...
Bulls 66, Mavericks 56 - end of 3Q: A deep three by Luol Deng caps off a quarter-ending 11-0 run for the Bulls, and gives Chicago a double-digit lead. Dallas had a foul to give there, but decided against it. For some reason.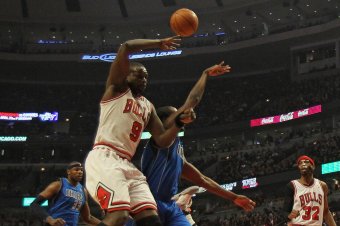 Jonathan Daniel/Getty Images
Bulls 61, Mavericks 56 - 1:28 left in 3Q: Strong work by Deng on the inside leads to a basket and a five-point lead. The Bulls grabbed just their third offensive rebound of the night.
This article is
What is the duplicate article?
Why is this article offensive?
Where is this article plagiarized from?
Why is this article poorly edited?

Chicago Bulls: Like this team?