Joe Girardi: NY Yankees Rotation Ineffective, Pineda Shutdown, Panic Approaching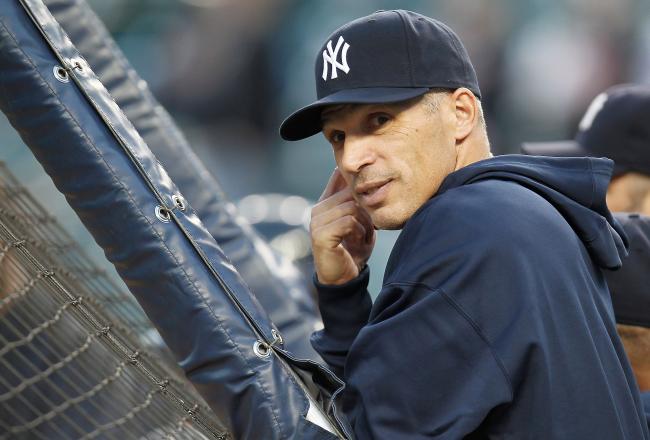 I know we need starters, but I'm still glad A.J. Burnett is gone.
Gregory Shamus/Getty Images
It's only April and New York Yankees manager Joe Girardi is already facing his first crisis.
Hideki Kuroda and CC Sabathia have been inconsistent. Phil Hughes has looked very shaky after a disappointing 2011. And Freddy Garcia has been downright awful.
Only Ivan Nova has thrived so far (but all his peripheral numbers from 2011 suggest a step back in his success is coming). And on top of that, the prize of their marquee trade in the offseason, Michael Pineda, suffered a setback on Saturday and there is now no timetable for his return.
Taking all this into account, you could correctly say that the sky is falling in the Bronx. And it's falling on top of Joe Girardi's cap.
Former Yankee and "Core Four" member Andy Pettitte is still building up his arm and is slated to throw about 85 pitches for Double-A Trenton on Wednesday. With Jorge Posada having retired, the Yankees are desperate to get Pettitte back and again have a "Core Three" on the roster, along with Rivera and Jeter.
Despite not having pitched a major league game in over a year and a half, the Yankees find themselves eager to get Pettitte back on the mound for the big-league club. It's surprising that it's come to this, considering in spring training, Girardi and pitching coach Larry Rothschild had so many starters, they pondered sending Ivan Nova to the bullpen.
But now, due to injury and ineffectiveness, the Yankees manager has a potential disaster brewing. Suddenly, only Nova, Kuroda and Sabathia appear to have the confidence of their manager and the fans. Girardi has gone from choosing between seven potential starters, to only three.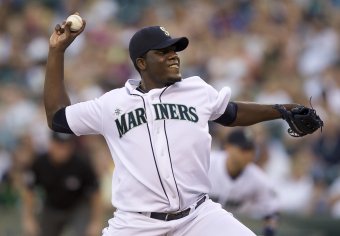 Rumor has it that he pitches for the Yankees, but that remains to be seen.
Stephen Brashear/Getty Images
Freddy Garcia looks ready to be put out to pasture. Hughes looks more like the failed 2011 version than that of 2009 or 2010. Pineda looks like he might never even join the big-league club this season. And Andy Pettitte is coming off the couch to try and pitch against a dramatically stronger American League (hello Prince Fielder and Albert Pujols).
As the old saying goes: Don't panic, there will be plenty of time for that later. It's only April, and the major league season has a long summer ahead of it.
The Yankees still have a potent offense (as evidenced by Saturday afternoon's outburst; 15 unanswered runs in the 15-9 comeback victory), and the bullpen has pitched well thus far. The team is actually in first place by half a game over Baltimore. And Joe Girardi has ample days left on the calendar to manage the Yankees past this bump in the road.
But the question remains: Who's going to pitch all these games left on the schedule?
With 90 percent of the season in front of him, Girardi has to be wondering who will step up and complement Sabathia, Kuroda and Nova. If the poor starting pitching continues, Girardi may even have to move long reliever David Phelps from the bullpen into the rotation.
But Phelps can only be a stopgap, and many questions still remain. Can Pettitte return to form after taking a year off to watch baseball on television? Can Garcia again dip into the fountain of youth as he did last year? Can Hughes right the ship and regain the form that made him an 18-8 starter in 2010? And will Pineda ever get healthy and show the Yankees what they got in that trade?
When Joe Girardi switched him uniform number to 28 before the 2010 season, he essentially made the following promise to the Yankee organization and their fans: I am going to manage the Yankees to a 28th championship. That, of course, is easier said than done.
With the improved talent of so many teams in American League (and in the Yankees own division), not to mention the pressure to win the division under the new playoff format, Joe Girardi desperately needs to find a solution to the starting pitching issues. And considering the frenzied New York media, and the high expectations for the Yankees each season, the solution must come sooner than later.
If Girardi is unable to solve the pitching quandary sometime soon, he may have to switch his number back to 27.
This article is
What is the duplicate article?
Why is this article offensive?
Where is this article plagiarized from?
Why is this article poorly edited?

New York Yankees: Like this team?