2012 NFL Draft: Would Trading Mike Wallace Work in the Draft for Pittsburgh?
April 21, 2012

Doug Pensinger/Getty Images
Mike Wallace will be a Pittsburgh Steeler this season. Beyond that, it's anyone's guess.
With the date for other teams to sign Wallace to an offer sheet passed, Pittsburgh now has sole rights to Wallace for the 2012 season.
Wallace has yet to sign his first-round tender though, choosing to hold-out in protest of his lack of a big contract. This action, coupled with Pittsburgh's history of not signing receivers to big deals, has caused many to wonder if Pittsburgh will try to deal the Pro Bowl receiver before the draft.
Many don't see this happening, but there are arguments for trading Wallace.
If Mike Wallace hits the free-agent market, Pittsburgh will be very unlikely to win a price shootout with any team, considering the current and future salary cap problems. Wallace would sign a big deal, leave Pittsburgh, and the Steelers will have nothing to show for it but fond memories and a compensatory draft pick. The compensatory pick would probably be a 3rd rounder since that's what the Bengals received when T.J. Houshmandzadeh left as a free agent.
Most say that the Steelers should make Wallace play out his contract and then if he leaves, he leaves, but at least you got another season out of him and then a pick. If Wallace is adamant about holding out though and still entering free agency next summer, he'll miss a good portion of the season before he has to report in order to still be eligible to become an unrestricted free-agent. This isn't a great scenario for Pittsburgh.
If they elect to trade him however, they could probably get a 3rd round pick for him, a pick that could prove very useful in filling in the holes of the team.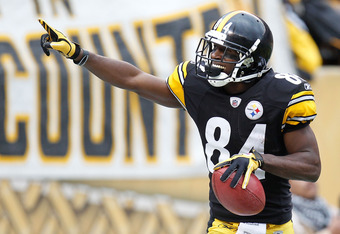 Gregory Shamus/Getty Images
Another third rounder could help the team fill their needs along both the offensive and defensive lines, also giving them wiggle room to get themselves a new running back in the draft. With their first four picks, the Steelers could go Cordy Glenn, LaMicahel James, Josh Chapman and Tommy Streeter; not a bad first four picks for a team with need.
The Steelers would also benefit by trading Wallace by not handcuffing themselves in the future by giving him a big deal. Even if the team does pay Wallace, they will then need to turn around and pay Antonio Brown and Emmanuel Sanders next season; the money and cap space is not there to splurge on one receiver.
With the draft less than a week away, the options on what to do with Mike Wallace are dwindling. Kevin Colbert and the Steelers have their work cut out for them.