2012 NFL Draft: Breaking Down the New York Jets' Seven WR Visits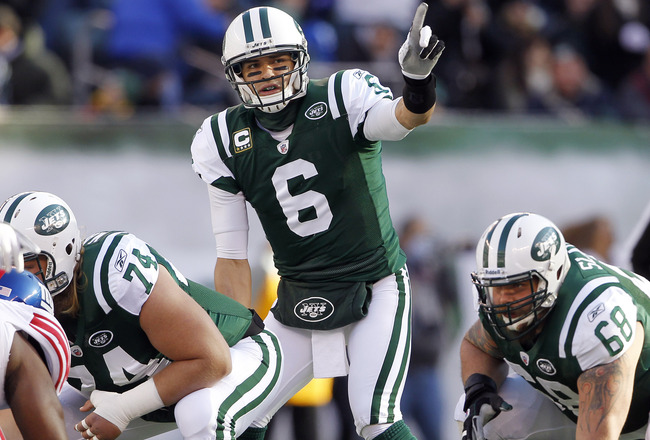 Can Mark Sanchez turn into the player the Jets expect him to be?
Rich Schultz/Getty Images
Every Jets fan is concerned with the passing game, especially after the fiasco of 2011. The Jets' passing offense floundered outside of the red zone, lacking chemistry with Plaxico Burress, missing Braylon Edwards, dealing with an upset Santonio Holmes and missing their standard running game.
The Jets have been connected to Braylon Edwards, but any signing won't happen until after the draft. They also have to be sure Edwards is healthy. Still, with the concern in the receiving corps, the front office has shown a serious interest in drafting a wide receiver within the first three rounds of this year's amateur draft.
The following is a breakdown of the seven wide receivers the Jets have visited with this offseason.
Michael Floyd, Notre Dame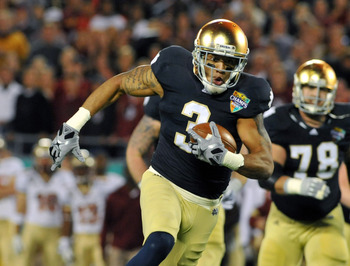 Al Messerschmidt/Getty Images
The big, 6'3'', 220-pound wideout is one of the most popular picks among mock drafters. Floyd visited with the Jets on April 12th for a private workout. He's a big bodied receiver with experience playing in both a pro-style offense and in a more spread based attack last season.
Floyd was a highly productive receiver at Notre Dame with 271 catches in four seasons for 3686 yards and 37 receiving touchdowns.
His deep speed has been questioned because he wasn't asked to go deep very often in 2011. I'm not as concerned about that because Notre Dame's offense was designed to attack the flats and use a short passing game.
Usually, a receiver who was a YAC guy in a spread-based offense would concern me, but Floyd has a really extensive route tree because of his years in a pro-style offense before 2011.
Floyd doesn't always display the best sideline balance and doesn't always get the ball at it's highest point, but he's an instinctual player and a willing blocker (though he needs work).
The biggest concern is his off-field issues. He has multiple arrests for driving under the influence, and that type of decision-making must be brought to light. It's the only reason Floyd may not go in the top 10. With a clean rap sheet, Floyd might have been projected ahead of Blackmon in the draft.
If the Jets don't trade down from 16 and they feel that Floyd's off-field issues are a thing of the past, he could very well be the pick here.
Kendall Wright, Baylor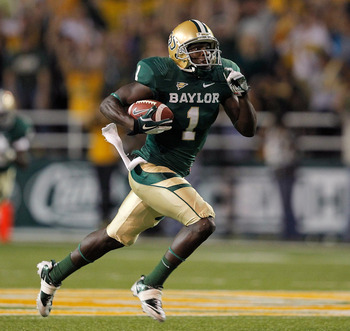 Sarah Glenn/Getty Images
Small, but explosive, Kendall Wright is one of the wild cards in the first round. He is expected to go sometime in round one, but projections are all over the place. Most likely, he'll go somewhere in the late teens, but projecting where he goes is particularly difficult.
Looking at "stock" for a minute here (a concept which I believe doesn't apply to GM's, but more to the media), there were recent reports that some teams had a third-round grade on Wright.
However, this is the season of misinformation, and that could be a play to see if Wright falls a little on draft day. Even with his tiny frame (5'10'', 196 pounds) and his small hands (8 5/8'') Wright is best loved for his DeSean Jackson-esque deep-ball ability.
Many have been concerned about Wright's slow 40-yard dash at the combine (4.61), but that was attributed to early hand movement, and thus his time was penalized. He runs in the 4.4's, and on the field his straight line speed is even better.
Still, there are plenty of concerns with Wright outside of his size. He has a limited route tree (though better developed then most spread receivers) and doesn't have the same fluidity as last year's Packer second-round pick Randall Cobb.
In many ways Wright is what the Jets need because of his ability to get deep, but he's not a threat in the red zone. He's, by and large, a one trick pony.
The Jets had a private workout with Wright on April 18th. I do not believe the Jets will actually select him, but that they were doing their due diligence on a player who will be on the discussion at either 16th overall or by trading down a few spots.
Rueben Randle, LSU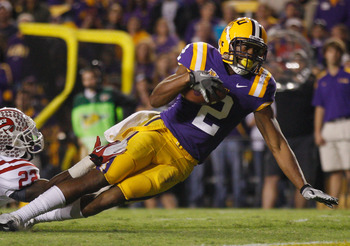 Chris Graythen/Getty Images
The 6'3", 210-pound Rueben Randle has been drawing a lot of hype recently, and well-respected draft analyst Adam Caplan thinks he could go earlier then many think. I still think Randle is firmly an early second round pick, but the draft is not an exact science and it only takes one team to fall in love (i.e. Denver drafting Tim Tebow).
Randle is definitely an interesting prospect, though. A tall receiver with room to add some weight, many believe his season was hampered by poor quarterback play, and like Michael Floyd, was forced to act as more of a chain-mover then an all-around threat (and many believe he can be an all-around threat).
He can become what I like to call an EDD receiver (Explosive, Dynamic, and Dominant). The prototype for this player would be Kenny Britt, Calvin Johnson and Larry Fitzgerald (and I'm not putting Britt in their class as an NFL player, but talent wise he is).
Rueben doesn't have an extensive route tree, but it's by no means undeveloped. He's got good, strong hands and has shown, at the least, he can be a nice possession receiver in the NFL.
If Randle is an EDD receiver, he's explosive enough to be a deep threat and big play receiver, dynamic enough to succeed in the short and intermediate passing game as well as the red zone, and dominant enough to take over games. But the tape doesn't necessarily show this—and that's why I'm skeptical.
The Jets held a private workout with Randle this month (exact date unavailable), but I don't know if it's anything more then due diligence.
The Jets have not selected a player from the SEC in the first round (this is assuming the Jets either trade down or reach on him at 16) since 2003 when they selected Dewayne Robertson. In the second round it goes even further back (I went all the way back to 2000, where the Jets took two SEC players in the first round, going back further is not worth it since it's pre-Woody Johnson ownership).
In short, I don't think Randle is going to be a New York Jet, but it's necessary to bring him into the conversation.
Stephen Hill (Georgia Tech)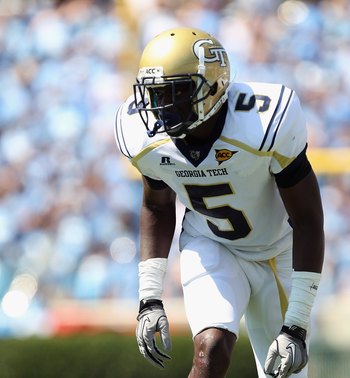 Streeter Lecka/Getty Images
The dirtiest word on draft day is potential, and our next receiver is oozing it. The Jets brought Stephen Hill in for a visit on April 10th, and many are either salivating over the 6'4'', 215-pound receiver or getting on their hands and knees and praying the Jets don't select the super-raw Hill.
Talent wise, he is off the charts. With unbelievable size, willingness to block and absurd athleticism, I can't believe Hill is a human being. At his size he ran a 4.36 40 (with an utterly ridiculous 1.2 10-yard split). He's incredibly explosive and launches himself for balls with his nearly 40-inch vertical and awesome broad jump.
But then there is the downside. He's pretty much only learned how to run one route in his time in college—the nine route (or a streak). With virtually no routes in his tree, questionable instincts, questionable hands, questionable concentration and coming from a triple-option offense, the question marks are going to scare away a lot of people on draft day.
Someone is going to take him thinking of what Stephen Hill could become. He's a fringe first-round prospect, but he's talented enough to go in round one. He just has too many red flags as a prospect.
His fit with the Jets is great because he is what they are looking for—someone to replace what Braylon Edwards brought to the team, a deep ball receiver with great athleticism who can stretch the field and open things up for the running game.
If they think they can hone his raw potential, they could trade down and grab him or trade up from 47 to the early second round to snag him.
If the Jets do grab Hill, just know this—it certainly won't be at 16 and it won't be at 47, but I do very well believe, for better or worse, there's a good chance of it happening.
Alshon Jeffery, South Carolina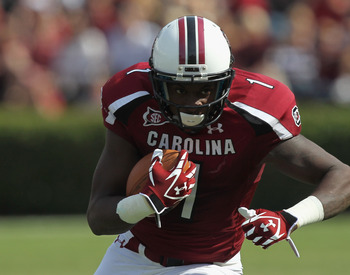 Streeter Lecka/Getty Images
Another fringe first-round prospect, Alshon Jeffery could have been a top-10 pick on talent alone but squandered it last season thanks to awful quarterback play and allowing himself to balloon in weight, limiting his effectiveness.
Jeffery has a diverse array of routes and has EDD potential. Much like Vincent Jackson, he has deceptive deep speed. He bursts off the line like a tight end (had a similar 10-yard split to Jermichael Finley) but actually gets faster as he goes and ran the final 30 yards of his 40-yard dash faster then many of the top receivers in recent classes.
On tape, this holds up. Jeffery uses his deceptive speed and outstanding size to go up and get balls that most can't do. The other thing I love about Jeffery is how he plays on the field—like there's no tomorrow. He has great concentration and awesome hands.
Though I'd like to see him improve his lower body strength to improve his tackle-breaking ability on short passes, his natural size has allowed for success in that area in the past.
Jeffery has dropped a lot of weight this offseason. He's down to 213 pounds and is listed at 6'3''. He has big hands (10 1/4'') to add to the list of awesome physical traits.
Off the field there are concerns about his work ethic in the weight room. If a team can keep him motivated (he'll likely have a weight clause in all of his contracts in the NFL), they are going to get an absolute steal.
Jeffery also fits what the Jets are looking for at receiver but is much more refined than Stephen Hill. He actually could fall to 47, but he's another one, like Kendall Wright, where many are totally unsure of where he could go. He could easily be a first-round pick if a team believes they can keep him motivated in the weight room. Otherwise, he's an early-to-mid second rounder.
As noted earlier, the Jets have not taken an SEC player in the first two rounds since 2003 and it's only happened three times since 2000.
Jeffery worked out for the Jets on April 4th.
Jermichael Finley
Mohamed Sanu, Rutgers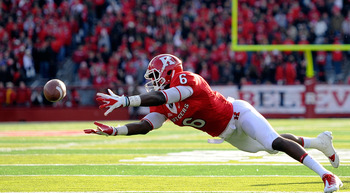 Patrick McDermott/Getty Images
A local boy from New Brunswick, New Jersey, Sanu is the true definition of possession receiver. At 6'2'', 211 pounds, Sanu has an awesome vertical and is surprisingly agile. He's been incredibly productive at Rutgers and was awesome in 2011, finally getting to stick at wide receiver instead of having to line up at quarterback (in the Wildcat, like he did often in 2010).
Sanu caught 115 balls for over 1200 yards this season. He's a solid red-zone threat with awesome balance and an extensive route tree. So what's the problem?
He is not a deep threat. If he's going to succeed down field in an offense, it will be by going up for jumpers. He's not going to burn anybody. Still, we've seen many in the NFL succeed like that, and Sanu compares favorably to long-time Bengal T.J. Houshmandzadeh as a number two receiver in the NFL.
The Jets haven't been known to use Rutgers as a pipeline, but their last two first-round picks were from New Jersey originally (Wilkerson from Linden and Wilson from Piscataway). Sanu had a private workout with the Jets (he did not visit the team facility), and the date is unavailable at this time. He's firmly a second-round pick and would likely be available at 47.
Chris Givens, Wake Forest
Ezra Shaw/Getty Images
Givens is an undersized receiver at 5'11'', 198 pounds and while he's a burner, most people don't recognize him for excellent route-running skills, great ability in and out of cuts, and his solid (though very small) hands.
Givens is an interesting sleeper who is extremely well rounded and has recently made some noise because of NFL Films Guru Greg Cosell's rave reviews of him on Twitter. Cosell considers Givens just as explosive as Kendall Wright, and that he shouldn't get out of the second round.
Right now I have Givens projected as a third-round pick, and he could be available at 77. Givens visited with the team on April 11th.
Keep Reading

New York Jets: Like this team?