Novak Djokovic: 10 Biggest Roadblocks to Pulling off 2012 'Calendar Slam'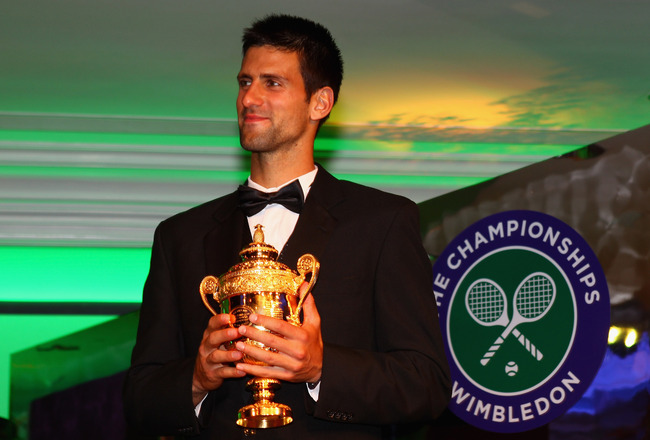 Clive Brunskill/Getty Images
Novak Djokovic wants the French Open title. It's the final piece in his quest to be the first player to hold all four Grand Slam titles at once since Rod Laver's 1969 season at the dawn of the Open Era. ('Djoker Slam' is the personalized term of this goal, most commonly used by fans.)
Holding all four Slams at any time is a rare feat, one which rivals Roger Federer and Rafael Nadal have failed to accomplish.
Winning all four Slams in the same calendar year is far more difficult, and will require an undefeated record in all Slams in 2012.
With just over a month left until the French Open begins, there are several potential roadblocks that could push Djokovic off the path to both accomplishments, but this slideshow will focus on winning the French Open and keeping his bid alive for Wimbledon and the U.S. Open.
Whether Djokovic succeeds or not, he will have to deal with the following ten obstacles, presented in a question and answer format.
10. Encore of 2011 Is Too Much to Ask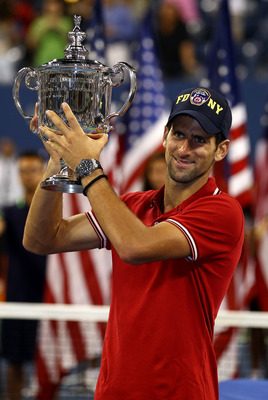 Clive Brunskill/Getty Images
Djokovic was so successful last season there must be the inevitable letdown. Is it accurate to say that he is not as dominant in 2012? Is the magic of invincibility wearing off?
No question that 2012 has been more difficult. The Aussie Open may have foreshadowed the season by saying "You are the champion, but you're going to have to fight with everything you have to win titles."
Losses to Andy Murray at Dubai and to Isner at Indian Wells are less of a concern than the fact that he is being pushed harder in all of his tournaments.
The loss to Rafael Nadal at Monte Carlo is an example of how difficult it is to sustain his 2011 dominance against a resurgent opponent.
The hunter has become the hunted, and he must not only keep up his own resolve, but respond to hungry players on tour who want what he has.
9. Upcoming Clay-Court Tournaments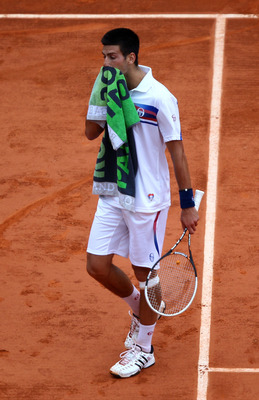 Clive Brunskill/Getty Images
Many tennis pundits and fans doubt Djokovic can dominate on clay. Could playing at Monte Carlo, Belgrade, Madrid and Rome expose some of his game? Will it allow other players to break down more film, and better scheme for a French assault?
The book is now out on Djokovic's reign at No. 1, and all contenders will be making adjustments along the way. Many fans feel that Djokovic now inspires less of an 'awe factor' amongst his opponents, but even so, only Nadal is equipped to put on a Monte Carlo-like performance.
Madrid and Rome represent further opportunities for players to test their strategies against Djokovic: Will they serve differently, or try for other varieties of spin, speed, and placement?
Another month on clay could give a more complete picture to observers.
8. Too Conservative or Not Enough?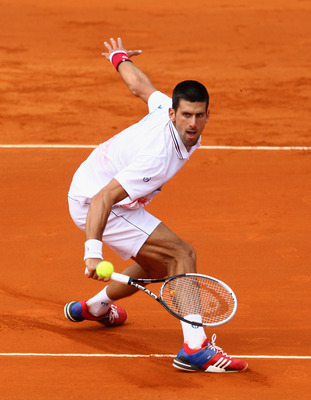 Julian Finney/Getty Images
Djokovic is best when reacting to fast-paced action. The red clay is an attrition of patience, and will usually not reward total aggressiveness. How does he find the proper zone?
Djokovic should be able to overwhelm most of his opponents with his power and consistency. Few players have the tools to beat him three sets, especially with his tough resolve.
However, his power is mitigated somewhat on clay and he will need to think through more points. Clay has a way of building up frustration, and the swirling wind in the Monte Carlo semifinals got under his skin.
There will simply be times he needs to hit smarter rather than harder, and he must not get lulled into complacent hitting like he did with John Isner at Indian Wells.
7. The Dreaded Injury Bug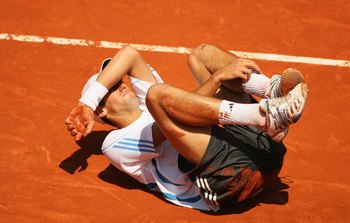 Clive Brunskill/Getty Images
How is Djokovic's health? What can he do to avoid injury, especially after some of the alleged concerns about the red clay at Monte Carlo?
No real tennis fan or competitor hopes another player is taken down by injury, but it is always a possibility.
Djokovic by most accounts is healthy. He hurt his leg in the Australian Open match against David Ferrer, but shrugged it off and was undeterred from playing two tough five-set matches to finish his title.
He has also had allergy problems which even caused him to miss the Madrid tournament in 2010, but he now seems to have the issue under control.
6. Self Doubts After Great Success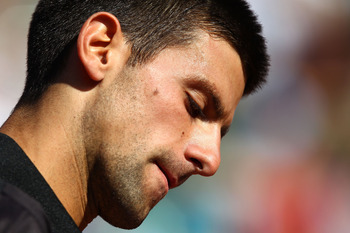 Clive Brunskill/Getty Images
If confidence is the key to a player's maximum expression and performance, then the opposite would be self-doubt. Is it fair to question if Djokovic's confidence has been reduced? Are there doubts about his game after the struggles at Monte Carlo?
Djokovic has unquestionably been the most confident player on tour the past year. It's a classic chicken versus the egg discussion in trying to decide if increased confidence brings success or vice versa.
All great players who have climbed to the top of their sport inevitably face challenges from opponents or from their own changing skills, be they technical, mental, or physical.
As Djokovic continues through the clay season, he has opportunities to bolster his belief and reestablish his 2011 form, but he will be able to do so only if his serve, strokes and movement are top notch. Easier said than done.
5. Distraction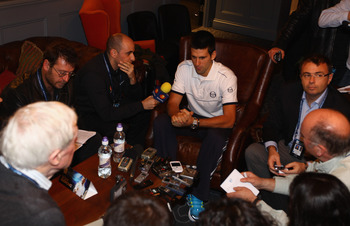 Clive Brunskill/Getty Images
Distractions can come in many forms, whether negative or as a result of great success. They can also be unexpected, such as tragedy in dealing with Djokovic's grandfather's death. How will he respond?
Djokovic will now have time to grieve for his grandfather when he returns to Belgrade. He will get a week to recuperate, assuming he sticks with his plan to play in his hometown tournament.
In his rise to no. 1, Djokovic has been very focused, and it's a good bet that he'll remain so now.
Like all great players, he's always dealing with the latest questions and whims of the media. He should manage as well as always, so long as he doesn't take their advice to hit a forehand.
4. Pressure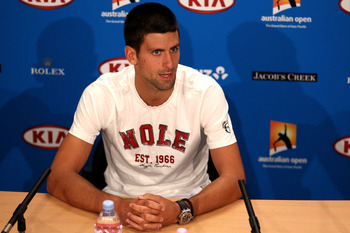 Scott Barbour/Getty Images
There are all kinds of pressures athletes must cope with on and off the court, but is Djokovic ready to deal with all the expectations of the Calendar Slam?
There will be many who want to see Djokovic make history, and Djokovic would love to win for his country as well as for himself.
Others hope he for him to fail, either out of animosity or more likely out of sporting rivalry.
In the end, the pressure to win the Djoker Slam will be less of a factor for Djokovic than trying to win each match with its own set of obstacles. He has already faced this kind of pressure in winning Grand Slams.
3. The Deep ATP Field of Contenders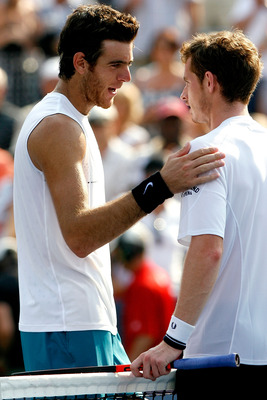 Matthew Stockman/Getty Images
With the lion's share of attention focused on Djokovic's rivals, are there other players who can win the French Open or defeat him on an off-day?
Many believe clay is Djokovic's most difficult surface. At the very least, he isn't a clay-court specialist who gears up for this time of year and trains for long, grinding matches.
Of course Andy Murray could be a spoiler to one of the big three.
Juan Martin del Potro built some of his resume on clay before his 2009 U.S. Open win, and he's one of the few players that could trade groundstrokes with Djokovic.
Most of the Spanish and Argentine players are well-versed on clay including Fernando Verdasco, David Ferrer and Juan Monaco.
Gilles Simon of France just made the semifinals before falling to Rafael Nadal, and his compatriot Gael Monfils could prove to be problematic.
The modern field of players is so deep even players hovering around the top thirty, like 2009 finalist Robin Soderling, could play spoiler. There are no easy rides to a Grand Slam title in 2012.
2. Roger Federer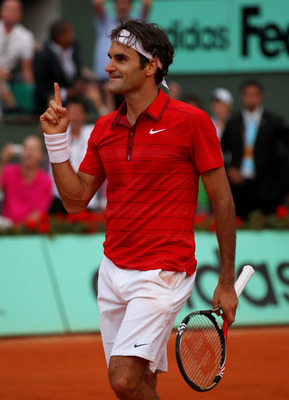 Alex Livesey/Getty Images
How about the great Roger Federer? Was last year's semifinal loss to the Swiss Maestro just a last gasp from a reluctant clay-court player?
Why would Federer be the underdog?
Federer is arguably one of the top five clay-court players of all time. He has appeared in five French Open finals and won the title in 2009.
Were it not for Rafael Nadal, he would be this generation's most dominant player on clay.
Federer also has the championship pedigree to defeat Djokovic without it feeling like an upset.
His big forehand, powerful serve, and unmatched varieties of shots make him a favorite over the Djoker even at age 30.
Nobody should overlook Federer.
1. Rafael Nadal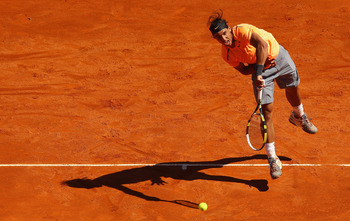 Clive Brunskill/Getty Images
How will Djokovic respond to the beatdown he took from Rafael Nadal? Is he now the favorite to win the French Open?
Djokovic will respond, and soon. He is a champion and will not only make technical adjustments but be sure to prepare mentally for the next meeting as well.
He will be focused, motivated and dangerous.
Nadal is at least a co-favorite at the moment, but this could change within the month if Djokovic handles him a couple more times.
Still, nobody wins the French Open without going through Rafael Nadal. He will be waiting and ready.
Will Djokovic capture the French Open and the Calendar Slam?
We will find out.
Keep Reading