NBA Playoffs 2012: 5 Players Who Need to Step Up
April 21, 2012

Harry How/Getty Images
With the season winding down, we look forward to the beginning of one of the best times of year: the NBA Playoffs. Most teams have booked their tickets and are getting ready for their opponents, while the lower seeds are still yet to be decided. 
With all of that in mind, here are five players who need to step up for their team to succeed and exceed expectations. 
No. 5: Avery Bradley SG (Boston Celtics)
We all know that the Big Three plus Rajon Rondo will step up come playoff time because they have been in the moment, routinely exceeding expectations against strong competition. Bradley has stepped up in the second half of the season, as a defensive stopper and occasional scorer.
However, if the Celtics want to upset Miami or Chicago in the playoffs, they definitely need Bradley to play his best. He will likely be matched up against each team's best wing player or point guard and needs to lock down potentially Dwyane Wade or Derrick Rose.
If he can get the job done and a few things fall the C's' way, Boston might find themselves back in the Finals.
No. 4: Ramon Sessions PG (Los Angeles Lakers)
Most analysts and fans lauded the Lakers' acquisition of Sessions and rightfully so because it finally gave the Lakers at least an average point guard. After he has come west, the Lakers look much more connected on the offensive end of the floor.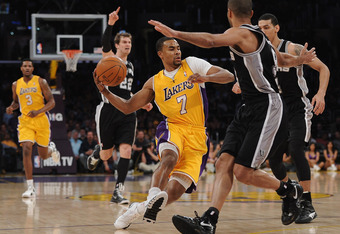 Harry How/Getty Images
The Sessions pickup has really improved Andrew Bynum's and Pau Gasol's offensive games, both of whom are very effective when given looks inside. While Kobe Bryant is a surefire top-10 player in the game when healthy, he needs players around him to win a championship.
Without Sessions, the Lakers looked to be a solid team, who would likely bow out before the Finals. With Sessions and a healthy Kobe, the Lakers could challenge for yet another NBA Championship.
No. 3: DeAndre Jordan C (Los Angeles Clippers)
DeAndre Jordan is a better-than-average center when paired with an elite point guard like Chris Paul. However, his free-throw percentage and inconsistent play are both alarming signs of a weak playoff series.
Playoff teams fear Blake Griffin and Paul and will likely pay consistent attention to both players. With that in mind, a role player like Jordan needs to use his athleticism to his advantage on the offensive and defensive ends.
If Jordan can average a double-double, while being a shot-blocker on the defensive end, the Clippers might be the Thunder's biggest threat to Western Conference supremacy.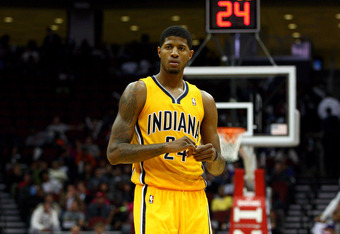 Chris Chambers/Getty Images
No. 2: Paul George SG (Indiana Pacers)
Are the Pacers the most underrated team in the NBA? People forget that this team will probably win 40-plus games this year while garnering the No. 3 seed in the Eastern Conference. Their young duo of Roy Hibbert and Danny Granger carry the team offensively, but George is the defensive stopper.
He is an astounding 6'10", while possessing elite length and defensive instincts. George's offensive game is constantly improving as he becomes a better outside shooter and learns to play in a team setting.
Paul George needs to average fifteen to twenty points a game for the Pacers to get past the Bulls, Heat, or Celtics. The question is, will he step up against top competition?
No. 1: Russell Westbrook PG (Oklahoma City Thunder)
We all know that Russell Westbrook is a top point guard and one of the elite scorers in the league. In fact, Westbrook has outplayed Derrick Rose this year and he will give Chris Paul a run for his money when the 1st team All-NBA team comes out.
However, Westbrook is a point guard and plays like a 2. This would be effective in most cases, but when you have the best scorer in the NBA in Kevin Durant, it becomes an ineffective situation.
Westbrook definitely needs to scale down his scoring, while also looking to give Durant and James Harden looks. Averaging eight assists would be perfect for this Thunder team.