WWE Extreme Rules 2012: 5 Turns the Sheamus-Daniel Bryan Match Could Take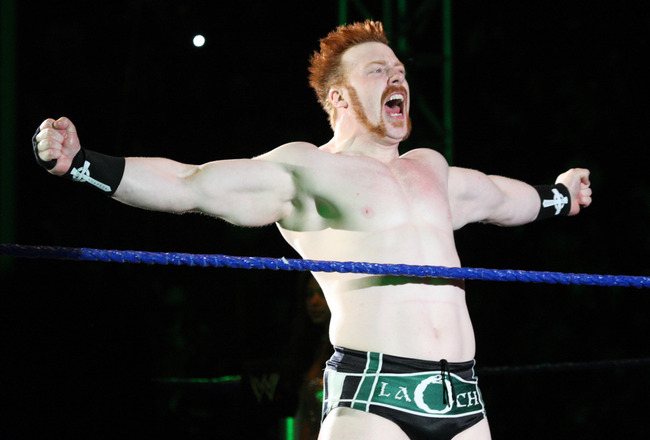 Gallo Images/Getty Images
The match between Sheamus and Daniel Bryan at WWE Extreme Rules 2012 will not win an award for most former UFC competitors in a match, nor will it get the most references to alcoholic fathers. But Sheamus-Daniel Bryan does have the potential to be the most complex match of the evening, in-ring and around it.
It's the match you didn't see at WrestleMania 28, yet it is technically still a rematch.
And in a bout that is two out of three falls, it is not about which path the match will take or if it will have a twist or turn. It is about how many paths, twists and turns.
With a week remaining, the possibilities are already many.
AJ Lee Helps Sheamus Retain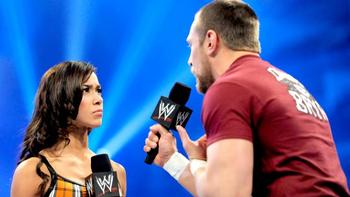 Courtesy of WWE.com
In recent weeks, Daniel Bryan has spent more time facing off with AJ Lee than he has Sheamus.
So far, Daniel Bryan is winning.
Not only has he dumped AJ, but he continues to belittle her, and she continues to take it.
Sort of.
After Daniel Bryan told AJ he wished she was never born on Friday Night Smackdown, the distraught Diva went fists of fire on Natalya. Yet I need not tell you that no amount of violence against Natalya is going to quell AJ's need for revenge against Daniel Bryan.
Perhaps she will get a measure of revenge at WWE Extreme Rules? Perhaps her frame of mind will be this: Daniel Bryan says I cost him at WrestleMania! He says I'm the reason he's not the heavyweight champion! Well, I will show him what it's like when I want to cost him the heavyweight title.
AJ Lee is nobody's manager now, but that doesn't mean we won't see her at ringside at Extreme Rules.
AJ Lee Helps Daniel Bryan Win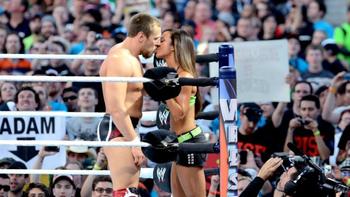 Courtesy of WWE.com
You see what I did there, dear reader?
I could have made one AJ slide and discussed both possibilities, but instead, I have given you twice the AJ photos and twice the AJ slides.
I'm always thinking about you, reader.
Curiously, that may also be what AJ Lee is thinking: I'm always thinking about you, Daniel.
Could it be that Daniel Bryan shaming AJ may lead to AJ working harder to help Daniel Bryan?
Yes, it is a possibility.
AJ Lee could have snapped at Daniel Bryan on Friday Night Smackdown, but she did not. She snapped on Natalya. She didn't snap because she doesn't care about Daniel Bryan. She snapped because she does care.
Her thinking may be deranged right now. It may sound something like this: DANIEL SAYS HE DOESN'T LOVE ME, BUT HE DOES! OF COURSE HE DOES! HE'S JUST MAD BECAUSE I COST HIM THE HEAVYWEIGHT TITLE! I CAN MAKE IT RIGHT! I CAN GET HIM BACK! I CAN HELP HIM BECOME THE HEAVYWEIGHT CHAMPION AGAIN!
(Deranged thoughts always come to us in CAPS.)
The fans are not fully embracing AJ Lee right now, and her character is not over Daniel Bryan. Perhaps this is the perfect time to have her do the thing that solves both these problems in rejoining Daniel Bryan.
Or, as we finish off the AJ twists, what if she tries to help Sheamus but it backfires or tries to help Daniel Bryan and it AGAIN backfires?
How much more would Daniel Bryan mock her? How much lower might her character fall? It could really make for appealing television and stretch the AJ character if that were to happen.
Sheamus Has a Distraction, Too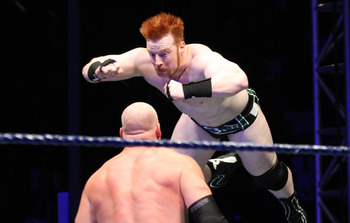 Gallo Images/Getty Images
Daniel Bryan is not the only one with issues. While he has verbally abused AJ, Sheamus has physically abused a referee.
It is now a rule that if Sheamus attacks a referee—on purpose or by accident—he will be fired.
We can expect Daniel Bryan to play on this. He will no doubt attempt to make the referee an active part of the title match. This could help Daniel Bryan, as Sheamus will have to be extra careful. It could also help Sheamus, as Daniel Bryan may distract himself by focusing on trying to get the easy win.
Either way, in a two out of three falls match, it will be another way to keep the fans guessing.
But this match is not all about outside distractions. These two will actually be wrestling at Extreme Rules, right?
Could Sheamus Do It Again?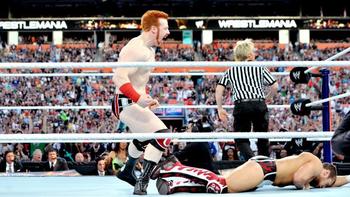 Courtesy of WWE.com
Eighteen seconds at WrestleMania 28 changed the face of WWE.
Some fans who normally cheer Sheamus aren't; some fans who are cheering Daniel Bryan otherwise wouldn't. All because the match at WrestleMania ended so quickly.
With at least one fall to give away at Extreme Rules, would WWE dare recreate the scene of the crime? Could Sheamus earn another quick victory over Daniel Bryan? Could they lead with a Brogue Kick?
It would be good for a cheap pop or some sort of strong and mixed reaction.
But ultimately, I hope it is no more than a temptation, kicked around and dismissed, or teased but not effective.
But one thing is for sure, fans and Daniel Bryan should be on the lookout for an early attempt at the Brogue Kick.
If I were Daniel Bryan, every time one foot goes up on Sheamus, I'd grab the referee.
What If They Actually...Wrestle?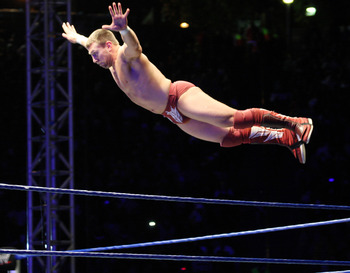 Gallo Images/Getty Images
On Smackdown, Daniel Bryan said that at Extreme Rules, he would get back to the thing he does best, which is wrestle. I don't think there is anything fans want to see more. If any positive came from fans feeling ripped off at WrestleMania 28, it is that it raises the level of expectancy for Extreme Rules.
And WWE is rewarding us with three times the action.
Personally, I am ready to see these guys wrestle. Sheamus needs this to validate himself as a wrestling champion. There is a portion of the audience he will never win over with Brogue Kicks alone.
The two-out-of-three falls match is rare in WWE, and it allows for much diversity. Theoretically, they get to plan three matches, tell three stories and win the fans over three times.
Daniel Bryan uses his body as a weapon, and Sheamus is best when he is knocking down moving objects. These two actually complement each other well, or will complement one another once they get a chance to finally show it.
Extreme Rules 2012 should be an opportunity to show off their wrestling skills. Distractions are great in order to keep the fans guessing, but Daniel Bryan and Sheamus should be given a chance to demonstrate what they can do.
At the end of the night, the match needs to take one sure turn: It needs to be everything that WrestleMania 28 wasn't. It needs to be wrestling, times three and should allow these guys to demonstrate whether or not they can make as much noise as Brock Lesnar, John Cena, CM Punk and Chris Jericho.
Personally, I think they can.
Keep Reading