5 Coolest Outfits in Tennis History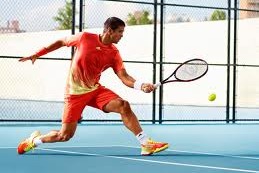 http://tennis-buzz.com/fernando-verdascos-adidas-outfits-for-2012/
One thing that advertisers and tennis players emphasize greatly is clothing that will appeal to the masses.
Certain companies' clothing lines can be just as eye-capturing as a tennis match itself.
Celebrities and players, such as Fernando Verdasco with the Adidas brand (Edge has been a particular success) and Roger Federer and Rafael Nadal representing Nike, contribute to the lucrative cause behind tennis and sports in general.
Every now and then, a company goes above and beyond or decides to switch up marketing tactics entirely (sometimes by going after a different audience niche).
Here are the top five coolest outfits ever showcased on court.
Begin Slideshow

»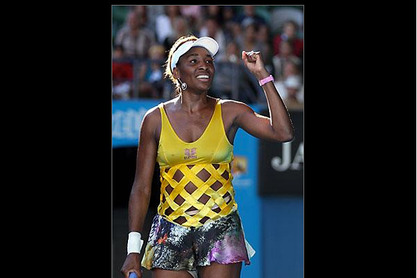 http://www.rolandsmartin.com/blog/index.php/2011/01/20/venus-williams-tennis-outfit-causes-a-stir/ (Mark Kolbe/Getty Images)
This very postmodern, revealing dress was shocking—to say the least.
However, Venus finds a way to pull off these outrageous "costumes" every once in a while (this was one of the only acceptable times).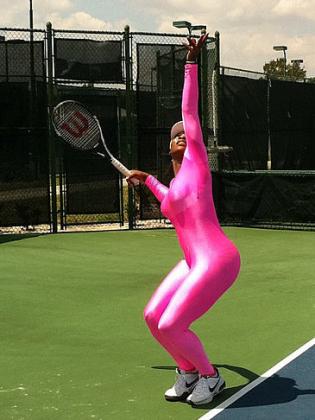 http://www.fabsugar.com/Serena-Williams-Wears-Hot-Pink-Catsuit-Outfit-Tennis-Court-15691740
This outfit is insanely cool, and Serena actually had one of her first practice sessions back in 2011 while wearing this.
If Aeon Flux had a sequel, I think she would be the perfect fit for the role.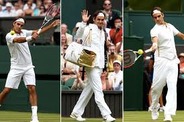 http://nymag.com/daily/fashion/2009/06/brits_miffed_by_roger_federers.html
If this isn't a classy way to warm up before a potential record-breaking Wimbledon win, then I don't know what is.
His jacket with No. 15 printed on it certainly showed how confident he was that he would secure the title.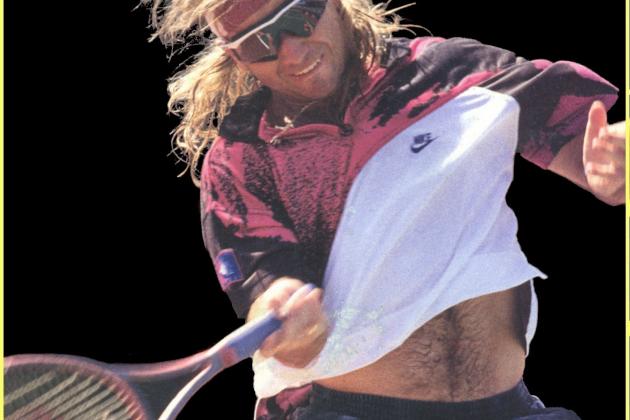 http://www.google.com/imgres?q=agassi+outfit&um=1&hl=en&sa=N&biw=1024&bih=623&tbm=isch&tbnid=dtiPB31duKU9JM:&imgrefurl=http://www.guardian.co.uk/sport/blog/2009/oct/28/andre-agassi-crystal-meth-drug&docid=6gi4-4vY2oQCrM&imgurl=http://top-people.starmedia.com/tmp/swotti/cacheYW5KCMUGYWDHC3NPUGVVCGXLLVBLB3BSZQ%253D%253D/imgAndre%252520Agassi1.jpg&w=1602&h=1869&ei=EBWoT72bDJL-8ATYv9i5Aw&zoom=1&iact=hc&vpx=188&vpy=252&dur=444&hovh=243&hovw=208&tx=106&ty=124&sig=108766258223165981528&page=1&tbnh=130&tbnw=111&start=0&ndsp=18&ved=1t:429,r:7,s:0,i:89
Andre Agassi was a fashion icon in the sport and did many publicity stunts to attract attention to his respective brands, sponsors and companies.
The multi-colored shirt with the matching bandana (and lengthy hair) was an interesting idea in its own right. The jean shorts only enforced the ludicrousness and appeal of his style.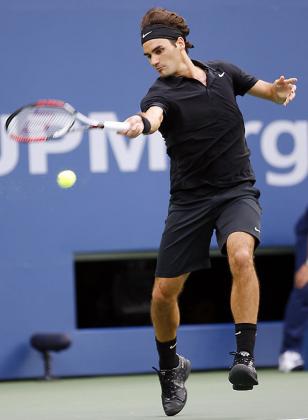 http://www.otrastardes.com/2010/01/31/los-16-grand-slam-de-roger-federer/
The year is 2007.
The place is the US Open in Flushing Meadows.
The man...is Roger Federer.
Darth Federer was my personal favorite look from Roger, and I'm sure many tennis fans would support my view as well.
Follow Bleacher Report Tennis Community Leader and Featured Columnist, Jeff Cohn, on Twitter.