UFC 145 Live Results and Analysis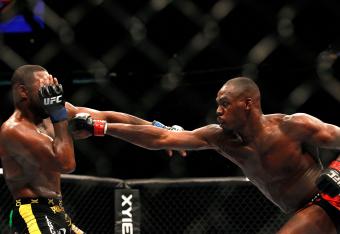 Kevin C. Cox/Getty Images
Find out here who wins between Jon Jones vs. Rashad Evans as this is UFC 145 live blog coverage.
The judges have it 49-46 (twice) and 50-45, all in favor of the winner and still Light Heavyweight champion of the world, Jon "Bones" Jones!
Fantastic outing from Bones, and the key takeaway from here is that Jon Jones just had Rashad Evans' number tonight.
From here at B/R MMA, I'm Dale De Souza, signing off and thanking you for joining us here at UFC 145: Jones vs. Evans!
Rounf 5
Almost a fifty-strike margin for Jones who is, again, landing heavy shots and flying attacks on Evans despite Evans trying to turn it up as much as he could, but overall, Jones has been dissecting and dismantling Evans on the feet and the only tine this one hits the ground comes in this round is when Jones looks to land an elbow, Rashad gets up, and Jones pulls a flying guard.
This round ends as a 10-9 for Jones and a 50-45 on my card.
Round 4
Jones and Evans showing more movement than action this round. Really not a lot to talk about , but Rashad had a better fourth round than what he's had so far. He hasn't really been landing that many significant shots on Jones this round but he did defend a takedown at the end of the round. One has to wonder if that will be a factor if this goes to decision.
10-9 Jones, but this was arguably Evans's best round
Round 3
Evans lands that right again but cannot drop or rattle Jones. One cansee Bones coming forward and rocking Evans again. Both are getting hit hard in this round, but Bones lands strikes and again picks Rashad apart while landing big whenever he can and defending takedowns when he can.
10-9 Bones, I feel. Rashad need to catch Jones on something stupid to win this, or he needs to hope someone gave him that last round.
Round 2
Jones with the jab misses but works well inside despite a few inside knees. Jones stalks Evans but misses and gets taunted by Evans and almost taken down. Rashad with a body shot but eats two elbows and gets hurt by elbows, kicks, and a flying knee--all before taking the round 10-9 This round has been a stunner all throughout. can Rashad turn it around in round three?
Round 1
They touched up. I cannot believe it.
They come out similarly and Jones hits the leg first as well as an inside leg kick. Rashad not letting the left go, but watch out for the right.
Rashad has hit Jones clean twice with uppercuts but cannot drop the kid and is coming forward but taking Rashad down a few rungs slowly. Nonetheless Rashad does rock Jones with a head kick but Jones has been taking this fight thus far.
10-9 Jones, but Rashad's got 20 minutes or less to change all that.
Evans is out first in his trademark black shorts and he looks calm right now, but will Evans maintain his composure and channel his energy in a strong, controlled effort towards becoming a two-time UFC Light Heavyweight Champion?
Up next is our main even of the evening as Jon Jones and Rashad Evans collide for the UFC Light Heavyweight title!
Round 2
Encore of how the first round started. Mills with the strikes and Rory with the takedown, but this time, when Rory goes in to control the position and get the back, he forces Mills to give up his back and take some well-telegraphed ground-and-pound from MacDonald to stop the fight in this round!
The winner at 2:20 by TKO in Round 2: Rory MacDonald!
Round 1
Mills pressures Rory early and gets him against the cage but Rory takes him down. Rory works for side control is being held down by Mills but he gets Salaverry position and loses a little bit of control on the ground but he keeps Mills down and maintains at least three dominant positions while pounding away at Mills to end the round.
Rory is not gassed at all, though his hair's messed up, but he has to be up 10-9 or 10-8
Mills comes out in the black trunks, being the first man out to the Octagon. Rory MacDonald follows, donning the Hayabusa walkout tee, keeping Firas Zahabi in tow as well as GSP, and in the blue trunks. THe scary thing about this fight is what both men have been able to do recently.
Mills was brought in heavily touted but more-or-less to give Cope a good tune up fight after his win in the TUF 13 Finale against Chuck O'Neil, and yet he knocked Cope out in 40 seconds. Rory's own progression as a fighter is scary in itself, as we all remember what he did to Nate Diaz and how he followed it up against Mike Pyle.
Up next, if there are no prelims airing, Rory MacDonald vs. Che Mills is coming up next!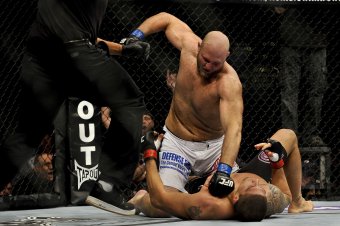 Round 1
Schaub circles Rothwell, or does Rothwell circle Schaub? Schaub dirty boxes with Rothwell, and Rothergets zeroed in on by Schaub, but right as Schaub goes to pour on the punishment, Rothwell lands a sick right hand that lands clean on Schaubs chin and leaves him ou cold to where Schaub is grappling air!
Winner by first-round KO: Ben Rothwell!
Rothwell out first. The winner of 15 of his last 18, Rothwell hopes to erase the stong of his loss to Mark Hunt, while Schaub hopes to come back from the upset loss to Antonio Minotauro Nogueira.
Rothwell only has two-inches of reach on the 29-year-old Schaub. Can he make them count?
We'll know right now. Rothwell is in the white trunks, and Schaub is in the black trunks.
Up next, Brendan Schaub faces Ben Rothwell, and only one of them can avoid going 0-2 in the last two tonight. Who will it be? We'll know shortly!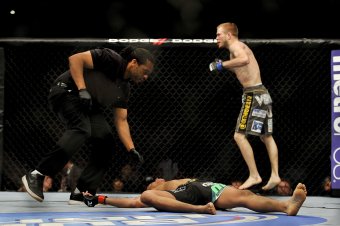 Turns out Mayday is in the grey trunks and they go in and out in the feeling out moments of the first round, but from what it seems, McDonald's body shots are landing. McDonald gets the best of the striking early and backs Torres up but Torres gets away from the cage. Both men throwing heat as the round is about to end, but McDonald lands a heavy right uppercut that lays Torres out COLD!!
The winner by first-round knockout at 3:18 of the round, Michael "Mayday" McDonald!
McDonald walks us through the uppercut and the finish with Rogan, and let it be known now that "Mayday" is that dude. Seriously.
Up next, Miguel Angel Torres faces Michael McDonald! What role will the six inch reach of Torres play here?
Torres is in the black trunks, while Mayday is in the grey-ish trunks. Herb Dean is out ref.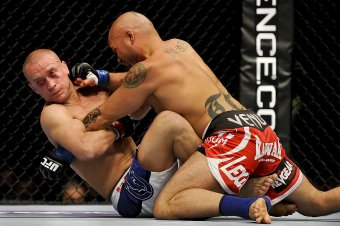 Round 3
Hominick has found his target and he has been attacking it this entire round, but Yagin is a tough cat. He has taken shots that would've ended the fight for Hominick and he's kept on coming. Hominick wins the fight on my fight 29-28 as he dominates this round with striking and busts Yagin open.
Decision
I don't know if it was the damage done or Yagin stealing the third because of his aggression but either way Yagin gets it 29-28 as he takes the unanimous decision win!
Round 2
Yagin lands his heavier rights and tags the leg with a leg kick followed by some punches. Yagin still throwing and landing but he's taking Hominick's toughest punches thus far. Yagin knocks him down again and continues to bust up Hominick, but Hominick looks better this round despite being outstruck by 33 strikes by UFC stats.
Yagin finally busted up around the mouth but Hominick isn't looking pretty either. Hominick does close out the round looking better on the feet.
One could argue that Hominick evened this fight out at 19-19...sounds right to me, but the knockdowns have to be paying their dividends.
Hominick vs. Yagin up next with Hominick giving up a half-inch of reach on Yagin.
Mario Yamasaki is our ref
Round 1.
Hominick is in the blue trunks and having a hard time picking apart Yagin early on. Looks like it'll be Yagin's round as he knocks Hominick down and gets caught in the full guard as he tries to finish. Yagin already looks tired but he's messed Hominick's face up already a little bit.
Yagin should pepper Hominick if he's tired, but he's not that type of dude. Hominick tags Yagin to end the round but overall, it has to be a 10-9 for Yagin by my card.
Decision
Two judges have it 30-27 while one has it 29-28, all in favor for your winner by unanimous decision, Mark Bocek!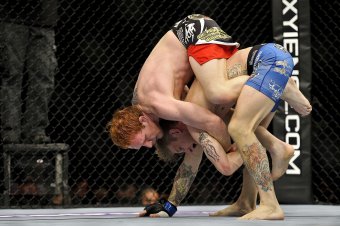 Round 3
Looks like the best start of the three rounds for Alessio who is really turning this into a striking bout in the early going, but again, Bocek gets him down, again he gets the body triangle, and again he looks for a rear naked choke that, again, Alessio escapes from. Alessio goes back to the striking game and again gets taken down, but Alessio gets right back up.
Bocek has Alessio against the cage and there is an exchange in spurts to end the fight. I'd say Bocek 30-27.
Round 2
Bocek starts off well but gets hit a few times by Alessio before bum-rushing for another takedown and moves him against the cage before the two get stood back up. Alessio still looking good on the feet, but yet again he gets rushed up against the cage by Bocek and it's going to take a strong submission or a big KO from Mr. Alessio for him to beat Bocek.
20-18 Bocek and he doesn't look any worse for this wear.
Bocek vs. Alessio is up first. Only a two inch reach for Bocek on "The Natural".
I don't know the ref's name.
Round 1
Both men trade early, and Bocek (red trunks) gets Alessio (blue trunks) against the cage before a takedown and controls him on the ground. He gets half-guard temporarily but gets stuck in guard before working to half-guard again and getting the back of Alessio, where he works to pull off something signifcant before the round ends. Clear 10-9 for Alessio if you're drunk and are just learning, 10-9 Bocek if you know what's up.
In short, 10-9 Bocek.
We are LIVE and in living color with UFC 145: Jones vs. Evans here on Bleacher Report MMA! We get started with the always-epic opener, and after the intro from Goldie and Rogan, we got an action-packed card featuring Mark Bocek vs. John Alessio, Mark Hominick vs. Eddie Yagin, Michael McDonald vs. Miguel Torres, Brendan Schaub vs. Ben Rothwell, and the co-headliner of Rory McDonald vs. Che Mills--and it all leads up to the Light Heavyweight title fight we all have been waiting for.
This article is
What is the duplicate article?
Why is this article offensive?
Where is this article plagiarized from?
Why is this article poorly edited?