2012 NFL Mock Draft: Complete Second and Third Round Projections
Harry How/Getty Images
The 2012 NFL draft is finally here. The hype built up over the last few months has reached its apex. The agonizing wait will finally end when the first round kicks off Thursday.
Day 1 of the NFL draft is the one that receives the most attention, and rightfully so. The best players are available and can drastically alter the fortunes of every NFL franchise.
However, it's the second round and beyond that truly shape each team's future.
The first round receives the majority of the media hoopla, but the second and third rounds are where teams find talented players who contribute for years to come. Think about guys like Maurice Jones-Drew, Drew Brees and Mike Singletary.
Some second- and third-round selections may not be immediate starters, but they provide critical depth. Others will start for their respective teams for a long time.
While first-round selections have a high propensity to bust because of the ridiculous media hype surrounding their careers, second- and third-rounders are given time to develop before immediately being labeled a successes or failures.
So while the majority of mock drafts focus mostly on the first round, let's take a look at the players who could quietly change the landscape of the NFL without the first-round hype.
Here are complete second- and third-round projections for the 2012 NFL draft:
33. St. Louis Rams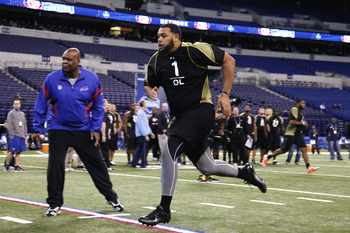 Joe Robbins/Getty Images
Mike Adams, OT, Ohio State
The Rams have a variety of needs to address in the draft, but their highest priority should be surrounding their franchise quarterback, Sam Bradford, with some talent. Keeping him upright would be a good place to start.
Mike Adams can provide an upgrade to the entirety of the Rams offensive line. Keeping Bradford on his feet will ensure he doesn't get injured. Adams is a massive tackle who will have no issue starting from Day 1.
34. Indianapolis Colts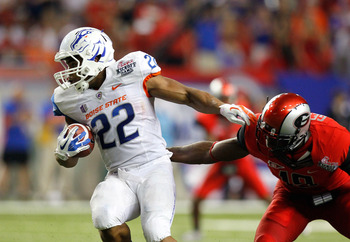 Kevin C. Cox/Getty Images
Doug Martin, RB, Boise State
The Colts have confirmed Andrew Luck is their guy in the first round. A good way to help his development is to ensure he has a strong running game behind him. A legitimate threat at running back will mean Luck doesn't have to do it all on his own.
Doug Martin is that threat. Martin is the best back in the draft besides Trent Richardson. He's a dual-threat back who excels not only at rushing but catching passes as well. Martin will be an important safety valve for the rookie quarterback Luck.
35. Minnesota Vikings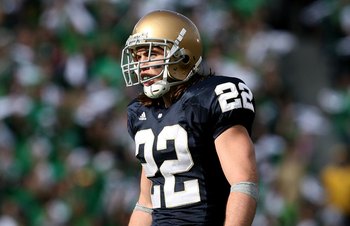 Jonathan Daniel/Getty Images
Harrison Smith, SS, Notre Dame
The Minnesota Vikings could go a variety of ways with the third-overall pick in the draft, but safety isn't one of them. The Vikings secondary is littered with holes, and adding an effective safety could allow the rest of the unit to improve as well.
Harrison Smith is a great pick here for the Vikings. He fills an immediate need and starts from Day 1. He's a smart player who can make those around him better quickly.
36. Tampa Bay Buccaneers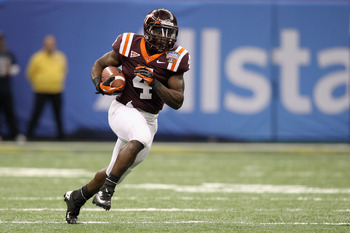 Matthew Stockman/Getty Images
David Wilson, RB, Virginia Tech
The Buccaneers aren't all that likely to land the draft's best back in the first round. It's also not a big enough need to take a back in the first. Here is a great spot to take a back who can complement incumbent starter LeGarrette Blount.
As the Bucs' coaches have said, their rushing attack lacks explosion. David Wilson is arguably the most explosive back in the draft. Wilson has ridiculous straight-line speed and is effective at catching passes out of the backfield.
37. Cleveland Browns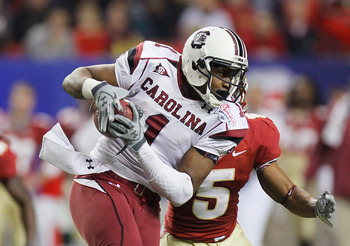 Kevin C. Cox/Getty Images
Alshon Jeffery, WR, South Carolina
The Browns have big needs at running back and offensive line which should be addressed in the first round. In the second they still need to add more weapons that will allow quarterback Colt McCoy to succeed.
Alshon Jeffery is a first-round talent who falls because some have questioned his conditioning and desire to play. At this point the Browns are willing to overlook that because he's a massive receiver with great hands who will line up nicely across from Greg Little.
38. Jacksonville Jaguars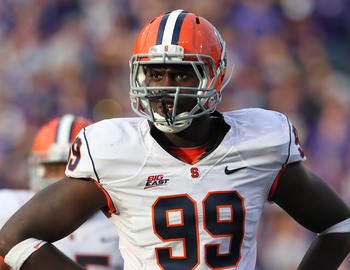 Otto Greule Jr/Getty Images
Chandler Jones, DE, Syracuse
Regardless of what Jacksonville does in the first, it's a safe bet they are going to want to continue to upgrade their pass rush. Last season's defensive unit was quietly one of the best in the league, so adding to it makes sense.
Chandler Jones has seen his stock skyrocket as of late, but he's still a reach in the first round. Here, Jones is a perfect value for a team that needs more productivity from its defensive ends.
39. St. Louis Rams (from Washington Redskins)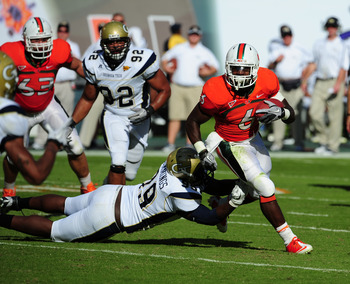 Scott Cunningham/Getty Images
Lamar Miller, RB, Miami
It's likely that the last remaining hole the Rams have on the offensive side of the ball at this point in the draft is at running back. Steven Jackson is getting older, and the offense doesn't have a nice spell back.
Lamar Miller is yet another dynamic back who can run between the tackles and catch passes with ease. He's eerily fast and elusive, making him a nice complement to Jackson. In a few years, Miller could easily take over as the feature back.
40. Carolina Panthers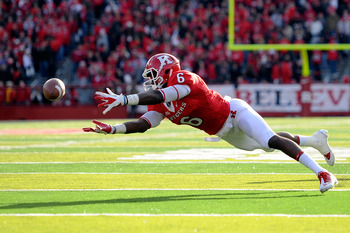 Patrick McDermott/Getty Images
Mohamed Sanu, WR, Rutgers
The Panthers could go a few ways here, but adding another weapon for last year's Rookie of the Year, Cam Newton, couldn't hurt. Carolina still has a few young guys developing, but adding another talented young receiver is a smart move.
Mohamed Sanu is a big, physical receiver who will fit nicely playing across from Steve Smith. Smith, although having just signed an extension, is getting older. Sanu has the type of potential to be a No. 1 after he retires, which is something the rest of the receiver core doesn't possess.
41. Buffalo Bills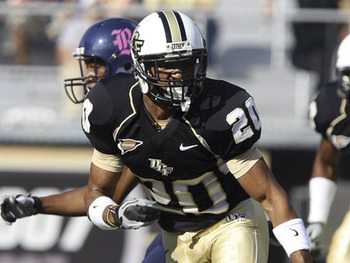 Josh Robinson, CB, UCF
The Bills need some serious depth at the corner position quickly. The secondary was attacked with alarming regularity in 2011, and it doesn't help that Terrence McGee is quickly approaching the age of no return.
Josh Robinson is a nice remedy to the team's secondary woes. He's ridiculously fast and will have time to be groomed into a starting corner as soon as next year. Robinson would be better known and valued if he had went to a bigger school, but he's an amazing value here.
42. Miami Dolphins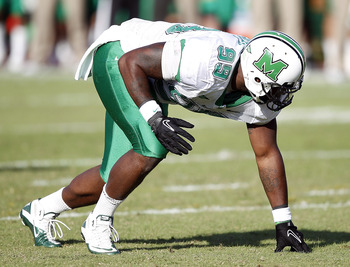 Bob Levey/Getty Images
Vinny Curry, DE/OLB, Marshall
The Miami Dolphins run a hybrid defense that relies on a variety of pass-rushers to get to the opposing quarterback quickly. Miami needs a pass-rushing specialist across from Cameron Wake.
Vinny Curry is a smart play here. Curry has the ability to rush from multiple positions and wreak havoc on offensive lines. When teamed up with Wake, the duo will likely cause all kinds of issues for Tom Brady and the rest of the AFC East.
43. Seattle Seahawks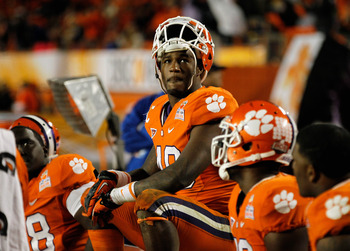 Streeter Lecka/Getty Images
Andre Branch, DE, Clemson
The Seahawks are very similar to the Jaguars in that they had a very impressive defensive unit last season that didn't receive much attention. They both also need an upgrade at the defensive end position.
Andre Branch can fill that need for the Seahawks. Branch is a physically imposing pass-rusher who can rotate in and cause problems for opposing offenses. He might not start immediately, but keep in mind that Chris Clemons is hitting free agency after next season.
44. Kansas City Chiefs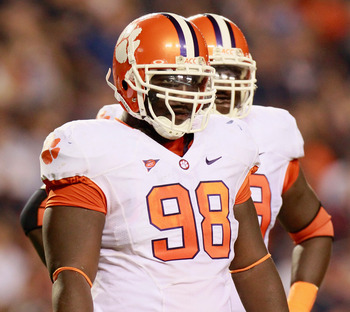 Kevin C. Cox/Getty Images
Brandon Thompson, DT, Clemson
The Chiefs need to find some help on the defensive line. The team is one of the lucky few that doesn't have a massive amount of needs as long as players return healthy.
Brandon Thompson is a massive tackle who will rotate in and stuff the run with regularity. Every now and then he'll put pressure on the quarterback. Thompson is a luxury pick here that will upgrade the entirety of the defense.
45. Dallas Cowboys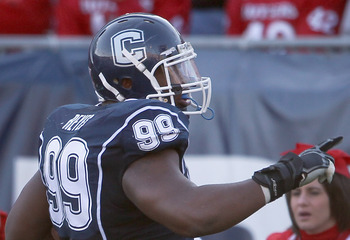 Elsa/Getty Images
Kendall Reyes, DE/DT, Connecticut
The Cowboys are likely to address their ailing secondary in the first round. That leaves the biggest need defensively on the line, so now is as good a time as any to address the problem area.
Kendall Reyes is a versatile lineman who fits in well with the Cowboys schematically. He can come in and create pressure from any position along the line and is big enough to allow teammates around him to make plays.
46. Philadelphia Eagles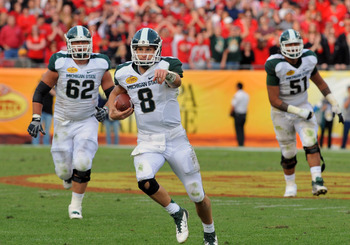 Al Messerschmidt/Getty Images
Kirk Cousins, QB, Michigan State
The Eagles have multiple picks in the second round, which means they are likely to take a gamble with one of those picks. The smart play would be to gamble on a successor to Michael Vick.
Kirk Cousins is an excellent leader who will have time to develop into a quality NFL quarterback. He reminds some of Cincinnati's Andy Dalton, which is a fair assessment. Cousins won't see any playtime this year, but he'll start a few years down the road.
47. New York Jets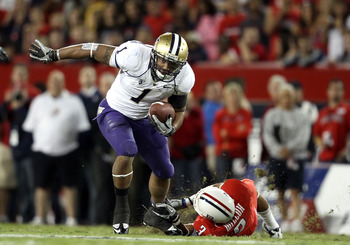 Christian Petersen/Getty Images
Chris Polk, RB, Washington
The Jets could use a more effective rushing attack. They seem to be more committed than ever to the running game after acquiring Tim Tebow. LaDainian Tomlinson is gone, so taking a back here makes sense.
Chris Polk will fit in nicely with the Jets' new-focused running attack. Polk is a back who can come in and spell Shonn Greene in most situations, and the Jets attack will lose little efficiency.
48. New England Patriots (from Oakland Raiders)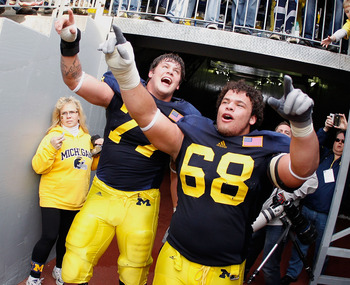 Gregory Shamus/Getty Images
Mike Martin, DE/DT, Michigan

New England is sure to use its picks mostly on defense, as the unit is filled with positions that need upgrading. The unit gave up a ridiculous amount of yards last season, but not a lot of points. That's fine for now, but one has to think the points will come eventually.
An ailing defense like the Pats' needs to have versatile linemen who can rush the passer. Mike Martin is a high-motor player who can rush from multiple positions with ease, making him a great pick here.
49. San Diego Chargers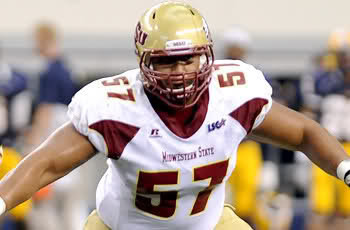 Amini Silatolu, OG, Midwestern State
The Chargers have a huge need at guard heading into the draft. The likely scenario is the team addresses its lack of pass rush in the first round, leaving guard the only real viable option here.
Amini Silatolu is a small-school player who grades out as an elite prospect. Had he attended a bigger school, he might have earned a first-round grade. He's a massive guard who can come in and upgrade the position right away for San Diego.
50. Chicago Bears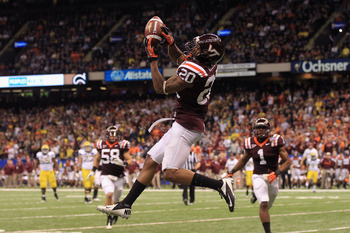 Matthew Stockman/Getty Images
Jayron Hosley, CB, Virginia Tech
The Bears need help in the secondary, especially at the corner position. It's likely this pick will be how they address the need.
Jayron Hosley is a great fit here. He's a bit on the small side but possess great ball skills and play recognition. Hosley won't start right away but he'll learn from veterans while he is groomed into a starter.
51. Philadelphia Eagles (from Arizona Cardinals)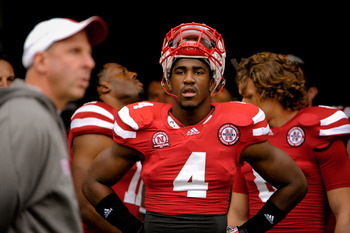 Eric Francis/Getty Images
Lavonte David, OLB, Nebraska
Now that the Eagles have the gambling out of their system, they can attack a real need. The most apparent need on the defensive side of the ball happens to be at the linebacker spot.
Lavonte David is a nice fit for Philadelphia, as he can come in and be a starter right away. He's an extremely versatile player who can play run or pass and has the ability to rush the passer.
52. Tennessee Titans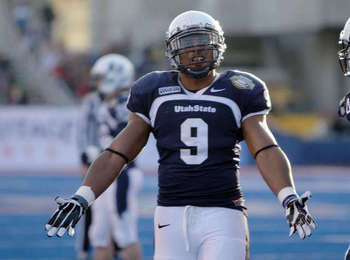 Bobby Wagner, OLB, Utah State
The Titans need help at the outside linebacker position after solving their woes in the middle with Colin McCarthy. Tennessee needs a versatile linebacker who can start right away if it is to upgrade at all from last season.
Bobby Wagner fits what the Titans need perfectly. He's a do-it-all type player who has an impact on every game he has played in thus far. He'll start right away and improve the unit.
53. Cincinnati Bengals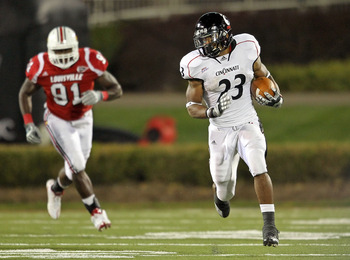 Andy Lyons/Getty Images
Isaiah Pead, RB, Cincinnati
The Bengals are likely to hit offense and defense once each in the first round, with the offensive selection being in the form of line help to protect Andy Dalton. That leaves running back as the major hole on the roster.
Isaiah Pead is a local product the team has shown a lot of interest in recently. He fits the West Coast offense perfectly, which just happens to be what Cincinnati is utilizing next season.
54. Detroit Lions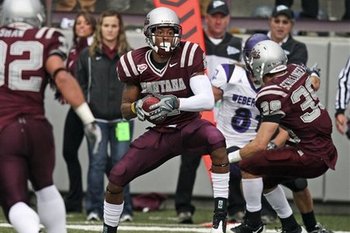 Trumaine Johnson, CB, Montana
With the assumption that the Lions will address the offensive line in the first round, that leaves cornerback as the glaring need. The Lions can afford to do this because the draft is littered with talented corners.
Trumaine Johnson happens to be one of those corners. He's a big, physically imposing corner who has the ability to play safety as well. Johnson is a big upgrade for the Lions secondary.
55. Atlanta Falcons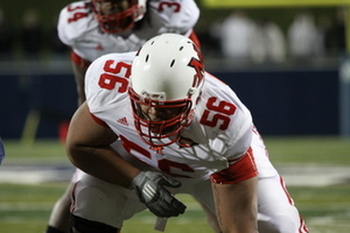 Brandon Brooks, OG, Miami
The Falcons have a few needs across the offensive line that require immediate attention in the draft. Protecting Matt Ryan should be of utmost importance, so landing a starting guard should be the priority here.
Brandon Brooks is a superbly talented guard who provides an upgrade from the start. He's massive and excels at both pass- and run-blocking. The Falcons can't go wrong with their first pick in the draft if they take Brooks.
56. Pittsburgh Steelers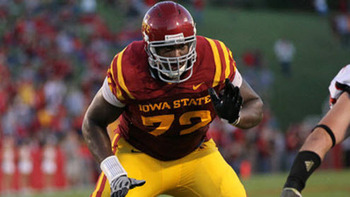 Kelechi Osemele, OT, Iowa State
Like the Falcons before them, the Steelers need to do more to protect their franchise quarterback. Ben Roethlisberger is great while on the run but has been banged up a little too much lately.
Picking up Kelechi Osemele here is a good way to ensure Roethlisberger stays healthy next season. He can come in and start at right guard immediately, and he upgrades the unit as a whole, not only in terms of pass-blocking, but run-blocking as well.
57. Denver Broncos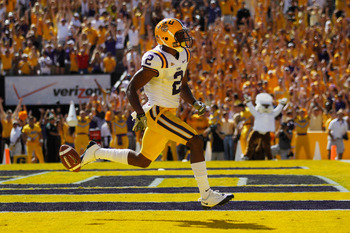 Chris Graythen/Getty Images
Rueben Randle, WR, LSU
The Broncos are going to need some more receiving threats for the newly-acquired Peyton Manning. What the Broncos have on the roster is a good way to start, but it's not enough.
Rueben Randle is a great option to keep Manning content. Randle is a deep threat who can break a game open on any play. Manning to Randle would be a good way to ensure the Broncos are making a deep postseason run.
58. Houston Texans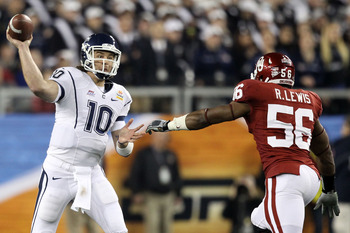 Christian Petersen/Getty Images
Ronnell Lewis, OLB, Oklahoma
The Texans have one of the best defensive units in the league, but that doesn't mean they won't make an addition to it here. Pass rush is the name of the game with the league turning pass-happy as of late, so taking another effective rusher here is ideal.
Ronnell Lewis is a high-motor pass-rusher who can get to the quarterback from a variety of positions. He also happens to be a special teams ace. Lewis will join a rotation of rushers that will terrorize quarterbacks for years.
59. Green Bay Packers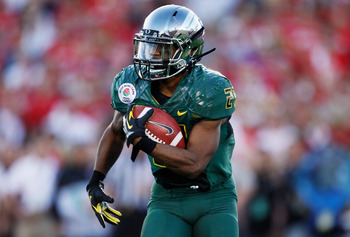 Jeff Gross/Getty Images
LaMichael James, RB, Oregon
An offense as dynamic as the one the Packers have can never have too many weapons. Aaron Rodgers excels at spreading the ball around, so adding a dynamic pass-catching back would almost be unfair.
LaMichael James is an extremely solid pick here for the Pack. He's shifty, fast and can catch any pass thrown his way. James has the ability to score on any play, so adding him only makes the team better.
60. Baltimore Ravens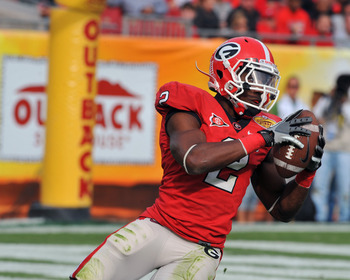 Al Messerschmidt/Getty Images
Brandon Boykin, CB, Georgia
The Ravens have a couple of glaring needs, cornerback being one of the most prominent as of now. Adding a corner for depth is the way to go here if the Ravens hope to fill yet another elite defensive unit.
Brandon Boykin is a vastly underrated prospect who has seen his stock drop because of injuries. Boykin is a solid cover corner who can be groomed to start sooner rather than later. He can also have big contributions on special teams.
61. San Francisco 49ers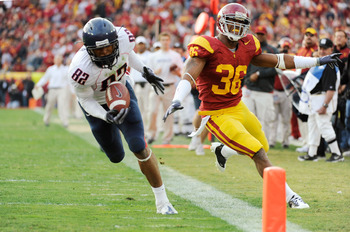 Kevork Djansezian/Getty Images
Juron Criner, WR, Arizona
The 49ers need more options for quarterback Alex Smith. The primary target of the offense can be the tight end position for only so long. A nice complement to Michael Crabtree would go a long way for the offense.
Juron Criner is an ideal candidate here for the 49ers. He's a big receiver who has great hands and runs crisp routes. Criner will likely slide to this pick, and the 49ers would be dumb to pass on him, as he fits the offense nicely.
62. New England Patriots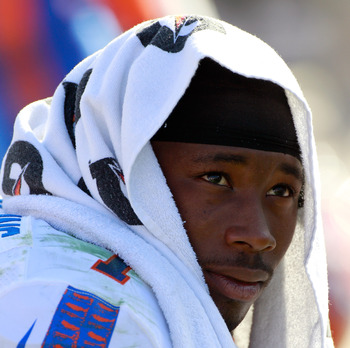 Sam Greenwood/Getty Images
Janoris Jenkins, CB, North Alabama
The Patriots need help in a lot of ways defensively, with a major problem area being the cornerback position. Finding a couple quality corners in the draft will make one of the best teams in the league even better.
Janoris Jenkins is arguably the best corner in the draft besides Morris Claiborne. He's plummeted this far because of well-documented off-the-field issues, but that won't phase Bill Belichick. The Patriot Way will keep Jenkins in line, and he'll be one of the best corners in the league soon.
63. New York Giants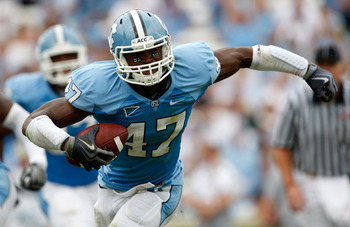 Streeter Lecka/Getty Images
Zach Brown, OLB, North Carolina
The Giants could go a few different ways here, but adding a talented outside linebacker would be the preferable way to upgrade the defense at this point.
Zach Brown is a talented linebacker who can start from Day 1. Brown is athletic enough to cover most in the passing game and physical enough to stuff the run when asked.
64. Indianapolis Colts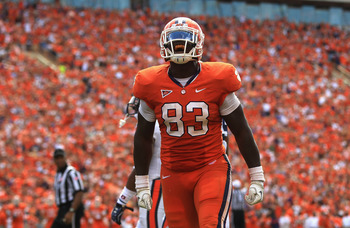 Streeter Lecka/Getty Images
Dwayne Allen, TE, Clemson
The Colts need to continue to add talent around first overall pick Andrew Luck. Tight end should be the pick here with Dallas Clark leaving.
Dwayne Allen is the second best at his position this year, and rightfully so. He's ridiculously athletic and will give Luck a legitimate threat on every down.
65. St. Louis Rams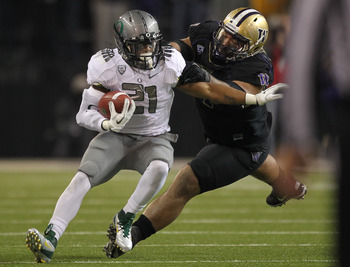 Otto Greule Jr/Getty Images
Alameda Ta'amu, DT, Washington

The Rams have to turn their attention to the defensive side of the ball at some point. Now is probably a good time to do so with the draft running out of great tackle prospects.
Alameda Ta'amu is a massive tackle who will fit in nicely on the Rams defensive line. He's had issues with his weight before, but he'll be a solid run-stopper for St. Louis.
66. Minnesota Vikings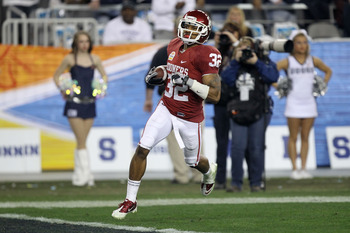 Ronald Martinez/Getty Images
Jamell Fleming, CB, Oklahoma
The Vikings need to do whatever it takes to upgrade their pitiful secondary. Adding a talented corner will do wonders for the problem area.
Jamell Fleming is a solid prospect who will have to learn quickly at the next level. He's got the athleticism to contribute right away, and the rest will come with experience.
67. Cleveland Browns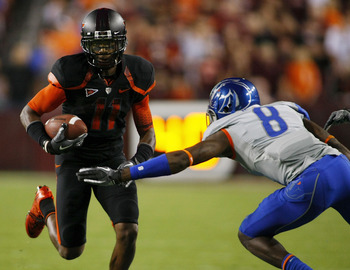 Geoff Burke/Getty Images
George IIoka, FS, Boise State
The Browns have a bigger need than most realize at the safety position. Joe Haden is a lock-down corner, which helped to disguise the need, but an upgrade is needed.
George IIoka would be a good option here. He can come in and compete for a starting spot, but more importantly, he will provide quality depth while adapting to the speed of the league.
68. Tampa Bay Buccaneers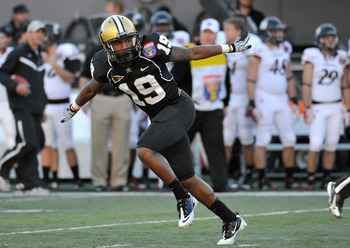 Casey Hayward, CB, Vanderbilt
The Buccaneers need more depth at the corner position even though they likely land Morris Claiborne in the first. Ronde Barber is ridiculously old, and Aqib Talib is ridiculously unable to stay out of trouble with the law.
Casey Hayward is a good way to add quality depth to the secondary. He won't be a starter for a few years but can contribute at times.
69. Washington Redskins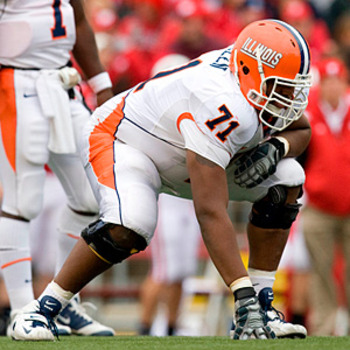 Jeff Allen, OT, Illinois
The Redskins need to make sure they are protecting their new franchise quarterback, Robert Griffin III. Tackle depth is a need, so grabbing the best available at this point is the likely pick.
Jeff Allen is the best left on the board here. He will provide competition at the tackle position while being groomed for a starting gig some day.
70. Jacksonville Jaguars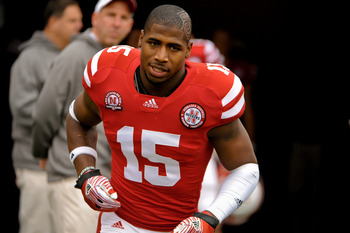 Eric Francis/Getty Images
Alfonzo Dennard, CB, Nebraska
The Jaguars could use some cornerback depth for them to remain a top defensive unit next year. The depth is important for the Jags because the injury history of the corner group isn't great at this point.
Alfonzo Dennard was at one point hailed as a first-round pick before a miserable offseason and allegedly punching a cop in the face. He's a good value here and could still turn out to be a special player.
71. Buffalo Bills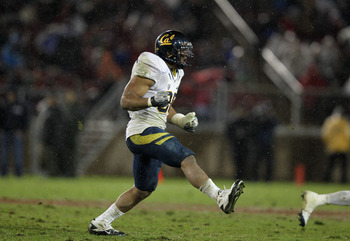 Ezra Shaw/Getty Images
Mychal Kendricks, ILB, California
The Bills need to add another linebacker to round out their 4-3 scheme nicely. This is a good spot to do so without reaching for a player.
Mychal Kendricks is a solid option here, as he can come in and not only create competition, but be a part of the rotation. He's capable of playing on both running and passing downs at the next level.
72. Miami Dolphins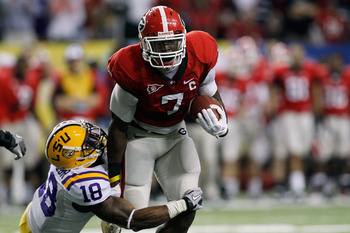 Kevin C. Cox/Getty Images
Orson Charles, TE, Georgia
The Dolphins need to acquire some more weapons for their new quarterback, Ryan Tannehill. A good tight end is always a great safety net for a rookie.
Orson Charles is one of the more impressive tight ends in the draft thanks to his extreme athleticism and great hands. He'll be a fixture on the Dolphins offense for a long time.
73. Miami Dolphins (from Carolina Panthers, Through Chicago Bears)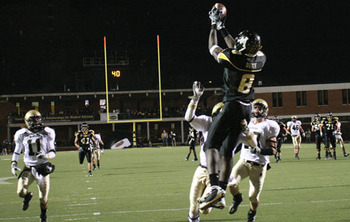 Brian Quick, WR, Appalachian State
Along the same lines of thinking as the last pick, the Dolphins need more weapons for their rookie quarterback. Replacing Brandon Marshall's production is a need as well.
Brian Quick is a good way to accomplish all of the above. He's an NFL-ready receiver who didn't play at a big school. Make no mistake, Quick will be a stud for the Dolphins.
74. Kansas City Chiefs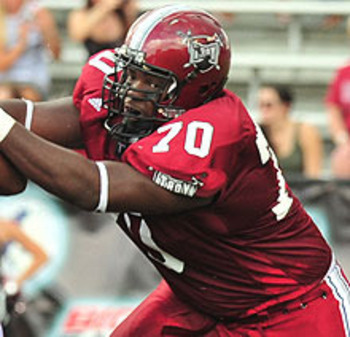 James Brown, OG, Troy
The Chiefs need to add depth to the offensive line throughout the draft. The Chiefs are weak in both trenches but addressed the defensive side last round.
James Brown is the best guard available here. He'll add a spark to the line and make those around him better. Brown will likely be groomed for a starting gig in a few years.
75. Seattle Seahawks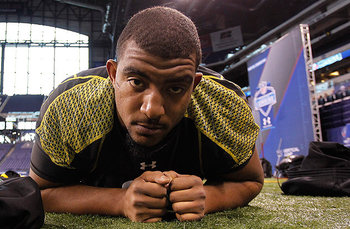 Bobby Massie, OT, Mississippi
The Seahawks are going to have to add depth to the offensive tackle position at some point. Luckily for them, one of the more talented tackles is till on the board.
Bobby Massie is a prospect who has slipped down boards but is a great value here. He'll add some much-needed competition at the position and help protect Matt Flynn.
76. Houston Texans (from Philadelphia Eagles)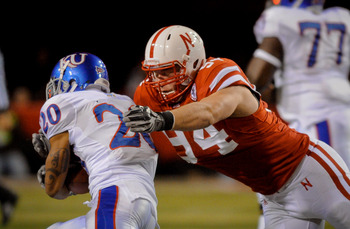 Eric Francis/Getty Images
Jared Crick, DE, Nebraska
The Texans need some depth at the defensive end position. The defense thrives on having a rotation, so picking a guy who can contribute right away is an option here.
Jared Crick is one of the best players left available, and he happens to be a defensive end. He's efficient in all aspects of the game and will be a very valuable piece of the Texans defense next season.

77. New York Jets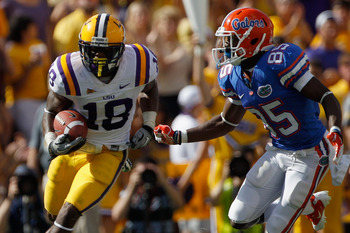 Chris Graythen/Getty Images
Brandon Taylor, SS, LSU
The Jets have a massive need at the strong safety position but haven't had the opportunity to address it yet in the draft. Now is the time.
Brandon Taylor is the best safety left on the board. He's a vastly underrated prospect who has the potential to start because of his athleticism.
78. San Diego Chargers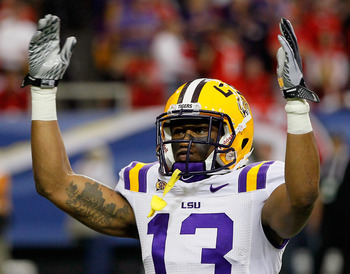 Kevin C. Cox/Getty Images
Ron Brooks, CB, LSU
The Chargers are in need of some depth at cornerback. Quentin Jammer is still a great player, but he's approaching the age of no return.
Ron Brooks out of LSU is the best corner left and has all the tools to make it in the NFL. Learning from Jammer will allow him to contribute regularly at the next level.
79. Chicago Bears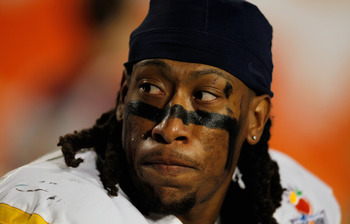 Streeter Lecka/Getty Images
Bruce Irvin, OLB, West Virginia
The Bears could use more pass rush outside of Julius Peppers. A versatile prospect who can rush from a variety of positions wold be ideal.
For some reason Bruce Irvin's stock hasn't reflected his talent correctly, possibly because some can't decide what position he will play at the next level. Irvin adds some much-needed youth to the linebacking core while wreaking havoc in tandem with Peppers.
80. Arizona Cardinals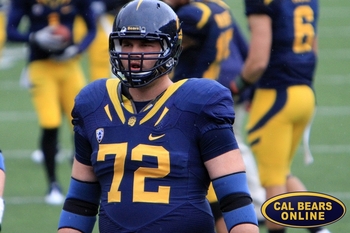 Mitchell Schwartz, OT, California
The Cardinals need to rally around Kevin Kolb. He hasn't been the most impressive quarterback so far, but he's been hurt because of horrible protection.
Mitchell Schwartz is the best left and provides some much-needed depth at the position. He won't be a starter unless there is an injury, but he'll develop well given the tools he's already blessed with.
81. Dallas Cowboys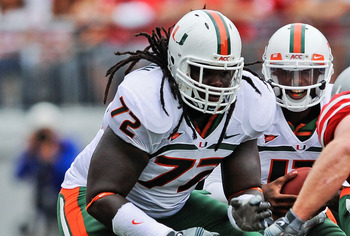 Jamie Sabau/Getty Images
Brandon Washington, OG, Miami
See a trend here? A pass-happy league needs good quarterbacks. Good quarterbacks need to stay healthy or the team won't be competitive at all. Tony Romo had an amazing season last year but needs some protection.
Brandon Washington is a mammoth tackle who could start right away. He might not, but he's great competition and depth.
82. Tennessee Titans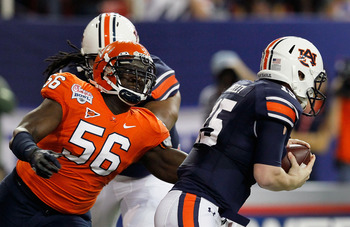 Kevin C. Cox/Getty Images
Cam Johnson, DE, Virginia
The Titans could use even more depth along the defensive line to mimic what the New York Giants have done so successfully recently.
Cam Johnson is a versatile pass-rusher who is strong enough to play every down should the Titans need him to. Johnson will be critical to the Titans defense in 2012.
83. Cincinnati Bengals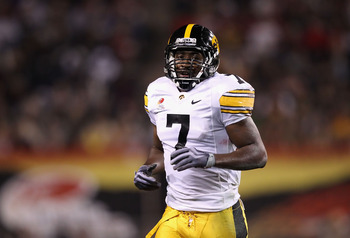 Christian Petersen/Getty Images
Marvin McNutt, WR, Iowa
The Bengals aren't likely to address the receiver position any earlier than this unless an elite prospect happens to miraculously fall to them.
The team has shown a large amount of interest in Marvin McNutt. If the Bengals don't grab him here, he'll be gone before their next pick. McNutt will be the starting No. 2 across from A.J. Green.
84. Atlanta Falcons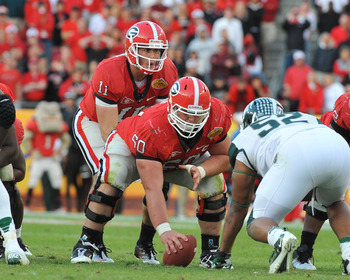 Al Messerschmidt/Getty Images
Ben Jones, C, Georgia
As stated earlier, the Falcons need to revamp their offensive line in this draft if they hope to contend next season.
Ben Jones is a solid option here who can be moved inside to guard if need be. He'll be yet another infusion of youth and talent the Falcons need desperately.
85. Detroit Lions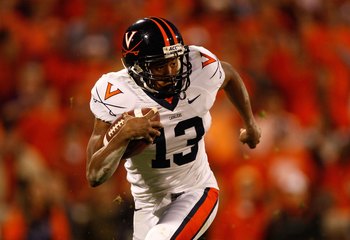 Streeter Lecka/Getty Images
Chase Minnifield, CB, Virginia
The Lions have some young talent at the cornerback position already, but it hasn't been enough. Adding more depth certainly couldn't hurt.
Chase Minnifield has seen his stock drastically drop these past few months. He's a good value here who will add more talent to the secondary.
86. Pittsburgh Steelers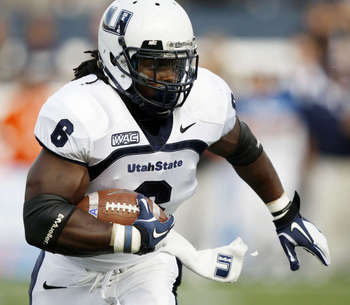 Robert Turbin, RB, Utah State
The Steelers need to add another running back at some point to round out a nice rotation to complement the passing of Ben Roethlisberger.
Robert Turbin is a power back who will take some snaps in most situations as he is groomed to be a starter some day. Rashard Mendenhall is recovering from an injury, so Turbin is a good way to give him the time he needs.
87. Denver Broncos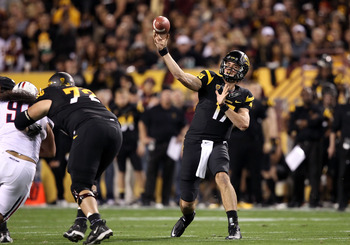 Christian Petersen/Getty Images
Brock Osweiler, QB, Arizona State
The Broncos won the Peyton Manning sweepstakes, but it's hard to tell just how long Manning will be around. Grabbing a quarterback who can learn from the greatest of all time is probably a good idea.
The lucky candidate is Brock Osweiler. He's a freak athlete, standing at 6'7", who has an NFL-ready arm. Learning from Manning for a couple years could turn him into a franchise quarterback.
88. Philadelphia Eagles (from Houston Texans)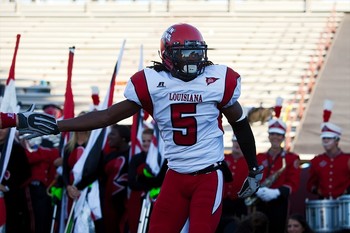 Dwight Bentley, CB, Louisiana-Lafayette
The Eagles are going to be without Asante Samuel before the season starts, so they need to add some young, cheap depth to the secondary.
The best left on the board is Dwight Bentley. He's a very good cover corner who could use a few years of learning from Nnamdi Asomugha.
89. New Orleans Saints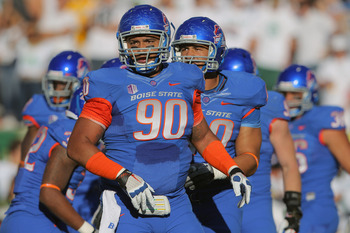 Doug Pensinger/Getty Images
Billy Winn, DE/DT, Boise State
This is the Saints' first pick in the draft courtesy of Bountygate, and it better be a good one. Addressing the much-maligned defense would be a smart way to go here.
Billy Winn is a prospect who can come in and immediately upgrade the Saints defensive line. He can rush the passer from a variety of positions and is effective when stuffing the run.
90. Green Bay Packers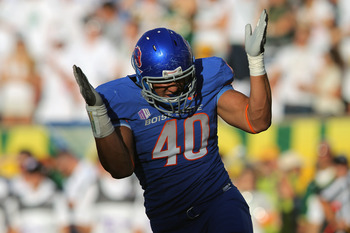 Doug Pensinger/Getty Images
Tyrone Crawford, DE, Boise State
The Packers could use some depth at defensive end. Mike Neal wasn't exactly impressive last season, but there are some prospects on the board who could replace him quickly.
One such prospect is Tyrone Crawford. Crawford is a versatile athlete who fits in well with the Packers schematically and will provide quality depth along the line.
91. Baltimore Ravens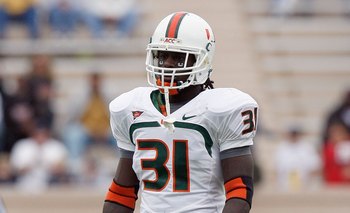 Kevin C. Cox/Getty Images
Sean Spence, OLB, Miami
The Ravens would be smart to add some depth at the outside linebacker position. A rotational player groomed to start is the best they can hope for at this point.
A good option here is Sean Spence. He was a disruptive force while at Miami, and that could transition well to the NFL. Add in learning from two elite linebackers and Spence could turn out to be a steal.
92. San Francisco 49ers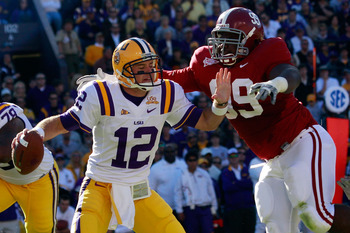 Chris Graythen/Getty Images
Josh Chapman, DT, Alabama
The 49ers need some depth at the defensive tackle position. They already have one of the league's best defenses from a year ago and retained the majority of their players from last year, so depth is the priority here.
Josh Chapman is a massive steal at this point, no pun intended. Chapman is a great talent who stuffs the run with ease. It's almost unfair that he fell to the 49ers here.
93. New England Patriots
Mike Zarrilli/Getty Images
Greg Childs, WR, Arkansas
It's hard to imagine the Patriots deviating from the defensive plan in the draft, but if they do it has to be for a wide receiver. To be more specific, it has to be a receiver who will fit in well with what the Patriots already have.
That receiver is Greg Childs. He'll start right away and be an effective target for Tom Brady. If the acquisitions of Anthony Gonzalez and Donte' Stallworth aren't scaring anyone, Childs will.
94. New York Giants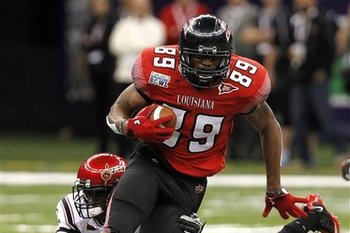 Ladarius Green, TE, Louisiana-Lafayette
The Giants have to add a tight end at some point since Jake Ballard tore his ACL. The addition of Martellus Bennett was a nice band-aid, but it won't stop the G-Men from taking a tight end here.
Ladarius Green will be the Giants' selection here. He fell this far because he played at a small school, but he'll excel in the NFL thanks to his massive size and excellent hands.
95. Oakland Raiders (Compensatory Selection)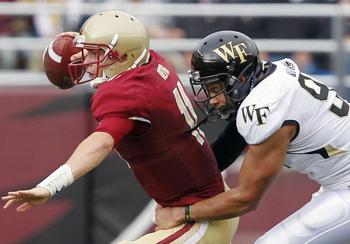 Kyle Wilber, OLB, Wake Forest
The Raiders have been looking into outside linebackers all offseason. Now would be a good time to find one who can contribute right away.
Kyle Wilber is the Raiders' guy here. He can contribute immediately in all aspects, including pass-rushing.
Keep Reading