NFL Draft Rumors: Latest Buzz and Rumors from Around the League
April 21, 2012

Doug Pensinger/Getty Images
With the 2012 NFL draft less than a week away, we run down some of the latest news, buzz and rumors, including the arrest of Nebraska cornerback Alfonzo Dennard, the interest of Oklahoma State quarterback Brandon Weeden in getting drafted by the Cleveland Browns, Alamaba safety Mark Barron's potential fit with the Dallas Cowboys and the idea that some teams have graded South Carolina cornerback Stephon Gilmore higher than LSU's Morris Claiborne. 
Dennard's Stock Takes a Hit
Why any draft prospect would risk putting his name in a crime file this close to the draft is always puzzling, but year after year one or two make the mistake. 
In 2012, that player is Nebraska cornerback Alfonzo Dennard.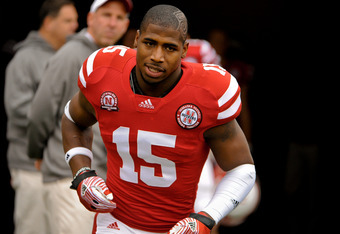 Eric Francis/Getty Images
According to Sam McKewon of the Omaha World-Herald, Dennard was arrested early Saturday morning on counts of assault and resisting arrest. 
Lincoln police said Dennard, 22, was fighting with another man outside a bar near 14th and O Streets about 2:15 a.m. When officers attempted to intervene, police said, Dennard allegedly pushed and then punched one officer in the face. It took four police offices to take Dennard into custody, according to police.
A fringe second- to third-round pick, Dennard has likely put his top-100 draft status in jeopardy. Given he has been kicked out of a game in the past for fighting, teams will have to take another long look at drafting a player with this kind of track record. 
While Dennard could still go sometime on Day 2, it's possible he won't hear his name called until the third day.
Weeden Getting a Cleveland Vibe?
Plenty of things have to fall into place over the next week or so, but the Cleveland Browns may be one of the more likely landing spots for Oklahoma State quarterback Brandon Weeden next week. 
That would be just fine with Weeden.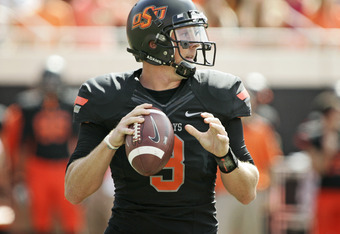 Brett Deering/Getty Images
Speaking with Mary Kay Cabot of the Cleveland Plain-Dealer, Weeden relished the idea of competing with Colt McCoy for the Browns' starting job. 
I know Colt had a good year last year, and he's a good football player. But I'm a competitor, and I want to play as soon as possible. I'd be excited about the opportunity to come in and compete with him and see how things pan out.
The Browns have three picks in the top 40, which gives vice president Mike Holmgren and GM Tom Heckert ample opportunity to take the Oklahoma State quarterback. Weeden certainly won't be the No. 4 overall pick but makes sense for Cleveland at No. 22 or 37.
Weeden also told Kabot that the Browns have reciprocated the kind of interest he has in playing in Cleveland. 
"Yeah, they have," said Weeden. "You never how it's going to go, but I feel really good about how everything's gone with the Browns throughout this whole process. It would be exciting if I ended up there."
Barron to "Big D"?
The Dallas Cowboys have a number of options picking at No. 14 overall, but it appears as if one name has risen above the rest as the favorite to be picked there. 
Alabama safety Mark Barron. 
ESPN's Adam Schefter tweeted Saturday that he "could see Mark Barron in Dallas."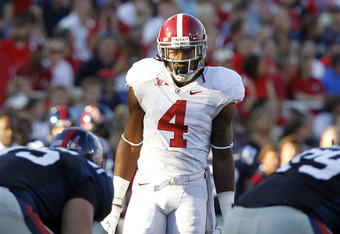 Butch Dill/Getty Images
Barron's stock has gained steam in recent weeks, and at this point, you would be hard-pressed to find more than one or two analysts who have the draft's No. 1 safety outside of the top 15. 
In fact, Pat Kirwan of CBS Sports said he talked to a head coach who would love to move into the top 15 to take Barron next week.
"Interest in Mark Barron is growing around the league," Kirwan tweeted. "A head coach told me he wants him and is willing to move up into the top-15 to get him."
If no team moves ahead of Dallas at No. 14, Barron looks like a good bet to have his name called there. Barron and free-agent signee Brandon Carr would immediately improve a Cowboys pass defense that ranked in the NFL's lower third of the rankings last season.
Gilmore Rated Higher Than Claiborne?
LSU cornerback Morris Claiborne has been the draft's unquestioned No. 1 cornerback through most of the process. Yet with less than a week to go before the event, reports are surfacing that at least one team has graded South Carolina cornerback Stephon Gilmore higher than Claiborne. 
"He's a hot guy," NFL.com's Michael Lombardi said Friday on NFL Network's Path to the Draft, via the guys over at Rotoworld.com. "I was told Jacksonville actually likes him more than Claiborne."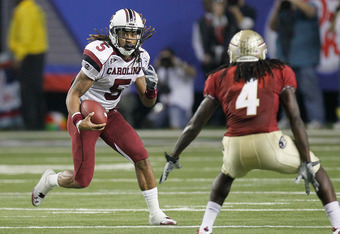 Kevin C. Cox/Getty Images
While the Jaguars aren't likely to have the choice of Claiborne or Gilmore available to them at No. 7, Peter King of Sports Illustrated wrote in his annual mock draft that Jacksonville has legitimate interest in Gilmore.
"Like Tampa, Jacksonville has a major hole at cornerback, and I hear the Jags like Gilmore a ton, which would have to be the case for them to reach for him here," King wrote.
It's always smart to be weary of players making this aggressive of move up so late in the process, but don't be surprised if Gilmore is the Jags' pick at either seventh overall or down the board a few spots if a trade back is found.