NFL Draft 2012: Ryan Tannehill and Other Guaranteed First Round Busts
April 21, 2012

Bob Levey/Getty Images
Every year in the NFL draft, players are taken far too high for their own good or that team's good. Ryan Tannehill and the team that picks him will be the latest victims of that trend.
The 2012 NFL draft is approaching quickly as teams finalize their draft boards and make final decisions on who they want to spend their money on. Some of the prospects they choose will become perennial Pro Bowlers who change the face of their teams. Other will become absolute busts who fade into obscurity.
Ryan Tannehill
Texas A&M product Ryan Tannehill leads the list of players who are guaranteed to become the latter. While Tannehill is extremely athletic and is naturally-gifted, he is not worthy of being the third quarterback taken in this draft, let alone being a top-10 pick.
Let's not forget, this kid played less than two seasons at quarterback for the Aggies in college. While the team did seem to improve when he took over the reins, one could very easily argue that it didn't have as much to do with him as people think.
Accuracy is the most important aspect of a NFL quarterback's game, and accuracy is something that Tannehill has struggled with throughout his short college career. One could argue that his bad decisions took Texas A&M from a legitimate shot at a Big 12 title to complete mediocrity.
If the Miami Dolphins, or anyone else, take Tannehill in the top 10 in this year's draft, it will be a mistake that that team will not easily recover from.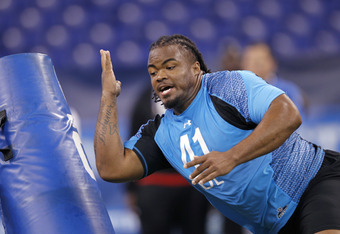 Joe Robbins/Getty Images
Dontari Poe
Former Memphis defensive tackle Dontari Poe is another player who has shot up draft boards in recent weeks. However, that recent rise in stock has not been for the right reasons.
At the combine, Poe measured at 6'4" and 346 pounds, good size for an NFL defensive lineman. What made people really like him was a 40-yard-dash time of 4.98, which is ridiculous for a man of that size. Tallying 44 reps on the bench certainly helped as well.
Look, I'm fine with a team wanting to draft Poe because of his potential. However, drafting him in the first round just based on his physical abilities is dumb.
At Memphis, Poe routinely took plays off and was not the difference-maker that those physical skills should have made him. Whether he is lazy or just a bad in-game player, Poe did not have the in-game impact he should have.
That should worry NFL teams who think he'll have an immediate impact at their level. He won't.
Luke Kuechly
I really like Luke Kuechly a lot as a player. He's smart, knows how to play defense and is a leader on that side of the ball. In those areas, he won't struggle at the next level.
However, Kuechly lacks the natural ability that one truly needs to be deemed worthy of a first-round pick. He has the exact opposite problem of the aforementioned Dontari Poe in that, while all the intangibles appear to be there, he doesn't have the physical skills to best utilize them at the next level.
Is he a good pick for certain teams? Absolutely, but not in the first round.
While each of these players should absolutely be drafted, none should be in the first round. The second or third round is where their true value lies. So, if they do bust, it won't be their fault. Rather, it will be the faults of the teams who overvalued them and picked them way to high.
But hey, a bust is a bust is a bust is a bust.