Chelsea vs. Arsenal: 5 Things Learned from the London Derby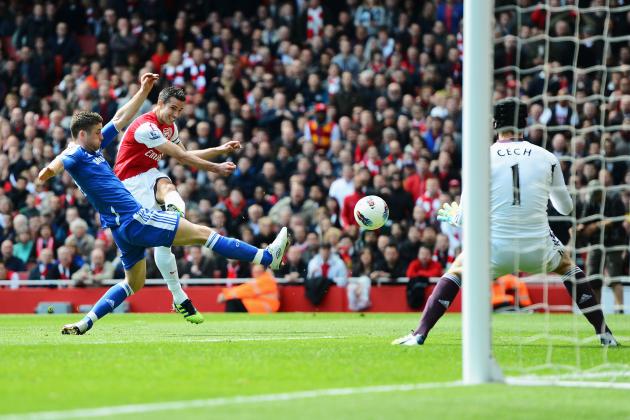 Mike Hewitt/Getty Images

Chelsea made the short trip to the North of London Saturday for a noon kickoff against local rival Arsenal, one of the most anticipated games of the season. However, neither side was able to net a goal, and the fans were presented with a disappointing 0-0 draw.
Both sides had their chances, with Arsenal finding the post twice. Ultimately, neither put in the kind of performance you would expect from these two sides. The ability to play convincing football for a string of time was lost through poor decision-making and a seemingly lackadaisical atmosphere on the pitch.
Robin van Persie got the first good chance of many he would have on the day, but he uncharacteristically hit the post from two and a half yards out. Chelsea's best chance looked to come from Fernando Torres, who was busy in the opening half, but also made nothing out of what he got.
This will not enter any kind of top-10 list of all-time Chelsea-Arsenal matches, but has big implications for both sides. Chelsea dropped crucial points in their dash to try to claim a fourth place finish, and Arsenal have not yet mathematically locked up their third place finish.
Here are five other things we learned from the game.
Begin Slideshow

»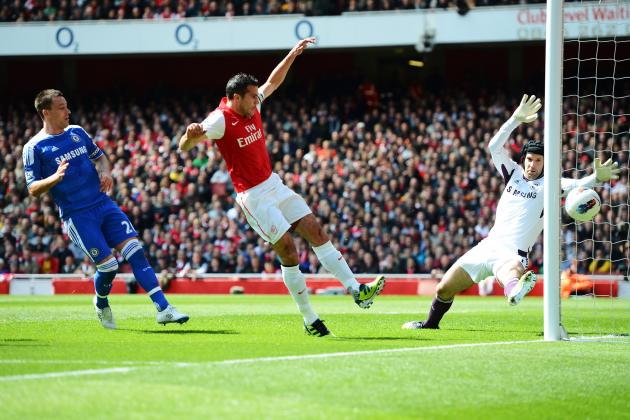 Mike Hewitt/Getty Images

It has been a sensational season by Robin van Persie to say the least. But the man who once could not seem to miss the goal if he tried looked more like a Chelsea forward today and in recent weeks than anything else.
The scoring troubles of the Dutchman continued today as he failed to find the back of the net on what was a handful of chances he had. With seven shots taken and three on target, those numbers favored him in the past, but he had his seventh straight goalless game in open play.
What is even more disconcerting is the way he missed his shots. Early chances were blocked by good defense and excellent goalkeeping. He even had one glance of the post from three yards out, but this happens to all poaching strikers once in a while.
By the end of the match, he was lashing balls hard and wide, taking too many touches inside the box and ultimately over-thinking every single move. The worst this a forward can do is allow his instincts to play second fiddle to his mind and begin to ponder decisions rather than just acting on them.
Van Persie is an undeniable natural talent. That is what has made him favorite for the PFA Player of the Year. But if he stops using those natural abilities he has been blessed with, he could become just another forward.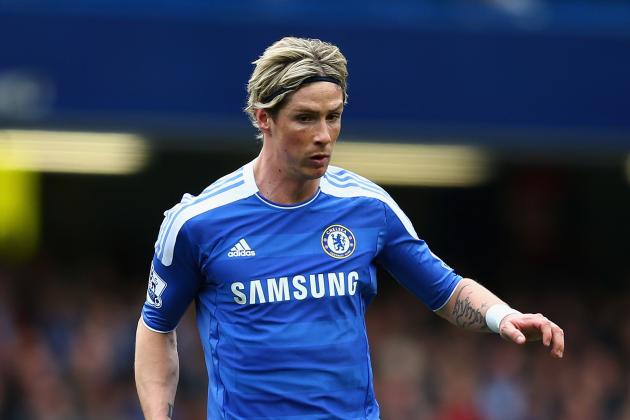 Clive Mason/Getty Images

You have to wonder from the lineup how Fernando Torres would ever get any support with the cast around him. Not that the players flanking him, Salomon Kalou and Daniel Sturridge, are not talented, but they are utterly incompatible with the center forward.
Kalou tried to link up with Torres on more than one occasion, but they were never on the same page. Torres always wants to put his head down and run, while Kalou usually expected him to check back, similar to what he would expect with Didier Drogba.
As the game went on, Kalou started to read where he would expect Torres to get the ball, but it seemed Torres was trying to then compensate by checking back.
It was most obvious in the second half when Kalou stole the ball in the Arsenal third and passed it ahead to Torres, who was checking back to play the one-two. It was just not going to work.
Sturridge, on the other hand, just has no sense of his teammates. He has such a downhill mentality when he is on the ball that you can hear the frustration across the entire Blue nation.
Nearly every time he got on to the ball, it ended in a shot or dispossession, while the better option would have been a cross or even bringing the ball back to retain possession. He plays out wide so often this season you would he think he would learn the value of sharing the ball in the role, but it appears not.
If Drogba is not ready for Tuesday, that is fine, but there is no way you can have these two alongside him up front.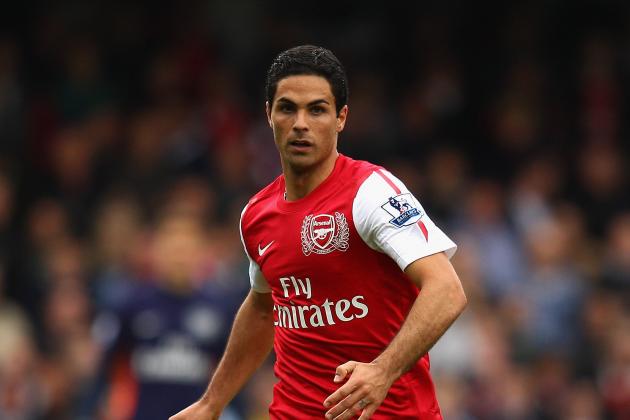 Richard Heathcote/Getty Images

Arsenal was not void of chances on the day. In fact, they had the more and better of the two, and looked poised to take a lead.
However, they were definitely lacking that little bit extra, the kind of play from one player that pushes your side over the top to get that crucial score.
When Mikel Arteta first made the move to Arsenal few expected him to become this kind of player, able to fill the boots of both Cesc Fabregas and Samir Nasri.
But in the past few weeks, those that has seen Arsenal go on these impressive runs, he has become an integral part of controlling play in the midfield.
His injury suffered in the team's 2-1 loss to Wigan last week, has ruled Arteta out for the remainder of the season, and thus far seen them drop five points out of a possible six in his absence.
Arsenal are in no real danger of not qualifying for Champions League next season. They would really have to go on a poor run to close out this campaign. With games left against Stoke, Norwich and West Bromwich United, that is not a reasonable assumption.
But Gunner fans should be concerned that without Arteta there is something lacking in how the team plays.
Their ability to create chances and find the net has taken a dip without the Spaniard, and one must wonder if they will be able to end on the high note they had hoped.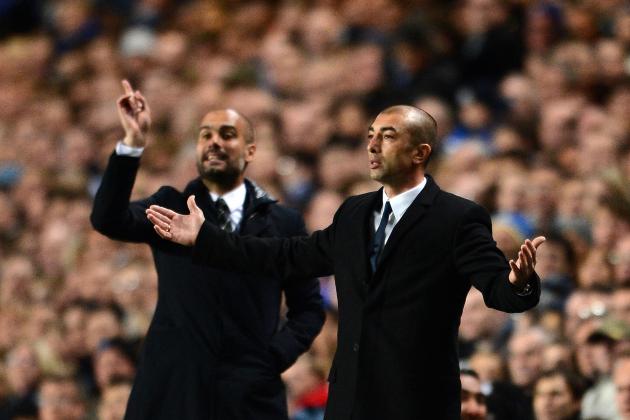 Jasper Juinen/Getty Images

Roberto Di Matteo seems to be quite content on taking his luck in the league and putting all his eggs in the European basket. Just look at the lineup he put out there. With eight changes from Wednesday's match and certainly looking ahead to the Tuesday showdown at Nou Camp, he is absolutely all in on Barca.
Some may see this as an ill-advised move on the manager's part, but I think it is the way to go. What is the point of chasing something that you have zero control over?
Chelsea could finish the season winning out the rest of their games by five goals each and still not catch Tottenham for the fourth place finish, as they need them to drop points to do so.
No one is saying getting by Barcelona will be easy, but at least the only ones who can keep that from happening are Chelsea themselves. There are not qualifiers to that which could hinder their progression.
From there, the Champions League final is a one-game winner-take-all, where if Chelsea are able to beat Barca, there is little to make them the massive underdogs in that tie.
It is a little adventurous to think about, but logically this result, while not what they may have wanted, will not be what prevents them from Champions League next season.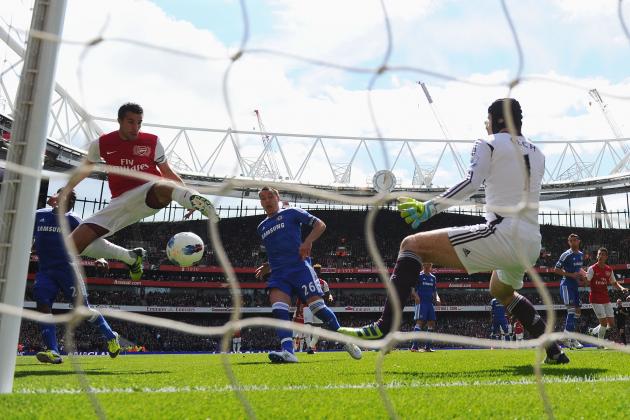 Mike Hewitt/Getty Images

The London derby between Chelsea and Arsenal is not exactly one that has been bathed in history and tradition. In fact, it only has come about in relevance over the past decade or so as the Blues have begun to challenge the Gunners for supremacy over the capital.
However, the game that used to be marked with a big red circle on everyone's calendar did not exactly live up to the hype. A game that in the past would generally decide the fate of both sides was almost pedestrian and lacking a storyline coming in.
Sure, Chelsea are wanting to inch closer to fourth place and Arsenal would like to lock up third. But the overwhelming focus was on Chelsea's Champions League tie in midweek, and Arsenal was playing unenthusiastically for long stretches.
Furthermore, the play itself was rather bland as Chelsea dug in deep as they normally do, but their counter was pathetic and often ended in poor decision-making more than anything.
Arsenal had possession like they prefer, but found themselves unable to break down the wall the Blues setup in front of goal.
This used to be one of the mot exciting games on the EPL season, back and forth and full of action as two immensily talented sides went all out for title hopes and bragging rights. Very little of that was on display, and all the fans were left with was a 0-0 draw full of ifs, ands, and buts.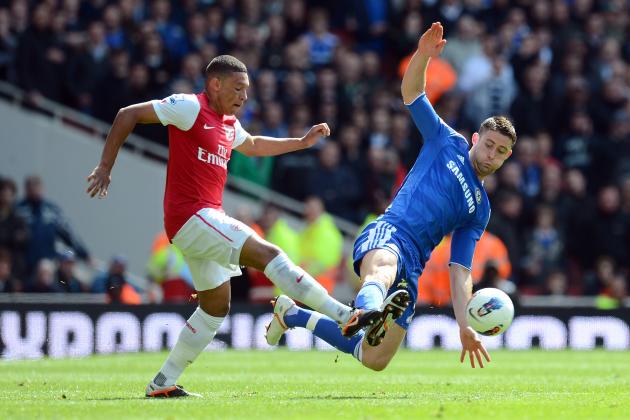 Mike Hewitt/Getty Images

The dropped points will hurt Chelsea more, as they are looking at winning Champions League is the more likely way to be in the contest next season. But Arsenal cannot also feel very good about being unable to score against what was essentially a B team.
So if you were one of the tough Chelsea or Arsenal loyals who were able to struggle through this drab affair, what did you learn in the end?
As always, please leave your comments below. Thanks for reading!
For all my articles, please follow me on Twitter: @thecriterionman