2012 NHL Playoffs: 5 Things You Need to Know About Saturday's Games
April 21, 2012

Christian Petersen/Getty Images
The 2012 Stanley Cup Playoffs are already well into their second week of action, but Saturday's five games mark perhaps the most important—and exciting—night of hockey yet.
The features of the day include two series attempting to determine their winner, with the St. Louis Blues and Phoenix Coyotes looking to eliminate the San Jose Sharks and Chicago Blackhawks, respectively.
Not to be forgotten, however, are six other teams seeking to simply pull away from the pack in Game 5.
The Florida Panthers are hoping to use their home ice advantage to grab a 3-2 series lead for the first time since 1996, while the Ottawa Senators hope to grab a shocking edge over the top-seeded New York Rangers at Madison Square Garden. Elsewhere, the suddenly-defensive Washington Capitals and Boston Bruins plan to break their stalemate, as well.
With all five Saturday matches fully televised by major networks, including an exclusive afternoon showdown on NBC, there's no excuse not to be glued to your television all day long. Before each of these 10 clubs take the ice, conversely, here are five things you need to know about today's full slate of hockey.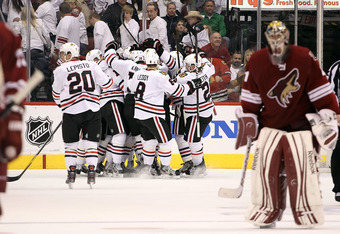 Christian Petersen/Getty Images
Chicago Faces Elimination, But...
The Chicago Blackhawks could be knocked out of the 2012 postseason Saturday night, yet there's still good reason to believe that the 'Hawks are not completely dead yet.
All four games of their series with the Coyotes have gone to overtime—making Phoenix's 3-1 series lead look a lot more definitive than it really has been—and the Blackhawks have been the ones forcing those sudden-death situations.
Chicago has tied two of the last three games in the final two minutes of regulation, including Brent Seabrook's dramatic tying goal with five seconds remaining in Game 2.
And so while the 'Yotes have been the better team for much of the series and scored the deciding overtime goal three times already, the experienced 'Hawks have been opportunistic enough to keep with the dark horse Coyotes through good times and bad.
If Chicago can produce a slightly more well-rounded performance in Game 5, they could easily bring the series back to the United Center down just one game.
Don't Count the Sharks Out Yet, Either
Like the aforementioned Blackhawks, the typically Cup-contending San Jose Sharks are facing elimination and have lost three games in a row to the favored Blues.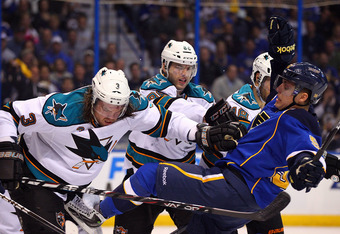 Dilip Vishwanat/Getty Images
Nevertheless, Saturday evening's contest at the Scottrade Center still has the potential to go in the Sharks favor. A duplication of their impressive Game 1 double-overtime victory (which also came on the road) could easily keep the seventh-seeded California boys alive and kicking in this series.
Along with Chicago, San Jose can also look back at their track record of playoff experience and success—something St. Louis and Phoenix certainly can not. Since the '05-'06 NHL lockout, the Sharks and 'Hawks combined have earned more playoff victories than the Blues and 'Yotes by a whopping 67-9 margin.
If only these two squads could make that historical advantage translate into six more combined victories over the next two weeks.
Unheralded Panthers and Senators Not to be Overlooked
The Florida Panthers and Ottawa Senators, both dead even in matchups with the New Jersey Devils and New York Rangers, respectively, have never been given a fair shot in their series.
In fact, in NHL.com's first round predictions, 15 of 16 experts predicted the Devils to advance and a full 16 of 16 took the Rangers to move on.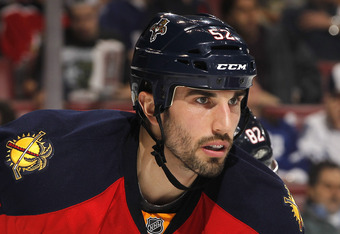 Joel Auerbach/Getty Images
Now, just 12 days later, both of those series are all square at two games apiece.
How have they done it?
The Panthers, making their first playoff appearance in a decade despite just 37 wins in 82 regular-season games, have been outscored embarrassingly in the first and third periods of this series (6-3 in the opening 20 minutes and 5-1 in the closing 20).
However, the upstart Cats have used a 6-1 second period edge and at least one goal from eight different players to bring the series to the BankAtlantic Center tied 2-2. Whether or not offensive defenseman Jason Garrison—listed as questionable—dresses for the game could decide which squad comes out victorious tonight.
The Senators, moreover, have won two overtime games against the No. 1 seed Rangers to tie the series on two separate occasions. Ottawa still hasn't led a postseason series since April 16, 2010, but they could end that drought tonight if their well-balanced offense can overcome the seemingly over-confident Blueshirts.
Goaltenders Duel Continues in Boston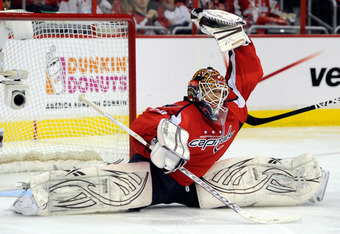 Patrick McDermott/Getty Images
With dual-starter goalies Tomas Vokoun and Michal Neuvirth out for at least the first round, the Washington Capitals and 22-year-old netminder Braden Holtby, still with only 25 games of NHL experience to date, faced a glut of troublesome questions before the playoffs began.
Holtby has shone brightly, though, against the defending Stanley Cup champion Boston Bruins, posting a remarkable .960 save percentage and 1.60 GAA in his first four Stanley Cup playoff games ever. The imposing Bruins' offense, which ranked second during the regular season, has beaten Holtby more than one time in a game only once in four tries, and don't expect the poised youngster to falter in Game 5, either.
Nevertheless, on the other end of the rink is legendary Tim Thomas, made into a sports icon with his record-breaking campaign last season. The much-loved veteran has proven to be a stone wall in these playoffs, as well, matching Holtby's 1.60 GAA and recording a very respectable .936 save percentage of his own.
Holtby, 22, and Thomas, 39, are mirror images in nearly every category, but they've both shared the limelight equally through the first four games of this series.
We don't expect Game 5 to be any different.
How to Watch Saturday's Five Games
Beers and snacks in hand and our extensive previews running through your mind, today is the perfect day for nine and a half straight hours of hockey.
And yes, we did just say nine and a half hours.
Here's how you can follow all five of today's crucial contests this afternoon and evening.
Washington Capitals vs. Boston Bruins—3:00 p.m. (ET); NBC, CBC, RDS.
New Jersey Devils vs. Florida Panthers—6:30 p.m. (ET); NHLNet-US, TSN2, RDSI, MSG-Plus.
Ottawa Senators vs. New York Rangers—7:00 p.m. (ET); NBC Sports Net, RDS, MSG.
San Jose Sharks vs. St. Louis Blues—7:30 p.m. (ET); CNBC, TSN, RDS2, CSN-CA, FS-MW.
Chicago Blackhawks vs. Phoenix Coyotes—10:00 p.m. (ET); NBC Sports Net, TSN, RDS, CSN-Chicago, FS-Arizona+
Mark Jones is currently a Bleacher Report featured columnist for the Carolina Hurricanes and the NHL as a whole. In his three and a half years so far with the site, he has written more than 365 articles and received over 470,000 total reads.