WrestleMania 29: The Case for Randy Orton to Face Steve Austin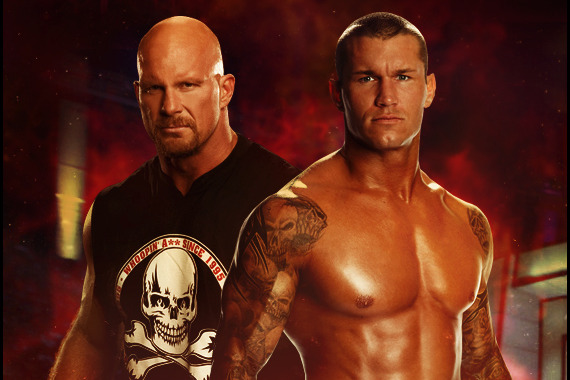 Seems over the past week some news regarding one of the proposed main events for WrestleMania 29 has surfaced. Namely, a statement made by one "Stone Cold" Steve Austin that Punk might not be the guy to face him due to a lack of intensity.
Now, as I would expect of any superstars fans, people have jumped to the defense of the "Voice of the Voiceless," and have made some good arguments on his behalf. Punk's fall from his height of popularity this Summer cannot be placed solely on himself but, to an extent, on WWE Creative.
However, the past is the past. The fact is Punk isn't the same guy he was all those months ago when he cut that now classic, cross-legged promo and declared himself "The Best Wrestler in The World."
With that thought, I think there's actually a better alternative for the Austin/Punk match, and that alternative is Austin vs. Orton.
Now, I'm sure plenty of people will disagree. There are plenty of guys that would make good opponents for Austin in the eyes of many. Not including CM Punk, I've seen the names Brock Lesnar, The Undertaker, Daniel Bryan, and John Cena all dropped to face Austin, yet there is almost no mention of "The Apex Predator of the WWE."
So, with that in mind, I'll be taking a look at the reasons why Randy Orton would make the best choice to face "Stone Cold" at Mania.
Begin Slideshow

»
Steve Austin is remembered for a lot in the world of professional wrestling. From his infamous 3:16 speech, to his "everyman-ish" look, to his ever-popular "Stone Cold" Stunner. However, if he'll go down in history for one thing, it'll be for being a huge pain the ass of Vincent Kennedy McMahon and essentially writing the book on how to tell authority to go shove it.
A lot of people will say CM Punk is the antihero of our current generation, but his history of dealing with authority in the way an antihero would is somewhat lacking, in comparison to another WWE Superstar.
Enter Randy Orton. Now, granted, he's not Austin. Orton never sprayed anyone down with beer or pretended to hold them at gunpoint. He simply kicked people in the skull and assaulted their wives.
Still, sounds like good stuff to me if we're talking about how to deal with authority we don't like. Now, granted, Orton was a heel when he did these things, but it seems the kind of stuff Austin would approve of on some levels. (I'm not one to speak about his morality.)
In comparison, Punk's challenging of authority boils down to him shooting on the McMahons, giving Johnny Ace a GTS and leaving with the WWE Title. All good stuff, but actions speak louder than words, and Orton's actions have spoken louder than those of the "Voice of the Voiceless."
Hopefully (and being that it's long past the night after WrestleMania), the WWE won't do another year-long buildup because those...well, they kind of suck.
However, given a good amount of time (two to three months, perhaps), Austin and Orton could generate some pretty big hype. Not Rock/Cena hype, but you'd be hard-pressed to find a match the WWE would pump up more than this. The baddest men of the past two generations going head-to-head? What's not to love about the sound of that?
You're talking about the face of the Attitude Era going up against the Macho Man of the PG Era. (Not that Orton has Macho Man's charisma, but then again, who does? He's the Macho Man, though, to Cena's Hogan.)
These two men have enjoyed making life miserable for The McMahons, and don't really care for too much more than themselves.
Arguably two of the WWE's best creations, I can see the organization putting a ton of effort into this.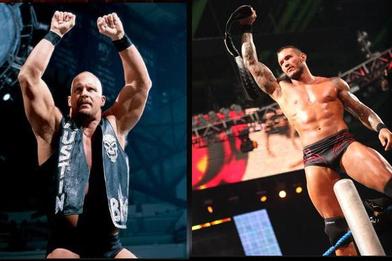 I'll be the first to admit it. Randy Orton isn't a genius on the mic. That said, as I stated earlier, actions speak louder than words, and this is a feud that will be action-heavy for sure.
Both Orton and Austin are known for striking out of nowhere with their respective finishers, like the snakes they're nicknamed for.
Both are known for saying what's on their mind at any point in time without worrying about the WWE Universe, the general manager or any other figure. That's part of what has endeared them to the WWE Universe, and it'll play a large part in this story.
When it comes down to the actual talking, Austin will be doing most of the legwork, but what Orton lacks on the mic he'll make up for in the ring. Which brings us to the next slide...
As I said, Orton isn't a genius on the mic. Still, in my opinion, he's the best technical wrestler in the WWE. (And on that note, I'll take the time to address the fact that I don't need 10 comments along the lines of "Daniel Bryan is the best technical wrestler in the world." Don't you people think we get enough of that on this site?)
In the ring, Orton is crisp, he's entertaining and has a good grasp of ring psychology. All of this would help in a match against Austin 3:16, especially considering Austin would be coming off a very long time away from the ring. Orton is known for using a slower style (I like it but understand others don't), which would help draw out the match, allowing Austin time to really find his groove.
Austin, of course, will do well in the ring with young Randall. Their contrasting yet similar styles will be a treat for wrestling fans worldwide. Will the brawling, high-impact Austin come out on top or will the sadistic, brutalizing style of Randy Orton lead The Viper to victory?
As good as Orton is when it comes to a typical one-on-one match, he's arguably better when he's got no restrictions, which gives freedom to both men. So, if WWE were looking to amp this match up even more, they could easily make it some type of hardcore match (Extreme Rules, Falls Count Anywhere, No Holds Barred, etc.).
I think some of the best work by Randy has been with the use of a weapon of some type. From the usual steel chair, to the not-so-usual ring bell, Orton's character thrives in an environment where he can act even more like a heel than he usually does.
Similarly, any ring rust Austin may have can be easily hidden in such an environment, leading to an even more enjoyable experience for all. (Minus the pain Orton and Austin would endure from being smacked around with steel chairs, Kendo sticks, etc.)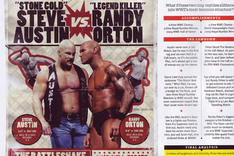 Long before CM Punk made his shoot promo and was touted as the Austin of our Era, there was another superstar that spat in the face of authority. That Superstar's name is Randy Orton. Nothing has changed since that time when he was praised as the Austin to this Era's Rock (Cena), save for an alignment shift, but his actions have practically stayed the same.
I think you'll find a lot of people who would enjoy seeing these two past and present versions of a similar archetype go head-to-head.
While I do think Punk and Austin would be a fine match, it doesn't strike me as the marquee match for which Stone Cold could go out on. Not when Punk's anti-authority character is still so young. What's Punk's six months of feuding with Johnny Ace compared to Orton's years of animosity against Triple H and, later, the McMahon family?
Simply put, can the actions of CM Punk really be compared to those of Randy Orton when we're talking about anti-authority? From an objective standpoint, I believe most fans would consider Orton to be the bigger antihero and the best choice to face Austin at Mania 29.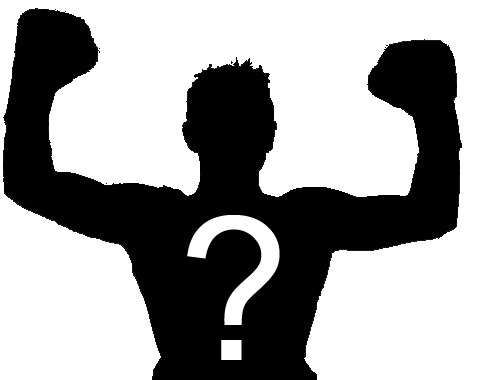 Personally, I believe the WWE can go many ways and pick a lot of guys to face Austin, but in my opinion Orton is the best choice. Especially when you look at the competition.
CM Punk
Good, but there's really no story here. WWE is already doing an alcoholic storyline, so doing it again later would be lame. Again, CM Punk isn't much of an anti-authority figure, so I wouldn't bank on that being the case here. Not to mention, I just don't see a lot of chemistry coming from the ring with these two.

John Cena
Cena is currently battling Brock Lesnar, and as many people have stated before, throwing him at Austin would serve no purpose, as the storyline couldn't get Cena over, and Cena just got done feuding with The Rock. Austin could be used for another star.
Daniel Bryan
While I do see some good chemistry happening with these two, I just don't think Bryan is a big enough star to go one-on-one with Austin, and a year would be a poor amount of time to try and make him look like a threat to Austin, considering he's probably not going to win the world title again.
He lost the title in 18 seconds. He's probably going to be on the downslope for awhile before he picks his career up again around SummerSlam.
The Undertaker
While this would be an interesting match to see at Mania, Undertaker's body has got to be a wreck at this point. We all know Austin's a question mark, healthwise, so why risk a potentially bad match that could tarnish both men? A stipulation here would probably be too much for Undertaker to handle without serious injury, as well.
Brock Lesnar
Brock hasn't had a match since his return, but I do have to think that he'll be good to go in the ring. He's improved as a talker, too. The bad part is, I don't think the hype for Brock and Austin would outweigh the hype for Austin and Orton. Now, that said, this would be my second pick for Austin's opponent.
Overall, Orton is the clearest choice here. He's got what it takes to make this match special, along with Austin.
This brings us to the end of my little presentation. Now, of course, the WWE can go a thousand different ways and have someone face Stone Cold at Mania. They could all end up good. I feel WWE Creative is likely to make one right choice out of the year. Who's to say this couldn't be it?
CM Punk, Randy Orton, John Cena, Brock Lesnar, Daniel Bryan and The Undertaker. Sounds like an impressive list of WWE Superstars, no? A combined thirty world titles between them. All would make great opponents for Stone Cold.
However, who would be able to tell the better story in the ring with Austin? Who would make the better opponent for Stone Cold? I think the answer is Randy Orton, but I'm interested in hearing the thoughts of the readers, so feel free to share.
If you enjoyed this article, and would like to give a young would-be author some support, you could try following him on twitter @AzureTVJ. You may find you like what the young artist has to say.