View from the Blues, Volume 28: Los Angeles Eviscerated by Rochester Again, 2-0
April 21, 2012

Charlie Naimo's Los Angeles Blues were in need of a fix this week when they took on the Rochester Rhinos at Titan Stadium on the campus of California State Fullerton.
LA were coming off a disappointing 1-0 defeat to Rochester last Saturday, and the hope was that the club would turn a corner and bounce back.
"Rochester took advantage of a mistake we made, and we didn't take advantage of the opportunities we created," Naimo told LABluesProSoccer.com's Gunnar Berndt. "In a game between two good teams, that's the difference."
Because of their performance, Naimo was optimistic about LA's chances on Friday night.
"I think we'll be in good shape," Naimo added. "Rochester is a great team. I wouldn't be surprised if we met again in the postseason."
As for Rhinos manager Jesse Myers, hopes were high for a repeat performance in spite of working for their victory last weekend.
"The change of pace and scenery has been welcome after spending a month in preseason," Myers said. "It has really helped us come together as a team and will have lasting benefits for us this season."
With the Blues lingering near the bottom of the USL PRO table, the onus was on Los Angeles to escape the cellar. With an unblemished record, the Rhinos were fourth in the league standings and were chasing Antigua Barracuda FC, the Charleston Battery and league leaders Orlando City S.C. Amir Abedzadeh was out due to a bruised hip for LA.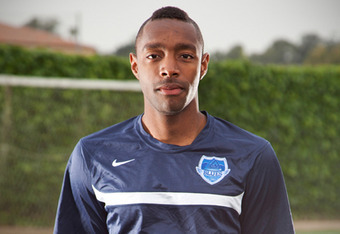 Early in the first half, Brian Farber tried a run in the third minute but was easily stripped. In the fifth minute, a corner by Irving Garcia was collected by goalkeeper Kristian Nicht, who was stellar in the season opener on Saturday.
Farber whiffed on an opportunity in the seventh minute and coughed up possession to the Rhinos. Tyler Rosenlund, the hero last week, tried out a sequence in the ninth minute to no avail.
After a battle of ball possession, Cho Sun-Hyung won a corner in the 15th minute for the Blues. Taken short, a delivery from George Davis was cleared easily. In the 17th minute, Erlys Garcia tried his luck but was collected by Nicht. A minute later, Danny Earls countered for the Rhinos but was met by Blues goalkeeper Jose Miranda.
Los Angeles had been dominating ball possession for most of the first half, and Davis had a look in the 23rd minute but missed the header. A free kick in the 25th minute by Irving Garcia was routinely collected by Nicht.
In the 28th minute, a chance for the Rhinos went wide right, and Irving's next attempt a minute later was parried and then collected by Nicht, who was slow to get up. In the 32nd minute, a free kick by the Rhinos was cleared, and a chance that followed for Eryls would be whiffed. A mistake in the 33rd minute nearly saw Earls break loose.
A shot from Davis in the 34th minute sailed wide right. In the 37th minute, an Earls corner found Rosenlund off the rebound, but it did force another corner which was cleared by Miranda. Farber's next attempt in the 39th minute was poorly handled and led to a goal kick.
A chance from J.C. Banks in the 41st minute was saved by Miranda. At this point, the Rhinos upped the ante and were winning possession.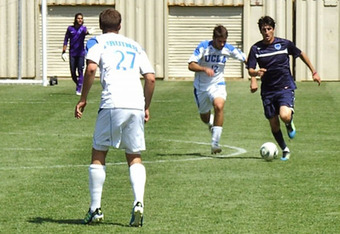 A 45th-minute corner for Los Angeles never materialized and would be collected. Seconds later, a set piece was parried away, forcing yet another cleared corner. In first-half injury time, Banks tried his luck again but was denied by Miranda. The first half ended in a scoreless draw.
The second half proved more of the same in the beginning. A chance for Burke was squandered by Israel Sesay, who came in for Farber. Davis was cautioned in the 48th minute for a harsh challenge. In the 50th minute, a dangerous corner for Earls squeezed wide right for a goal kick.
Rochester took a lead thanks to a scorching kick seconds later from Rosenlund. The play came off the types of sequences that hindered LA all of last year: a clean tackle on Sesay that led to open space for one of USL PRO's top strikers.
In the 53rd minute, a free kick from the Rhinos sailed wide left. Three minutes later, a cross found Banks, who opened up his scoring account on a header and celebrated Robbie Keane style.
By this point, the over 400 in attendance probably understood two things: 1. Rochester is second in this week's USL PRO Power Rankings for a reason and 2. the LA Galaxy's blowout win over the Blues in a friendly was no fluke.
In the 60th minute, the Blues had a few chances on goal, with all punched away by Nicht, who seemed to get better as the game went on. Rhino substitution Andrew Hoxie had an open look on goal in the 62nd minute but was denied by Miranda.
A chance in the 65th minute from Waddell sailed wide left. It was just part of a sorry night of misfires for LA. Irving Garcia's next attempt in the 67th minute from Matt Fondy hit the left post.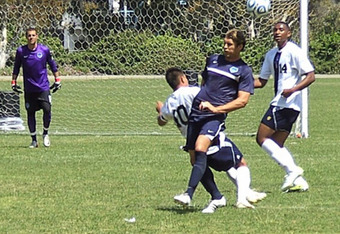 A set piece in the 72nd minute for LA was cleared for a corner that was also cleared. Rochester was forced to fend off wave after wave of attacks from the Blues. A set piece in the 75th minute for Earls was cleared out of touch for a goal kick, but it seemed the damage has already been done.
Banks nearly made in a brace in the 77th minute but was offside. Burke nearly responded with the first goal of the night for LA in the 79th minute but missed.
The rest of the match saw the Blues play with defeated expressions on their faces, a sign that it would indeed by a long season ahead for them. Michael Tanke was cautioned in the 87th minute for Rochester.
A 90th-minute yellow card to LA's Carlos Borja on challenging Conor Chinn summed up the night for the Blues. Clear and utter misery for LA, who were shut out 2-0.
The Blues' season will not get any easier when they face the Wilmington Hammerheads at home for a twofer. Kickoff for the May 4 contest is scheduled at a time and location to be determined, while the May 6 match at Titan Stadium is slated for 5 p.m. PT/8 p.m. ET.