San Francisco 49ers Mock Draft: Final 7-Round Projections
April 21, 2012

Ezra Shaw/Getty Images
The other day, I bit the proverbial bullet and created a full seven-round 2012 NFL mock draft for all 32 teams. This took me hours to get through, but was fun nonetheless. You can check the spreadsheet out here. 
This article is going to focus on the San Francisco 49ers picks in that mock draft. Please keep in mind that I didn't have the benefit of assuming a certain player would just fall to them. Instead, this draft was conducted to represent all 32 teams. 
So, lets take a look.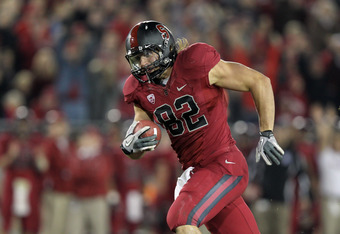 Ezra Shaw/Getty Images
First, 30th pick: Coby Fleener, Tight End, Stanford
This selection is starting to make all the sense in the world. The 49ers can use Fleener as both a tight end between the hashes and a wide receiver on the outside. He is pretty much a duel threat player at this point.
It also doesn't hurt that the former Stanford standout is comfortable in the 49ers system, which means he should be able to come in and make an immediate impact. The idea of teaming Fleener up with Vernon Davis is just too tempting to pass up.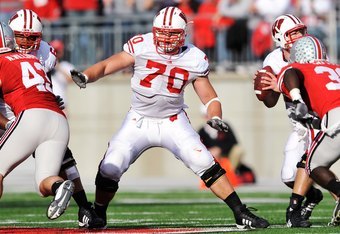 Jamie Sabau/Getty Images
Second round, 61st pick: Kevin Zeitler, Guard, Wisconsin 
I was extremely surprised to see that Zeitler fell to this position when I conducted the mock draft. In reality, I have him as a top-40 pick. With that said, the guard position doesn't represent too much value early in the draft. 
The Wisconsin product was utilized in a pro-style blocking scheme in college. This means that his learning curve to the National Football League shouldn't be too great. You are looking at someone that fits perfectly into what San Francisco is attempting to build, and have already built, along their offensive line.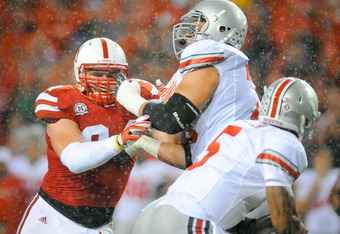 Eric Francis/Getty Images
Third round, 92nd pick: Jared Crick, Defensive End, Nebraska
I wouldn't be too surprised to see Crick available at this slot. He is continuing to fly under the radar because of recent injury concerns, and doesn't stand out on tape to be an overwhelming force along the defense line. 
That is just on the exterior. Crick fits perfectly in the 49ers 3-4 defensive scheme, consistently making plays in both run and pass defense. He should be able to join the rotation immediately and become an eventual replacement for Justin Smith.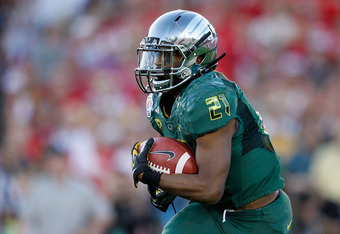 Jeff Gross/Getty Images
Fourth round, 125th pick: LaMichael James, Running Back, Oregon 
If the 49ers had their druthers I am pretty sure that they would rather have Robert Turbin at this spot. However, he just wasn't available in my mock draft. Instead, they go for a running back that won't be able to carry the load, but is a threat to take it to the house on every play.
The best-case scenario here is that James turns out to be a replica of Darren Sproles or Reggie Bush. The worst--case scenario is that he turns out to be another Jacquizz Rodgers.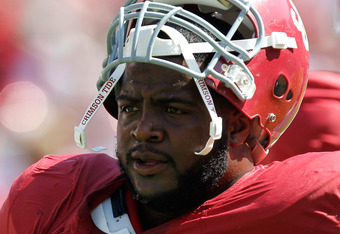 Kevin C. Cox/Getty Images
Fifth round, 165th pick: Josh Chapman, Nose Tackle, Alabama
This would be somewhat of a dramatic drop for Chapman, who I have as a third-round value. Jason LaCanforan of NFL.com tweeted that he should be fully recovered from a torn ACL, but that injury might turn some teams off because of his size.
He does have the ability to anchor the front line of a 3-4 defense, something I know the 49ers are looking for. 
Isaac Sopoaga is set to be a free agent following the 2012 season and Ricky-Jean Francois doesn't seem to be the long-term solution there. San Francisco did sign Ian Williams as a rookie free agent following the 2011 NFL draft.
However, there is no telling how he translates to the field on Sunday. Great value at a position of need. 
Sixth round, 199th pick: Tramain Thomas, Safety, Arkansas
The 49ers have quickly become somewhat thin at safety. They lost both Madieu Williams and Reggie Smith in free agency. At this point, the only backups on their roster are C.J. Spillman and Colin Jones. Needless to say, they need to draft a young safety that can play special teams. 
Thomas has a tremendous amount of upside, and should be able to learn the nuances of the NFL under the tutelage of outstanding secondary coach Ed Donatell. At the very least, he will make a contribution on special teams as a rookie. 
Seventh round, 237th pick: Najee Goode, Linebacker, West Virginia
This is an area of the draft that the 49ers can focus on special teams because of the depth already on their roster. Najee Goode might not be a starting-caliber linebacker in the NFL, but he does possess the get up and go that Jim Harbaugh and company value on special teams. He could replace the venerable Blake Costanzo. 
Conclusion
There you have it—my final San Francisco 49ers mock draft of the 2012 season. It has been a wild ride for us tasked to cover this important event for Bleacher Report. It has also been one of the tremendous experiences of my short writing career. 
This mock draft gives the 49ers upgrades at certain positions considered to be needs. It also creates a team that might be considered the deepest in the entire National Football League. 
If you are worried that I didn't select a wide receiver or cornerback in this mock draft, there are a couple things to consider. As Matt Maiocco pointed out "the 49ers are looking for players that can contribute on their 46 man active roster, not the 53 man roster." Any additions to either cornerback or wide receiver would push an established starter off of the active roster and into the sidelines on Sunday's. I doubt very much they are willing to do that. 
Please check out my brand new NFL website Pro Football Nuts