2012 NFL Draft: Ryan Tannehill by the Numbers -- Buyer Beware
April 21, 2012

Darren Carroll/Getty Images
Ryan Tannehill has been hailed by many NFL draft pundits as a top QB prospect worthy of a high first-round pick.
But did these experts watch how he played in A&M's numerous come-from-ahead losses and other 2011 defeats?
I did.
And not because I am an Aggie fan. I watched the games mostly because TAMU's star WR, Jeff Fuller, was my son's little league teammate many years ago; We liked seeing Jeff on TV. 
But watching Fuller meant also watching Tannehill and the Aggie offense implode in maddening fashion, game after game.
Some of the ominous data on Tannehill is obvious, such as his 12 interceptions in Texas A&M's six losses.
Not as obvious, but perhaps even more telling, is that during crunch time in all of the Aggies' losses, when you would expect a top QB to be at his best, Tannehill managed barely more than four yards per attempt.
That is less than half of what Andrew Luck typically produced for Stanford.
Sure, Tannehill has all the physical attributes, he played in a pro-style offense in the uber-tough Big 12, he was coached by a former NFL head coach, blah blah. 
And to be fair, he may have the requisite arm and the size, his offensive line did not always protect well and committed costly penalties, and he was sometimes victimized by mystifying play calling by Coach Sherman—but Tannehill's decision making and play under pressure looked far from NFL ready.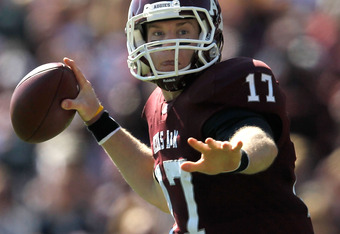 Sarah Glenn/Getty Images
Let's analyze Tannehill's performances during the most critical periods in A&M's six losses, in reverse order. 
Texas: This was a close game where every second half possession counted. Tannehill's first six drives in the second half went like this: 
3 of 6, ending in a pick-six for a UT touchdown 
2 of 4, punt 
0 of 1, another INT
1 of 3, punt 
1 of 2, punt 
0 of 2, punt
By the time Tannehill was finally able to lead a second half scoring drive, the Longhorns led 24-16, with under six minutes to play. 
For the game, he was 20 of 49, with three picks and 4.5 yards per attempt. A&M lost, 27-24. 
K State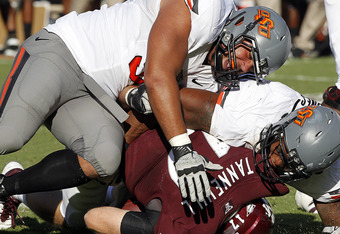 Bob Levey/Getty Images
The Aggies scored 50 points, but lost in four overtimes. Tannehill's numbers were okay but hardly stellar: 27 of 46 for three touchdowns, but only 210 yards (just 4.3 yards per attempt). 
Luckily for Tannehill, who completed but six passes on TAMU's eight second half drives, RB Cyrus Gray ran amok through the KSU defense.
Had Tannehill been able to make some plays, none of the OTs would've been necessary. His second half per-drive numbers: 
2 of 2, punt 
2 of 2, downs 
0 of 0, rushing TD after an INT 
1 of 2, punt 
0 of 0, rushing TD after fumble recovery 
0 of 0, field goal 
0 of 2, punt 
1 of 2, punt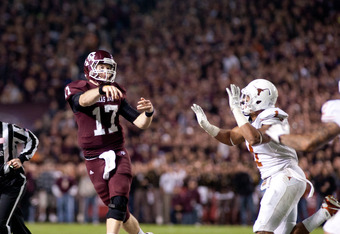 Darren Carroll/Getty Images
Oklahoma 
Unlike UT and K State, the Oklahoma loss was sealed in the first three periods, after which the Sooners led comfortably by 41-10.
Tannehill was a dismal 18 of 43 during those three periods, for only 231 yards, 79 of which came on the touchdown to Ryan Swope. And he threw three INTs. 
Tannehill's yards per attempt for the three quarters: 5.3, which was a bit better than vs. Texas and Kansas State but hardly first round material. Back out the Swope TD catch, and Tannehill's YPA for the first three quarters was a feeble 3.6. 
Missouri 
Tannehill was impressive in the first half against Missouri, throwing for three touchdowns, but once again he fell apart during the second half when the Tigers roared back from a 28-17 halftime deficit to win 38-31 in overtime.
In eight second-half and overtime drives, Tannehill was 18 of 27, but for only 131 yards and under five yards per attempt. 
A&M kicked a field goal on one drive. On the other seven drives, three ended in punts, Tannehill was picked off once, he lost a fumble on a sack, another ended in a fumble, and on the Aggies' overtime possession, Tannehill could not produce the tying touchdown.
Arkansas 
A&M led 21-17 at halftime, and went on to lose by 42-38. Tannehill was 10 of 17 for 68 yards in the second half. 
There's that darned YPA stat again: four yards per attempt, on seven second half drives.
Those seven drives led to a field goal, four punts, a lost fumble, and a failed 4th-and-2 in the final
minutes.
Oklahoma State 
Stop me if you've heard this before. TAMU led 20-3 at the half. TAMU ended up losing by 30-29.
In the second half, Tannehill was 15 for 26 for 154 yards and a touchdown—and three killer INTs, all in A&M territory.
His second half yards per attempt was 5.9, which is awful by NFL standards but was actually Tannehill's signature performance in the Aggies' six losses.
Now, does this sound to you like the caliber of QB play that warrants a top 10 NFL draft pick? If you think so, I have some radioactive swampland that you might be interested in buying.