Pittsburgh Steelers Haven't Won Anything in Ongoing Mike Wallace Saga
April 21, 2012

Jeff Gross/Getty Images
Ever since the 2011 season came to a disappointing end for the Pittsburgh Steelers, there has been a ton of speculation on what was going to happen with WR Mike Wallace.
So after the deadline for teams to sign Wallace to an offer sheet passed yesterday, there was a mini cheer from Steelers fans and a declaration of victory made by some.
In an article from ESPN.com writer Jamison Hensley, he discusses how the Steelers saved $7 million by not franchising Wallace and opting to only place a first-round tender on him.
There have been many other articles similar to this in the past weeks about how much of a risk the Steelers were taking that another team would sign Wallace to a huge contract that the team could not match.
In actuality though, the Steelers did not win anything yesterday and were not risking anything during the time from when they tendered Wallace till now.
The Steelers acted based off of the little cap room that they have and simply just waited for the other 31 teams to make their moves.
You can argue that they made a calculated risk that other teams wouldn't want to give up a first-round pick or give Wallace a huge contract, however, what did they actually risk in this situation?
The Steelers have shown countless times in the past that they will not overpay for a guy and they will let a player walk if they need to.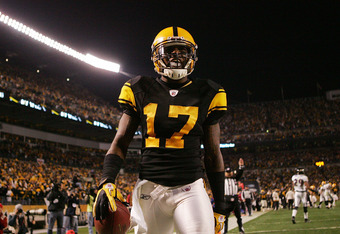 Jared Wickerham/Getty Images
The team did not risk anything by tendering Wallace because if a team had signed Wallace they would have either matched it or not and received a first-round pick.
Of course, they want to keep Wallace and the offense would certainly have to make an adjustment without him, however, the Steelers would survive without Wallace.
Do not get me wrong, I am really happy that a team did not sign Wallace, although all this deadline guarantees is that he will be with the team on draft day.
I would not be surprised at all if the Steelers feel Wallace really will be a problem to sign to a long-term deal, that they will find a way to trade him during the draft.
All it would take is the team telling Wallace to sign his tender because they found a team that was willing to give him the huge contract that he wants.
Personally, I don't hold anything against Wallace for wanting to get as much money as he can and if a team is willing to pay him then that's great for him.
Due to the supposed contract demands of Wallace, there have been a lot of people talking trash about him about being selfish and downgrading how good he has really been.
The Steelers, however, are not going to be that team that breaks the bank on his contract and I am hoping that it all just works out and Wallace is a Steeler past just this season.
Just because the Steelers made it past the deadline yesterday, if they don't get Wallace signed they will be in a worse situation next season with Wallace as an unrestricted free agent, and both Antonio Brown and Emmanuel Sanders restricted.
I do not see the Steelers winning in this situation, however, unless they are able to sign Wallace to a long-term deal that doesn't cripple the team next year.
This won't be a victory to me at all if they sign Wallace this year and they aren't able to sign Brown next year.
So, honestly, I don't think the Steelers really cared about winning anything in the offseason because they only ever care about winning in the postseason.
Regardless of what happens with Wallace, the Steelers will go with it and move on to win the Super Bowl in 2012.